Dedicated WordPress users have probably heard about Gutenberg, the revolutionary new editor currently in development as a feature plugin and scheduled for inclusion in WordPress version 5.0. It transforms the way we edit content of our WordPress websites by providing a richer "block"-based experience.
Put simply, a block is any single element of content – an image, a paragraph or a YouTube video – and blocks can be quickly configured and built into immersive page layouts and designs. This is a comprehensive maturation of the visual editor as we know it and creates a truer WYSIWYG experience.
Gutenberg will transform the way we edit the content of our WordPress websites by providing a richer "block"-based experience.
One thing that isn't yet 100% clear is how complex plugins like WooCommerce will work with Gutenberg.
Our design team has explored and experimented with adding product Blocks (recent products, featured products, etc.) to posts and pages. But as you're well aware, publishing products should be a very different experience to authoring a blog post.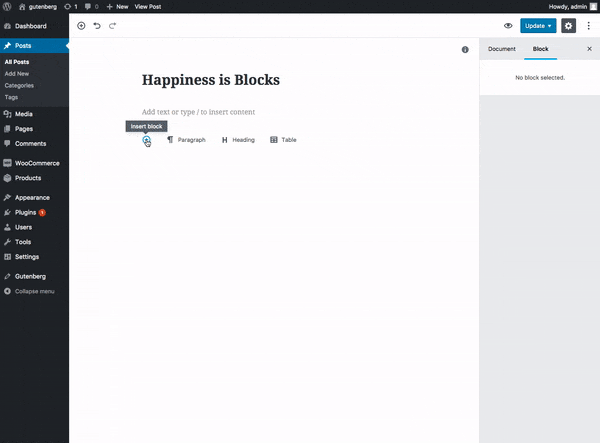 As a release candidate approaches, Gutenberg will enable us to mimic that rich blog authoring experience for products. How might that look?
Gutenberg templates in themes and plugins
Matias Ventura, Gutenberg lead developer, recently published a post on the WordPress development blog demonstrating how themes will be able to define Gutenberg "Templates" – predefined block configurations that speed up post creation. View a video of how that might work below.
From here, it's not difficult to imagine how simple product authoring may look in Gutenberg. Imagine a predefined "Product" Template, assigned to the Product post type and loaded by default when you add a new product. Details such as featured image, product title, description, and price are new Gutenberg Blocks. Just fill in the blanks.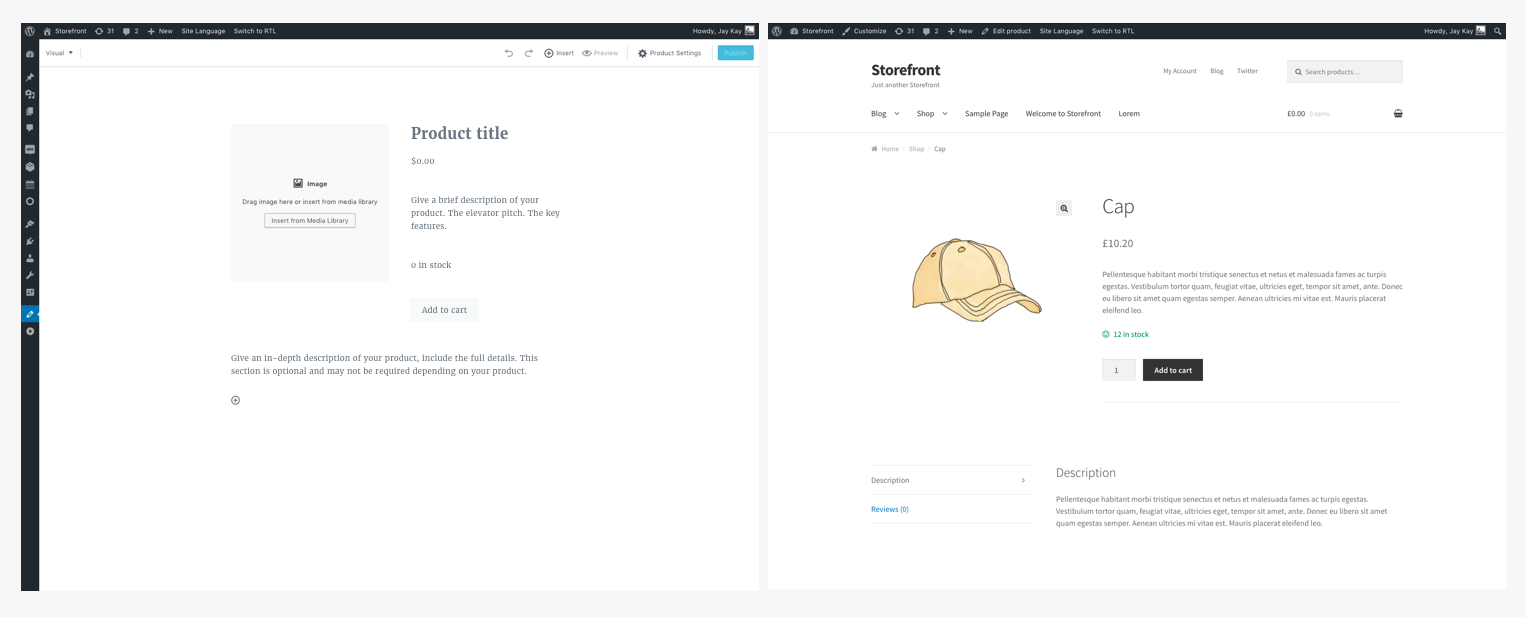 This could be taken a step further by not only allowing themes to specify block templates, but also allowing the user to specify their own block templates. These would be transferrable across themes entirely. At that point, we start to question what a WordPress theme even is. Exciting times!
Complex products are… complex
What about editing more complicated data in Gutenberg? A simple product with a description, a price, and a category is one thing. But a product with variations, for each of which you want to upload a different image, and need to manage/track stock is quite another. Imagining a WYSIWYG editing experience for that kind of data is a little fuzzier.
Meta box support has been a long discussed feature with a simple solution, only merged recently.
How this works with WooCommerce in the long term is unclear. But you can rest assured it's something we'll be dedicating more time to investigating as WordPress approaches the 5.0 release.
What do you think?
We're fascinated to see how Gutenberg will impact the WordPress theme/plugin landscape, and things get really exciting when you consider how complex plugins like WooCommerce could make use of a richer, more visual editing experience.
What are your thoughts? Is visual product editing, with the flexibility to rearrange product/shop layouts something that interests you?
Please share your thoughts in the comments. We'd love to hear what you think!