Today on WooThemes.com, we're excited to share some excellent news with you all. The latest update to WooCommerce Subscriptions is available today, for sale and as an upgrade for existing WooCommerce Subscriptions purchasers. Brent Shepherd takes us through the newly-added functionality on offer in WooCommerce Subscriptions version 1.4.0, below.
With this version comes a few highly requested new features, to put more power in both the hands of you and your subscribers. Changing recurring payment methods, upgrading and downgrading of subscriptions, renewal e-mails and more. Let's take a look at what's new before covering the upgrade process.
Changing Recurring Payment Method
With Subscriptions 1.4, your subscribers can now change the payment method from their My Account page.
This was by far the most requested feature for Subscriptions, and for good reason. Such a feature allows customers to update expiring credit cards, helping to prevent failed payments or to move to a new payment gateway completely.
To change the payment method is a simple 3 step process where the customer:
Clicks the "Change Payment Method" button next to her subscription
Enters the new payment methods details
Is taken back to her account page once the payment method is updated.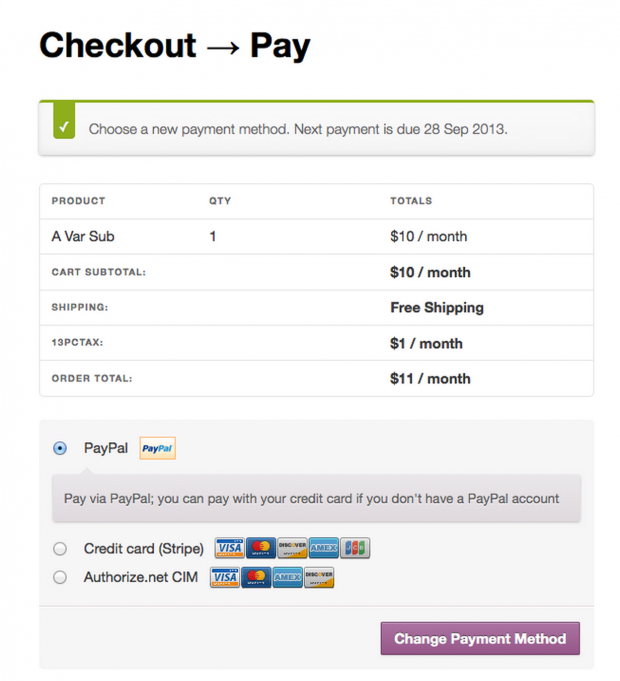 If a subscriber's automatic payment fails, when he logs in to your site to pay for the failed renewal, the payment method used for future payments will be updated to prevent future payments failing.
This feature is supported by the free PayPal Standard gateway, as well as Stripe and Authorize.net CIM. More payment gateways will be adding support soon, the Subscription Payment Gateway document will maintain an up-to-date list.
Updating & Downgrading Subscriptions
Allowing your customers to change subscriptions is a great way to keep them happy, and prevent cancellations by making sure their subscription can suit their changing needs. That's exactly why Subscriptions 1.4 introduces a new Switch Subscription feature.
You can now allow your customers to upgrade or downgrade between different variations of a Variable Subscription, or any subscription within a Grouped product.
The switch process has been designed in a way that supports the many different ways stores are using Subscriptions. To do that, it allows you as the store manager to decide whether prices and payment dates are pro-rated when switching subscriptions. This makes the system suitable for both selling subscriptions to physical goods and services or memberships.
Allowing your customers to switch subscriptions is off by default, so everything will function just as it does after upgrading. Giving you the time to have a read over the docs, experiment with the feature on a test site, and see if you think it will benefit your store.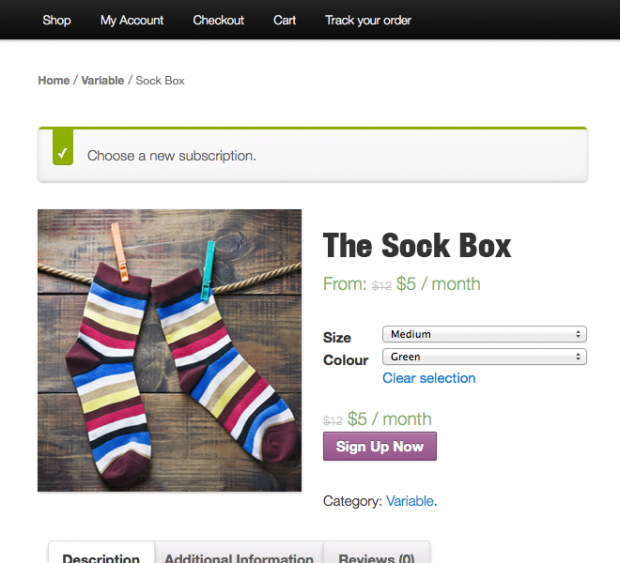 Renewal Emails, the WooCommerce Way
Subscriptions now uses the WooCommerce Email system. That means you can enabled/disable renewal order emails, customise renewal order email subjects/headings and choose whether customers receive HTML or plain text emails.
You can also now customise the renewal order email templates, just as you would for core WooCommerce emails.
Finally, there is a new "Cancelled Subscription" email that you can send to store managers to be notified of a subscriber cancelling her subscription. If you need more emails, the Follow Up Emails extension includes a bunch of subscription related emails.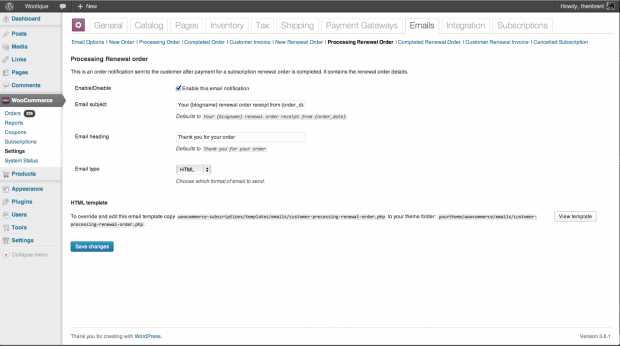 Performance Improvements
Sometimes the best changes are those unseen. Subscriptions 1.4 introduces a completely new database structure which will massively improve performance on your site.
For example, on a site with 12,000 subscriptions, the new database structure reduced the load time for the Manage Subscriptions screen from over a minute to less than 2 seconds.
These type of improvements may add no new functionality to your store, but they are make Subscriptions sufficiently robust to scale with your growing business. We want businesses of all sizes to be able to rely on WooCommerce Subscriptions.
How do I upgrade to Subscriptions 1.4.0?
WooCommerce Subscriptions version 1.4.0 is available for download on your Downloads tab from your WooThemes account dashboard, directly after purchase (or right now, if you've already purchased the product).
To upgrade Subscriptions, update the plugin via The WooThemes Updater and follow the prompts. You will be prompted to start the database update process as soon as you visit your site. In most cases, this will be as simple as clicking Update Database.
If you have a large number of subscribers, it may take a while. In testing, around 2,000 subscriptions were updated per minute so you can expect similar on your site. Large sites may also have memory exhaustion issues. The update process is designed to handle this, so just refresh the update screen if you have any problems and the updater will resume without issues.
Always create a backup of your database before upgrading plugins, but especially so before upgrading Subscriptions this time around.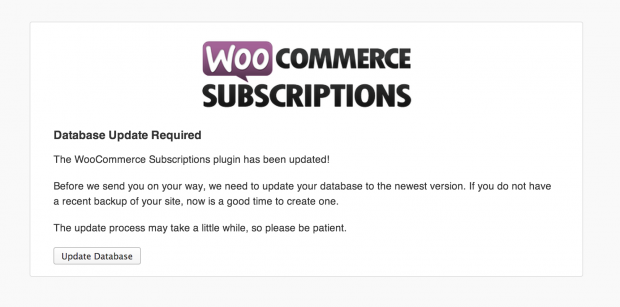 Future Roadmap
Subscriptions is one of the most popular and also the largest WooCommerce extensions. It is actively developed and there are still more features and improvements to come. To help you keep up-to-date with the development plans, a new Subscriptions Feature Roadmap has been published on the docs site.
If you want a feature not mentioned there, open an idea on the WooCommerce Ideas site. If it gets enough votes, it will be added.
Buy now

$

199.00
Let customers subscribe to your products or services and pay on a weekly, monthly or annual basis.
Enjoy!