We're busy store owners. Every day is full of making sales, fulfilling orders, managing employees, developing products, marketing online – and the list goes on and on!
It's important to take time away from smaller, daily tasks to focus on big-picture business goals, but if you're over-scheduled like most ambitious people, that may seem impossible.
Creating an efficient workflow helps you accomplish more in a shorter amount of time, allowing you to balance other important aspects of life and business. This means you can work more consistently over a longer period of time without getting burned out, and reach your goals faster.
WooCommerce offers several extensions designed to improve the workflow of your online store, saving you time and money, and giving you freedom to focus on other parts of running your business.
Use WooCommerce Zapier to Sync with External Tools
The WooCommerce Zapier extension automatically connects with more than 1,500 cloud services and syncs your order, customer, and subscription data. This means no more manual data entry!
Here are just a few of the tools that you can integrate with your online store:
Google Drive
Zendesk
FreshBooks
Mailchimp
Campaign Monitor
Google Forms
Calendly
Instagram
View all of the integrations at Zapier Apps.
Zapier works using Triggers and Actions. A Trigger starts the connection process. This might be a new order in WooCommerce, for example. An Action takes place as a result of the Trigger. This might be sending a welcome email.
Most of us aren't big fans of busywork. If we're not doing it ourselves, we're probably paying someone to take care of it for us. Connecting Zapier to your online store automates all of that busywork.
What does this actually look like on a daily basis? Here are a few ways that Zapier can save you time.
Import Financial Data into Accounting Software
Zapier integrates with QuickBooks Online, Xero, FreshBooks, and the majority of accounting software. Let's say that you use QuickBooks Online for all of your bookkeeping.
Use Triggers and Actions to create a payment in QuickBooks after an order is placed in WooCommerce. Or, automatically create sales receipts in QuickBooks each time a subscription is renewed on your store.
This means that there won't be any irregularities between your store and accounting the next time tax season rolls around. And you won't need to constantly import orders into QuickBooks.
Turn Customers into Leads in Client Relationship Management Software
Integrate with HubSpot, Salesforce, Infusionsoft, Zoho, or other CRMs. If you use HubSpot, for example, you can save new WooCommerce orders to HubSpot Contacts.
When someone places an order online, Zapier will copy their information to HubSpot or update an already-existing contact. Keep all of your customer information in one place!
Use Email Marketing to Reach Customers
Zapier connects with Mailchimp, Constant Contact, AWeber, Emma, and more. Automatically import new customers into specific email lists. Then you can create welcome emails with instructions on using your products or a thank you message. Or use this information to send out coupons or announce sales down the road.
Automatically Create Delivery Tasks for Online Orders
Connect to delivery management services like Onfleet and Tookan. Each time a new order is placed on your WooCommerce site, a new task is created in your delivery management tool. This means no lost orders or late deliveries!
Keep Track of Orders with Project Management Software
Integrate your store with Trello, Asana, Wrike, or Basecamp. If you use Trello to manage projects and orders, for example, you can turn each WooCommerce order into a new Trello card. This keeps you from forgetting to ship products without having to manually create each and every card.
Automatically Print Shipping Labels
Integrating your online store with Google Cloud Print allows you to automatically send WooCommerce shipping labels to your business printer. This takes a lot of the busywork out of printing labels and means that you won't forget to print a customer's order.
As you can see, there are virtually endless ways to use Zapier with WooCommerce! Each of them is designed to save you time and allow you to focus on the tasks that bring in new customers.
Export Valuable Order Information Via CSV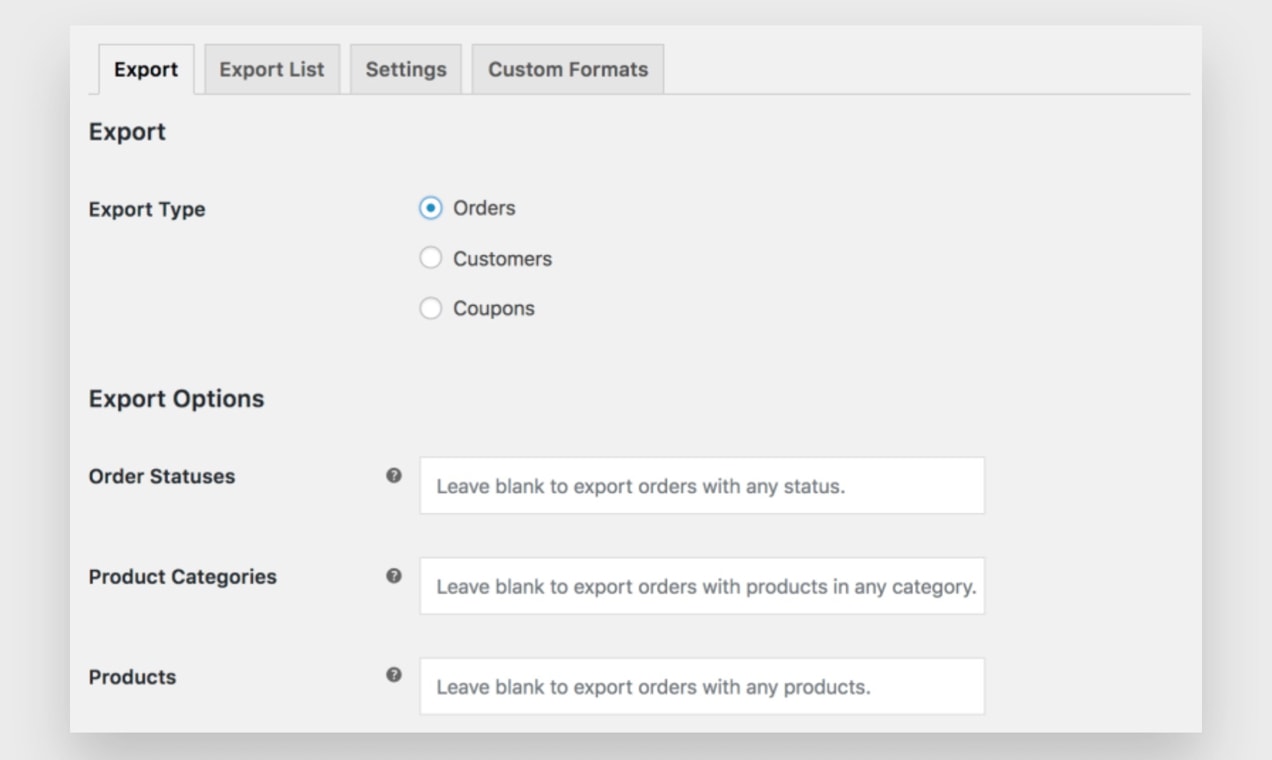 WooCommerce provides great order management features by default. Other tools can supplement functionality in areas of customer support, fulfillment, or shipping. WooCommerce Customer / Order CSV Export allows you to export order details with the click of a button, which can then be imported into other tools or saved for your records.
Here are a few of the features available:
Export customer information such as names, emails, and addresses
Export order data like totals, shipping details, and coupons used
Create custom export formats, so you have the exact information that you need
Export all orders, or export information based on status, products, or date ranges
Integrate with other plugins like Subscriptions, Admin Custom Order Fields, and Checkout Add-Ons
But what if you have a ton of orders? CSV exports run in the background, which means that your site will function as usual, and you can complete other website management tasks at the same time. Or leave your website entirely and export will continue.
One of the most valuable aspects of this extension is that you can schedule exports. For example, set order information to automatically export every Friday at 9:00 AM. The generated CSV file can be sent via email or saved to your server via FTP.
Thanks to custom export formats, you can create CSV files to perfectly match the format that your CRM or accounting software requires. No more manipulating complicated spreadsheets before importing!
Get started with WooCommerce Customer / Order CSV Export.
Integrate WooCommerce Order Statuses with Your Workflow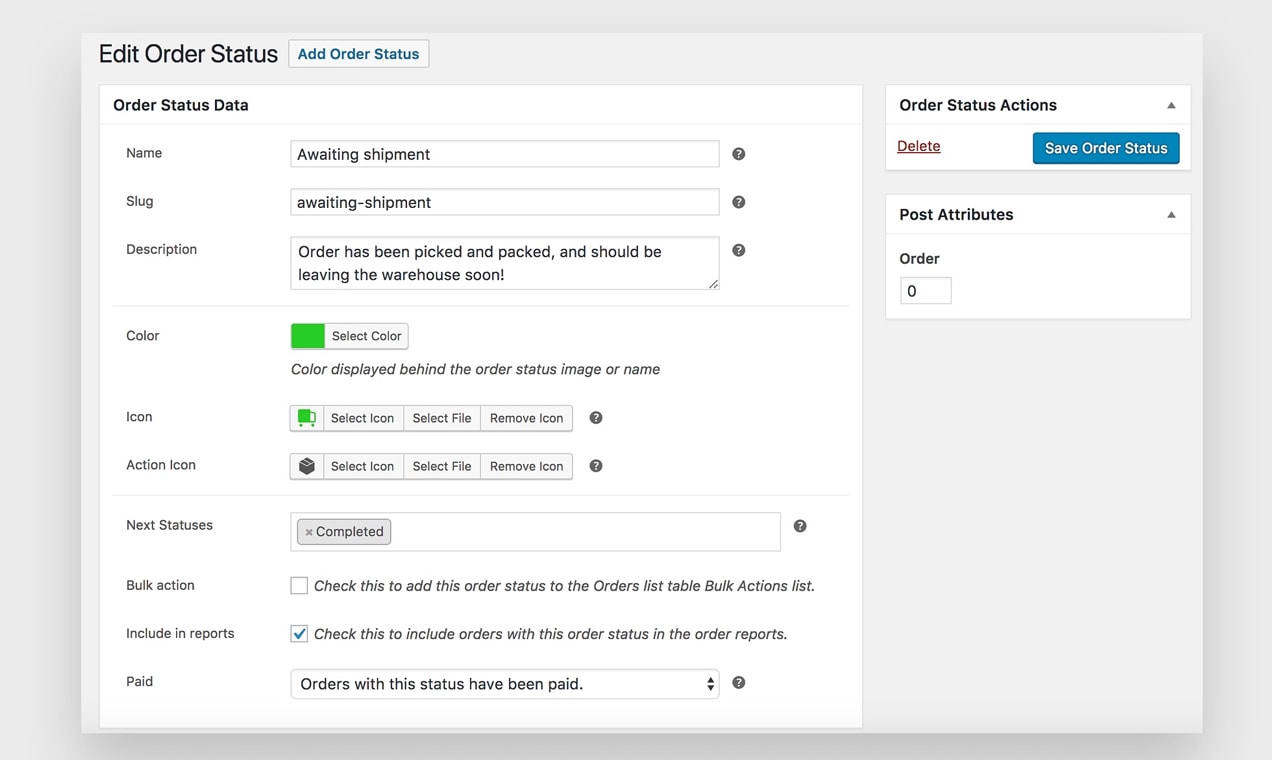 Order statuses help keep you and your customer updated on how far along the order is at any given time. WooCommerce comes with several order statuses:
Pending payment: Order received, but no payment has been initiated.
Failed: Payment failed or was declined.
Processing: Payment received; order in processing.
Completed: Order fulfilled.
On-Hold: Awaiting payment. For example, a customer may be sending a check.
Cancelled: Order cancelled by customer or store owner.
Refunded: A refund has been issued.
While these are sufficient for many online stores, you may need additional steps to fit your business model or augment your workflow. That's where WooCommerce Order Status Manager comes into play.
It allows you to create, edit, and delete custom order statuses and send new emails to your customers based on a change in status. What exactly does this look like?
Let's say you build custom RVs. The order fulfillment process may be particularly long compared to other industries. Adding additional order statuses help your projects stay on track and keep customers excited throughout the entire process.
You could set up an order status for each step of the build process – finishing the design, installing the upholstery, completing the paint job – and set up emails to send to the customer each time you update the status. Your customers can follow the process and be engaged, and your team will know exactly where the project stands at all times.
Or if you own a print shop, you may want to use order statuses to remind clients to send you important assets. For example, if you send your client a proof to approve before printing, you could create a "Waiting on Proof Approval" status that automatically sends a reminder email to your client. This saves you from having to manually reach out every time.
Order statuses are a great way to prevent answering questions about order progress, keep customers engaged, and automate your update/reminder processes.
Create new order statuses with WooCommerce Order Status Manager.
Simplify Your eCommerce Workflow
WooCommerce is dedicated to making order management and fulfillment as easy as possible. Using the tools mentioned above, you can automate processes and simplify your workflow. This helps you focus on growing your business and meeting goals rather than being bogged down by daily, repetitive tasks.
View our full extension library.