B2B for WooCommerce
Developed by
Addify
This WooCommerce B2B extension is an ultimate wholesale solution to create a store that serves both B2C and B2B customers. No need to install multiple plugins to get the features you want. B2B for WooCommerce is a complete package that comes with following powerful features,
Features List of WooCommerce B2B:
Extend the default registration form to accept B2B registrations.

Add a user roles dropdown and extra fields to the default registration form.

Manually review and approve new B2B user registrations.

Hide products and categories based on user roles.

Hide prices and add to cart button

Hide for guest users, specific user roles, or specific products & categories

Option replace "add to cart" button with a "quote" button

Add a mini-quote dropdown and customize quote form fields.

Configure different prices for different user roles
B2B customer registration
Turn your default registration form into a full-fledged B2B and B2C registration form. Add checkboxes, radio buttons, file upload options, dropdown menus, and seven other types of custom fields to collect extra information from B2B (and B2C) customers. Keep your registration form clean by showing fields only when needed, and choose whether to manually review and approve B2B registration requests. B2B Registration is also available as a standalone product here.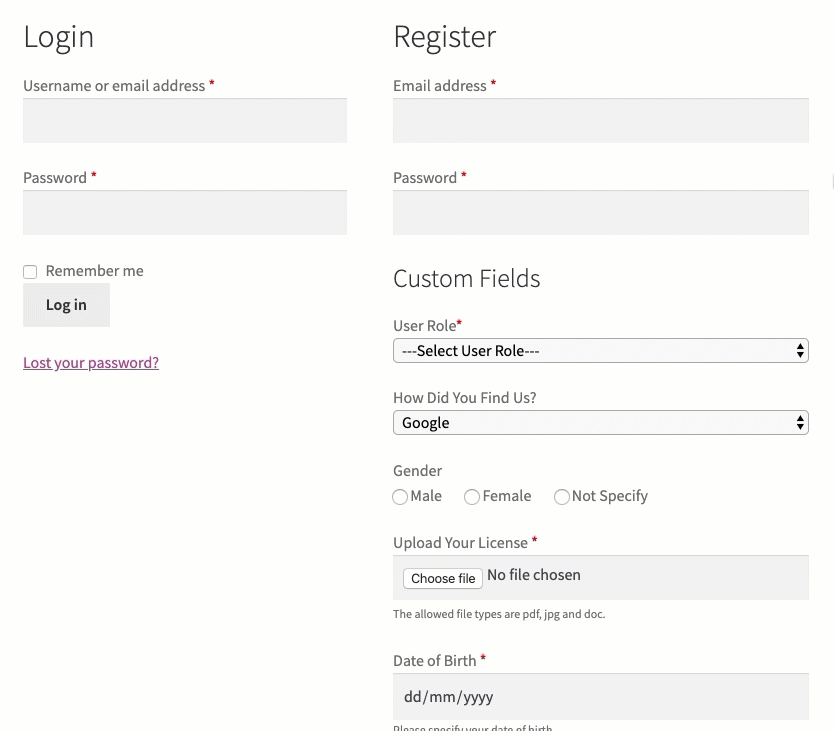 Product visibility by user roles
With WooCommerce B2B extension, you can hide products and categories from specific user roles, and display a custom error message when someone tries to access a restricted product or a category with a direct link.  Hide or show products and categories to particular user roles to optimize your catalog visibility for B2B customers. You can also hide products and categories from guest (non-logged-in) users.  Product Visibility by User Roles is also available as a standalone product, you can buy it from here.
Different Prices for Different User Roles:
With Role based Pricing feature, you can configure different prices for different user roles and customers. Limit minimum & maximum order quantity for each user role. B2B for WooCommerce offers 5 different pricing adjustments which are as follows,
Set a fixed price

Percentage increase

Percentage decrease

Fixed increase

Fixed decrease
Different prices for different user roles is also available as a standalone role-based pricing extension here.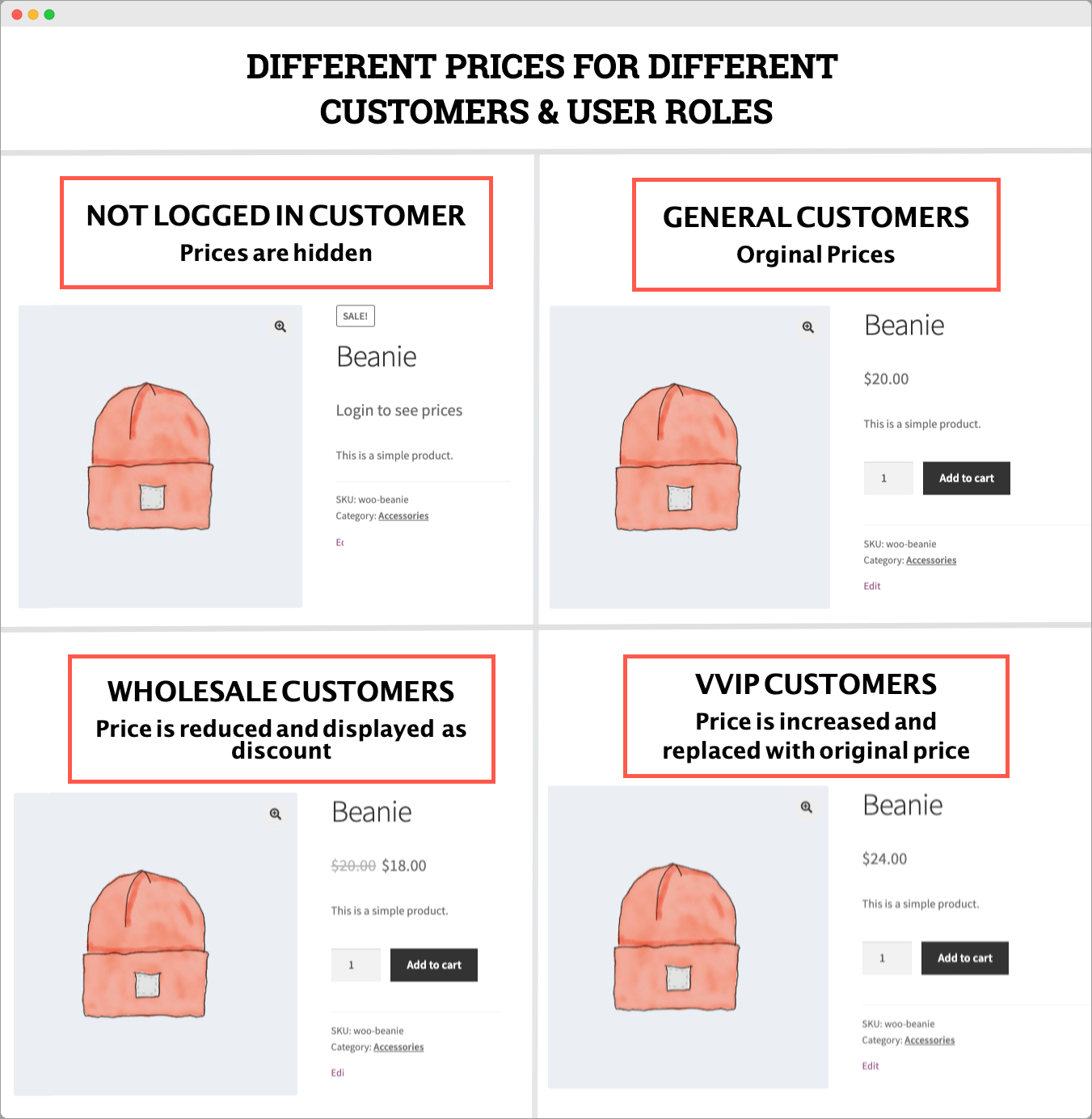 Product Level Settings:
You can adjust your product prices for each user role and customer from the product edit page. 

Rule-Based Bulk Price Settings:
With rule-based management, you can adjust prices in bulk for specific products and categories.

Request a quote & hide price
WooCommerce B2B comes with a powerful "request a quote" feature for hiding prices from specific user roles and replacing their "add to cart" buttons with an "Add to Quote" button. Customers will be able to request quotes for multiple products and ask for price estimates. Request a quote is also available as a standalone product here.
You can:
Hide prices and "add to cart" buttons for specific products.

Replace prices with custom text.

Hide prices only for guests and specific user roles.

Customize quote form fields.
View quotes submitted by customers from the backend.