SYNC YOUR WOOCOMMERCE ORDER DATA OVER INSIGHTLY 
The Insightly Integration for WooCommerce plugin enables the smooth integration of WooCommerce with Insightly CRM. You can utilize the plugin's features to effectively synchronize all your WooCommerce contact data, record all your order processing details, manage your deal flow, and automate your sales pipeline.
Why should you use this plugin?
The Insightly Integration for WooCommerce plugin comes with amazing order data processing features such as create feeds, map WooCommerce fields to Insightly modules, perform historical and instant data sync utilizing the One-Click and Bulk Sync, etc.
Contact, Organizations, Opportunities, Leads, Tasks, and Project are the six default feeds that sync data from your WooCommerce objects to Insightly CRM. You can also send data from your WooCommerce store to Insightly CRM utilizing custom feeds.
Want to know how Insightly Integration for WooCommerce works? Visit the Live Demo to learn more about it.
Benefits
Unlock multiple feeds: The way WooCommerce Orders data is supplied to Insightly is determined by a Feed. You can set up parameters for submitting entries to Insightly and create multiple feeds.
Easy error reporting: If an error appears while transferring WooCommerce customer orders to Insightly CRM, an email will be sent to the designated email address with the related error details.
Export logs as text: You can easily download all your WooCommerce store's sync data logs effectively in the form of a Text file directly from the plugin backend. To do so, you can use the Download button available in the Logs tab.
Note: The logs data can be used for further business planning, auditing, and marketing purposes.
Complete synchronization: This plugin offers complete synchronization of all your WooCommerce purchases data over Insightly CRM. If you update, remove, or recover any entry in your WooCommerce store it is automatically modified, deleted, or recovered over Insightly CRM.
Features
1. Connect account
You can conveniently integrate your Insightly CRM account with your WooCommerce store utilizing the plugin feature. Just enter your Insightly account credentials i.e., API Key and API URL in the appropriate fields.

If you don't have an Insightly account, then refer to the links below to create and integrate one.
2. Fields mapping
The Insightly Integration for WooCommerce plugin enables you to create feeds that control the overall data synchronization process for your WooCommerce objects. You can easily configure these feeds to sync your data as per your requirements. Initially, the six default feeds listed below are provided at the time of installation.
Contacts
Organizations
Opportunities
Leads
Tasks
Projects
You can create an additional custom feed. On the Field Details screen, select the WooCommerce object and meta field you wish to map to your Insightly object fields.

These feeds consist of multiple settings, you can easily utilize your feed's settings to control the data synchronization. The following setting options are available for feed customizations.
Select object
Select the WooCommerce object and the related meta fields you want to map to a specific Insightly object field.
a. Map fields
This setting option involves an exact feed mapping process that continues with selecting the object type, i.e., the Insightly modules which you want to associate with your feed. The default WooCommerce meta will be automatically suggested along with the related object field. You can also Add, Delete, or Modify the related fields. In the case of products, Fetch and Add accounts.
b. Add a new field
Add a new field within your feed to increase mapping options.
c. Primary field
To avoid redundancy and duplicates within data updates from your WooCommerce store to Insightly CRM, this option plays a vital role. You need to select Primary Fields for your data submissions. Primary Fields can be appended with any unique identifier such as email, phone number, etc. This data field helps the CRM to identify updates over entries recorded from your store.
d. Select event
In the select event settings section, you are required to pick the event that triggers data synchronization. Event settings record real-time data during each transaction. This is found in the field mapping settings in the custom feeds section.
Note: You can minimize these processes. Click on Add Default and that will turn all feed creation to auto-suggested mode.
3. Sync historical data
The historical data sync feature in the Insightly Integration for WooCommerce plugin allows you to effortlessly synchronize all your existing WooCommerce store data with Insightly CRM. You can synchronize at the time of installation or later utilizing the One-Click Sync or the Bulk Sync features available at the Data Sync tab.

a. One-click Sync
While recording data from your WooCommerce store over Insightly CRM, there are times when due to connectivity or other issues, processes miss or fail to record all data (newly added data). If all data is not recorded, you can use One-Click Data Sync at any time. It synchronizes all your missed or failed data and successfully completes your data recording process.
b. Bulk Sync
This synchronization feature syncs all your WooCommerce store's historical data. To use Bulk Sync, select the specific feeds to record, and sync your historical data with Insightly CRM.
4. CRM logs
Our plugin offers detailed log data for all synchronizations performed. You can review the log data as well as the transaction status of each sync performed. Examine a full log of every WooCommerce transaction sent, or not sent, to Insightly. You can also resubmit an entry to Insightly with a single click.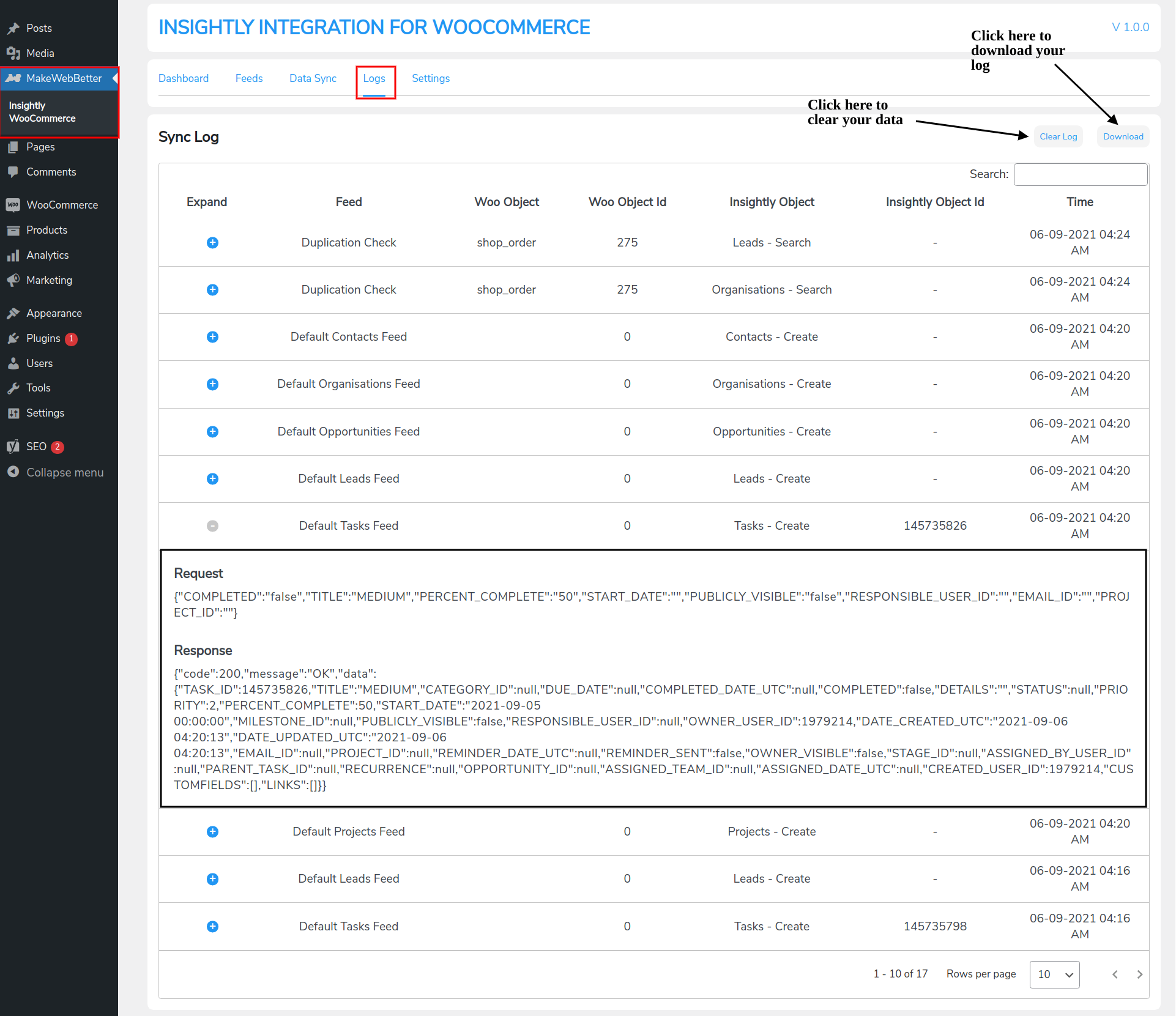 This comprehensive report of your sync logs provides a detailed description of the errors generated with specifically defined parameters like Objects, Object ID, Feed, etc. It's an effective record of all your recorded transactions. It tells you about what went wrong so that you can easily figure out the issues and troubleshoot.
5. Delete logs after x days
Utilizing the plugin Settings tab, you can easily automate your log deletion process. Set the required number of days logs should be kept before deletion. After the set number of days, they will automatically delete.

Note: The number of days you select for log deletion becomes the default for the continuous deletion process. Logs will delete every "x" number of days unless you change the setting.
6. Feeds Management with ease
Aside from creating as well as using default feeds, you can completely trash a feed, put it in sandbox mode, or link to modify the feed without reloading the page.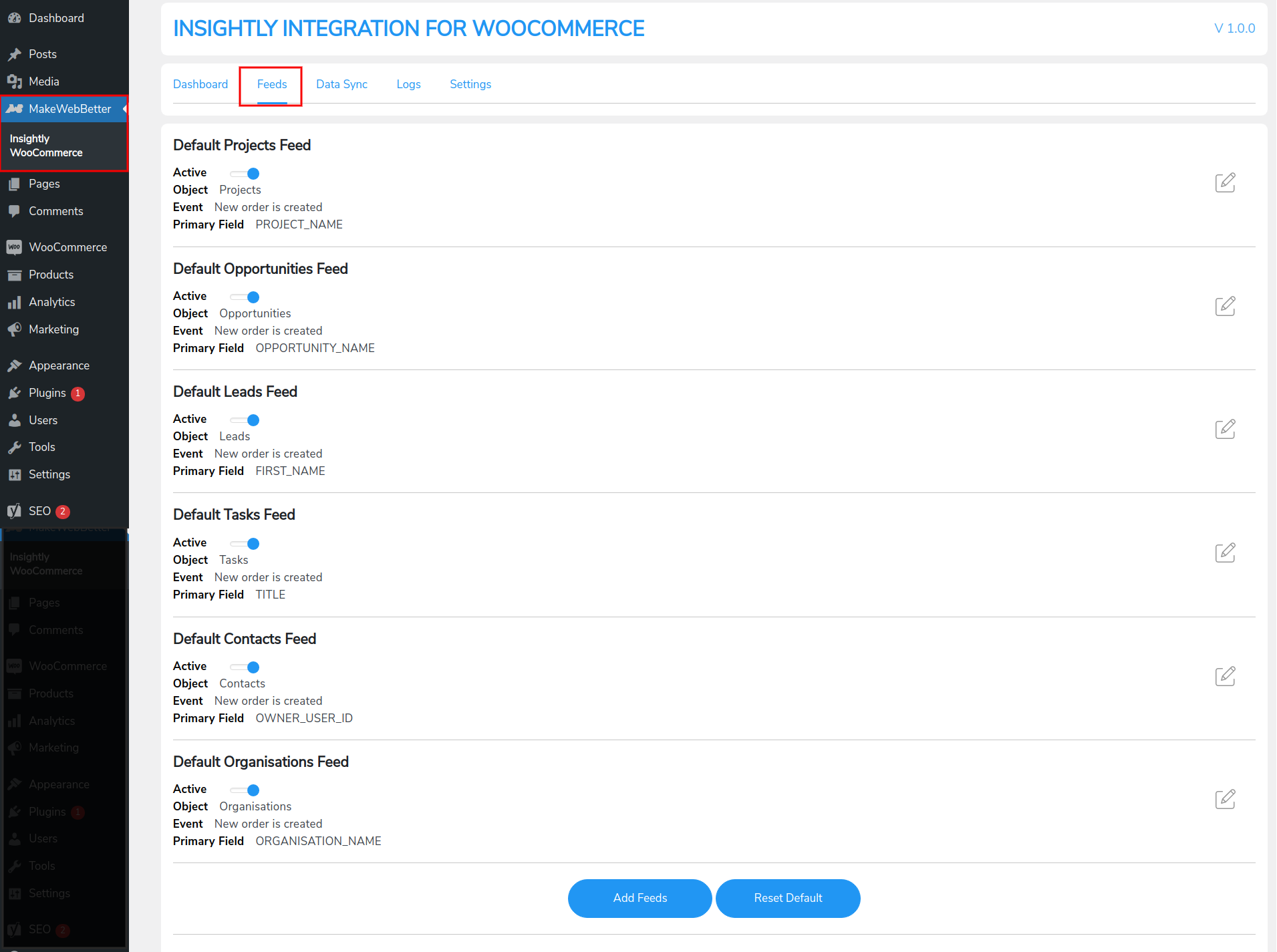 You could also use your Insightly CRM account to generate auto-suggested Feeds and enable data for Auto Fetch.
7. Enable Instant Sync
Instant Sync allows you to quickly sync your WooCommerce data to Insightly. The data synchronization in the Instant Sync feature is triggered by an event. If you choose the "New Order is Created" event, for example, your data will sync to Insightly anytime a new order is placed.
If you disable Instant Sync, you'll have to manually sync your store's data using the One-Click or Bulk Sync features.
For More Information:
Integrate your WooCommerce store with Insightly CRM and leverage our free 24*7 support. Feel free to submit your query.
Visit the Insightly Integration for WooCommerce Setup Guide to connect, authorize and do the initial setup for this CRM integration for the Integration with Insightly for WooCommerce plugin.
Visit our MakeWebBetter Forums community with your queries and get them resolved.