Product Recommendations
Developed by SomewhereWarm
Offer smarter, data-driven upsells and cross-sells
Have you ever noticed how the most successful stores leverage the power of product recommendations? When done right, upsells and cross-sells deliver a more engaging experience to your visitors — the kind of experience that not only helps them find products they like, but also keeps them coming back.
Fortunately, you don't need a team of machine learning specialists to get started. Product Recommendations is an essential WooCommerce plugin that allows you to:
Create Upsells and Cross-sells in Bulk
Ever tried to manually add upsells and cross-sells in every product and category page of your store? With Product Recommendations, you can do both in minutes. Create upsells and cross-sells in bulk, instead of entering products one by one. Choose products using category, tag, or price filters. Then, use amplifiers to prioritize recommendations based on their popularity, rating, creation date, or conversion rate.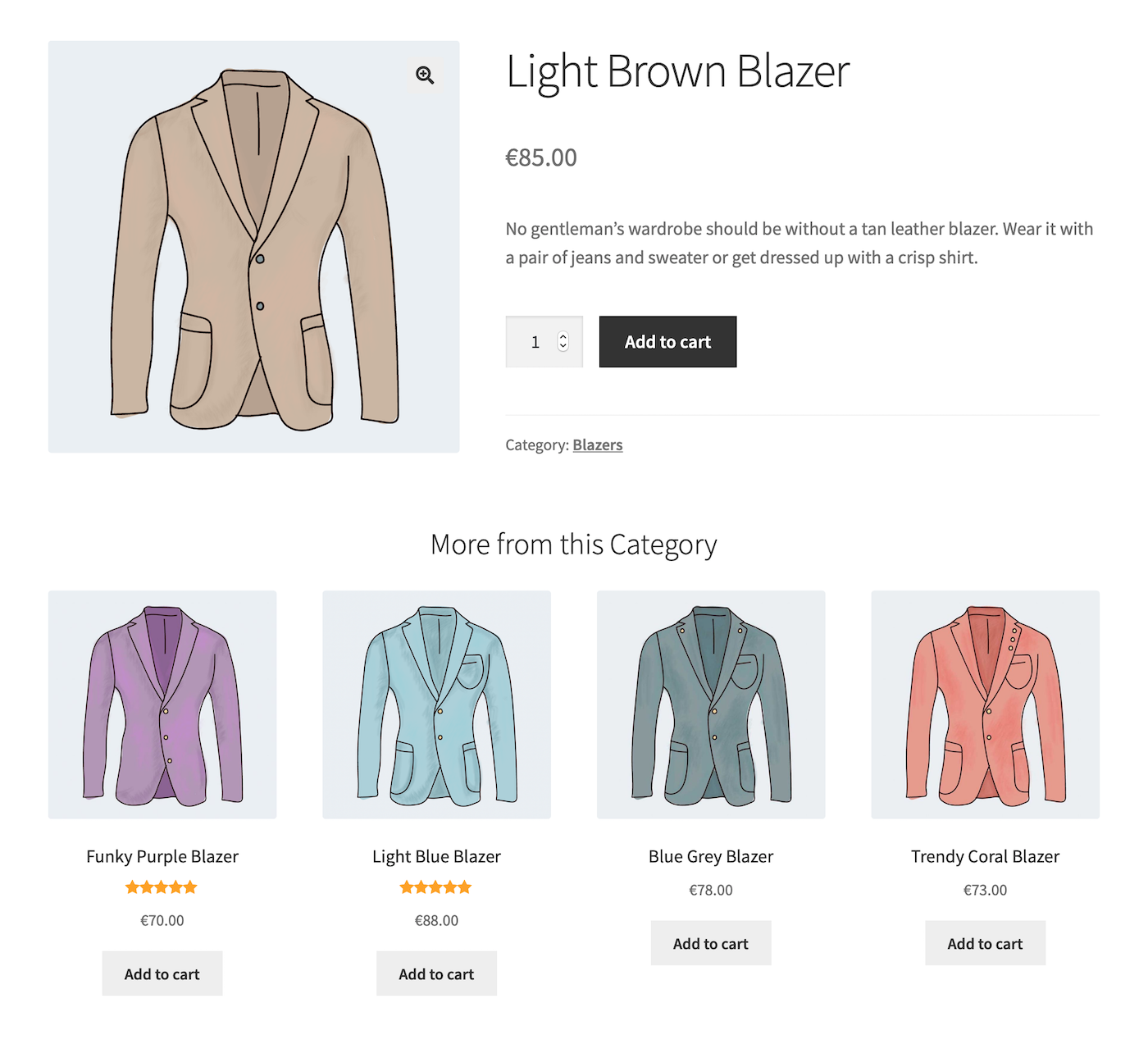 Looking for a way to recommend products from the currently viewed category, or limit results to products that cost more than the currently viewed product? No problem! Product Recommendations lets you build smart recommendation recipes, faster.
Offer Conditional Upsells and Cross-sells
Increase your store's average order value by recommending recently viewed products and products from recently viewed categories on the checkout page, or even after customers complete their orders, on the "thank you" page. Make your offers more engaging by displaying them conditionally, based on each customer's cart or order contents.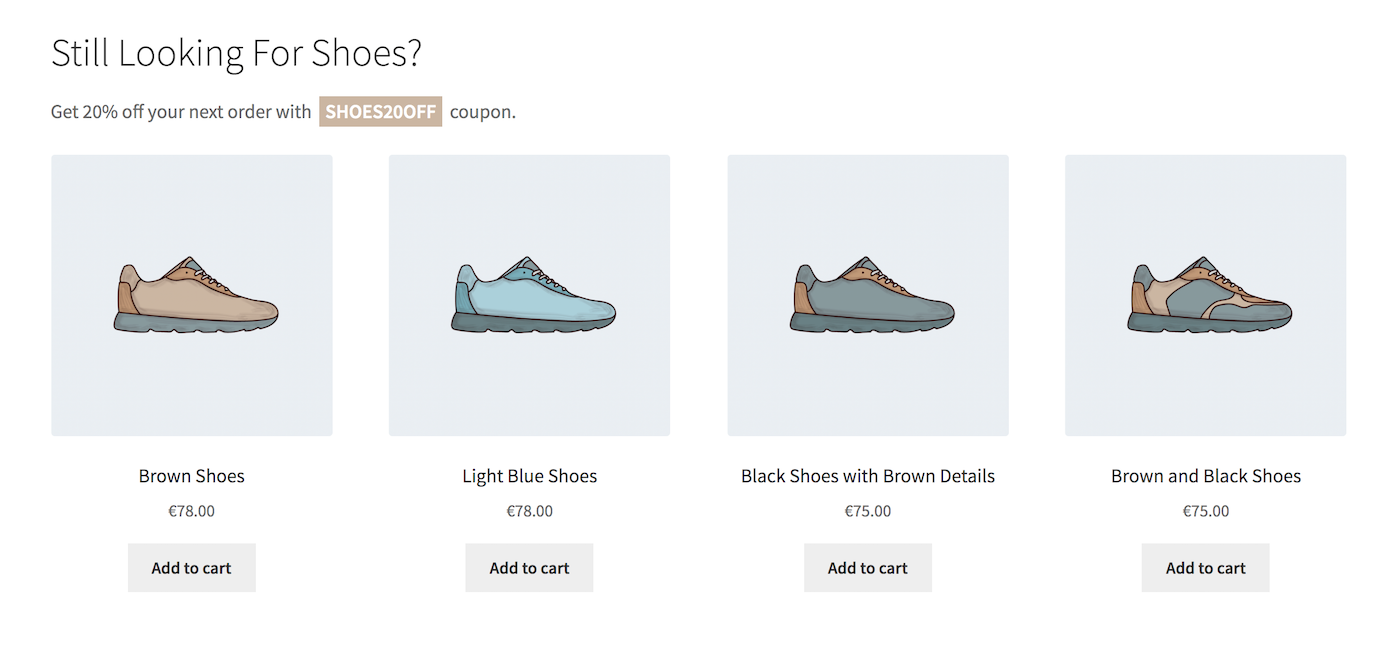 Recommend Products Anywhere
Recommend products at more than 20 locations on your store's:
Main shop page.
Product category or tag pages.
Individual product pages.
Cart and checkout pages.
Thank You (order-received) and order-pay pages.
Build Your Own Recommendation Engines
Create custom recommendation engines using filters, amplifiers and visibility conditions. Need some inspiration?
Here you'll find some high-performing strategies to get started. With Product Recommendations, the only limit is your imagination.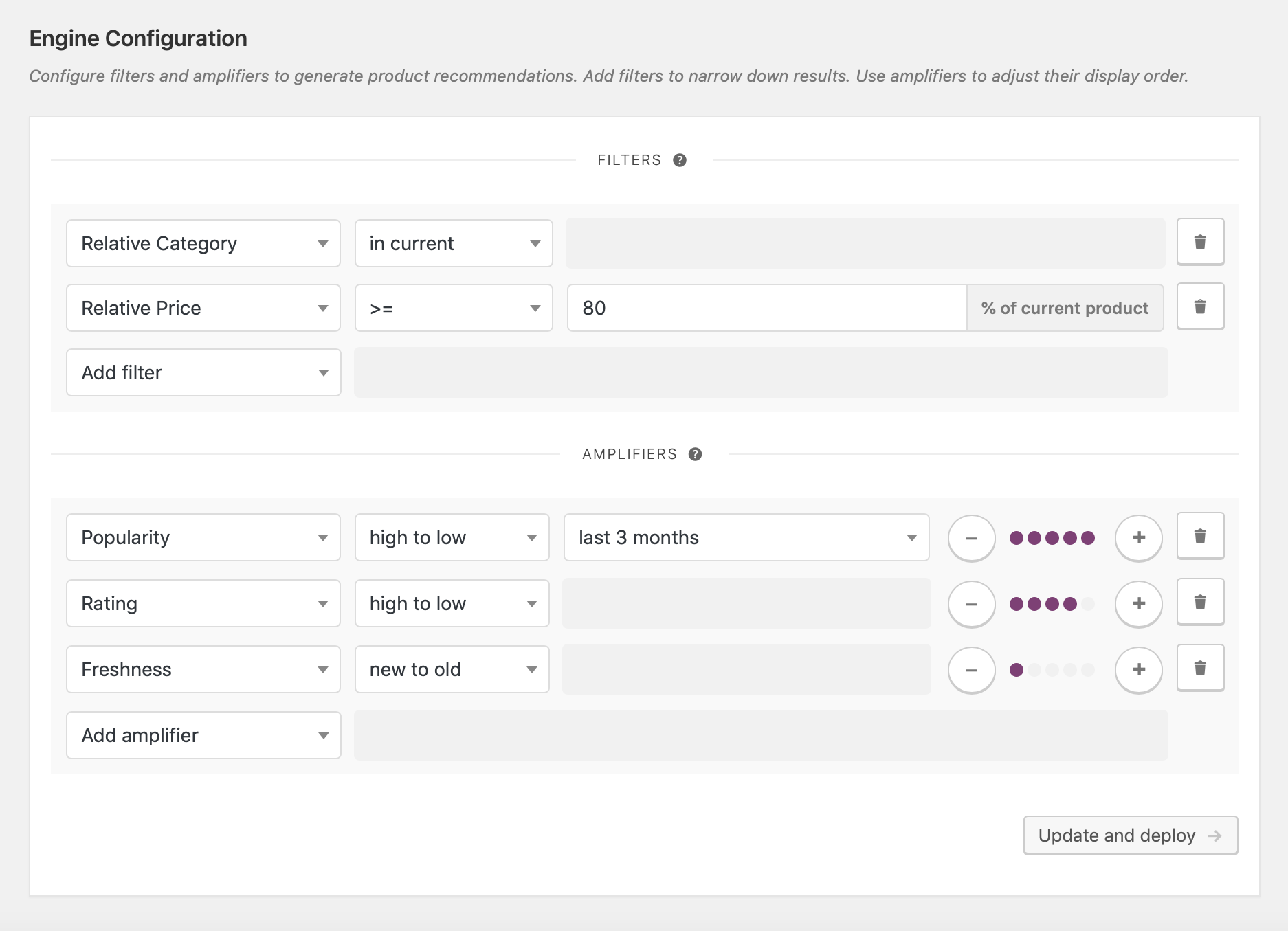 Optimize Your Strategies with In-Depth Analytics
Use detailed Revenue, Events and Conversion reports to measure the impact of your strategies, and optimize them in a data-driven manner.
Analyze your product recommendation campaigns by tracking:
Gross and Net Revenue.
Unique Views.
Unique Clicks.
Conversions.
Clicks per Unique View.
Click-to-Purchase Conversion Rates.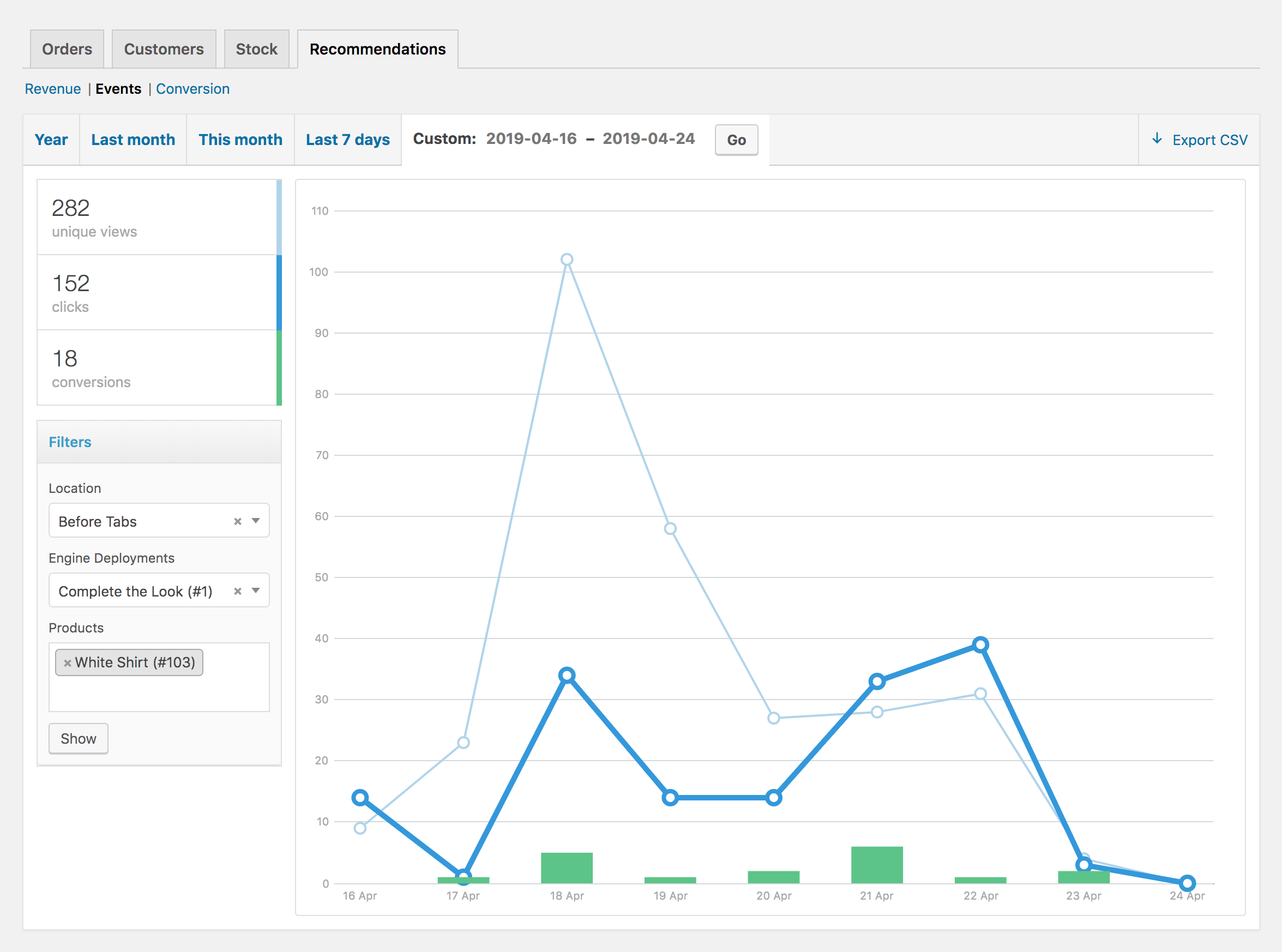 You can even generate reports by:
Converted Product;
Location; or
Deployed Engine.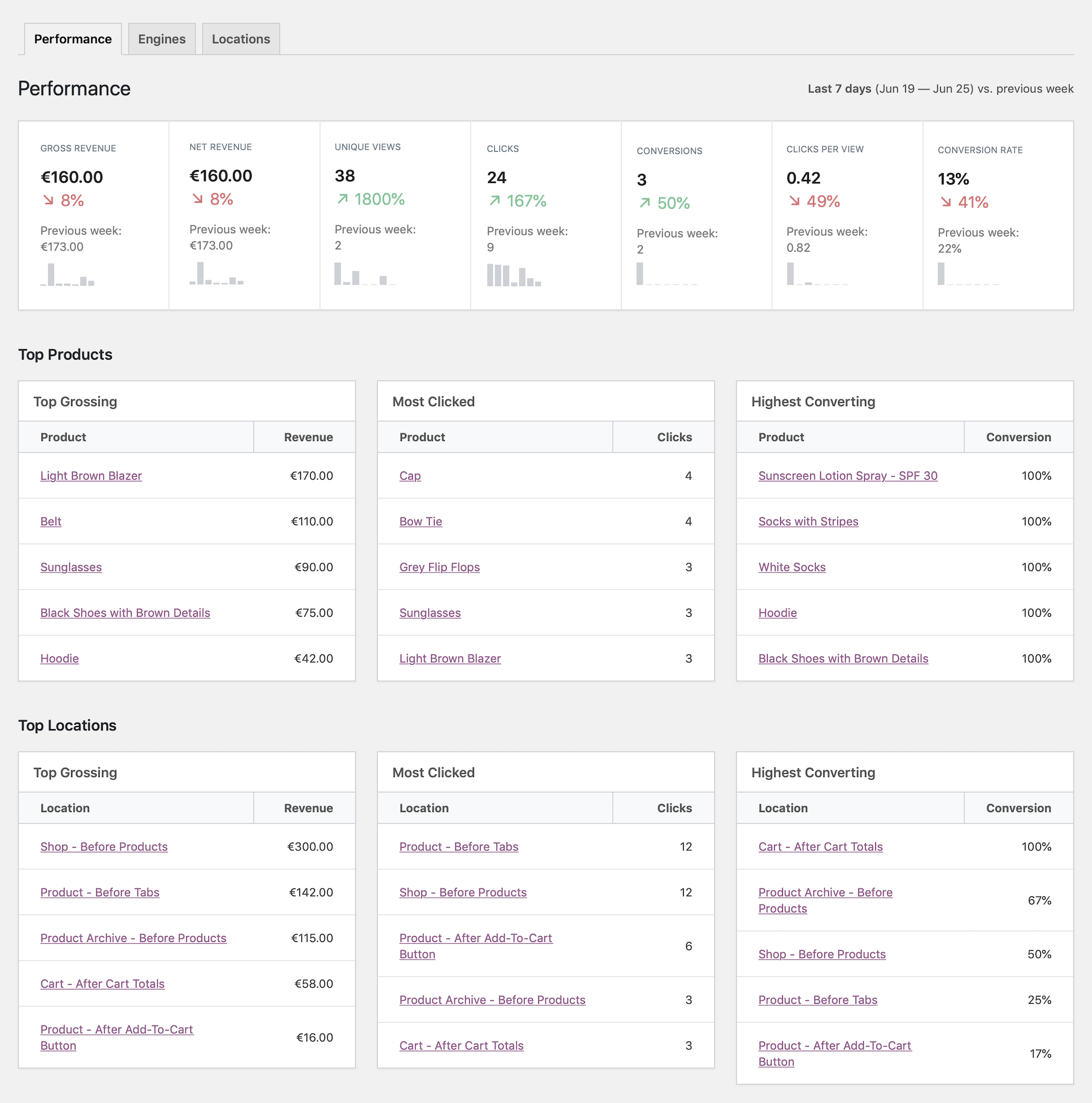 The best part? The system has been carefully designed to work on hosting environments with limited resources, and is built to scale.
How to Get Started
Buy WooCommerce Product Recommendations.
Download and install it.
Navigate to Recommendations > Engines.
Create a new Engine and deploy it to one of the available Locations.
Sit back and enjoy the extra revenue!