Showcase Your Products
Through minimal, sharp layout design, your products are put in the spotlight. With Skinny's meaningful design options you can customize the styling of your shop. You can match the tone and voice of your brand in a matter of minutes.
Color System
Skinny also makes use of an intuitive color system that allows you to work and customize two different palettes. You can even offer your frontend visitors an option to switch between them.
Theme Options
Skinny comes with an un-cluttered theme-options panel that allows you to customize the typography, buttons, and configure a handful of vital settings that will seamlessly apply to your entire site.
Seamless integration with WooCommerce
Compatible with the Gutenberg Block Editor
Theme options
Dummy content available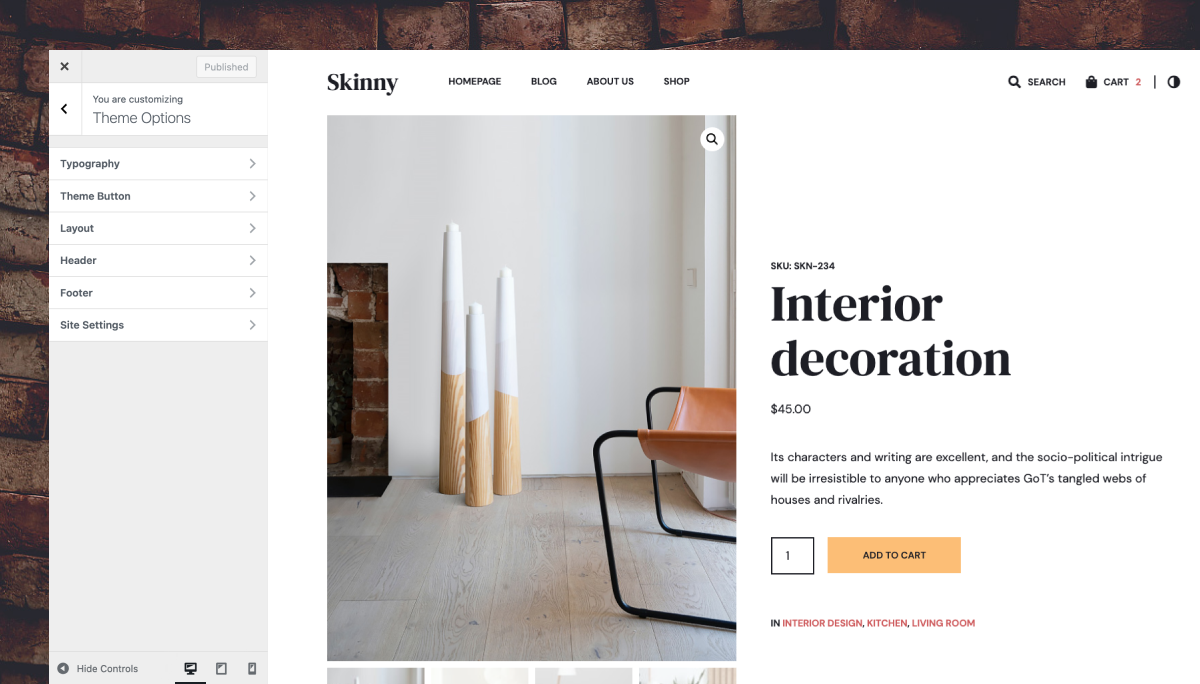 Flexible color management
Globally control the colors of all the elements in your layout from the customizer. Skinny allows you to define body, text, and accent color—featuring an intuitive global color concept for unparalleled flexibility.
Light and Dark mode toggle
Skinny features a color management concept that allows you to optionally create light and dark color palettes and apply them to your layout elements.
Even better, your website visitors can toggle between light and dark modes using a frontend toggle.
Seamless Woo integration
Skinny is designed and developed for seamless compatibility and integration with WooCommerce. Easily expand theme functionality with WooCommerce plugins and completely customize the functionality of your shop.
Compatible with the Gutenberg editor
Build custom layouts with built-in consistency in the Gutenberg editor. You can scale your layouts as your business grows. We will always support Skinny with Gutenberg compatibility in every release.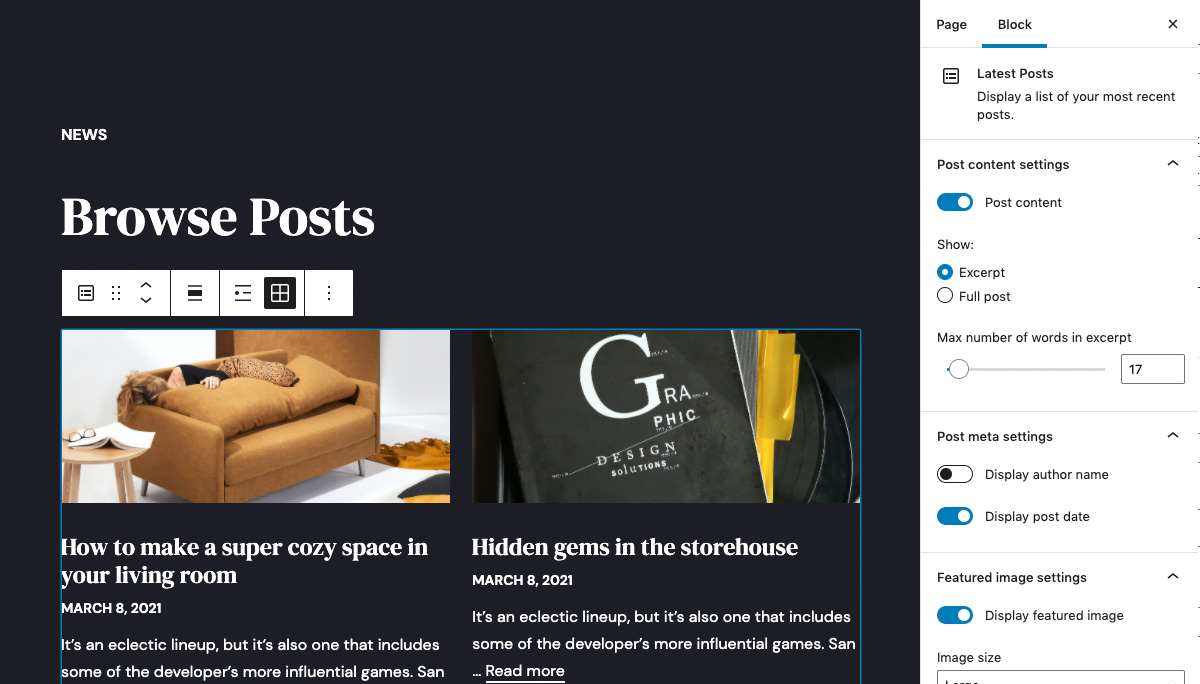 Site-wide Call to Action
Display a site-wide call-to-action section at the footer of your site. It's a great way to promote discounts or announcements.
Elegant blog section to communicate your message
You will love writing content for your site's blog. Using a built-in, harmonious-size scale for the typography—your content will show as sharp and readable in the layout.
In combination with the Light and Dark color modes, Skinny provides a cutting-edge reading experience that your audience will love.
Theme Options
Seamless integration with WooCommerce
Aligned with accessibility standards
SEO Friendly
Localization and translation ready
Compatible with the Gutenberg Block Editor
Mobile-first design
Widgetized footer.
Lean, uncluttered customizer options
Ongoing support and development
Dummy content available
Demo pages
Take a quick look at the pages of the demo:
Take a look at the live demo. See the theme in action, or visit the docs to learn more about its features and potential.