Chat with Customers on WhatsApp
Add a quick and robust communication medium to your eCommerce website with the Whatsapp WooCommerce plugin. The tool helps you add WhatsApp messenger to the store that encourages customers to engage in a friendly and informal conversation with the support team.
You can introduce staff members with availability to chat and answer customer queries. Write a predefined message for customers to quickly interact with the support staff. To ensure the WhatsApp chat options appear on maximum store pages, you can enable a floating button for it. You can customize the floating button, show it to mobile users, and modify colors as well. WooCommerce WhatsApp plugin enables you to configure offline messages to convey to your customers understand that the staff member is offline at the moment and will return at a specific time.
Features
Add WhatsApp messenger to chat with customers
Create a complete support team for WhatsApp chat
Define availability of support staff
Predefine messages for customers
Enable floating button for WhatsApp chat widget
Display floating button on multiple store pages
Online/offline messages about support staff
Choose a position for the WhatsApp Chat widget
Allow WhatsApp Chat with customers on Store
By inserting a WhatsApp widget, you can allow customers to initiate a WhatsApp chat right on the store and ask anything about a product or service you offer. WooCommerce WhatsApp chat simplifies customer support as they get quick answers to their queries without filling out forms or sending emails.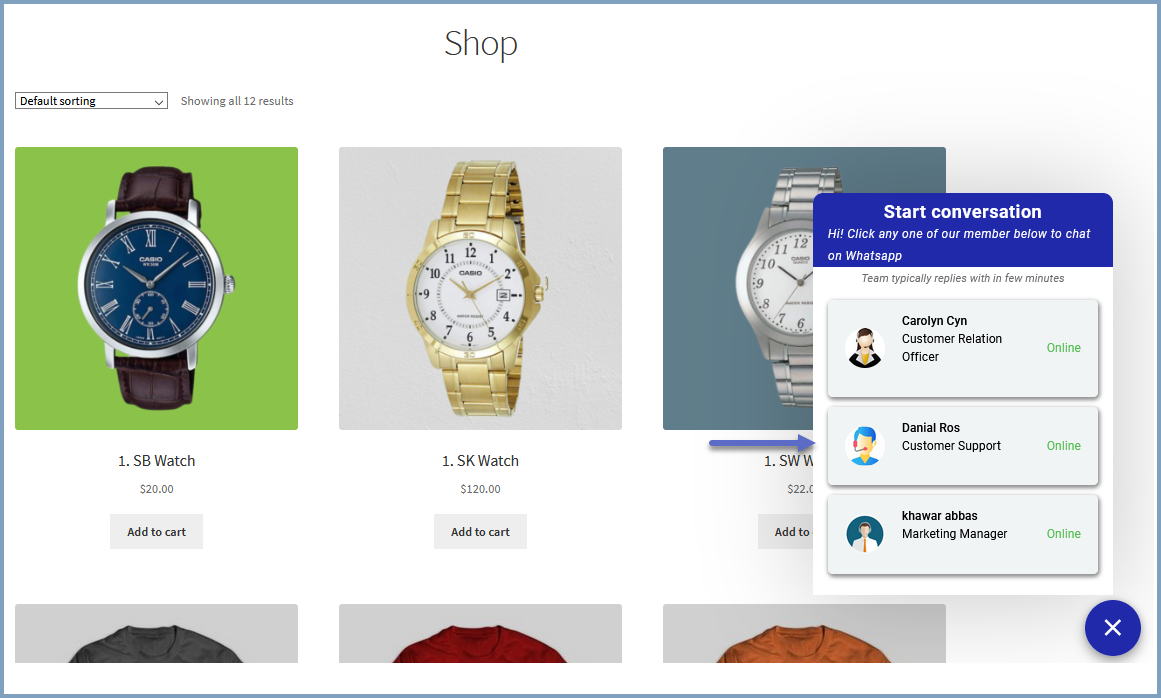 Add unlimited members to support the team
You can add an unlimited number of members to your support staff for keeping the WooCommerce WhatsApp chat active and responsive. Provide job title, phone number, and availability of the staff member so that customers can interact accordingly.

Write custom messages for customers
WhatsApp chat for WooCommerce allows you to customize the first message so that customers can reach out to your support staff with a click. Customers often hesitate to contact on a chat messenger that's why they need a message to start with.
Fabricate messages about support staff
Compose offline descriptions for each staff member when they are offline with WhatsApp chat WooCommerce. You can use a shortcode to convey the return time of the member.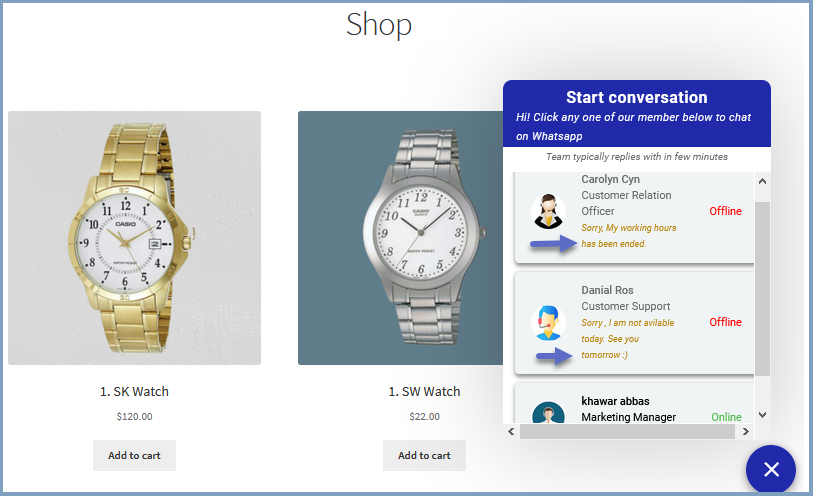 Add floating button for WhatsApp chat
With a floating button, you can ensure that the WhatsApp chat button appears on various pages of your store such as cart, shop, single product, checkout, and my account pages so that customers can notice and use it. You can customize;
Widget text
Widget label
Responsive time text
Description
Widget background and color text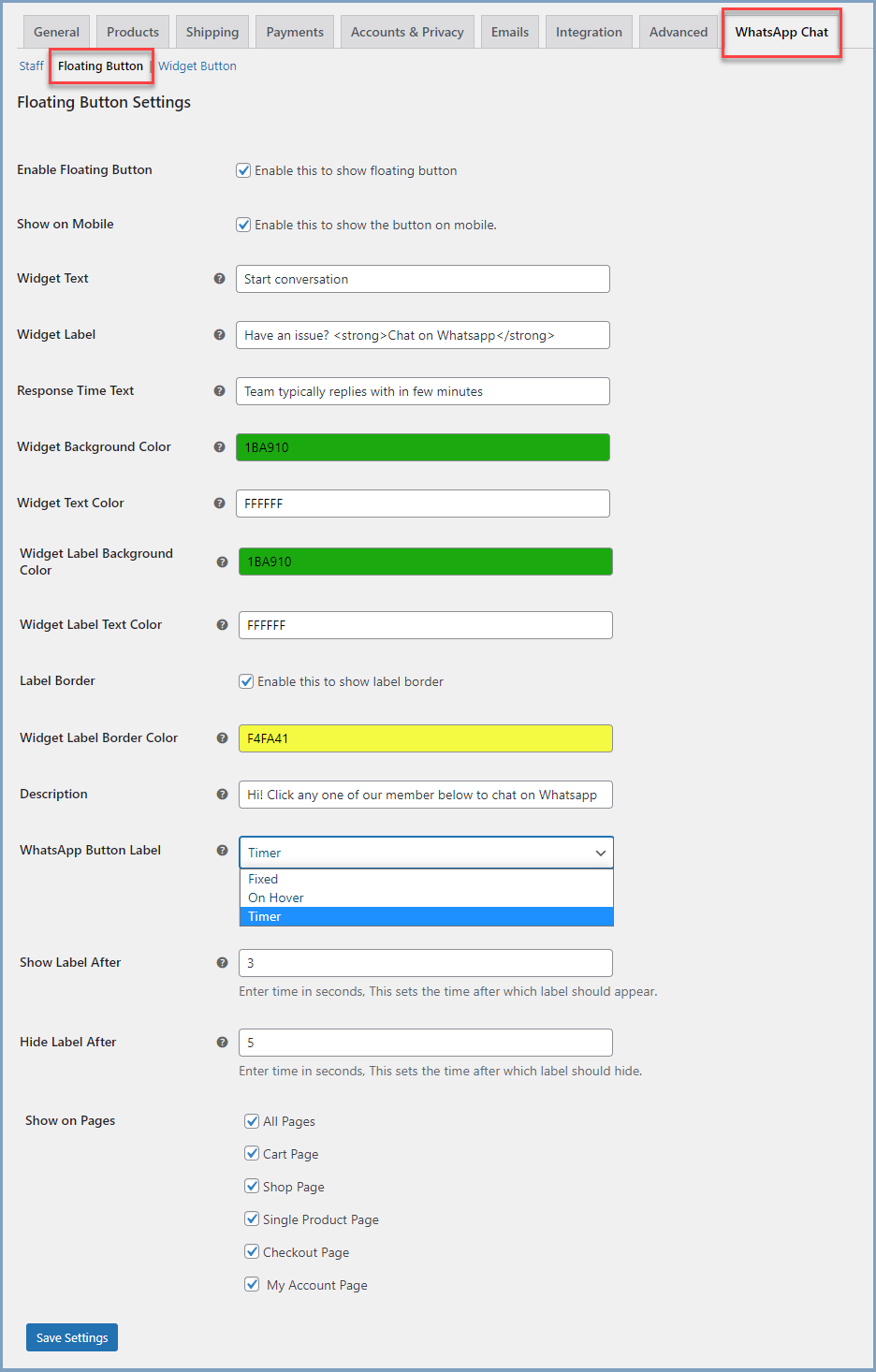 Choose a position for the WhatsApp Chat widget
Display the widget button on the prominent position of a product or store page. The positions to select from include;
Before single product summary
After a single product summary
Before 'Add to cart quantity
After 'Add to cart quantity
Manage WhatsApp Chat Support Staff
WhatsApp plugin for WooCommerce enables admin to select or unselect staff accounts from WhatsApp support. It is easy to remove the employees who leave and add the newcomers. You can sort support accounts as well.
Benefits
Create a free, easy, communication channel with customers
Create personal relationships with customers via WhatsApp
Learn more about customer needs
With permission, use contact numbers to market your new products
Improves support systems by providing rapid, efficient support
Improve the user experience of your online store
Allow customers to chat with any member of your support team on WhatsApp.
Get Started
Purchase the WhatsApp Chat for WooCommerce from WooCommerce.com
Download and install the extension
Activate the extension
Go to the WooCommerce > Settings > WhatsApp Chat tab to enable and configure settings
Read the full installation guide here