WhatsApp chat for WooCommerce plugin helps merchants to create support team to allow customers to ask live questions about products or services on WhatsApp. They can enable the WhatsApp chat widget button on multiple store pages where customers can easily connect with them.
Download WhatsApp Chat For WooCommerce and have your .zip file
At the WordPress admin panel, go to the Plugins section, and click 'Add New' to upload and install the plugin you just downloaded from WooCommerce.
Upload the .zip file to proceed with the installation.
Wait until the plugin installs. After successful installation, activate the plugin, and move on to configuration settings.
How to Add & Manage Support Staff Accounts? ↑ Back to top
At the admin panel go to WooCommerce > WhatsApp Staff  to add and manage the staff accounts. You can edit, view, and trash the existing staff accounts.

Now click the  "Add New" button to add the new account.
For each account you can configure the following the settings.
Add Title: (Add the name of person you want to add the account)
WhatsApp Number: (Add phone number of that person  like country code+phone number)
Job Title: (Enter job title of that person like Customer support officer, Technical support officer, Customer Relation Officer)
Predefined Text: (Specify predefined text which customer will use to start the conversion)
Availability Settings: (Set availability like his working hours and days)
Offline Description: (Enter offline message for working days break and days (like Sorry; I am Offline or available after 02:00 PM).
You can also upload the profile image as well.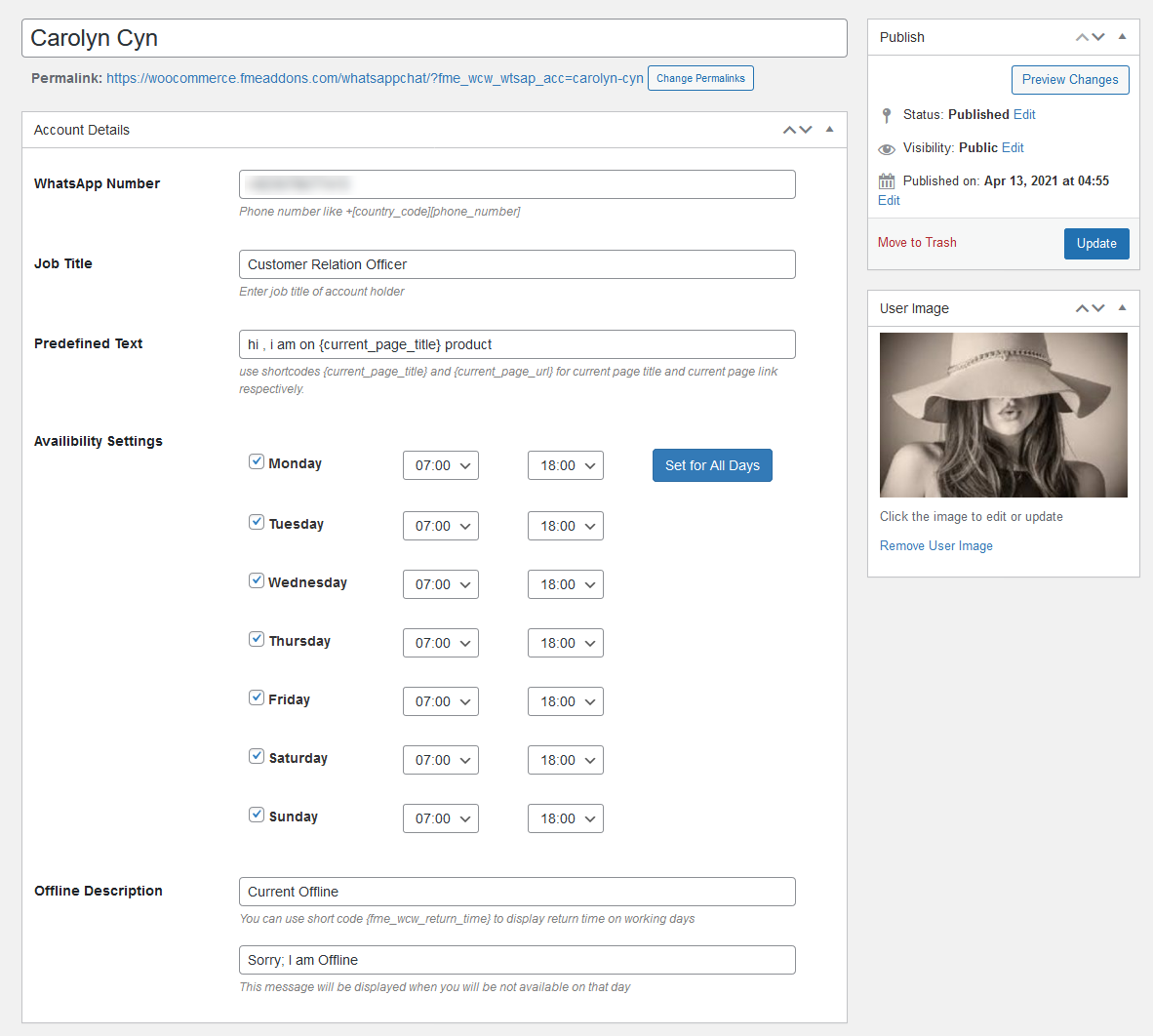 You can also set specific button style like background color and text color for each member.

At the admin panel go to WooCommerce > Settings and click WhatsApp Chat  for general settings. Here you will find the three tabs for settings such as Staff, Floating Button & Widget Button.
Staff:
In this tab, you can select the staff accounts you can want to display for your customers and sort the order of staff as well.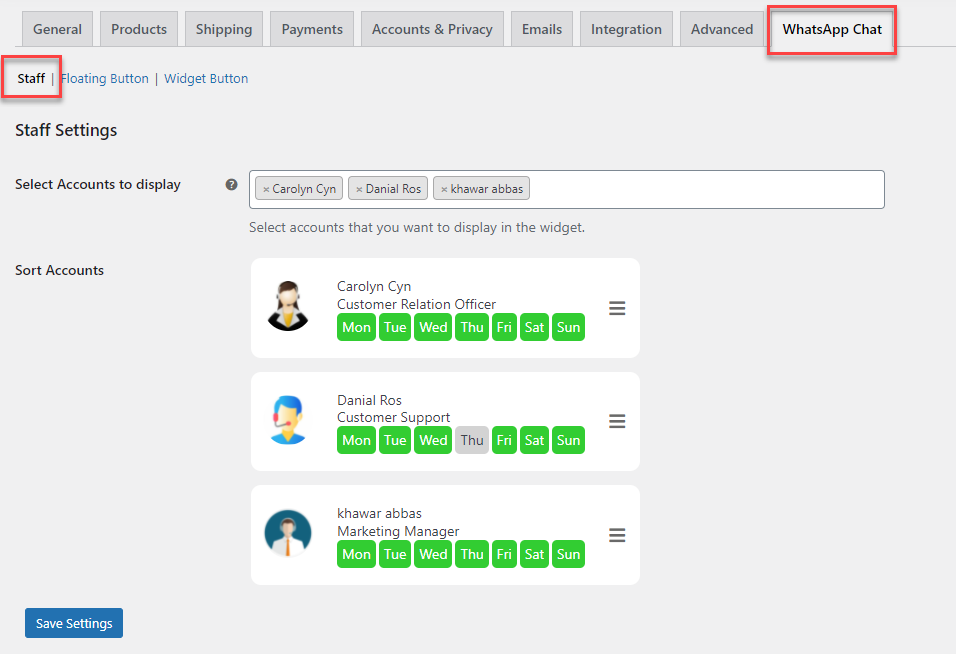 Floating Button:
Here you can customize the floating button text, label, color etc. and apply to specific or all the page of your online store.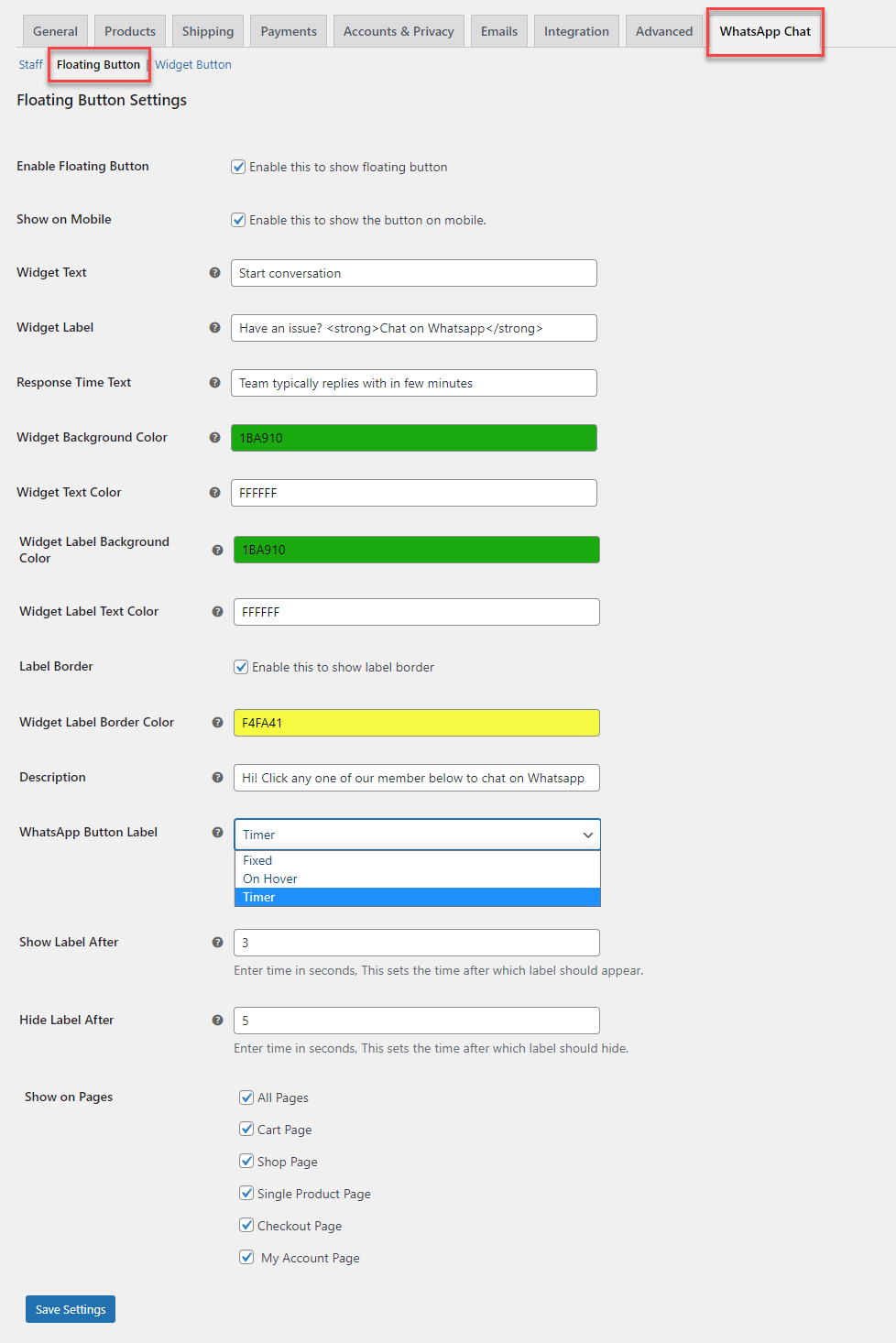 Widget Button:
This button will be displayed only on product page. You can choose its positions such as before/after product summary or before/after add to cart button and customize the background and text color of button.