WooCommerce Anti-Fraud
Developed by OPMC

Version 2.0 Available Now!
Version 2.0 is a major release for the Anti-Fraud plugin, and brings a range of enhancements to help you better detect fraud, and adds many options for customisation of settings. Upgrade now to keep your store safe from fraudulent transactions.
Quickly detect fraudulent transactions on your WooCommerce store
It is unfortunate, but true, that fraudulent transactions fuel a large sector of the ecommerce industry. When a fraudulent transaction is made via your online store, it is of paramount importance to act swiftly to 1) ensure your customers aren't affected and 2) minimise hassles for you, as the store owner.
Our WooCommerce Anti-Fraud extension is designed to help you pick up fraudulent transactions and catch them as they happen – by scanning and providing a score for each transaction made via your online store, based on a set of advanced scoring rules.
Risk Score and Advice
The risk score, and advice, provided per transaction allows you to quickly evaluate the potential risk level of the transaction and act accordingly.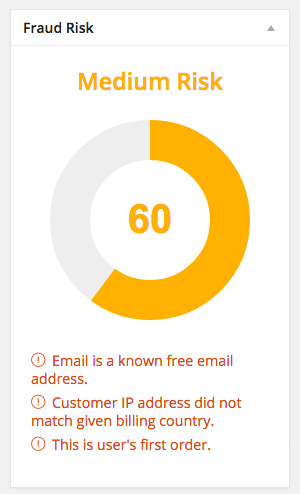 The advice provided is related to the rules in place (for example, if a customer's IP address doesn't match the billing country). The higher this number is, the more likely it is that the order is illegitimate.
Pre-Configured Rules
Our extension works out of the box – with no additional rules configuration required. We have defined a collection of default rules, by which the system scores each transaction.
Automated Actions
If a potentially fraudulent transaction is detected, the extension can be configured to perform one or more of the following automated actions:
Cancel the order
Hold the order
Notify the administrator via email, without changing the order status
Adding this extension to your WooCommerce store means a safer shopping experience for your customers and enables you to avoid the potential admin and hassles of unchecked fraudulent transactions. It's a good thing, very good.
Customize the importance of each risk factor
Our Anti-Fraud plugin lets you assign a 'risk weight' to each risk factor. This means that you can decide how important each risk is. The higher the risk weight is for each category, the higher the risk score will be when the risk is detected.
You can also set risk weight to "0" to disable
What's new in Version 2.0?
IP address checker
The plugin will let you know if a user has made several orders using the same IP address. It will also determine if the customer has ordered behind a proxy.
Unsafe countries
You can now define which countries are considered unsafe or high risk. If an order is placed from an unsafe country, it will be reflected in their risk score.
Suspicious domains
Use this field to enter a list of domains associated with fraudulent transactions. Users with email addresses under these domains will be considered a higher risk. This feature is useful for detecting customers who use disposable or temporary email services.
Require verified PayPal accounts
Limit PayPal payments to verified email addresses. The customer will receive a customizeable email from your shop, prompting them to authenticate their PayPal account before the purchase can be shipped.
Blacklisted accounts
Easily add email addresses that you know are unsafe to a blacklist. This will notify you when they place an order and allow you to put it on hold.
Cancel suspicious orders before they are processed
If an order's risk score is high enough, the plugin can automatically change the order's status from "Processing" to "Cancelled" or "On Hold"
Detect multiple orders from the same IP address
If multiple orders are coming from the same location over a short period of time, they are much more likely to be illegitimate. WooCommerce Anti Fraud allows you to see when this happens.