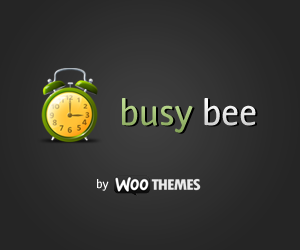 What a year 2008 has been, WooThemes is only 5 months old, yet we've launched 17 themes, answered about 2 400 support queries (14 000 forum threads!), and replied to a heap of sales/administration emails. To put it lightly we've been busy bees .
Today is a very special day as we are launching the much anticipated 19th theme of 2008 appropriately named – Busy Bee . BusyBee was masterminded by Magnus "Flash Gordon" Jepson , after much research into the reasons for our most popular theme – Fresh News .
Busy Bee caters for a huge variety of users, it can be used as a news based or magazine based theme. Alternatively you can use it for your personal blog, or your business website. It is packed full of useful features, with Magnus revising a good chunk of the theme options.
9 dedicated advertising blocks, with an easy to integrate Adsense option, 13 pixel perfect colour styles and completely widgetized sidebars and footer space, with some lovely custom-built widgets.
Go taste the honey here , constructive feedback most welcome as per usual.
Update: We've added a video player widget because of popular request. Grap version 1.0.1 if you already downloaded the theme. Check out the docs for how to setup video posts.