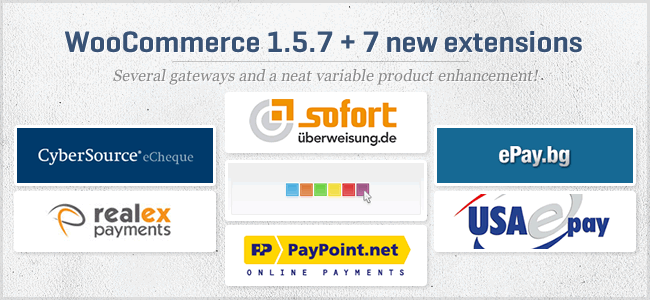 Fellow WooCommerce developer & ninja, Coen, probably won't be happy about today's title, but heck, it's impossible to have fun without stepping on the odd toes every now & again… Our title is obviously referring to the Dutch football team's amazing ability to literally drop the ball (at the ongoing Euro Championship) and we'll use their example as inspiration for our very own WooCommerce drop today. 🙂
In the last couple of weeks, we've seen WooCommerce breaking new ground. Not only are we fast-approaching 200 000 downloads, but we're specifically pleased by the fact that we now have more than 100 extensions that expands on WooCommerce' core functionality in such a way that it becomes a great solution across most industries.
One of the biggest reason's for WooCommerce widespread adoption has been our focus on supporting as many payment gateways as possible, since this makes WooCommerce accessible to a global audience. So we're specifically chuffed to continue that trend today with 6 more payment extensions and the integration of Mijireh into the core (more on this later). Here's the low-down on the new extensions & WC core updates…
Variation Swatches and Photos
Using color and image swatches provides a much nicer way to display the available colors of a product, available styles, available sizes, or pretty much anything else that you can display using an image or color.
This plugin lets you define images for attributes globally or on a per-product level which will be shown on the front-end variations add to cart form.
Developed by Lucas Stark
View this Extension
PayPoint.net gateway

PayPoint.net is a leading online payment provider, which focuses on providing simple and secure payment solutions to bussiness of all sizes.
Using Paypoint.net you will be able to accept all major credit cards including Visa, Visa Electron, Master Card, Maestro, American Express, Switch, Solo.
Developed by Ivan Andreev
View this Extension
ePay.bg payment gateway

ePay.bg is the a leading Bulgarian online payment system. It allows you to pay for orders using debit with BORICA logo, credit cards, Visa and Master Card, or using an ePay.bg micro account. ePay.bg accepts payment in Bulgarian Lev (BGN), Euro (EUR), and US Dollars (USD).
Developed by Ivan Andreev
View this Extension
USA ePay

USA ePay is a plugin that allows you to accept payment by credit card using your USA ePay gateway.
Developed by Daniel Espinoza
View this Extension
Sofort payment gateway
Sofort.com is one of the most famous online banking payment providers in Europe. Customers can easily transfer their cash with their online banking account via sofortueberweisung.de.
Developed by themekraft
View this Extension
CyberSource eCheck SOP

The CyberSource eCheck SOP Payment Gateway handles all the steps in the secure checking account transaction while remaining virtually transparent, significantly reducing the scope of ACH compliance.
Developed by Justin Stern
View this Extension
Realex Payment Gateway
Realex for WooCommerce is a gateway plugin that allows you to take credit card payments via Realex directly on your site. With Realex you can accept payments from Visa, MasterCard, American Express, Laser, Switch and Diners Card.
Developed by Justin Stern
Aside from fixing several minor bugs, and performing over 30 tweaks and optimisations we've added a few new features in 1.5.7 which you should enjoy, including more filtering options for the products in admin, a menu count for pending orders, an ajax-powered coupon form on the checkout and a brand new gateway called Mijireh.
You can view the full changelog for 1.5.7 here.
Mijireh Checkout Integration
Mijireh is a PCI compliant hosted checkout which supports a growing list of payment gateways including Stripe, Authorize.net, PayLeap, Paypal, and Braintree.
With the bundled Mijireh/WooCommerce gateway, getting started with Mijireh is a breeze; just go to WooCommerce > Settings > Payment Gateways to get set up.