TL;DR: An update is available for WooCommerce! To make the process as smooth as possible, view our documentation on
how to update
,
make a backup
, update your extensions, and finally update WooCommerce via your WordPress Dashboard.
Looking for technical details? Read " WooCommerce 3.1 has landed" at the Develop WooCommerce blog.
Since our 3.0 release in April, we've been working on a slew of improvements to make it faster and simpler to get up and running with WooCommerce:
Save time with the new, built-in import/export feature to add and update product information
Manage WooCommerce.com subscriptions directly in WooCommerce
Ship products more easily in the US and Canada by setting up WooCommerce Shipping
Existing stores also have new features to enhance their online storefronts — inline 'Terms and Conditions' in checkout, embedded videos and more in short descriptions — and improve their workflow — assigning an order to a customer for payment, updating stock status for all variations at once. And we added search helpers for developers.
That's a lot!l Let's dig into details.
Add or update product information with our new built-in tool
Adding products is a critical step when setting up your store. Before this release, you had two options:
Manually set up each product – fine for stores with a few products, but not scalable
Purchase an extension – fine for established stores with orders coming in, but pricey for newcomers
What we found was stores who had a meaningful number of products, but weren't actively selling, hit a wall during setup. To make it easier, we added a product import/export tool in WooCommerce.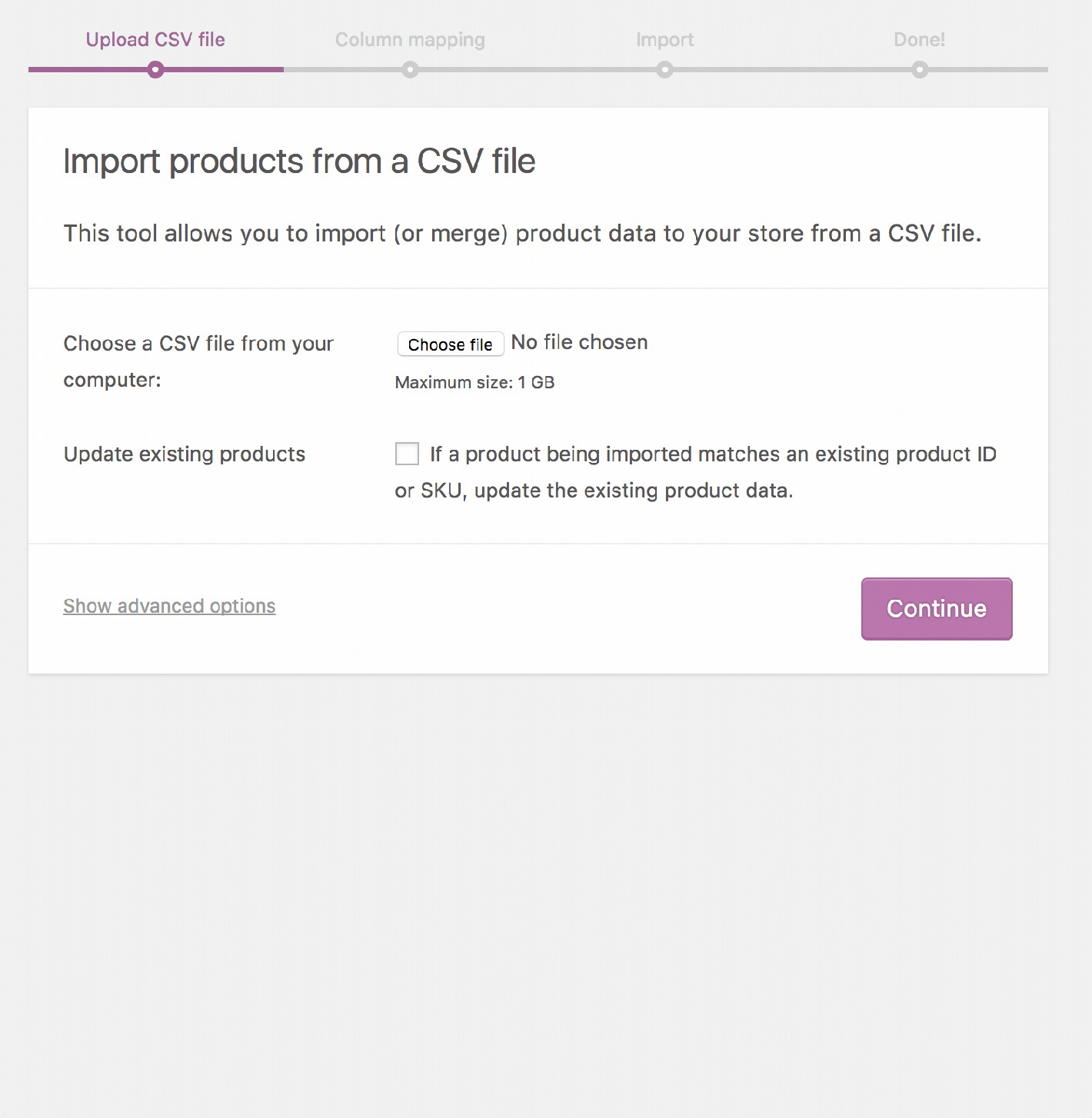 The import tool allows you to upload all product information to WooCommerce, including name, short description, regular price and sale, and more. You can also import any standard product type, including variations using a single CSV file.
In addition to first-time stores, existing stores can use this same tool to bulk update information.For example: If you decide to put all the products in one category on sale, or to keep information across different systems in-sync, or if you have multiple storefronts, or if selling on a marketplace outside of your store. The importer will match up data based on product ID or SKU.
On the export side, you can decide what pieces of information to export, and export one, some or all product types, and export custom meta data.
In time, this functionality in core will replace our Product CSV Import Suite extension. Since we know many customers have workflows built around this extension, we'll phase it out over the next few WooCommerce releases. For now, we lowered the price and added a notice so customers understand plans around this product.
Manage WooCommerce.com subscriptions without an extra plugin
We know the folks running Woo stores have big dreams and sometimes specific needs. To meet those needs, we offer a wide variety of extensions on WooCommerce.com to customize your store.
Now we've brought the experience of downloading and activating extensions right into WooCommerce. You purchase, you download, you activate. No added steps; no confusion.
Adding this functionality to WooCommerce means customers have an easier time getting started. Instead of adding a new plugin and copy/pasting subscription keys, customers simply connect their WooCommerce site to their WooCommerce.com account and then download and activate extensions all within WP Admin.
This new feature also:
Creates a more secure connection between your store and WooCommerce.com
Shows which WooCommere.com products you purchased but not activated, so you can easily activate
Attempts to activate subscriptions when you activate a plugin, combining two steps in one
New customers can see the WooCommerce.com Extensions screen under Extensions in WP Admin, and read the documentation about managing WooCommerce.com Subscriptions if they need help connecting their account. Existing stores that already have the WooThemes Helper activated only need to update to WooCommerce 3.1.
Because this new feature creates a one-to-one link between an account and a store, only valid subscriptions purchased on the connected WooCommerce.com account will show on the connected store. If you purchased extensions on behalf of someone else, you can contact us to transfer subscriptions to a new owner.
Ship physical goods and print labels in the US and Canada without copy/pasting order details
Just over a year ago, we announced we were working on a new and more stable way to enjoy WooCommerce features without adding an extension for each one – WooCommerce Services.
Now you can add live shipping rates for USPS and Canada Post and print discounted shipping labels for USPS without leaving your store.
Using the onboarding wizard, new stores can enable WooCommerce Shipping (our first service), and the WooCommerce Services plugin will be installed on your site.
WooCommerce Shipping shows live rates from USPS and Canada Post, so customers pay the correct amount for shipping.
As a bonus, you can also print USPS shipping labels directly from WooCommerce and enjoy discounted rates. No need to copy/paste order details from your store to the USPS site – fewer errors, less time wasted and cheaper shipping. #win
Existing stores can also add WooCommerce Shipping and take advantage of these features.
Updates to short descriptions, checkout and more
And there's more! We added a few other bits and bobs to tweak the WooCommerce experience.
First, you can now use oEmbed in short descriptions, which means store owners can add videos and other rich media throughout their site.
Next we rolled our Terms and Conditions Pop-Up extension into WooCommerce, allowing you to present customers with Terms and Conditions to accept during checkout. 'Terms' open up on the page when the link is clicked, and customers can review without leaving checkout.
Store owners who sometimes need to send a payment page for a specific order to a customer can see two improvements:
Customers not assigned to the order will see a message informing them that they can't pay for the order.
Logged-out customers will be prompted to log in, if the store requires it.
And finally, we made it easier to update stock status for variations: you can now bulk-update all variations to 'In stock' or 'Out of Stock.'
For developers: search helpers (WC_Order_Query class)
With every release, we like to add backend improvements for the many developers building on top of WooCommerce. This time around: search.
wc_get_orders and WC_Order_Query provide a standard and safe way of retrieving orders that will not break due to database changes in future WooCommerce versions. This is the recommended method for plugin and theme developers to retrieve multiple orders, similar to WordPress get_posts and WP_Query.
Learn more about how to use these.
Your update is waiting
Ready to give it a shot? Review our documentation about how to update, make sure backups are in place, and then grab the update in WP Admin.
We're here if you need us:
Please note that we are not able to diagnose or solve potential issues via blog comments. The fastest way to get in touch with us is one of the methods listed above.
For specific info on 3.1, potential compatibility issues and ongoing updates are on our Develop WooCommerce blog .
What do you think of our latest release? Let us know in the comments! We are always excited to read your feedback.