Bookings 1.8 comes packed with a ton of new features that help your business run smoothly. Here they are in a nutshell:

With this release, you can now accept bookings that span multiple days. We've also added the ability to offer discounts when multiple people make a single booking together, and add buffer time between each of your bookings.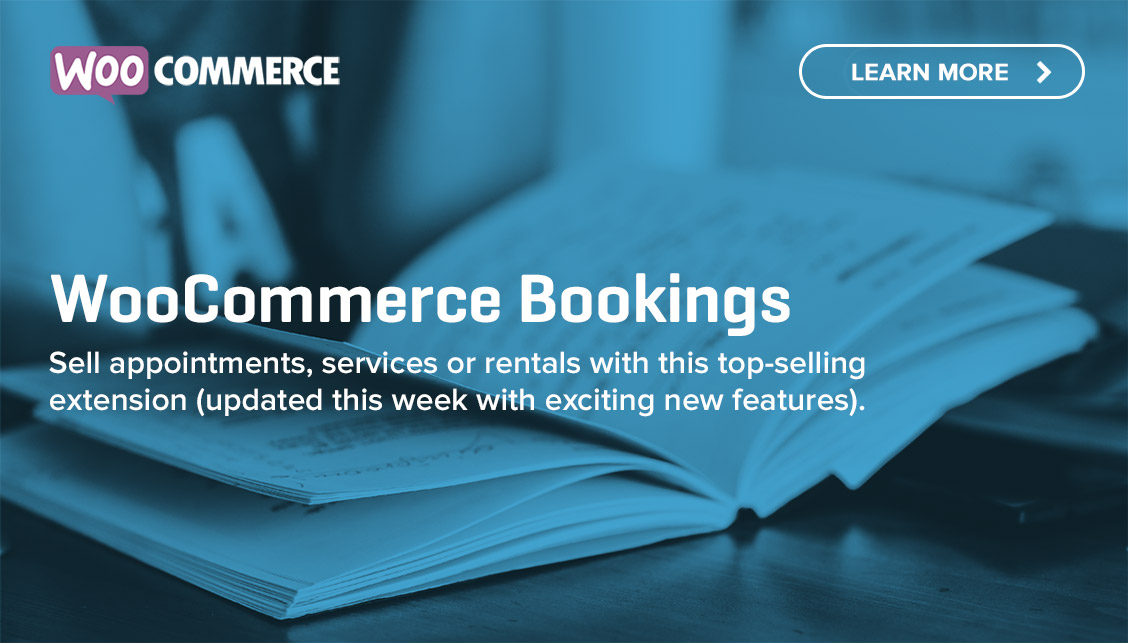 Here's a closer look at some of the great new features in WooCommerce Bookings version 1.8.
Bookings extend into the next day
Prior to Bookings 1.8, products with minute or hour based durations could not extend from one day to the next. 1.8 adds that ability, meaning you can now offer overnight bookings.
For example, say your business rents out party buses. You might need to offer an overnight rental (such as 11PM to 6am the following day). Bookings 1.8 gives you the power to do this.
Learn how to configure your bookable product here.
Buffer periods
There are plenty of reasons you might need a buffer period between your bookings. Maybe you manage a dental office and need to prepare the room for the next patient. Or maybe you simply need a break.
1.8 allows you to set buffer periods for minute, hour, and day bookings. This allows your breaks can automatically be built into your schedule.
Products with a duration of hours or minutes can have a buffer period of set minutes, creating a fixed schedule. Products with a duration of days, on the other hand, can have buffer periods of entire days.
For example, say your business rents a product out and you ship it between customers. To give yourself time between bookings to get your product sent to the next customer, use 1.8 to set a buffer period of a few days between each.
Learn all about how to use buffer periods in the support document on availability settings.
Priorities for availability rules

Early versions of Bookings allowed you to set rules at the global, resource, and product level. Global rules would always take priority over product rules, and product rules would take priority over resource rules.
1.8 now offers more fined-grained control by letting you set priority numbers for rules. Setup your schedule the way you want it.

Learn all about how availability rules work in the documentation.
Offer discounts per person
With Bookings 1.8, you can create coupons to offer an amount off per person in a single booking.
For example, if you run an escape room business, and want to encourage customers to get more of their friends involved, you can create a coupon that offers $2 off per person. If a group of four people book an escape room mystery, they would get $8 off. If a group of ten people book, they would get $20 off, and so on.

Bookings 1.8 also includes…
Fixes for multiple bugs, improving the overall stability of Bookings.
A new "partially booked" indicator that works for day blocks that allow multiple bookings.
Adjustment to respect your WooCommerce time and date format settings.
Some developer improvements including translation fixes, a new get_wc_booking_statuses() function, and support for person types in create_wc_booking().
Upgrade instructions
Version 1.8 is a major update to the WooCommerce Bookings extension and contains a lot of changes. Before updating, please:
Update all other WooCommerce extensions
Create a backup of your database and site's files (need a backup tool? We recommend VaultPress, and Woo users get the first 30 days free)
Test all plugins, custom code, and payment gateways with version 1.8 on a staging site if possible
Try Bookings 1.8 now, and stay tuned for even more

Ready to give the newest edition a shot? Upgrade to Bookings 1.8 via your WordPress Dashboard or My Account page, or download a fresh copy if you're new to the extension.
That's all the news we have for now, but we have a lot more planned! Keep an eye out in the coming months as we build upon Bookings and make it even better.
In the meantime, if there's a particular feature or update you'd like to see, submit an idea on our ideas board.
Have any thoughts or questions about Bookings? Let us know in the comments — we're always happy to hear from you.