Anything your business can do to increase customer loyalty is worth considering, including offering them the option to give a donation at checkout. Aligning with a charity or group of charities has been proven to increase customer acquisition rates and retention. Plus, it's a great way to support causes that matter to you, your team members, and your community.
According to this study from Good Scout, people from different generations have varying feelings about being asked to donate at checkout. Deciding whether or not to accept donations depends not just on your interest in helping nonprofits, but also on your customer preferences.
If you decide it's right for your store, Donation for WooCommerce is the best way to make it happen.
Why ask customers to donate at checkout
Consider some data from the Good Scout study:
71% of people reported giving a donation at checkout and 55% liked being asked to give. That means your request isn't a burden; it's a valuable part of good customer service.
Even better, 60% of respondents both remembered and felt positively about the last business that asked them to donate. Not only do the majority of donors like being asked to support a nonprofit at checkout, but they remember — and like — the business that asked them.
That's a pretty great, easy way to make customers happy.
One of your biggest challenges as a business is simply being remembered, especially by those all-important, first-time customers. If you want them to make a second purchase, they have to remember you, and aligning your store with a cause they care about is a great way to make this happen.
How different generations feel about donation requests
The younger your customers, the more you'll benefit from asking for donations.
70% of millennials (born in the '80s and '90s) liked being asked to donate at checkout. 68% of them felt positively about and remembered the business that asked.
In contrast, 60% of boomers (born between 1946 and 1964) did not like being asked to donate and only 47% felt positively about the business that asked them. Generation X (born in the late '60s to '70s) falls in the middle of these two extremes.
Consider whether the majority of your customers are from a particular generation. If your business attracts younger people, asking for donations is a smart move. If you cater mostly to older generations, give it more consideration.
Four tips for selecting charities to support
Remember: asking for donations at checkout is actually a form of customer service. The majority of shoppers like it. So the question is, which nonprofits should you donate to? Here are a few ways to decide:
1. Align with your customers' values
If you're an outdoor gear retailer, your customers are more likely to donate to causes that focus on the environment, nature preservation, or animals.
If you sell toys, an organization that provides food or educational products to kids would be the perfect partner.
2. Appeal to the widest variety of customers
With the Donation for WooCommerce extension, you can offer more than one charity at checkout.
If you want to appeal to a variety of customer values and preferences, add three or four well-known organizations and let customers choose the one they like most. People appreciate having a choice — it empowers them.
3. Select local charities
If your business serves a smaller area, identify a nearby charity and give your customers the chance to help their community. Many people intentionally shop at small businesses to support local commerce. They'll appreciate an additional opportunity to engage with their neighborhood.
4. Lean into your personal passion
Some business owners are passionate about a specific cause. If that describes you, don't be shy or nervous about embracing it.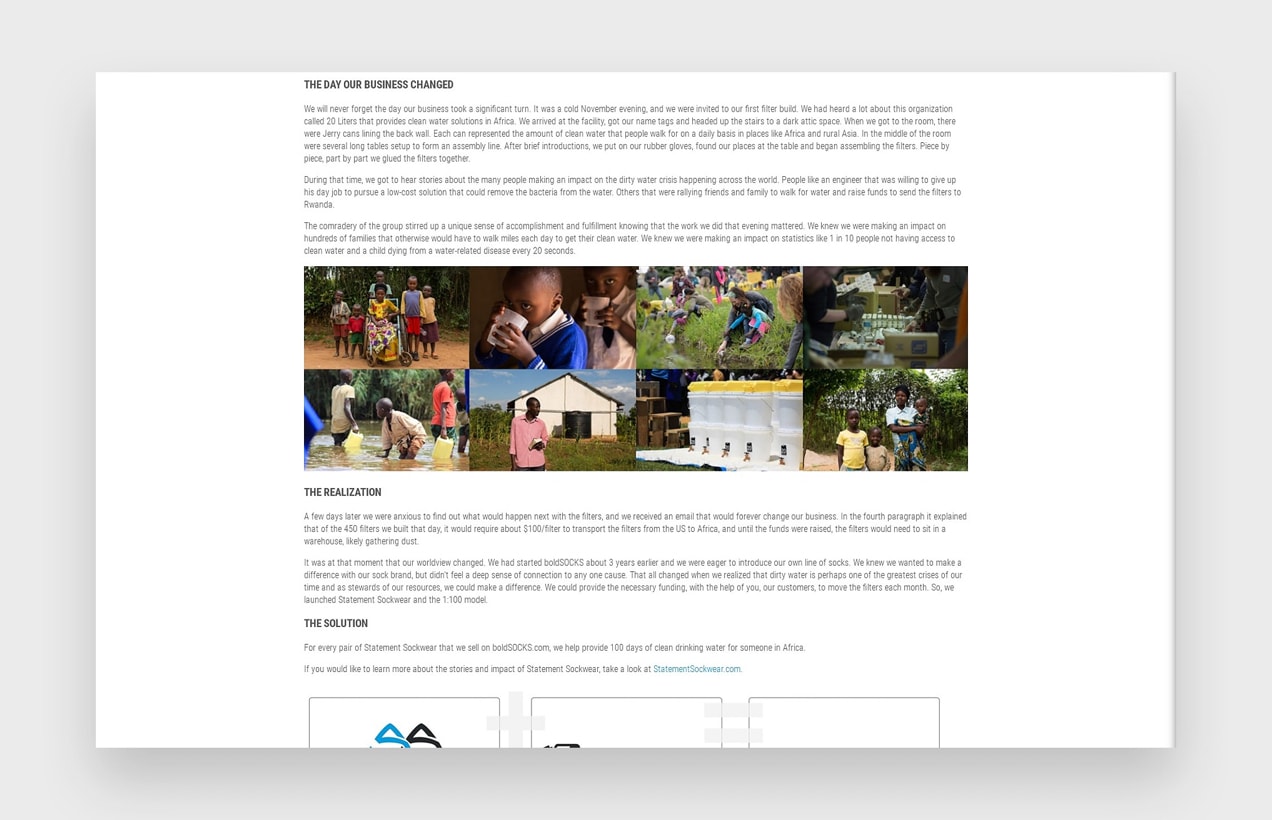 After hearing story after story of the dirty water crisis around the world, boldSOCKS decided to focus on making a difference. They went all in, creating a system of sustainable funding to distribute and maintain water filters throughout towns and villages in Africa. So far, their efforts have contributed over 40,847,300 days of clean water.
Three ways to ask for donations
1. Offer pre-set options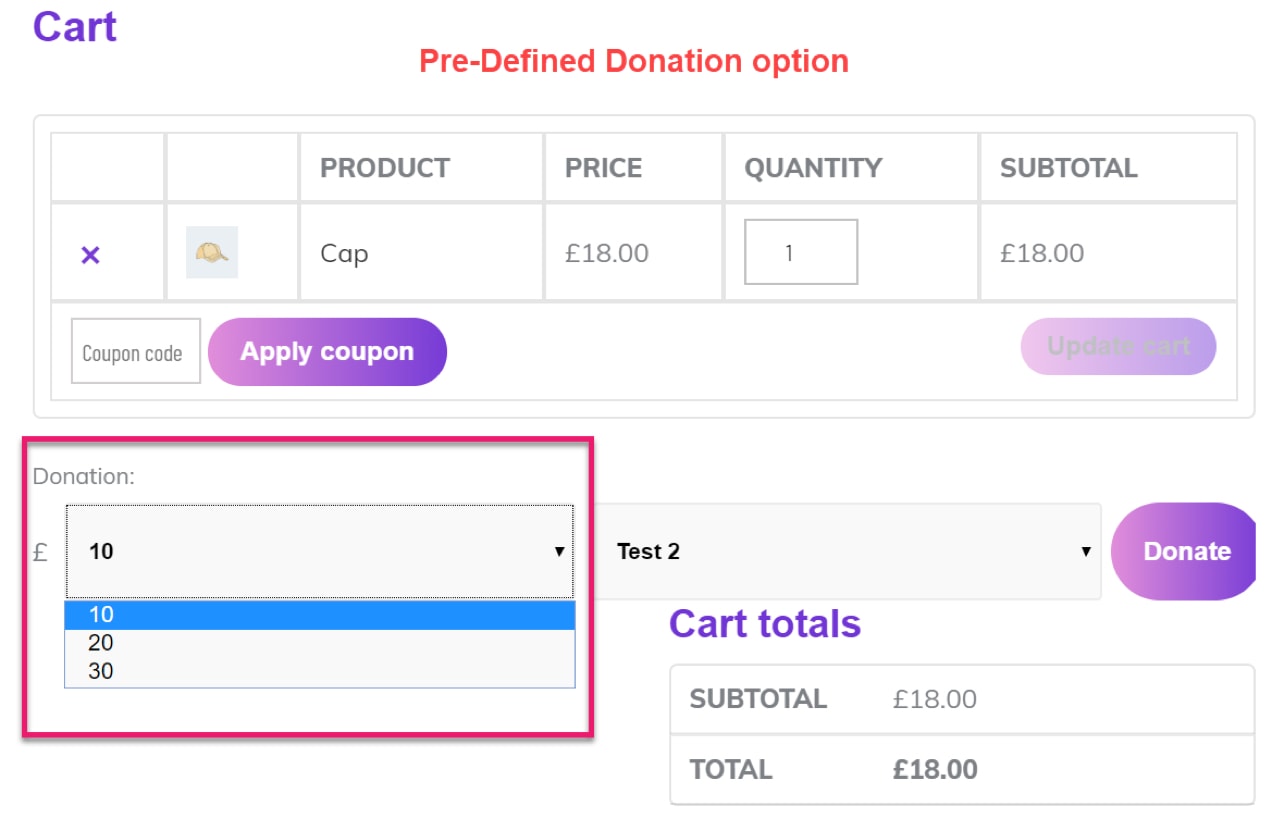 Present the customer with a list of pre-set donation amounts set up just like any other product. They can simply select the organization they want to support. This is a fast option for customers that still gives them the power of choice. We recommend making the pre-set donation amount low, less than $2.
Remember, they didn't come to your business just to give to charity, so don't box them in with a high amount.
2. Let shoppers choose an amount
If you have a set organization you wish to support, you can still give your customers freedom of choice by letting them pick their own amount. You might provide a few options like $1, $2, $5, and $10, and leave an empty field for a custom input.
3. Give customers the opportunity to round up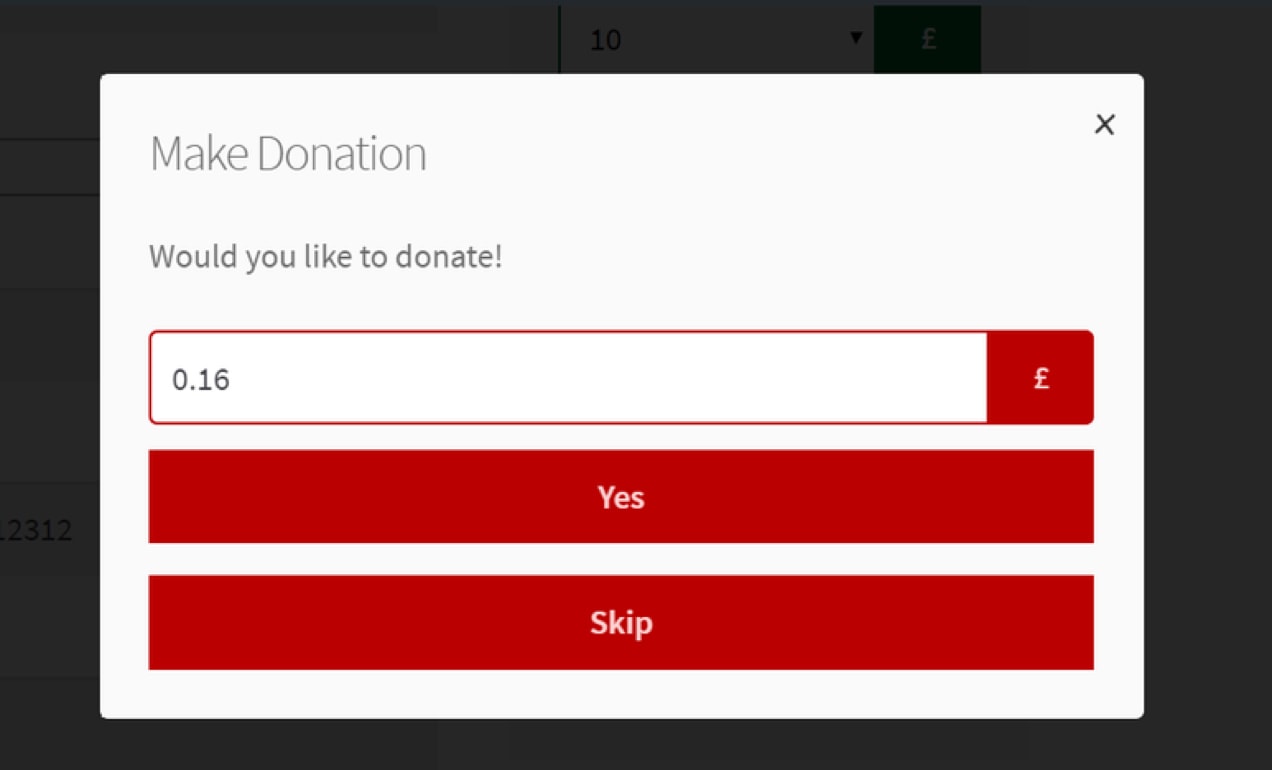 If the purchase amount is $34.75, the "round up" option would simply add 25 cents to the purchase price that would go towards a charity. This is very easy and doesn't cost the customer much, but makes them feel good and supports a nonprofit.
Simplify the donation experience
The key to customer engagement is simplicity and ease of use. If you're going to add a step to the buying experience by asking for a donation, make it as easy as possible. You don't want to lose a customer because they get frustrated about trying to give a few dollars to a nonprofit.
The Donation for WooCommerce extension solves this problem by adding a dropdown or radio buttons to the checkout page. Customers can quickly decide what to do and then finalize their purchase. Or add options directly to your product pages to make donating seamless.
Ask for donations at checkout and your customers will remember you favorably and come back again.
Learn more about Donation for WooCommerce