While it's always important to ship orders quickly and securely, it's even more critical during the busy holiday season. After all, presents need to arrive early enough to be put under the tree, handed out at holiday parties, or shipped to loved ones.
Last holiday season, almost 16 billion pieces of mail and packages were delivered, which is more than a 4% increase over 2017. And, between UPS and Fedex alone, 8% of those were delayed.
There are many factors that affect delivery time, some of which are outside of your control. Keep reading to learn how to prepare for holiday shipping, set up shipping rates with WooCommerce, and ensure that your packages arrive on time.
Setting up Shipping in WooCommerce
Your first step is to determine your shipping zones, or the areas that you ship to. You can choose to ship internationally, or only to specific countries. If you sell products like alcohol, you may only ship to certain areas where you have a license.
Next, set shipping rates and methods for each zone. This is helpful for determining shipping cutoff dates for specific areas. For example, you may set an earlier cutoff date for orders that ship across the globe than for orders that ship a few hundred miles away. You'll find more details about choosing cutoff dates and selecting shipping carriers in the sections below, or you can read our full documentation on setting up shipping zones.
There are three default shipping methods available with WooCommerce:
Free shipping can be a great way to encourage purchases. In fact, 93% of online shoppers are motivated to buy more products if free shipping is available. If you decide to offer a free standard shipping option, you may also want to provide priority shipping for an additional fee. With WooCommerce, you can combine a variety of options based on the needs of your customers.
If none of the default shipping methods meet your requirements, there are a variety of extensions available:
View all of the available shipping extensions for WooCommerce.
Finally, you might want to consider creating shipping classes for your products. Shipping classes are used to set rates for specific items, such as heavy or fragile products that cost more to deliver.
Read the Product Shipping Classes documentation for more details.
Choosing and Integrating with a Shipping Carrier
Choosing the right shipping carrier can have a big impact on rates, arrival times, and delivery quality. The right carrier for your business may vary, but here are some things to consider when choosing one:
Where are you shipping to and from? Make sure your carrier can ship to all of the locations you service.
Do your products require special handling? If your products are heavy or require special attention (e.g. cold food or flammable items), ensure your carrier provides a solution.
What are the available shipping rates? Can you get a discount if you ship a large volume?
How quickly does your carrier deliver?
Is tracking available? 
Is insurance included or can you purchase it separately?
It's important that you also consider how delivery times and rates change during the holidays. USPS, FedEx, and UPS have already released their estimated shipping deadlines for 2019, but if you're using a different carrier, make sure that you're aware of their requirements. Some carriers also have holiday shipping surcharges, especially for bulky or overweight packages. Consider those when choosing a provider or determining shipping rates for your customers.
In some cases, you may need to use multiple carriers. For example, some of your items might have special handling requirements, or you might need to use different carriers for some countries that you ship to. You can allow your customers to choose between shipping methods or use extensions like Table Rate Shipping to select the methods offered for specific products.
View available shipping carriers for WooCommerce.
Choosing Cutoff Dates for Shipping
Once your shipping rates and methods are set up on your site, it's important that you let customers know the last day they can purchase a product in order to receive it before December 25th.
Start by understanding the cutoff dates for your chosen shipping carrier. As mentioned above, USPS, FedEx, and UPS have already published their deadlines, but you may want to add a little extra padding, as those dates are estimates, not guarantees.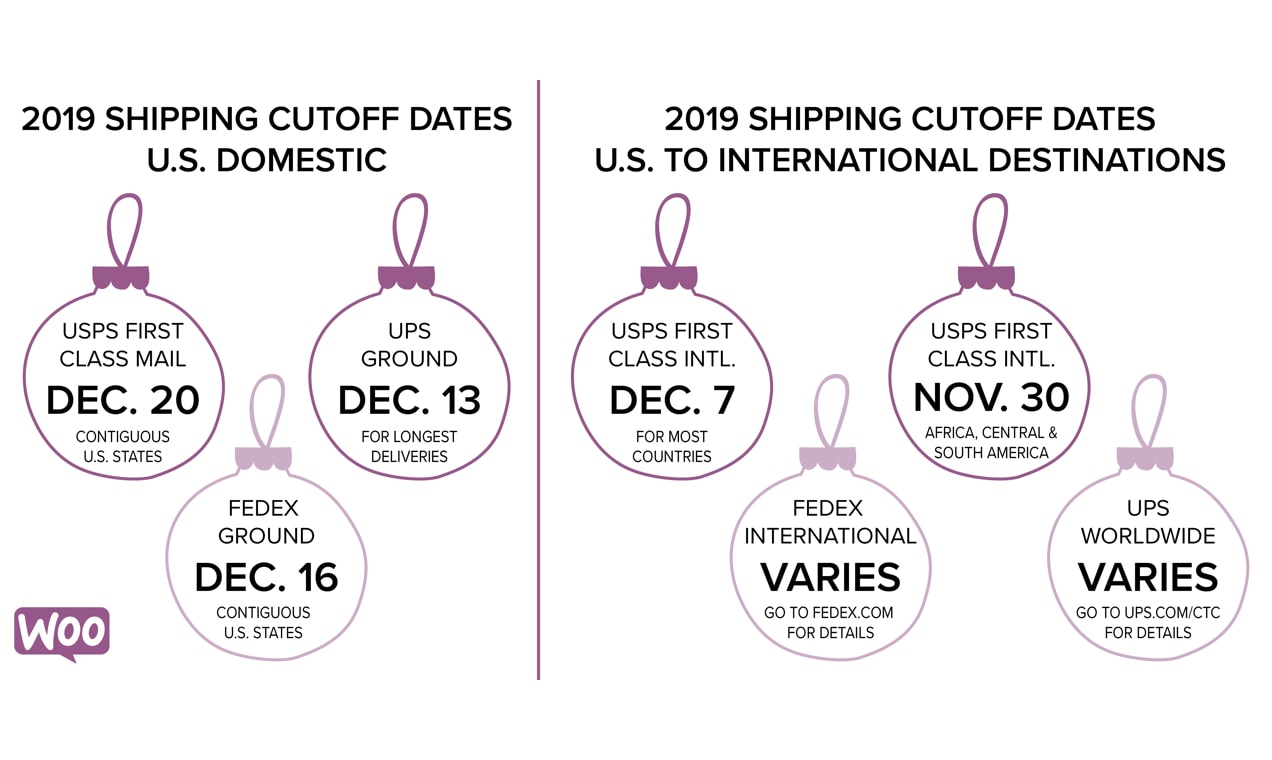 Consider choosing different dates depending on the location you're shipping to, since international shipping often takes longer. Be aware of any international holidays that may impact shipping times.
Ultimately, base your cutoff dates on your shipping carrier deadlines, holidays and weekends, and your own processing time. Then, make sure to display them in an obvious way to your customers.
One way to do this is by including a popup that's visible on the home page, product pages, or checkout page of your site. Nuria Beauty created something similar with an email capture instead of shipping dates. Notice that they added an overlay to the rest of the page, so that the popup is clear and visible.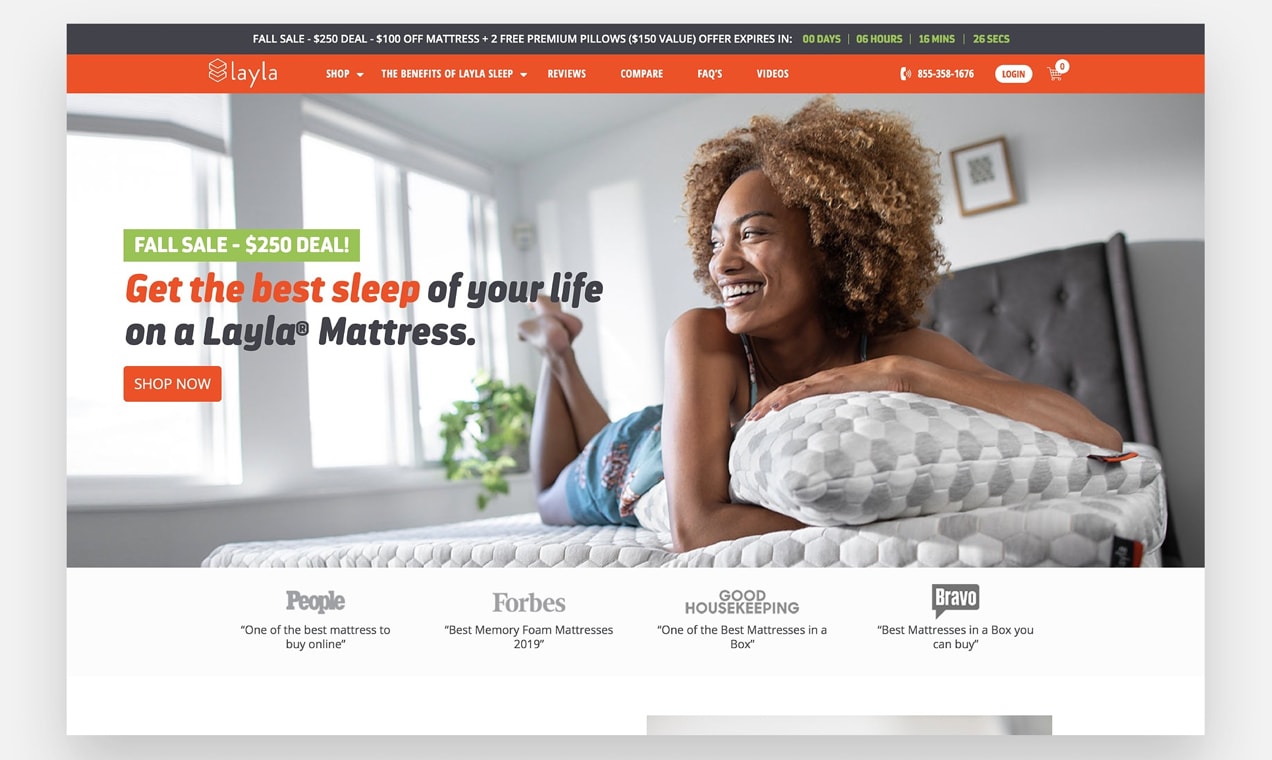 Layla Mattress uses a top bar that's visible on every page of their site to advertise a sale. You could use the same format to display shipping cutoff dates, with a clear countdown that shows how much time is remaining to purchase for the holidays.
Or, you could use the Cart Notices extension to add a colorful, visual alert to the Checkout page, reminding customers of your cutoff dates.
The important thing is that your deadlines are obvious and clear, so that you avoid any issues for customers.
But what about shoppers who still want to make a purchase after the cutoff date? If you offer gift cards to your store, suggest those as alternative present ideas for your customers.
It's important that you provide tracking information, so that your buyers know exactly when to expect their package and can keep an eye out for it. This also keeps you from having to answer delivery questions from anxious holiday shoppers. Using the Shipment Tracking extension, you can make tracking information available on your website and in emails. Additionally, you can email tracking information when you buy your labels with WooCommerce Shipping.
Ensuring that Packages Arrive on Time
After setting clear and visible cutoff dates, you'll need to do everything you can to make sure that your packages arrive on time.
Offer expedited shipping options. Add faster shipping options, like priority shipping or overnight delivery, for customers shopping at the last minute. 77% of holiday shoppers plan on purchasing last-minute gifts, and expedited options increase the chances of being able to fulfill those orders.
Print shipping labels yourself. Instead of waiting in the long holiday lines at the post office, consider printing out shipping labels yourself. You can print discounted labels from USPS using WooCommerce Shipping or integrate with services like ShipStation or Stamps.com.
Create an efficient order management process. Start by making sure that materials and other items needed from your vendors arrive in time to fulfill your orders. Then, make sure that employees understand their duties and can efficiently perform them. You may need to hire seasonal or temporary team members to handle an increase in orders.
Have all shipping materials on hand. Order extra shipping and packaging materials and have them ready to go before the holiday season starts. You don't want to have to wait for custom boxes or go to the store during the seasonal rush. For more product packaging tips, read our post about exceeding customer expectations with packaging.
Be aware of high-traffic shopping days. Be prepared and have processes in place for quickly fulfilling orders following high-traffic shopping days. These may vary based on your location and industry, but include Black Friday, Cyber Monday, and Super Saturday, the last Saturday before Christmas.
Handling Late Packages
But what if your packages do arrive late? How do you handle disgruntled and unhappy customers?
A good place to start is by having a refund and return policy in place. Make it visible on your site, such as in the footer or on your Checkout page, and stick to it. The Returns and Warranty Requests extension allows customers to easily request and manage returns right from their dashboard. This takes a lot of the weight off of your shoulders and simplifies the process.
Be professional and empathetic to frustrated customers and consider offering them a discount off of future purchases or a percentage of their order total back. They may still want the product, even if it's late, and will be thrilled with a partial refund or coupon.
If, for some reason, your product was damaged during shipping, offer your customer a replacement as an alternative to a refund. This can help retain loyal customers and often minimizes your losses.
Don't be afraid to request shipping refunds from your carrier, as well. Depending on who ships your package and what shipping method you chose, you may be able to get your money back for late deliveries. Some carriers require that you request the refund within a certain period of time, so be aware of your carrier's specific request window. And, if your package has shipping insurance and was damaged, you can request both a shipping refund and the value of the item.
Start Preparing Now
59% of shoppers look for sales and buy gifts an average of 42 days before the holidays. Make sure that you have the processes, policies, and settings in place to ensure that your packages arrive quickly and that your customers are happy.
For more information, read our post about handling common holiday shipping issues.