Shipping is often the "make or break" point of a consumer's online purchase. If it's too costly, not offered via their preferred carrier, or perhaps even inconvenient in some way, a potential customer is more than happy to abandon their shopping cart so they can find what they want elsewhere.
There are plenty of ways to avoid losing your shoppers over a mere shipping setting, though. Plenty of add-ons and extensions are available that can help you expand your store's shipping options, and they go far beyond simply adding another carrier or switching to flat fees. With the right extensions, you can charge more accurately, split up orders, and even skip the shipping process entirely.
To help you grow your store and make your customers happier, today we're presenting eight somewhat more advanced shipping options to consider when you're selling online… and the WooCommerce extensions that make them possible. From location-based fees to local pickup, these extensions will give you the power to expand your options exponentially and convert more of your shoppers into paying customers.
Read on to get some insight on shipping options you might have never considered before now!
Add-on shipping solutions
Out of the box, WooCommerce (and many other eCommerce solutions) have basic shipping options built in. But this might not be enough for you, especially as your store grows and you begin fulfilling more orders.
There are a wide variety of add-on solutions available that can streamline nearly every portion of the shipping process, including:
Shipping providers — Plugins from local providers including real-time rate calculation based on estimated weight and customer location
Process automation — Extensions that automatically handle processes like label printing, dropshipment notifications, email notifications, and so on
Third party sync — Sync with external providers who manage shipments, returns, or customer communication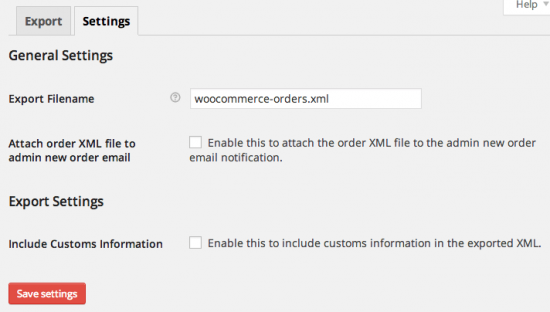 Depending on the shipping options you want to offer in your store, and how much time you have available, you can use an add-on to automate portions of the process and free up your time. This gives you more time to grow your inventory or focus on marketing instead of packing boxes or printing labels!
Invest in additional shipping solutions if you:
Want to add non-standard or local shipping options to your store
Are looking for a shipping suite that will manage functionality like generating and printing labels, sending notifications, or product inventory
Need to be able to automatically calculate and present real-time shipping rates vs. flat fees
See All Available Shipping Extensions for WooCommerce
Location, order size, or weight-based fee calculation
The next big thing to consider is how you calculate shipping fees for your customers' orders. The real-time estimates provided by APIs might work for you, but there are always complicating factors — like products that require additional shipping fees, or aren't available in specific countries.
These next few options should be considered if you need to change or limit your shipments based on the location of your customers, the size of their orders, or how many boxes they'll be receiving.
Table rate shipping: for multiple zones, shipment sizes, and weights
It doesn't really make sense to ask the customers located only a few miles away to pay just as much in shipping as the ones located halfway around the world. A customer located in your country will expect a variety of affordable options for receiving their order, including trusted local methods or even in-person pickup.
If you ship your products to everywhere from Alaska to Australia, you need a solution that allows you to set different rates by location, as well as shipment size and weight. A table rate shipping extension will give you the power and flexibility to configure your shipping options nearly any way you please.
With the Table Rate Shipping extension, you can set up "zones" in which specific shipping options are made available. This will allow you to provide more affordable shipping for the customers located closest to you, while still offering fair rates to those located in the other zones you choose to service.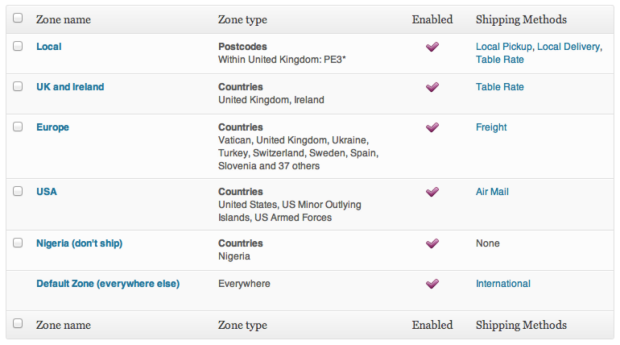 This solution is ideal for stores that ship to many destinations, and require high flexibility in defining shipping costs and methods for each area. If you have a large store and want to maximize your shipping options, this is definitely the plugin for you.
Invest in table rate shipping if you:
Have a large or growing store that ships to multiple locations
Want to offer vastly different rates to different areas
Need the flexibility of defining different rates and methods by ZIP or postal code, state, region, or country
Purchase the Table Rate Shipping Plugin
Flat rate box shipping: charge based on how many master cartons are needed
Let's say you don't plan on shipping to a multitude of areas, but you still want to find a way to accurately charge your customers for the size of their orders. It costs more to pack and ship a large, heavy box full of products than it does to send out a small item, after all.
If your shipments vary in size, it makes sense to base your fees on the height and weight of your boxes. This normally requires some complicated math and product setup, but there are a few ways to make it easier.

With the Flat Rate Box Shipping plugin, you can set up exactly how much you want to charge in shipping for boxes, and charge differing amounts for various zones. This is especially helpful if you know that it only costs you $5 to ship a large box locally, but $25 to another country.
Invest in box rate shipping if you:
Want to charge accurate shipping rates based on the number of boxes/master cartons sent to customers
Know or can find out the exact dimensions of your products and shipping boxes
Have already entered your product dimensions into WooCommerce, or are willing to spend the time to do so — if not, Table Rate Shipping is likely a better fit
Purchase the Flat Rate Box Shipping Plugin
Per product shipping: charge fees only for specific items
Some stores carry a few items that just don't fit into boxes. Others carry products that come in very, very bulky boxes. Though these products are in the minority, you still need to find a way to ship them.
Although shipping large and awkward items can be a pain, you probably don't want to shy away from making money on these items. Because of this, it's important to find a way to add the appropriate shipping fees to these special products. If your customers are willing to foot the bill, you can find a way to ship them, right?
Allowing Per Product Shipping fees on your store will make this easier on you. You can set up extra fees for one or all of your products, and charge rates on these items that will keep you from losing money on your transactions.
This plugin allows you not only to charge additional fees per product, but also per product variation. So if you sell a desk that is moderately heavy, but also sell a variation with an extra component that is extra heavy and requires a second box, you can accurately charge for it.
Invest in per-product shipping if you:
Have a few items that require additional shipping and/or handling fees
Need to be able to override your existing shipping rates, promotions, etc. on specific items
Have product variations that are larger or heavier and require special shipments
Purchase the Per Product Shipping Plugin
Add or remove shipping options at checkout
These extensions give you many options to calculate shipping fees for your products. But sometimes you don't want to offer shipping at all — that is, you don't want to ship certain products to certain countries. On the other hand, sometimes you want to add even more flexibility, and ship one order to multiple destinations.
Here are two plugins that will allow you to restrict or add shipping destinations during the checkout process.
Conditional shipping: restrict products based on a customer's location
Expanding your store to additional countries is a great idea. But it can get tricky if you sell licensed items that aren't available in all parts of the world, or simply don't want to go through the hassle of dealing with shipping some of your products internationally.
Limiting your shipping options is the way to go if you have multiple conditions for your store's products. With a plugin like Conditional Shipping and Payments, you can prevent customers from ordering the items that aren't available in their region, or making purchases that would be too costly to ship.
The plugin also allows you to allow or restrict different shipping options based on the customer's location. Additionally, you can limit the usage of specific payment gateways based on region as well, or restrict gateway usage based on the products that are attempting to be purchased.
If your store requires specific compliance with licensors or external payment solutions to expand, this solution is one that will help you do so easily, and without manually screening, modifying, or canceling any orders.
Invest in conditional shipping if you:
Want to limit the shipment of specific products to specific locations
Need an automated, inexpensive way to respect licensing or sales agreements
Are looking for ways to restrict payment gateway access by a customer's country of origin
Want to prevent customers from placing orders that would be too costly to ship (for either you or them)
Purchase the Conditional Shipping and Payments Plugin
Ship to multiple addresses: allow orders to be split up at checkout
Around the holidays, it's common for customers to ask to ship parts of their orders to different destinations. If they won't have the opportunity to see their friends or loved ones in person, they'd like to at least send them a gift.
It's for this reason that allowing multiple addresses in the same order can be so powerful. Your customers will appreciate not having to place multiple orders to finish all their holiday shopping. And if they know up front that you can accommodate their multi-destination needs, they might be more likely to shop with you instead of a competitor.
The best way to accomplish all this is with — you guessed it — the Shipping to Multiple Addresses extension.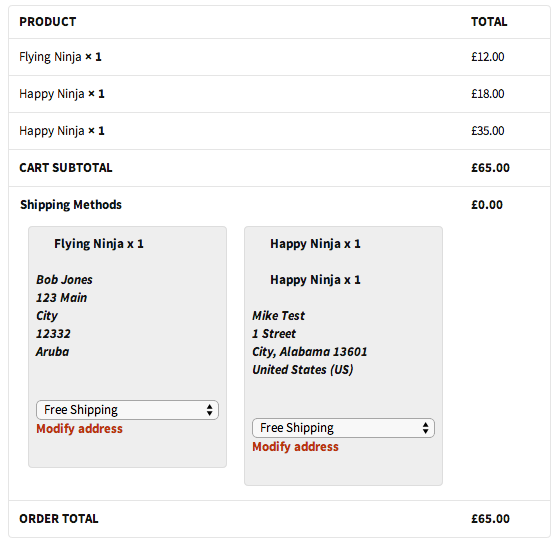 The great part about this plugin is that it requires no additional configuration to get it running. As soon as it's enabled, your customers can immediately choose to split their order into multiple pieces, and you'll receive the multiple addresses when their orders are placed.
Invest in multi-address shipping if you:
Have a large or growing store with customers who have requested this feature
Are interested in growing your sales during the holidays
Purchase the Shipping to Multiple Addresses Plugin
Print and include invoices or packing slips
Packing slips and printed invoices still have their place in the business world, despite a growing reliance on digital solutions. Companies rely on them to show they've received orders, or send them to their accounts payable departments to receive reimbursement for a purchase.
For those reasons, if you sell products that might be used in a business setting, it's crucial to include these printouts within your shipments.
Creating packing slips by hand can be time-consuming. It makes more sense to find a solution that can do this for you automatically. And that's exactly what the Print Invoices and Packing Lists extension does.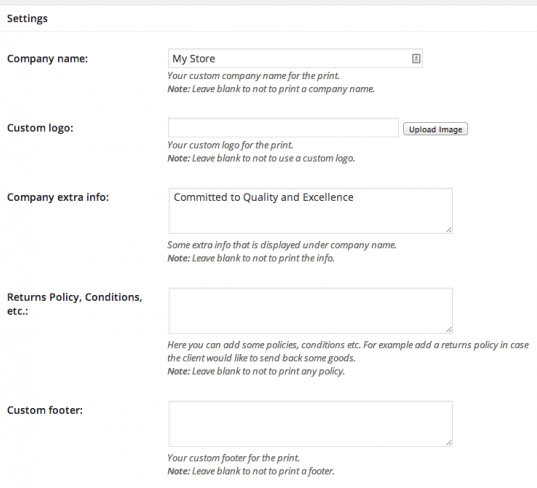 The great part about this plugin is that you don't have to print a packing slip unless you need one — so if your customer requests one, or you recognize a business order, you can include one. Otherwise, you can avoid wasting the paper!
Invest in printed invoices or packing slips if you:
Have a few customers who specifically request or prefer these printouts
Are already creating your own invoices or packing lists and want to save time
Want to include printed return instructions or other pertinent information within your orders
Purchase the Print Invoices and Packing Lists Plugin
Local pickup: skip the shipment entirely
WooCommerce allows you to enable a "local pickup" option for your orders by default, which gives your customers the opportunity to pick up their items from you in person. But what happens if you have multiple warehouses from which an order might be filled? And what if you want to offer a special discount for the customers who choose to pick up locally?
If you run a public storefront along with your online shop, offering customers advanced local pickup options can really boost your conversions. You'll save time and money on shipping, and customers will have the option to visit the location closest to them to get their products quicker. And if you offer a discount for local pickups, they might be more motivated to visit you in person… and perhaps come back again in the future.
The Local Pickup Plus extension offers multiple advanced options, including pickup from different locations, automatic pickup discounts, and the ability to split an order if desired.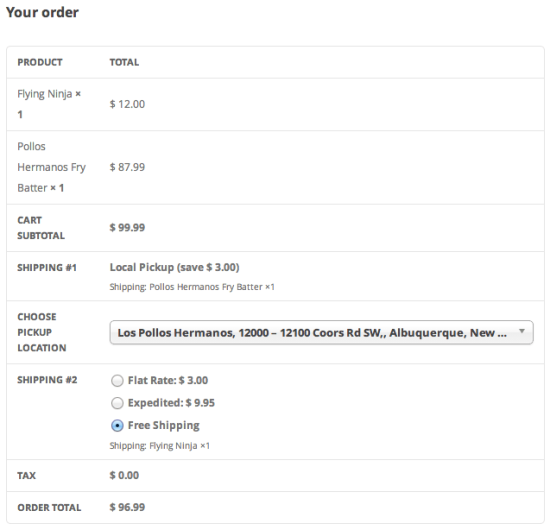 If you're not already selling online, this option is also a great way for you to get started. You can offer your current local customers an easy and convenient way to pick up their purchases after paying for them ahead of time. But you can also slowly expand your business by shipping elsewhere, all the while knowing that you already have faithful customers backing you up.
Invest in local pickup if you:
Have one or more physical locations where customers can pick up their orders
Are already selling locally and want to expand to an online store
Want to offer discounts to those who pick up their item locally
Want to split orders between shipments and local pickups
Purchase the Local Pickup Plus Plugin
Change your shipping options until you're satisfied
There you have it! These are eight shipping options you should consider for your store, and some WooCommerce extensions that make them possible. Try one, two, or all of them until you're satisfied with the results and all the options you're able to extend to your customers.
Are you using (or considering) any of these extensions? What shipping options do you consider crucial for growing eCommerce websites? If you've got the time, chime in below in the comments section and let us know your thoughts on all things shipping.