Jetpack is one of the most versatile free plugins available for WordPress. Its built-in offerings range from statistics to a content delivery network to automatic social sharing of new posts, and much more.
If you've used WordPress for a while or are familiar with it outside of the realm of your online store, chances are you've had an encounter or two with this powerful plugin. But have you tried using it in combination with WooCommerce?
In combination with WooCommerce, Jetpack can bring store owners easily-integrated attack protection, downtime alerts, content sharing, and a slew of other features designed to make your life easier. It's the equivalent of strapping a rocket to your store — but a lightweight one. 😉
Let's explore why we think Jetpack is well worth your while, and how it can help you soar to new heights. We'll start with a quick overview of why we here at Woo use it, and chose it to power our Shipping and Tax services.
WooCommerce Services are powered by Jetpack
When we released WooCommerce Services, we noted that along with WooCommerce 2.6+, Jetpack would be required to power the features that became available.
We hooked into Jetpack because its existing connection to WordPress.com allows us to easily authenticate and set up new WooCommerce Services users.
WooCommerce Services uses Jetpack to authenticate you and your store, and is hosted on Automattic's servers — the same servers which host WordPress.com and Jetpack. This makes the setup process simple and fast.
That's how we chose to use Jetpack, and how it's been beneficial for us. WooCommerce Services currently enables easier shipping and tax options for merchants in the US and Canada.
Now let's move on to exploring how Jetpack can benefit you, other than super-fast authentication. 🙂
Jetpack's many benefits start with security for store owners
We've written before about the need to protect your store, no matter how big or small, from potential attacks. However, setting up these security features can be a little daunting, especially if you're new to the world of eCommerce.
Jetpack's security features make securing your store a quick, hassle-free process. Among the plugin's performance and security settings are Jetpack Protect, which blocks multiple login attempts, and Single Sign On, which allows you to use your WordPress.com login — and its potential two-factor authentication — to sign into your store.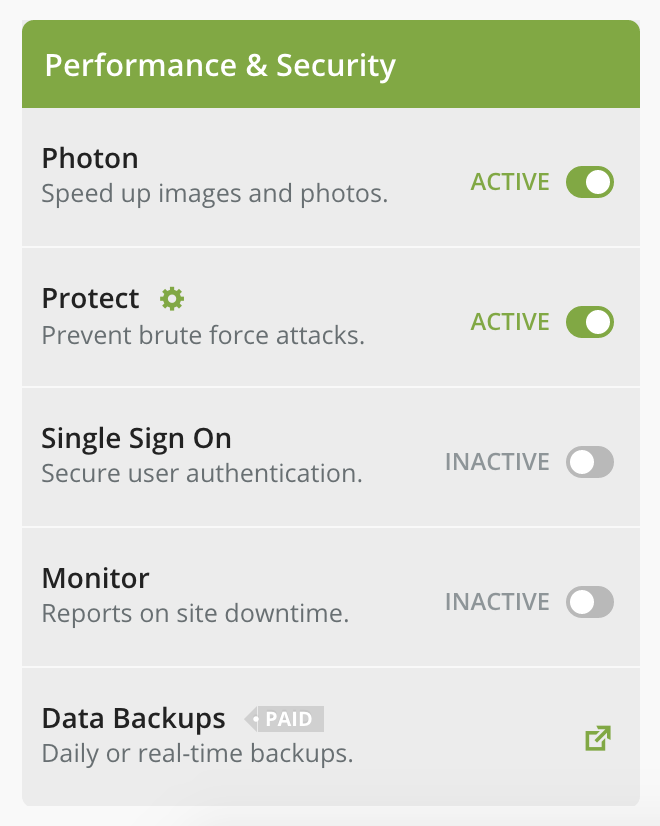 Although you might think "my store is small, no one would ever try to log in or steal my data!" you'd be surprised by how many small businesses are the victims of data theft; one report says 62% of those affected by online security breaches are small- to medium-sized business owners.
By activating Jetpack Protect, and taking other basic security measures like using secure passwords, you can automatically lock out those who might try to guess your login and gain access to your store.
But that's not all you can do, of course.
Get alerts the instant your store goes down — and prevent the loss of sales
As you might have noticed in the image above, Jetpack ships with a feature called Monitor, which is designed to report on any downtime. It checks your site's status every five minutes, and emails you if anything out of the ordinary is discovered.
So for those of you running WooCommerce, Jetpack Monitor can alert you the moment your store stops functioning, preventing a major loss in sales or complaints from customers.

Sometimes there won't be too much you can do about the downtime; if your host is doing maintenance or experiencing some kind of a temporary issue, you'll just need to stick it out. But if you've mistakenly broken something that's taken your store offline — or even if your host is experiencing issues that they don't know about — you'll get an alert and can act fast to resolve the problem.
These alerts can mean the difference between downtime that causes a mere blip on the radar and a huge loss in sales. They're also crucial if you're planning any kind of vacation and need to leave someone else in charge… but still want to keep your eye on things.
Want to promote your newest product or piece of content? You can do it automatically (and your customers can too)
Publicize is one Jetpack feature that's long been appreciated by bloggers and publishers, but has yet to be noticed by a majority of store owners. And we think that's a shame, because it makes promoting your newest products an incredibly fast, easy process.
Publicize allows you to connect a number of social media networks to any WordPress-powered site, from Facebook to Twitter to Tumblr. With each new piece of content you create, you'll see a "Publicize" option on the side where you can edit the message shared with your link, and toggle networks on and off.
As of WooCommerce 2.3, you can use Jetpack's Publicize option to not only share new WordPress content, but also new WooCommerce content — meaning, you can automatically share links to new products in the same way you would links to blog posts.
This takes much of the manual work out of sharing new products with your followers and fans. And because you can choose which networks to share to upon publish, you can toggle on, say, Pinterest for highly visual products, or Twitter for super shareable ones.
Of course, you can also use Publicize to share your new blog content automatically, too. If you're using content marketing as a strategy to promote your store, this Jetpack feature will give you a push in the right direction, saving you a bit of time on the social sharing side of things.
Finally, an update that shipped with Jetpack 4.0 placed social sharing icons on your WooCommerce product pages, which keeps the cycle going: if a customer wants to manually share a product they've found, they can now do so by simply clicking a built-in button. No more custom code necessary!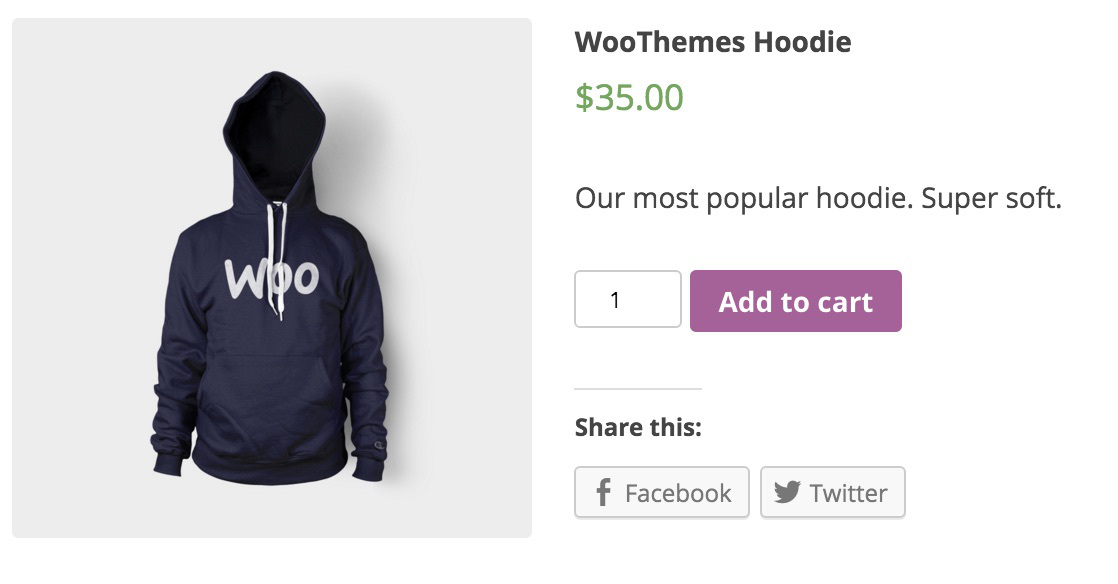 Basic statistics bridge the gap between WordPress and Google Analytics
If you've used Jetpack before, you might already be familiar with the way the plugin hooks into your WordPress.com account (or requires you to create one) to work with certain features like multi-blog management. One of these features that comes in particularly handy for store owners is statistics.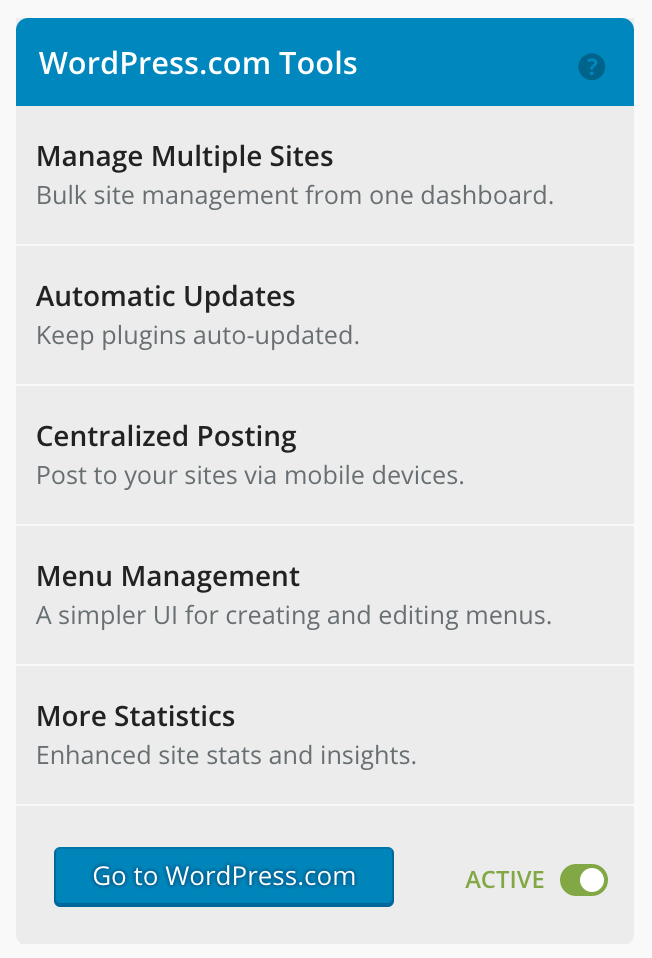 When connected to WordPress.com — yep, even if you only run a self-hosted WooCommerce store! — Jetpack will give you the power to see helpful statistics and insights right from your Dashboard. At a glance, you'll be able to see:
Your store's daily visitors
Where these visitors are coming from (which countries, etc.)
Which days and hours are the most popular for your shoppers
Which products and pages have the most visits, and when they received them
The top terms searched for on your store
These insights can be a huge help, especially if you're just starting out. For example, if you know you get the most visits on Friday, that might mean Friday is the best day to run a promotion. Or if you're seeing the same terms searched for over and over again, that might be a sign of a product shoppers really want.
Also, if you're not yet ready to make the jump to something like Google Analytics, Jetpack can help you bridge the gap between no reporting and some reporting. While the statistics offered here aren't incredibly detailed, they'll at least help you measure your traffic growth, or see how popular your newest product is.
Toggle on and off features as you like
One of the most common concerns that WordPress users and store owners alike express about Jetpack — or virtually any other plugin or extension — is its potential to slow down a website. It's hard to imagine that something packed with so many features doesn't have its downsides, and speed is the first thing we tend to think of.
Some benchmark tests have shown that Jetpack's reputation for bloat is often nothing but a myth; in most cases, using a single plugin (Jetpack) is much faster than multiple, if you're aiming to accomplish the same goals. We're also looking at milliseconds of difference in some cases, hardly enough to make a difference for most visitors.
If you're still concerned about the experience of your shoppers, though (and it's never a bad thing to feel that way), you can easily toggle on or off Jetpack features that you aren't using or have even found to conflict with your current setup.
Jetpack isn't an "all or nothing" experience — rather, it's a plugin that allows you to take advantage only of the bits and pieces that you want. So if you need it for the security benefits, you can disable everything else… and just maybe enable additional features for testing or when you get curious.
On the other side of the fence? Want the full experience? Turn everything on and you'll get an incredibly functional, high-performing, beautiful store with some amazing added features. And with everything packed into just one plugin — not multiple — you'll be cutting down on the load times and keeping your store responsive.
Strap Jetpack to your WooCommerce store and soar to new heights
Jetpack isn't just for publishers or bloggers who want to make their websites look great or speed up their image loading times (although it does help with both of those things!). This plugin has real benefits for store owners too, from bolstering your security to saving precious time spent promoting new products.
Do you currently use Jetpack in combination with your WooCommerce-powered store? If so, what feature has helped you the most? We'd love to hear your answers in the comments.