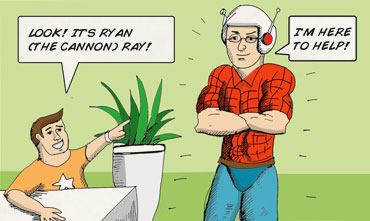 One of my favorite parts of working with the WooCommunity is hearing from a satisfied customer. We aren't always able to make everyone happy, but for the most part I'd say we get the job done and have many happy WooThemes fans from it. 100% Satisfaction is always something we're striving for, but for some people we just won't ever be able to put a smile on their face. I do think I've developed a bit of a strategy though in my short time and experience working with Woo.
Here are the ways I've found to make and keep WooUsers happy…
1. Be Kind
The most simple of all strategies, be kind! Sometimes back and forth communication can be tough to deal with all day. If I've not had the best of days it's tough to keep being helpful. I'm sure we've all experienced it before, perhaps I can best equate it with trying to show your dear mom how to use Google over the phone. Or better yet, explain how to sync anything or install any app… True test of patience.
No matter what though kindness kills, and it's a good thing. It's not anyone's fault that I'm in a foul mood, and often a user comes out and says they know can be a pain if they don't understand something. I always try to give the best help I can and smile while doing it. Usually once a problem is solved we are both happy and thankful for each others patience. Using a smily face or two always helps. 🙂
2. Go The Extra Mile
When does going the extra mile ever hurt anyone? We care for our WooCommunity and often go the extra mile to leave with a satisfied customer. For example, something I often like to do is help people testing themes on our Theme Playground. Since many haven't purchased a theme yet, they don't have access to theme docs or support forums. When we receive emails from people struggling on the playground I will take a screenshot of the theme documentation they need and send it their way. I also try to manage every problem I can for users on the playground. Some have trouble setting up a theme, others can't figure out a little custom css they've done, etc…
We're known for great support, and the Theme Playground shows our willingness to go the extra mile and let you try our themes. I try and provide the support before they've even purchased a theme.
3. Be Available & Prompt
I keep our inbox, Facebook, & Twitter accounts open just about all day everyday, including during the weekends. This lets me take a quick glance and see if there is anything I can take care of while I'm doing something else Woo related. In fact I just fired off an email to Ole, while typing this. (Hi Ole!) I like to respond as quick as I can, and as we outlined in a previous post, we're striking a balance between a quick answer and a helpful answer. I respond as quick as I can with the best answer I can. If I don't know the answer, I'll let you know while I find one.
The culture in the U.S. is very much centered around getting things and getting them now, I try to help alleviate the wait by being available and prompt to answer. Even if I say, "Sorry I don't know the answer but am looking," WooUsers seem to appreciate the honesty and transparency.
4. Be Real & Understanding
Having sympathy, empathy, or any ability that to perceive people's emotion is something I work on every day. It's good to be able to tell when a user is frustrated or happy. Both types of emails include a lot of caps and exclamation marks, but to tell the difference is key. 😉
This definitely is a big deal when interacting with our WooUsers. We use tags on Twitter to show which one of us you're talking to, we leave comments under our real names on the blog, etc… We hope this lets you get past our facade as WooThemes, even though that facade isn't inherently bad. It's just better to know a real person that understands is helping you with your issue or concern, and not our WooBot… I've found that being understanding and showing real emotion often leaves WooUsers happy, even if we couldn't solve the problem.
5. Free Stuff
Although it's funny, giving away free stuff always makes people happy. Sales and discounts could count under this as well. Free or discounted items are always a good way to give some thanks back to our WooUsers and make them happy. Nothing else could be said about free stuff, except people LOVE it.
I utilize these tactics everday. By themselves or combined, one of us can usually leave with a smile on our face. Hopefully though it's both of us. 🙂
Got any idea that you think would make more of our WooUsers happy & satisfied customers? Sound off and leave a comment, I'll consider adding it to my repertoire.
This post is part of the
"WooLessons" series
, where we aim to share as much valuable information from our experiences with WooThemes until now. The aim is to enable and empower more entrepreneurs and startups to be similarly successful by sharing the wealth of knowledge we've accumulated on our journey.