The future of search is more intuitive, more natural, and more vocal. Voice search has been on the horizon for years, and some claim that by 2020, 50% of searches will be conducted using voice.
It's likely that this is already part of your everyday life. You can find voice search functionality in common places like:
Windows 10 (Cortana)
iPhone (Siri)
MacOS (Siri)
Android (Google Assistant)
Google Home (Google Assistant)
Amazon Echo (Alexa)
Voice can be used to control smart home devices, answer common questions, add a meeting to your calendar, or even order your favorite food delivery.
It's also improving accessibility by making it easier for users with visual or motor skill impairments to search and perform tasks. Improving your site's accessibility should already be a top priority, and giving users the ability to find your site through voice will only help.
Voice Is Changing How People Search
The way a person searches using their voice can be quite different than how they traditionally search the Internet. Let's say that you're looking to buy WooCommerce extensions. If you're typing into a search engine, you're likely to use a phrase like 'WooCommerce extensions'. A voice search, however, will be much more conversational – 'Hey Google, tell me where I can buy WooCommerce extensions'.
However, according to PWC, people are most likely to search for simple answers or basic information using voice. So, you might consider voice search to be a top-of-funnel activity. This means that you can use it to make new customers aware of your store, but depending on what you sell, it probably won't result in many immediate purchases. To get the most from voice search traffic, make sure you have a plan to follow-up with website visitors after they find you.
Store owners who use WooCommerce benefit from its seamless integration with WordPress, the CMS that powers a third of the web. They can quickly add unlimited amounts of useful, high-quality content to their website. As a result, they are more likely to appear in search results and attract first-time customers.
How to Prepare Your Store for Voice Search
If someone searches for a product or service that you offer, you want them to find your store. So what changes do you need to make to ensure that they can find you?
Luckily, if you're already focusing on search engine optimization and providing a quality user experience, you're on the right track.
Voice search is still search. If you appear higher in search engine results pages (SERPs), then you're more likely to be found. Google provides an excellent SEO starter guide and WooCommerce offers advice tailored specifically to eCommerce site owners.
There are, however, a number of extra steps that you can take to improve your voice search optimization.
1. Target Long-Tail and Conversational Keywords
Due to the more conversational nature of voice searches, long-tail keywords are more important than ever. Long-tail keywords are more specific than standard keywords, which means that they usually have lower traffic volume, but also less competition.
There are many long-tail keyword tools available online (e.g. keywordtool), but you can come up with them yourself by thinking logically about the questions someone may ask when using voice search.
For example, a question like, "What are the most popular fall scents?" might be appropriate if you sell candles.
Google Analytics is also a great tool to determine the impact of voice search on your site and generate keyword ideas. While finding exact stats on how many people are getting to your site from voice search is a little tricky, there are a few things you can look for:
Conversational keywords – If your keyword search data shows a lot of conversational keywords, this is a good indication that those searches were made using voice, rather than traditional typing. You can also check Google Search Console for keyword data.
Length of queries – If you can't see your exact keyword data, look at your trends for the average length of queries over the last few years. Logically, you would expect voice searches to be longer due to their conversational nature.
It can be impractical to manually track your keyword targets and results. Instead, use software like Moz Pro and Unamo to automatically track them and provide suggestions for new keywords to target.
2. Reshape Your Content
Content is a critical part of search engine optimization, so consider shaping it to be more conversational. Voice searches are often conducted in the form of a question. So, a strong FAQ page is critical and may even be a good source of ideas for long-tail keyword targets. Learn more about creating an effective FAQ page.
Another way to do this is by creating blog posts in an interview style. So, instead of writing a post in third-person by a single author, you could have a back and forth between an expert and a reporter. You could even create a video and transcribe it in a blog post. Then, you'll have both video and written content that can be used for marketing.
Typically, podcast content is naturally conversational. If you have a podcast, make sure that you transcribe each episode and share it on your site.
3. Improve Your Website Structure
Structured data allows you to suggest information about your website to search engines for indexing. Incorporating this strategy into a larger SEO plan can lead to higher search engine rankings, especially since Google is using structured data now more than ever.
Reviews are a great example. You may be familiar with star ratings in Google search results, like this WooCommerce Memberships review:
This search engine format is the result of schema markup implemented on the site. In this case, you can clearly see that a score and reviewer has been provided. There are many different schemas that can be implemented; for a full list check out the official schema.org resource.
This requires some technical knowledge, but there are plugins available to make things easier, such as Schema and Schema and Structured Data for WP and AMP.
To test your schema, use the Structured Data Testing Tool. This tool examines your pages and lets you know if there are any errors. Put simply, it shows how Google views the structured data on your page.
Google also recently introduced Speakable (beta). Google says:
"The speakable schema.org property identifies sections within an article or webpage that are best suited for audio playback using text-to-speech (TTS). Adding markup allows search engines and other applications to identify content to read aloud on Google Assistant-enabled devices using TTS. Webpages with speakable structured data can use the Google Assistant to distribute the content through new channels and reach a wider base of users."
This is currently aimed at news outlets, but it wouldn't be at all surprising to see it expanded to online stores and other types of websites in the future.
4. List Your Products on Google Shopping
When customers use Google Assistant (Google Home), they may also get search results from Google Shopping. So if you sell physical products, Google Shopping could be an important way to get them in front of the right people.
The WooCommerce Google Product Feed extension syncs the products on your online store with Google Shopping. It automatically maps product data, like price and variations, and updates when anything changes on your store. This will save you a lot of time and hassle, while ensuring that your customers can find you on Google.
5. Claim Your Business on Google My Business
Google My Business allows you to provide important information about your company to Google, including opening hours, website, location, and reviews.
When someone searches for a business, these results appear to the right of the page on desktop, and at the top on mobile devices and voice search. Signing up is easy, but does require verification, so don't expect instant results. It's also important to keep your profile up-to-date since users rely on accurate data.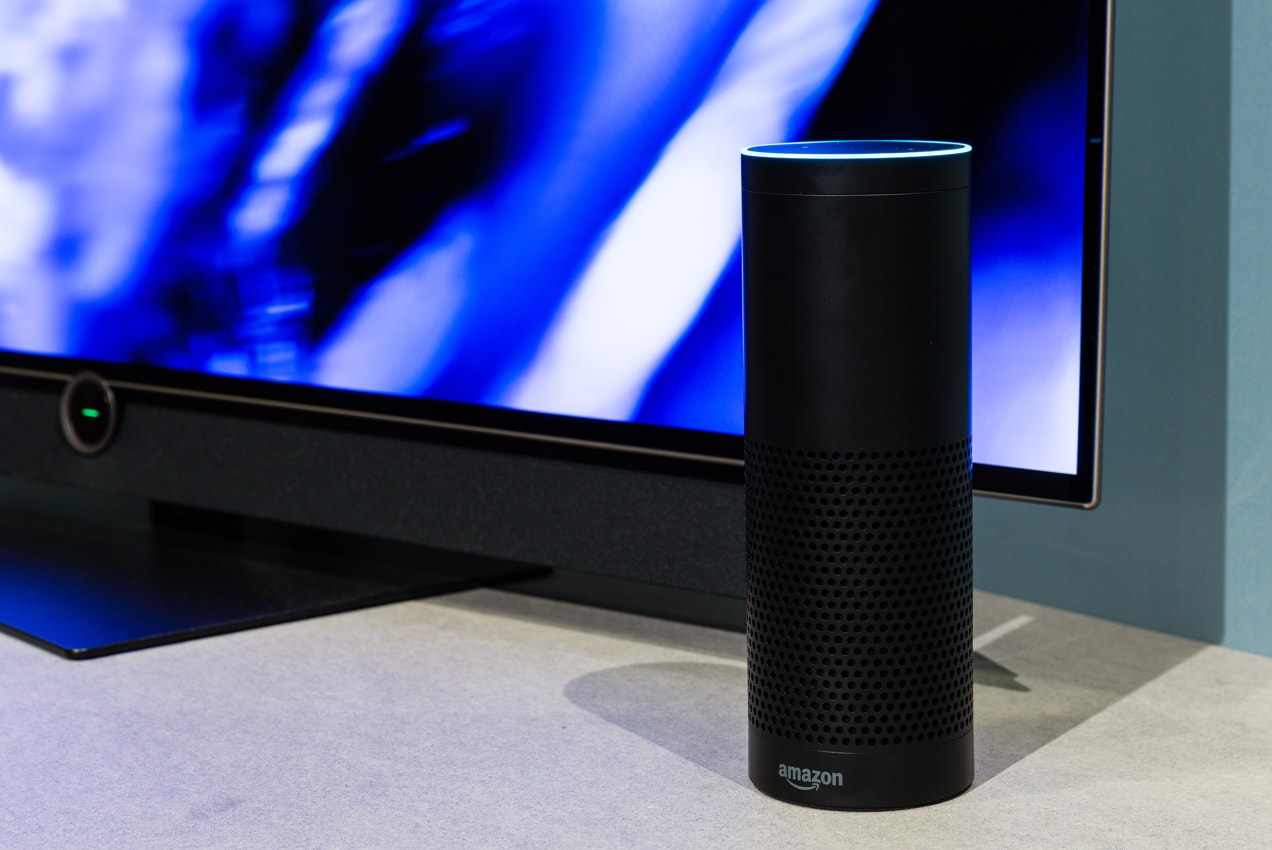 6. Build a Skill for Amazon Alexa
Amazon Alexa skills are voice-driven capabilities for devices, like playing music and answering questions. If you're comfortable with software development, you can create your own Alexa skills or hire someone to make them for you.
For example, some supermarkets have Alexa skills that allow customers to add products to their shopping lists and track orders while they're cooking. This provides an excellent user experience and makes the process of shopping online much simpler.
Amazon provides very detailed documents and tutorials for creating Alexa skills.
Not All Voice Search Is Equal
As mentioned above, there are many devices that offer voice search, but they're not all the same and they don't all use Google by default. While devices may give users the ability to change their default search engine, most users won't do so. Here are the default browsers for the most popular voice search devices:
Apple Siri – Google
Microsoft Cortana – Bing
Google Assistant – Google
Amazon Alexa – Bing
This diversity means there is no single strategy for preparing for voice search; a multi-faceted approach is always going to be required. This also means that being in the top few results for target search terms is more important than ever. If results are read to a customer, they will only hear the first few.
Like with traditional search engine optimization, Google is likely where you should focus most of your efforts. However, check your own site's data as well as the trends of your target demographic to determine your focus.
Looking to the Future
One thing is certain – voice search is not going away. In fact, it's likely to keep growing for the foreseeable future. We may also start to witness more licensing of voice technology to third parties. Google already does this with Sony and their S50G speaker.
It's hard to ignore voice search. It offers convenience to its users and results are getting more refined and accurate. Gartner claims that by 2020, 30% of all web sessions will be completed without screens. Take action now to reap future rewards!