Perhaps this sounds familiar:
You've always wanted to start your own business and finally have some time to make the dream a reality. A slick website to showcase and sell your products is the next step, but potentially costly, so you investigate setting it up yourself. With a little help from the internet you explore some CMS platforms – WordPress is mostly for blogging, right?
Wrong.
There are currently thousands of entrepreneurs, artists, teachers, large business, universities and more sorts worldwide relying on the power and flexibility of our free eCommerce plugin for WordPress, WooCommerce, on a daily basis. This month WooCommerce hit 5 million downloads and the futures looking bright.
We were delighted to hear from Arthur Lhermitte, a Parisian fashion designer who took the plunge to DIY his eCommerce and had Striiiipes.com up, running and shipping his products worldwide in under two days.
You're the designer behind the very beautiful products on Striiiipes.com. When did you start the company and what makes it unique?
I studied fashion design here in Paris. After my graduation in 2012 I wanted to do something on my own and then decided to start my own company. It started with a few products, the Lunch Bag was quickly a hit. Each different product has its own story.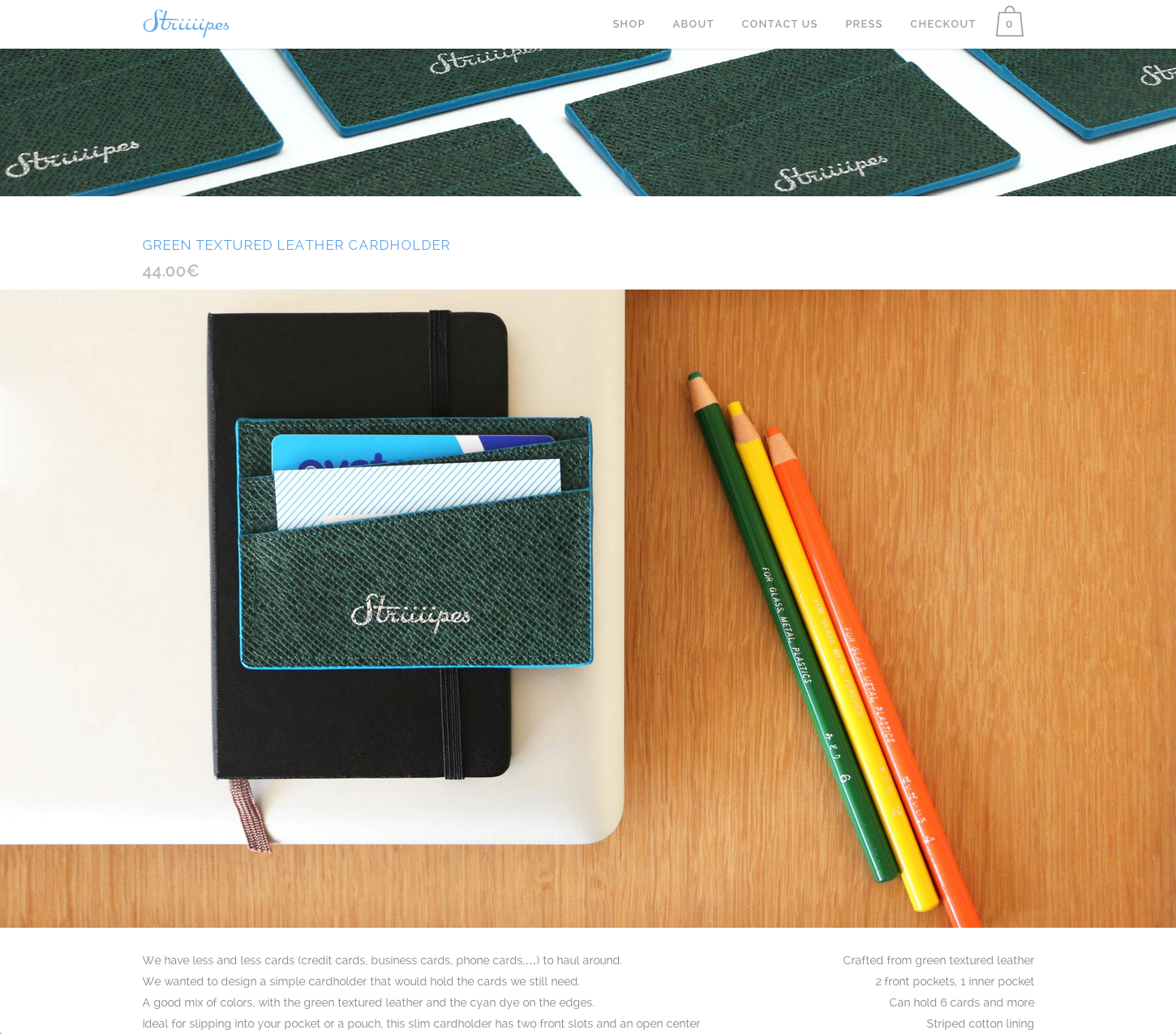 Tell us a little more about your studio in Paris. And, do you only sell online or in store, too?
I work in Paris and most of the products are made in the workshop in Paris. I don't have a store yet, so being a full-player shop gives me the possibility to sell the products online at a lower price than it would be in a brick and mortar store. Only a few of the products are also available in French marketplaces.
A man of many talents, you design cashmere gloves and built this website! Do you have a web development background?
I never studied web development before. But I have been working on different web projects for the past five years. I tried a few CMS. When I started my company, I knew WordPress would be perfect for that. Having such a website allows me to use it as a store while at the same time being a portfolio of my body of work.
How did you find out about WooCommerce and how long did it take you to get version 1.0 of the site up and running?
I started the Striiiipes.com website with Paypal links on each product pages. I launched the site, and realized after a week or two that it was not the best thing to do—problems with shipping fees, no cart on the website, going directly to Paypal etc. Blogs and journalists were already talking about the site, sharing the products' links … but I had to change everything. After a few Google searches, I realised WooCommerce was the best plugin for the job. I installed it, tried a few things on a test site. The WooCommerce shop was up and ready in less than two days.
You recently did a big redesign, why the change?
Web design is changing very quickly. The interface, but also the devices we are using to navigate (the different screen sizes, iPads, mobiles, really big screens etc). The first design of the website had some responsive features and did the job well. But I wanted a wider site, the possibility to use the full window and full page pictures. It took me a couple of weeks to redesign everything. I worked on a test site to make sure everything was perfect before I made the changes.
What aspects of the site are you most proud of?
From the beginning I wanted to focus everything on the products. Now, every product page is really centered on the pictures by giving it a full window.
The homepage is really important. I can now really easily add/change product announcements, links, call to action buttons, making it less static.
For each new product launch, I am now making a special landing page, explaining in details the collection.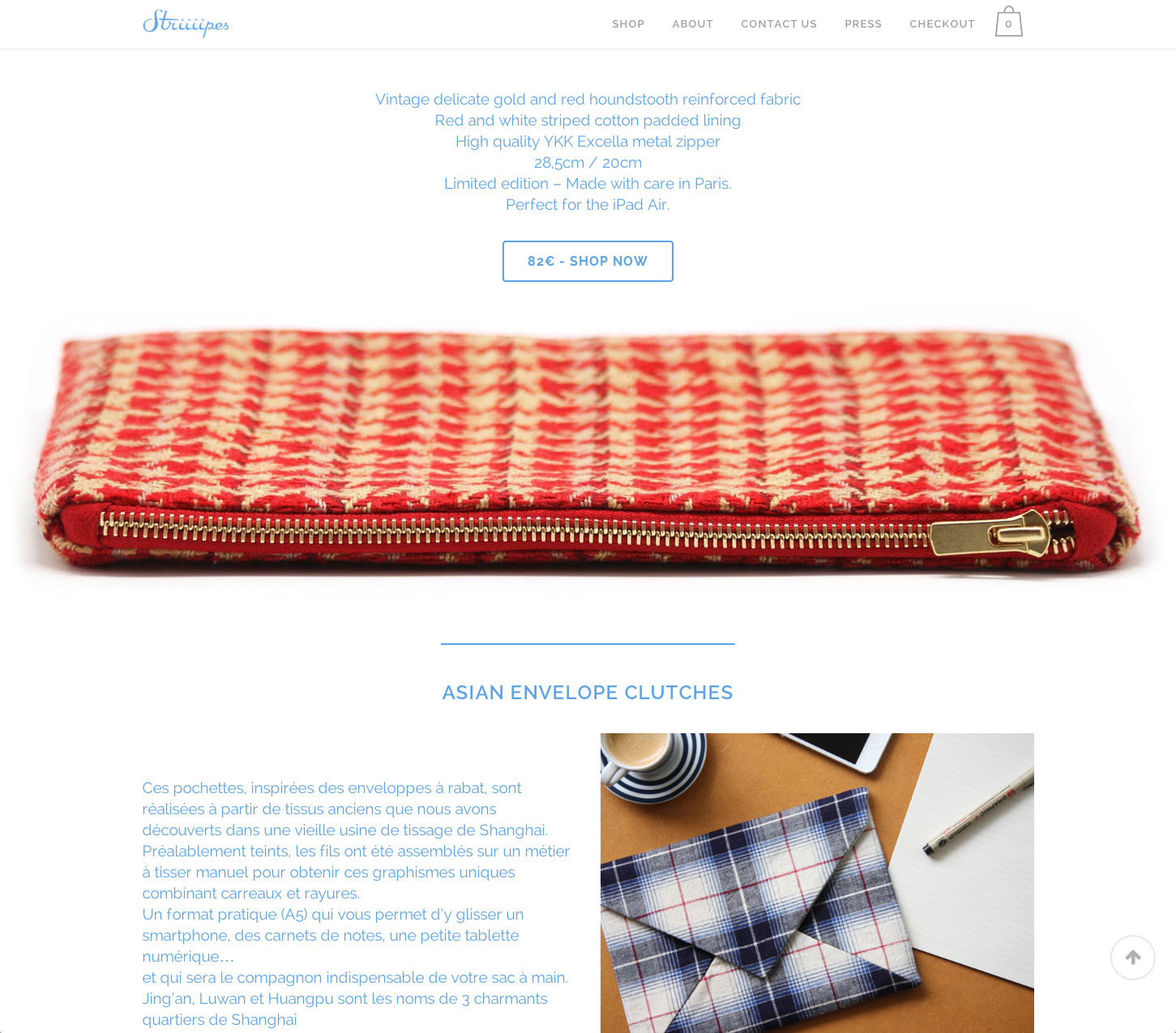 What are the benefits of having built your own eCommerce store as opposed to getting an agency to do it?
I like to know how things work. An agency would have done a really great job I am sure, but I would have been stuck with the basic infos (add product, change product infos). And web development is fun 😉 Sometimes really complicated, sometimes really stressful—when you make a syntax error and you can't figure out where—but at the end of the day, being able to create on the screen what you had in mind is really satisfying.
What extensions have you used?
One of the best is Bundle Rate Shipping Module for WooCommerce. Allowing me to manage shipping fees for each individual product. Automatically change the amount for additional product of the class…
I also use WooCommerce Product Tabs. Striiiipes.com is in English, but I wanted to have basic product infos in French. This extension allows me to have a « French description » tab below each of the products.
Your homepage announces 'fast and affordable worldwide shipping'. What extensions have you used to achieve this, and where do you ship the most parcels?
I believe expensive shipping fees will stop a lot of customers during the checkout process. I am therefore launching most of the new products with free worldwide shipping. For the other products, I use Bundle Rate Shipping Module for WooCommerce which does everything I need. Most of my customers are based in the US, Japan and Europe.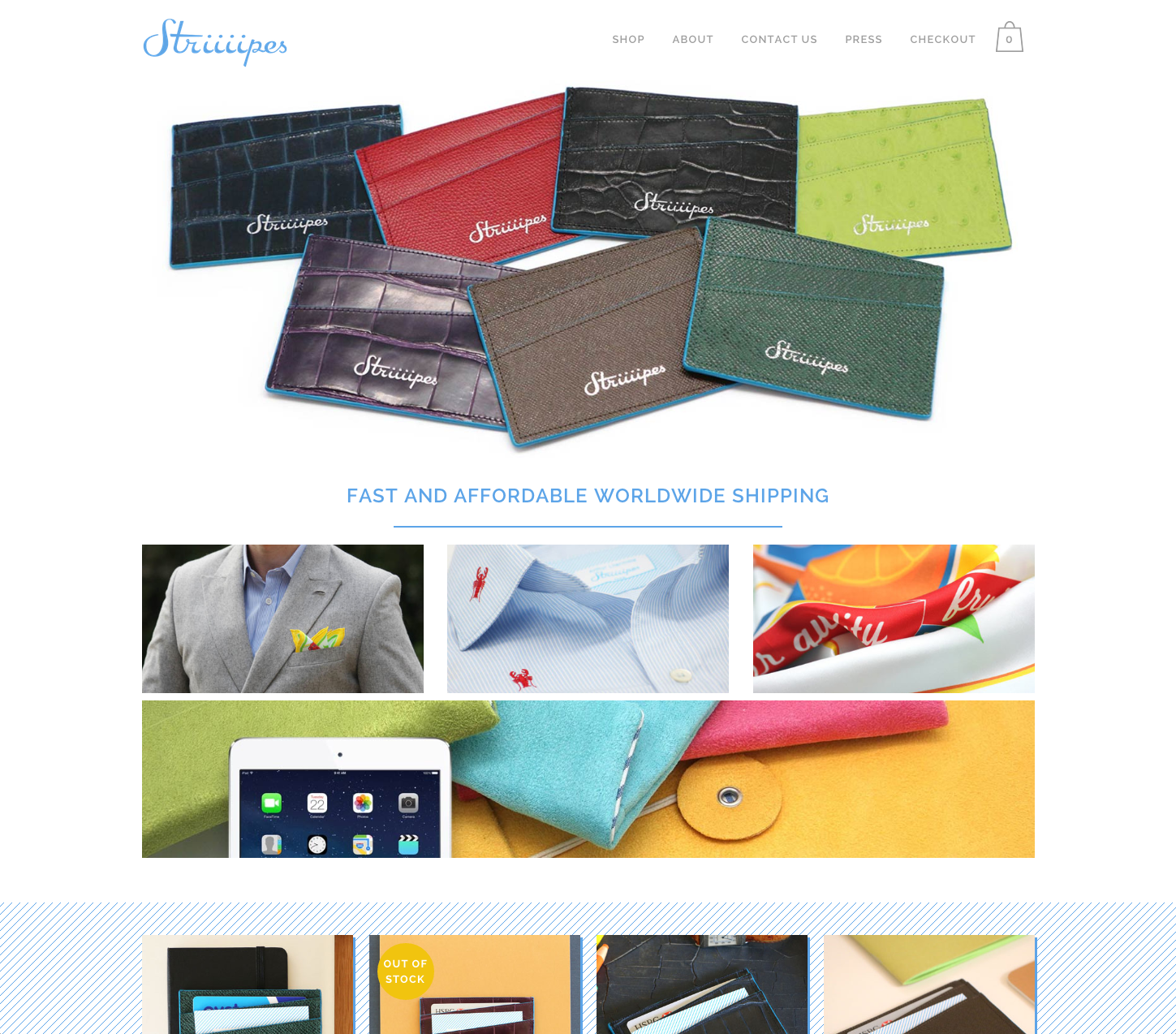 How do you handle shipping and payments?
All of the products are shipped on a daily basis with the French Post. As for the payments, I use PayPal. I would love to use Amazon Checkout, but it's not available in France yet.
Are they any thing you wish WooCommerce could do that we can add to our features wishlist?
A lot of my customers are visiting the site with an iPad, I hope you will add ApplePay as a payment process.
What is your most popular product?
I have different categories of products. The iPad accessories have a lot of success, as well as the Lunch bag. I recently decided to launch a leather cardholder collection, at a very low price for this kind of products. It's already a hit!
Any advice for boutique owners or designers who want to get into ecommerce?
Do it! Make sure you have nice and clean pictures of your products. A good product description. Set English as the primary language.
—
This is kind of story really excites us. It's a real world example of someone with little experience in web development, hustling, learning and having an online store up and running in next to no time. Now that's what we'd call the democratisation of commerce.
Kudos to you, Arthur, for blazing the WooCommerce trail in Paris.