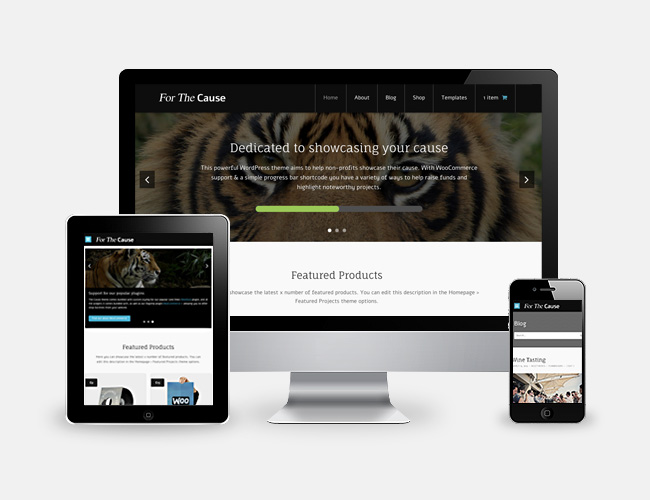 At WooThemes, in addition to educating and empowering ourselves and you all, our beloved readers and customers, we are passionate about giving back and inspiring social change. We champion and embody our cause every day- to help.
You've got a cause that you're really passionate about. You're working all day, every day, drumming up awareness and raising funds for your cause through your Not-for-Profit organisation. Getting online is the next big step you need to take, in order to create global awareness for your cause.
Today's release is aimed at helping you to do exactly that. Everyone, say hi to "For The Cause", our latest WordPress theme.
Standing For The Cause
While For The Cause can be used in any context, the design has been crafted towards helping NPOs showcase their cause, how far they are towards achieving their goals and promoting various offerings and goals they'd like to showcase to the world.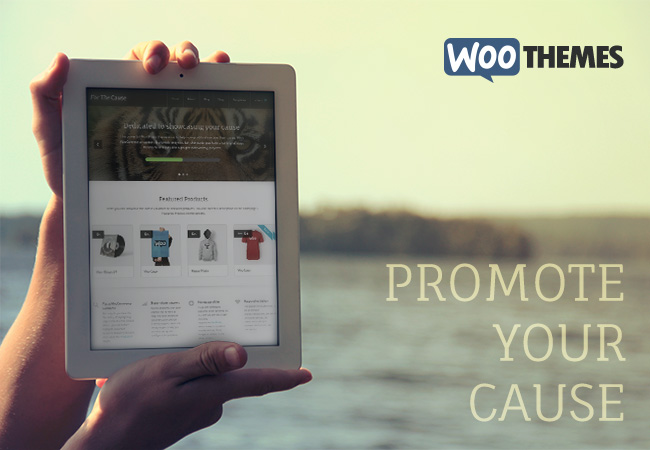 Designed by Chris Rowe, For The Cause can be shaped and crafted as desired with a few small tweaks in a child theme, or using the in-built theme styling options.
With the store functionality powered by WooCommerce, the entire WooCommerce extensions library is also at your disposal to take your online store to the next level.
Showcase your Progress
Included with For The Cause is a customised progress bar. Use this to display your progress on any task, either via a WordPress shortcode, a template tag (PHP function) or a call to do_action( 'woothemes_progress_bar' ) in your code. Simply tell the progress bar the total you're looking to raise, as well as how much you've raised, and For The Cause will handle the rest.
Are you part of an NPO, looking to set up your website on WordPress and WooThemes?
Contact us
to discuss Woo helping you to achieve your goal, via a special NPO discount.
Not just for blogging
While For The Cause is primarily a business and NPO-focussed theme, the design can be used for anything from a standard blog-style layout to a website showcasing your company's range of high quality products. With styling support for our Features and Testimonials plugins, as well as a "Business" page template, your own design is just a few small tweaks away in the "Theme Options" section.
As long as you have content and a cause, For The Cause can meet your needs.
To illustrate this, we've set up a demo website to showcase For The Cause and to show off some wonderful imagery at the same time.
Create quick and simple styling adjustments
Customising your copy of "For The Cause" to meet your desires is important to us. With this in mind, no expense has been spared to ensure ease of use and customisation of the theme with a few clicks and your custom eye-catching imagery.
Quickly provide a unique feel on your website, using our tailored selection of customisation options. A few simple clicks, your logo and your branding colours can transform For the Cause into your very own, uniquely-branded, website.
Discount Coupon
Grab this theme with a 13% discount coupon, valid until 2nd October, 2013. Just use FORTHECAUSE13 as your coupon code on checkout.