This functionality became part of WordPress itself. You can create custom menus under Appearance>Menus from the WordPress dashboard.
One of the most commonly asked questions by Woo users is how to modify the navigation in the theme, by excluding items, adding external links etc. We recently added Jeff to our team, and started him off with a project we had been planning for a while; A new custom navigation admin page, where you would be able to really build your own navigation without touching any code.
It didn't take long for him to come up with the wireframe, and then Cobus added some nice styling to the UI, and we can now proudly present it to you! We'll start off slow by adding it to our newest themes first, and we hope to get feedback and squish any possible bugs that should appear before rolling it out to all our themes.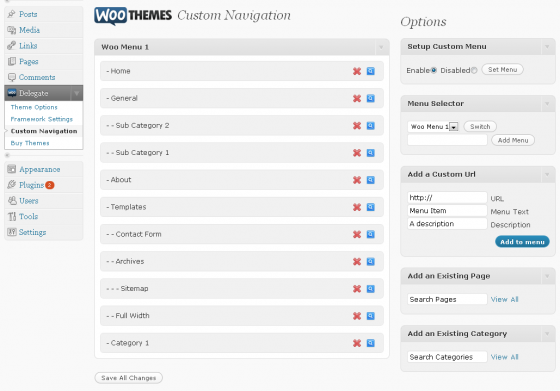 With the custom nav, you can easily mix and match categories and pages, and even add custom menu items into the mix. You can add your own structure to the menu by arranging the menu items via our drag and drop interface, and also add dropdowns or sub-navigations to each menu point. You can have as many levels as you want although this is usually limited to 3-4 levels by CSS in the theme itself.
Update! We forgot to mention that each menu also comes with a widget, so you can add the menus as widgets in your widgetized sidebars and footers. You can also create custom menus in addition to those used in the theme, and add those as widgets. The widgets have some basic settings and also developer settings to let you define the div structure and classes yourself. Pretty cool!
The first two four themes that have been updated are newly released Delegate and the user favorites Headlines, Optimize and Coffee Break. You can go ahead and download the updated theme from your dashboard and check the respective changelog located in the theme folder for which files to update.
I've recorded a short screencast so everybody can see the great new functionality this adds to the WooFramework. Give us your feedback!