You can now connect your WooCommerce store to Google Merchant Center with the help of Google Shopping Integration app. Gain healthy organic traffic to your store with the Free Listings Program on Google Shopping. Exhibit your products to various Google platforms such as Search, Assistant, Shopping, Images, etc. by leveraging Surfaces Across Google.
Google Shopping is the most trusted platform which enables customers to make educated decisions by comparing products. This in return gives merchants the invaluable opportunity to stand above the competition. This unpaid experience helps you in gaining improved visibility of your products and tools to track critical data including clicks per month. Additionally, you can strengthen your paid Shopping campaign by boosting it with the Free Listings Campaign.
Open more opportunities for customers with huge product options right from your WooCommerce store and help them recognize your brand on Google Surfaces itself. Simply said, you can now bring extra limelight and heighten your online presence as well as brand individuality without hassle and at zero expenses.
Upload products in bulk by selecting them on the product listing page. Also, with a scheduler running in the background, get your products updated regularly without getting delisted.
Enhance product visibility by mapping WooCommerce categories to Google Product Categories as specified for Feed on Merchant Center.
To ease the process of product upload, create profiles for each Google Product category while submitting feed on Merchant Center.
To get started with Google Shopping, it is mandatory to have a Google Merchant ID, which you can obtain from the Google Merchant Center.
Hit the given link to generate the Merchant Id.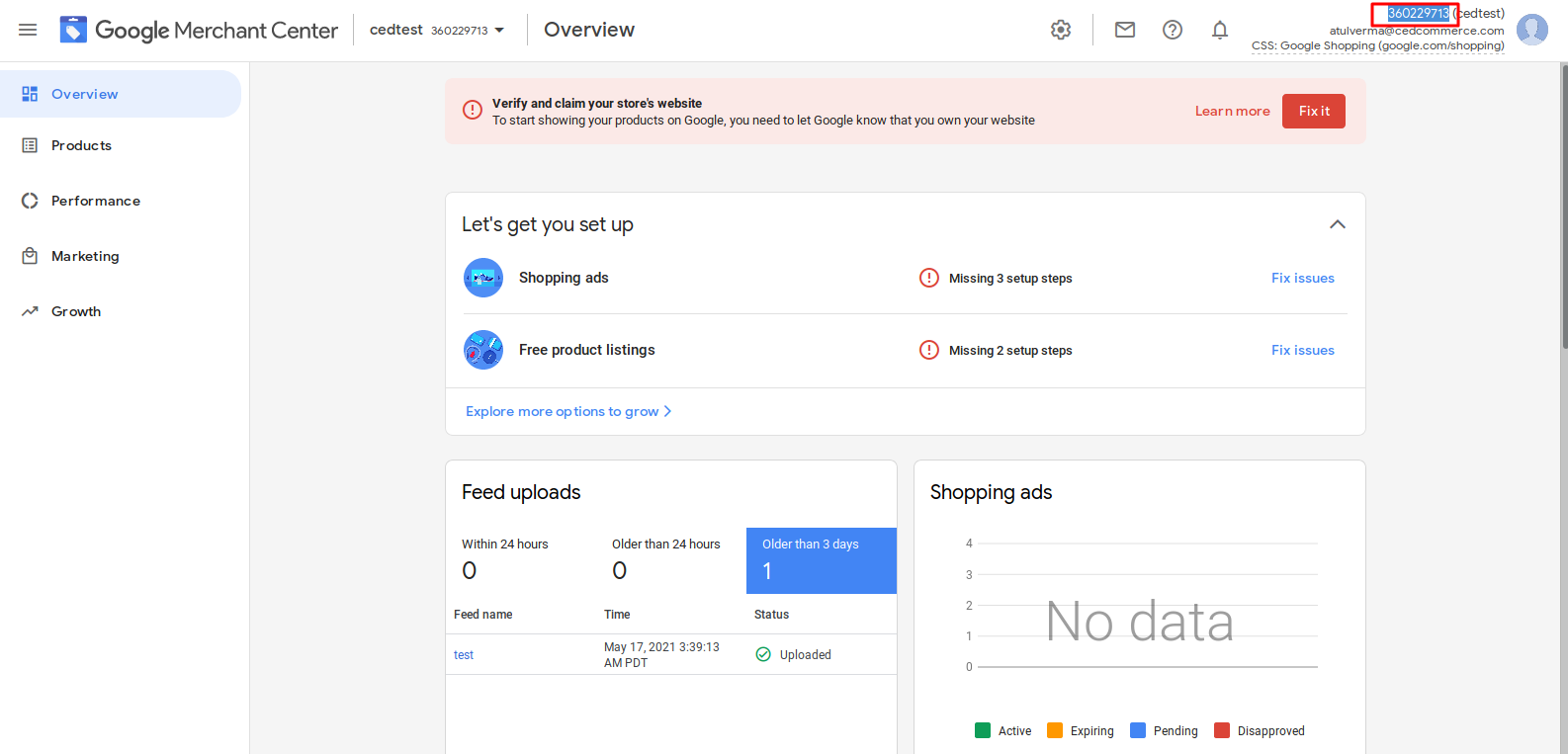 Once the Id is obtained, the second mandatory step is to have a Secret Key File which you can get by clicking here.
Here are the steps to attain the Secret Key File.
Create a project in the Google Developer Console. Go to the console page, Login with your Google Account. If you already have created projects in Google Developers Console, you will see the list of created projects. If you have no projects, the screen will appear like this.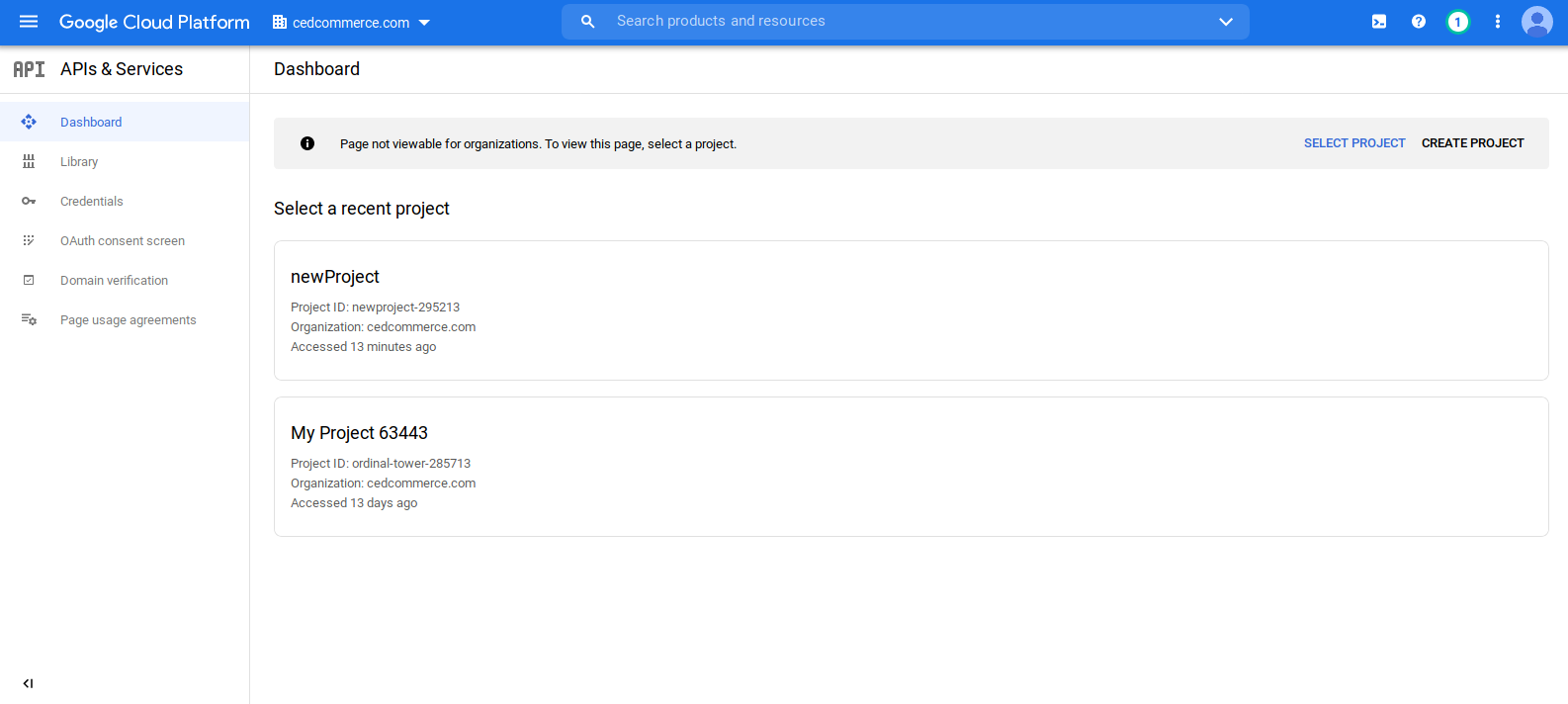 Click on the Create Project Button. You will then be redirected to a page where you will enter your project name and project id.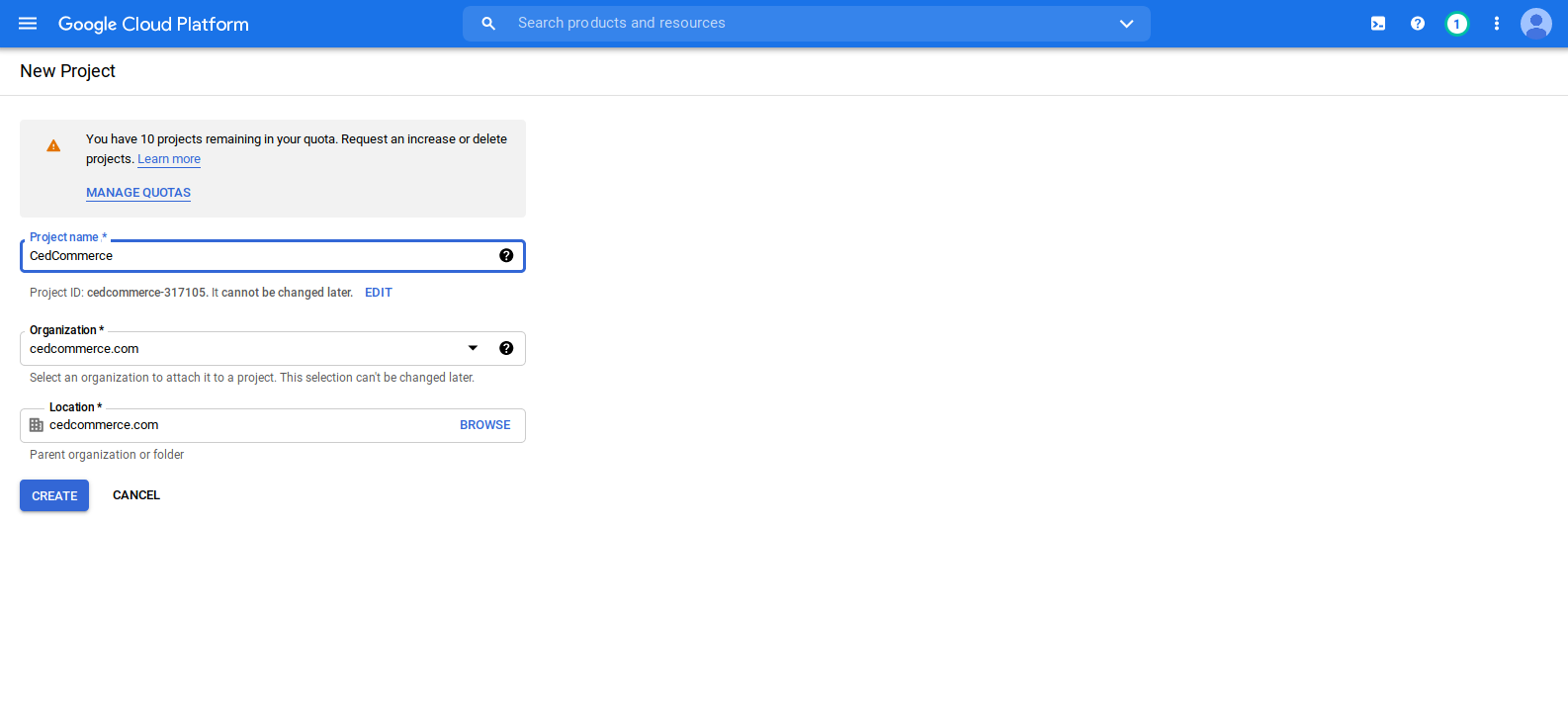 From the left side menu, click on the OAuth Consent screen option and select External Option. Then click on the Create button.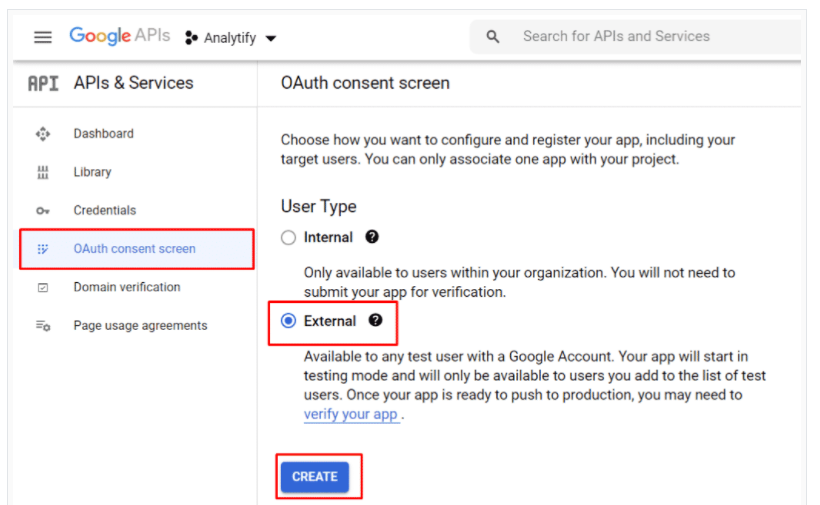 Add app information and click on the save and continue button in all steps.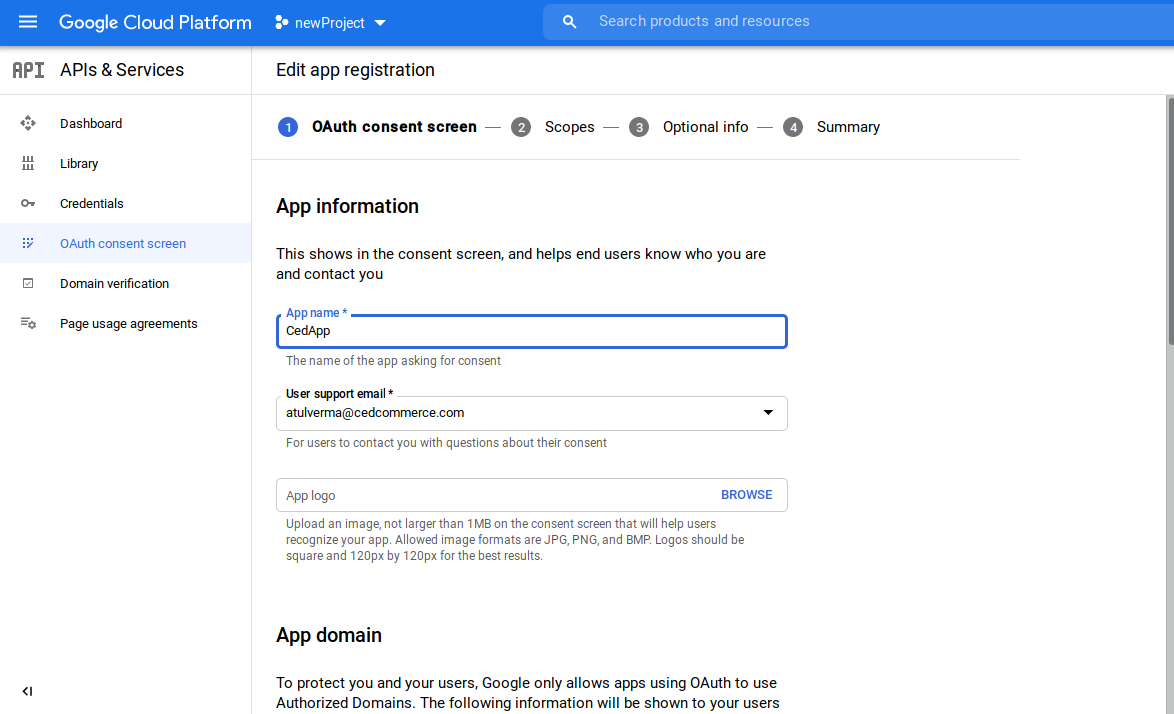 A new window will appear in the OAuth Consent screen, where you have to click and confirm the Publish App.
After confirming the app, click on the Credentials option from the left sidebar menu. Click on the create credentials option, and select OAuth client ID.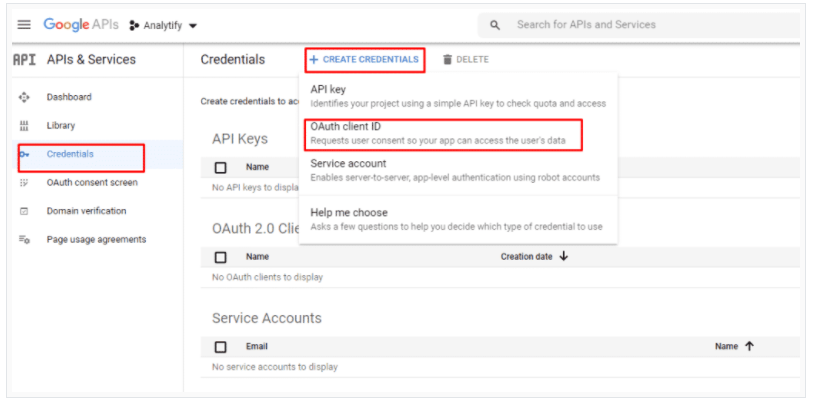 A new window will appear; select the Application type "Web Application" from the dropdown list.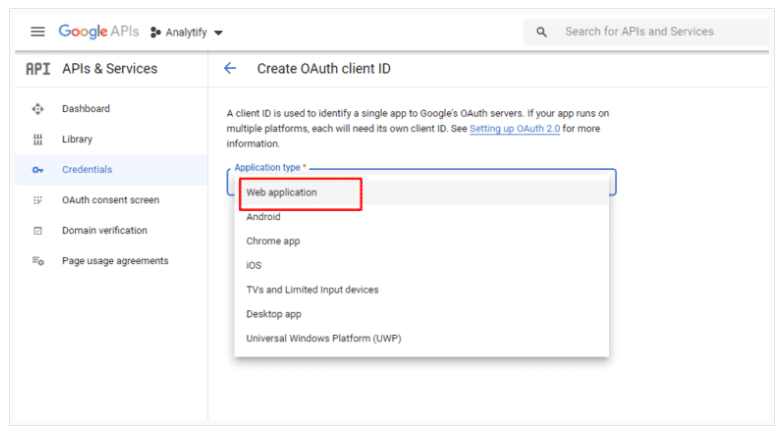 Enter information Name and Authorized redirect URIs.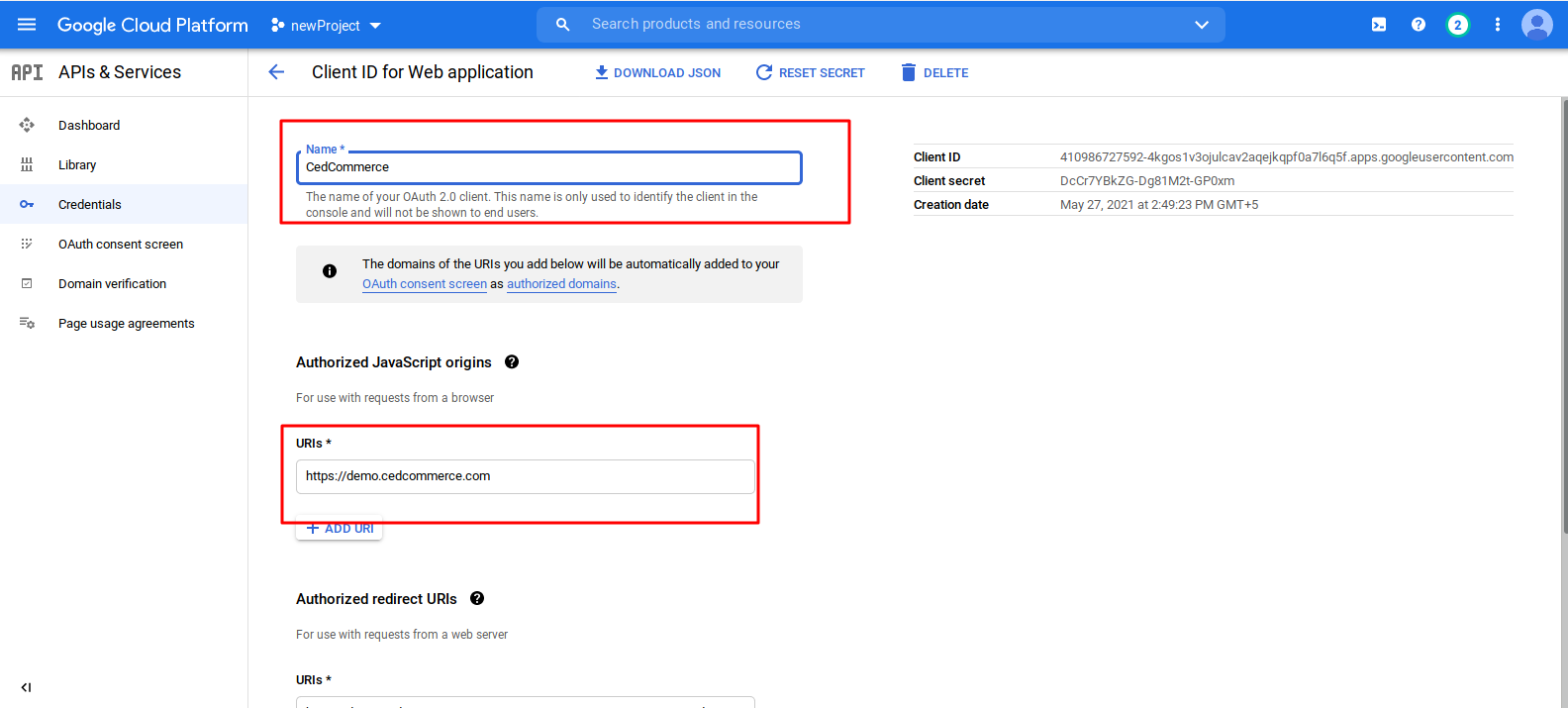 After clicking on the create button, a popup will appear to find Client ID and Secret ID. After that you can download the secret key file.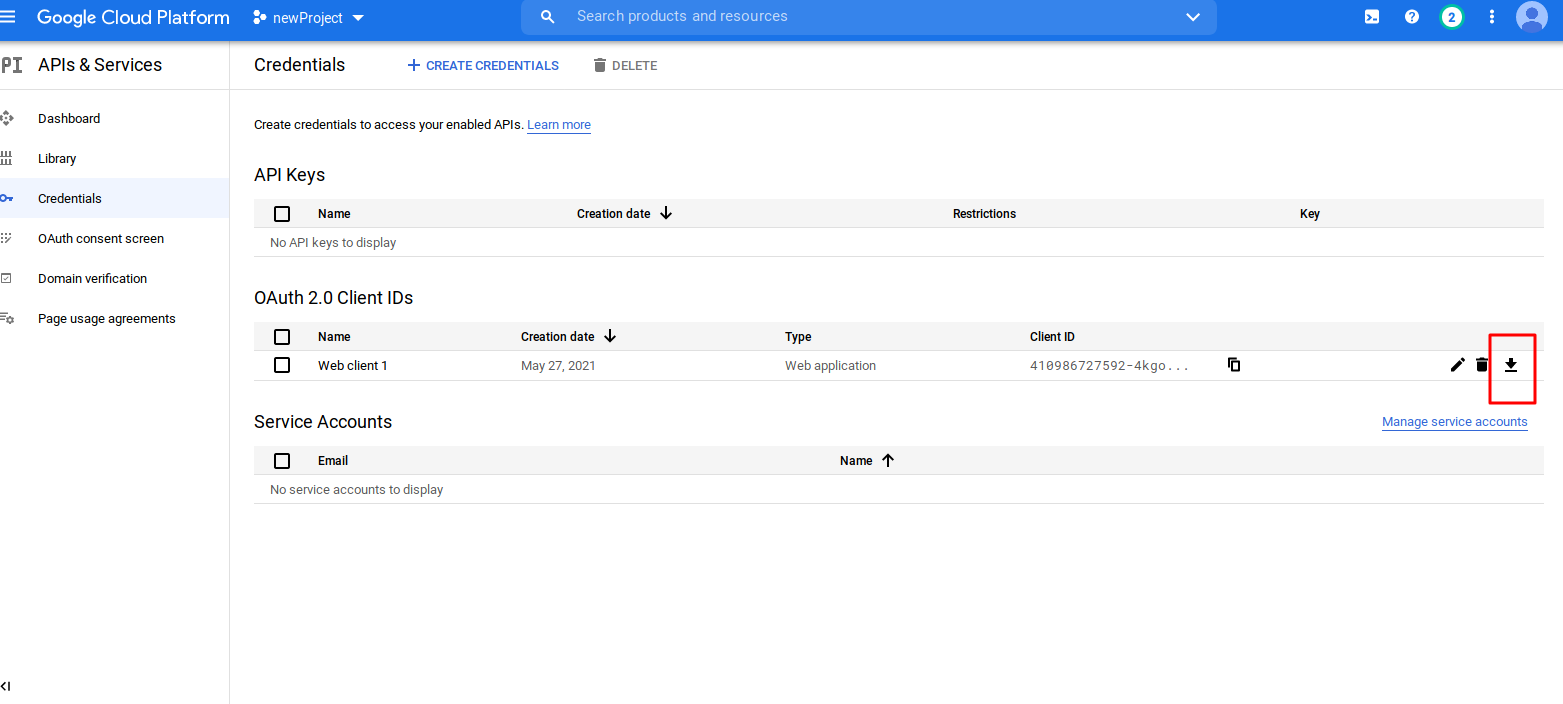 Next, authenticate your Google account. To do this go to, Configuration Settings and fill all details then save it.
After saving the details you can authorise your account.
Under the configuration settings, enter your account name and set your account status as active or inactive.
Fill in the Google Merchant ID and Secret Key File that you obtained from the Google Developer Console. Your Google Account token will be automatically fetched on authorizing the account.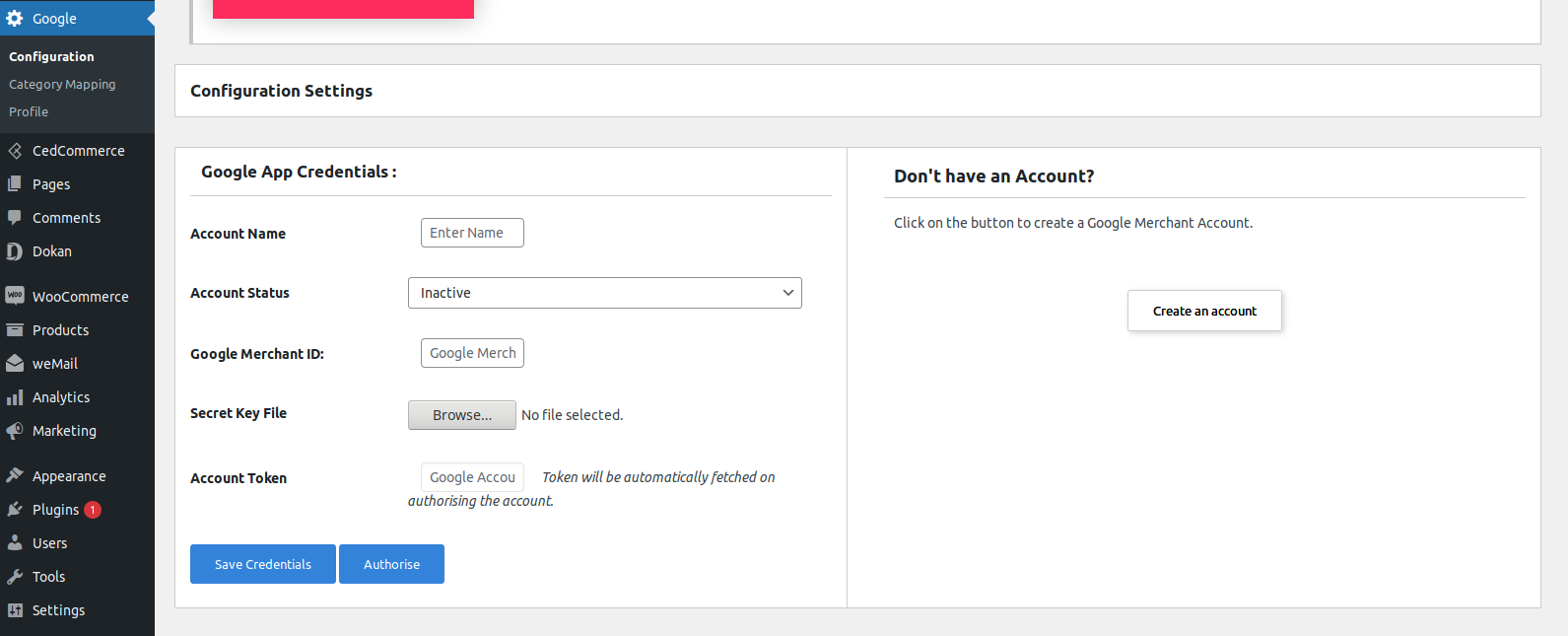 Save the credentials and then authorize the account.
Select the Store categories and map them into the corresponding Google Product categories.
All the products under that WooCommerce category will be listed in the mapped Google Category in Google Merchant Center.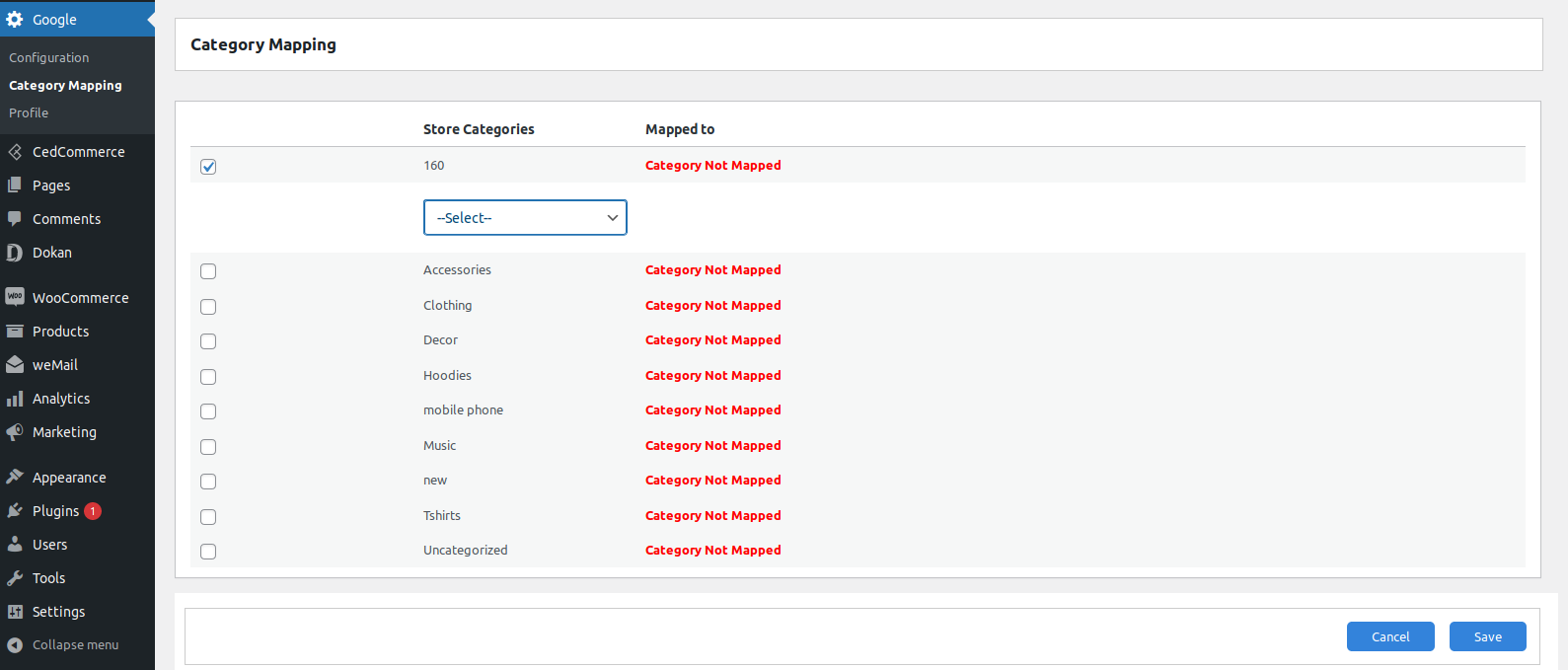 Save the settings and move to the profiling section.
Fill in the basic information like Profile Name, Markup type, and Markup Price. Ease the process of product upload by assigning the products based on their mapped categories.
Uploading products one by one can be a tedious task. You can upload products either one at a time or in bulk by selecting them on the product listing page.
You will have 3 abilities there :
Upload to Google : You can select products and can upload them on Google using this bulk action.This option helps you to upload product with title, description, images,stock and price.
Update On Google : You can select products and can update them on Google using this bulk action.This option will update your existing product's title, description, stock and price.
Remove from Google : You can select products and can remove them on Google using this bulk action. This option will remove the product  from the Merchant center.