Whether they sell online, from a storefront, or both, businesses are getting creative to stay strong amidst the coronavirus — every customer and every sale are more valuable than ever.
Many of your customers are having to get creative, too. How can you help them buy what they need on a tighter budget?
A strategy that benefits your business and your customers is offering multiple payment options, like monthly payments or "BNPL" – buy now, pay later. Give customers a way to pay less up front without having to worry.
Here are five reasons offering monthly payments or BNPL is a win-win.
1. Convert more visitors
In his book Almost Alchemy, Marketing legend Dan Kennedy tells the story of a client who was selling an item for $29.95. Kennedy advised him to sell it in two payments of $19.95. He sold twice as many units, even though the price was $10 higher.
This isn't an isolated case; it's been tested exhaustively in countless industries. You'll sell more products if customers can make monthly payments instead of paying all at once.
You can offer an installment payment option to orders with multiple items, too — It's not limited to higher-value items. Say a customer wants to buy six products for a total of $138. Offer the option of paying the total up front, or as three payments of $49. Fewer buyers will have second thoughts about the price tag if there's a monthly payment option.
2. Buyers will spend more money
As the Kennedy example demonstrates, people will actually spend more money on the same item for the convenience of a payment plan. It's a win-win. Buyers are able to get more of what they need by avoiding lump-sum payments. They also benefit from a more predictable monthly budget. In turn, you'll be able to charge a bit more for some products.
Here's an online business selling a course with three payment options: a lump sum, four payments of $225, or ten payments of $99.
Not only have they won 27% more customers since they began offering monthly payments, but 90% of their customers who choose to pay monthly choose the ten-payment plan, even though it costs $100 more than the four-payment plan! 90% willingly pay more in total, just to get a lower monthly payment.
You can do the same thing: charge more for the same item using a monthly payment option, and people will happily pay the higher price to avoid the larger one-time cost.
3. Buyers appreciate choices
Even if customers choose your lump sum option (or choose not to buy at all), they'll appreciate having choices. Offering payment options communicates that you want to make it as easy as possible for them to make purchases. You're trying to meet them where they are.
Neil Patel reports that 56% of customers expect a variety of payment options on a checkout page. So over half of your customers want the ability to pay in installments — and in times of economic difficulty, even more people will be looking for these options.
The goodwill you'll generate with these options, and from non-buyers, can only be a good thing for your business and can lead to positive word-of-mouth recommendations, better reviews, and higher customer loyalty.
4. Offer a touch-free solution in-store and online
Monthly payment options aren't just for online shopping — you can give customers this option no matter where they meet you.
We like the services offered by Affirm, which integrates with WooCommerce so you can offer touch-free payment processing and monthly payment options right on your customer's phone, even in a physical store. They never have to hand you a credit card or touch a keypad. It's contactless in-person payment.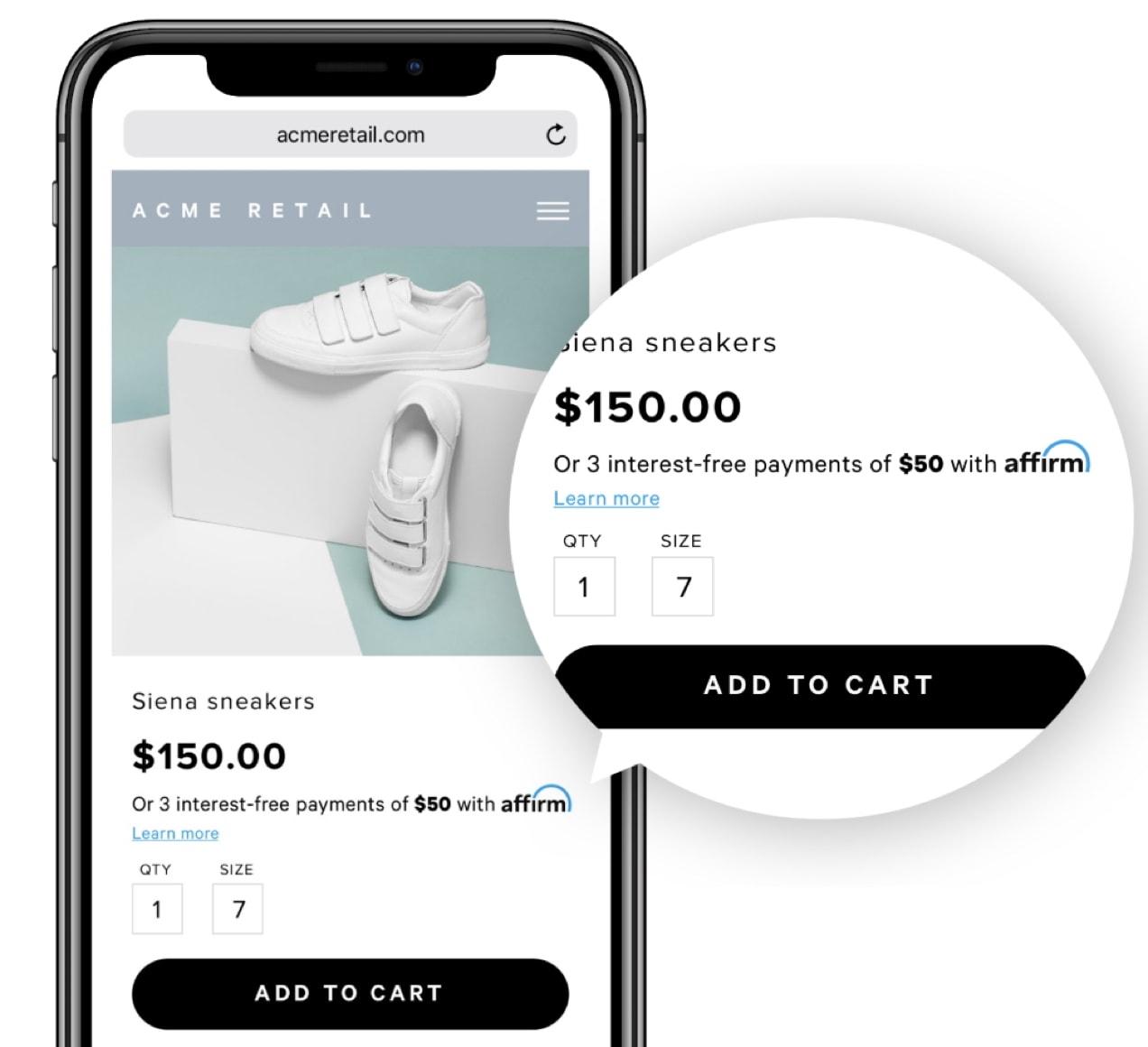 Affirm has seen an increase in average order size of 85% at businesses using their service. They take care of all the banking, payment tracking, and code; you just make the sales.
5. Lower overhead and admin costs
There's one primary argument against offering monthly payments, and it's a big one. Offering monthly payments invites several frustrating administrative problems, and potentially robs you of revenue if the customer stops making payments before completing them all. Credit cards can expire before all the payments have been made, requiring followup. There can be an increase in product returns, which cuts into your revenue while increasing your time spent on each purchase.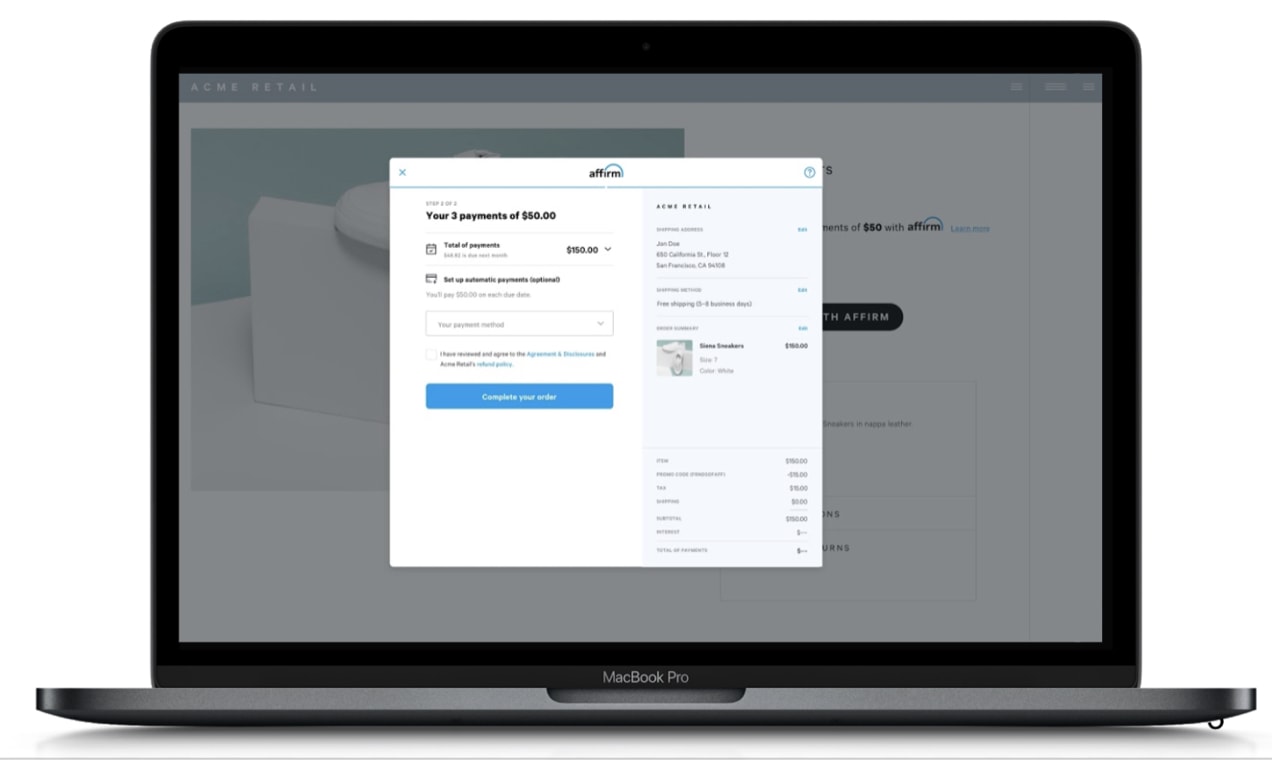 But here's the great news: it doesn't have to be like this!
Affirm is great for these situations, too. Once a shopper buys through Affirm's gateway, you're paid for the full transaction within two business days. Affirm services the loan and takes on the risk, from chargebacks to fraud. The customer experience is very simple and quick, which often leads to repeat transactions.
Provide the payment options your customers need
Buy now, pay later options bridge a gap between stores and customers, benefiting both equally. Affirm has helped nearly five million customers by providing immediate access to the things they need while easing financial strain. And thousands of online stores have used their tools to find more customers and increase average order values.
To learn more about Affirm and how it integrates with WooCommerce, click here.