PagePink is a beauty and wellness portal for women in Singapore. It offers local shoppers access to the top salons, spas, and wellness studios, and allows vouchers and appointments to be purchased online for future redemption.
The website lists beauty and wellness service providers in Singapore, and allows users to write reviews and provide useful information for others. Consumers can purchase beauty and wellness services online through a gift voucher, as well as book appointments. The website also provides editorial content related to beauty and wellness trends and tips.
PagePink was created when its two founders realized that there was a need for better information related to beauty and wellness service providers in Singapore. After all, no one wants a bad haircut or a massage that causes an allergic reaction! This is what led to the original website, which provided reviews and information on local salons and beauty services.
However, PagePink wanted to make it easier for consumers to discover, buy, and gift these pampering services. They wanted to do this through the use of convenient virtual vouchers or online bookings. This led to the discovery and implementation of WooCommerce on their site.
The platform was ultimately chosen for a number of reasons. First, much of the content on PagePink was already built in WordPress. This meant that integrating with WooCommerce was much more convenient than other platforms. Also, being a startup, a solution that could be rolled out quickly was very important.
The founders needed not only an eCommerce solution that could be customized not only to integrate into their existing website, but one that could be customized to meet the needs of their customers. Co-founder Guy Charusadhirakul told us that WooCommerce was "quite easy" to customize to meet their needs, and that the store had many custom elements that the platform was able to accommodate.
Some of the items added included service durations (for example, 30 minute, 60 minute, and 90 minute sessions) and level of seniority for stylists and providers. These are similar to product variations in a traditional eCommerce store. Guy also noted that the shopping cart was able to be customized to allow different types of purchases, like a gift voucher or an appointment.
WooCommerce was also able to handle the generation of unique voucher redemption codes upon order completion — a must for this store!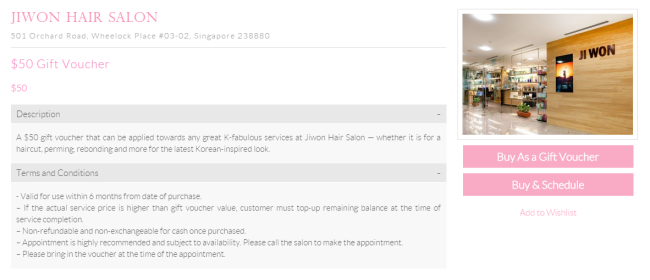 PagePink also found WooCommerce much more cost-effective compared to other eCommerce platforms. Guy had this to say about the cost:
It's practically free. We could roll out features very quickly with little cost with WooCommerce. With other platforms, you could be spending hundreds or thousands of dollars building an eCommerce site.
PagePink also found plenty of extensions that could be purchased and customized to meet their specific needs, and this flexibility could not be found on other platforms. Some of the extensions used by PagePink include the PayPal Express Gateway and the YITH WooCommerce Wishlist, which allows savvy shoppers to create a custom wishlist of the vouchers or appointments they would like to have in the future:

The founders feel that the use of WooCommerce has helped grow their business. Before integrating the platform, they had no way to monetize their content, which consisted of recommendations and reviews. Now they are able to offer gift vouchers, services, and allow for appointment bookings online.
When asked about the perception that WooCommerce was only for small stores, the founders disagreed. "We found that we are able to get WooCommerce to do things that other supposedly larger, scalable platforms are able to do," said Guy, "but at a fraction of a cost and time."
I still get questions from eCommerce managers of big brands who contact us asking "how did you do this? How did you manage to do that?" So, we think we can continue to leverage WooCommerce as we grow our business.
PagePink's founders had a few pieces of advice for any new store owners. They first suggested that you begin by finding great products and services and ensuring that they are sold at the right price. "After all," said Guy, "if you don't have good products or services, just having an eCommerce store is not going to help you that much."
The founders also suggested thinking hard about what your target audience wants out of their shopping experience before designing a store. They said that talking to consumers, gaining feedback and insights, and understanding how to solve pain points can be very valuable. Without doing this, you may offer a sub-optimal experience for your customers that results in a future redesign (and that can be very costly!).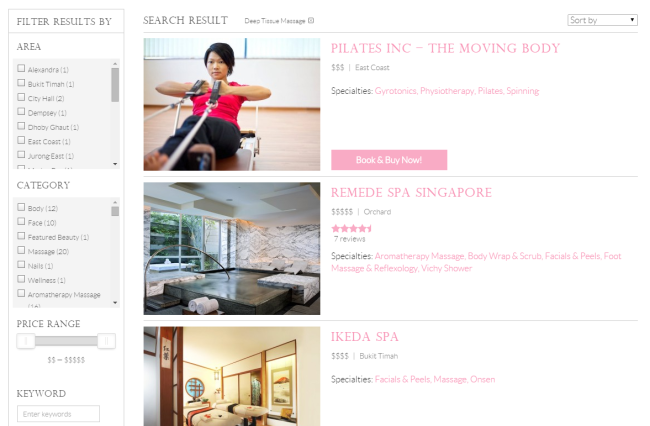 Finally, PagePink's last words of wisdom related to marketing. They advised that marketing a new store can take more time, resources, and effort than expected:
Because your online store exists in the digital space, no one is going to just "see" it unless you have clear and explicit marketing plans to grow visitors. That may be through search engine optimization, search engine marketing, content marketing, referral and affiliate programs, or integration with your offline store. Do some research and talk to some people who have done some Internet marketing.
We love how PagePink has made it so convenient for shoppers in Singapore to research, buy vouchers, and book appointments at local beauty and wellness locations. This completely customized WooCommerce store is a truly beautiful success story.
If you live in the area and are looking for detailed information on a hair salon or masseuse, PagePink should absolutely be your first stop!