At WooCommerce we're passionate about the idea of eCommerce being open. By that we mean open to all budgets and an array of development skill levels, open to all locations, and open to everything from the simplest to most customized business ideas you can throw at it.
Today we're proud to announce Facebook for WooCommerce, a free integration that opens up Facebook's audience of more than 1 billion people to Woo store owners. It's a significant step in our quest to democratize commerce on WordPress.
Read on to learn more about the two powerful ways this extension helps grow businesses.
Connecting Woo stores with the world
An eCommerce store is only as successful as its reach and sales. WooCommerce has over 1.9 million active installs — how many of these stores are reaching their goals, and reaching the right people?
It's hard work, especially for small business owners, to put the time and energy into marketing whilst printing shipping labels, finding room for inventory under desks, and balancing the books in the proverbial early days. Everyone wants a silver bullet.
We write fairly regularly with tips for driving sales and finding customers, and integrating your store with Facebook is one such tip. Now the easiest way to do so is with Facebook for WooCommerce.
Here's why:
Facebook helps you reach customers with ads, and
Listing products on your Facebook Page in a shop section drives sales.
Plus, it's free, which is awesome. Facebook are embracing working with open source partners, and at Woo we're proud to be one of the very first.
Here's a more in-depth look at the two features provided by this extension.
Advertising and remarketing to potential customers via Facebook ads
At WooCommerce, we use Facebook extensively for advertising and remarketing, and have seen some excellent results. We recommend it to stores far and wide, and are excited that this new extension makes it an easier process.
Installing the Facebook pixel on your WooCommerce store (done via guided setup) enables:
Conversion tracking, so you can see the number of conversions and/or sales your ads are driving,
Optimization, so you can show ads to people most likely to take a specific action (like adding an item to their cart or making a purchase), and
Remarketing, so you can reach people who have already visited your store and may be more likely to return for a purchase.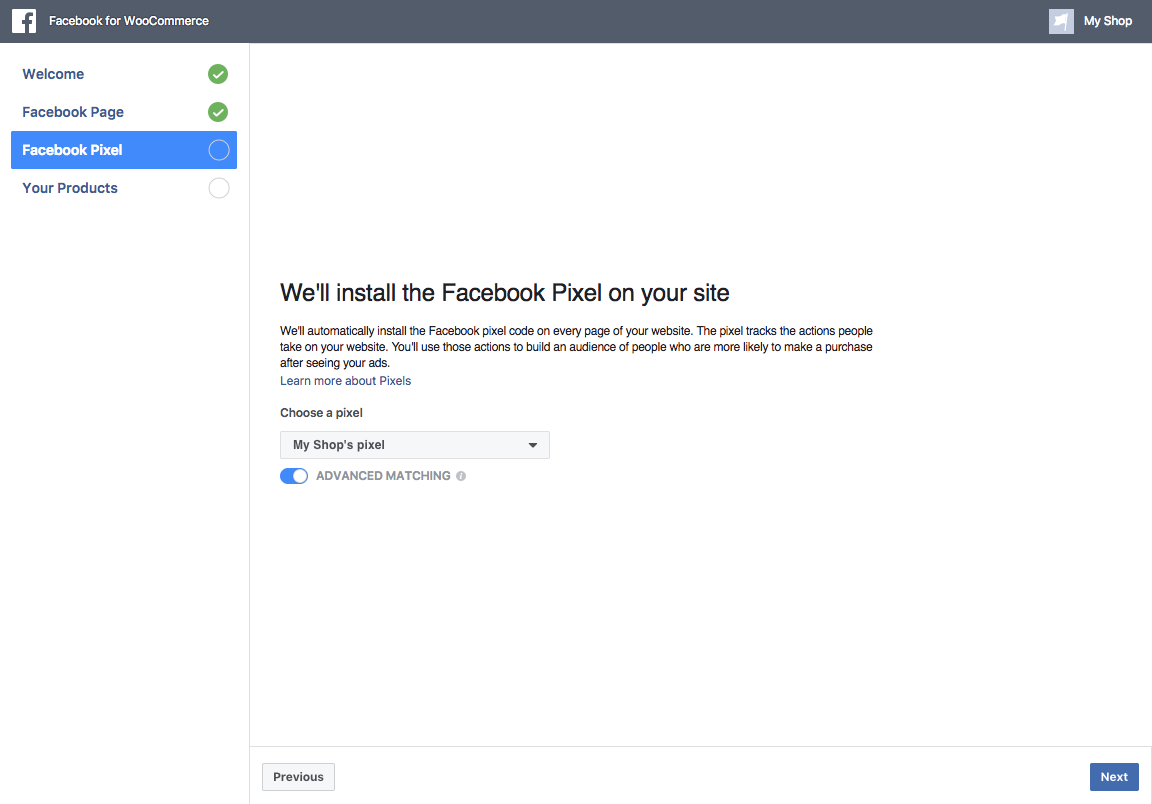 Adding the Facebook pixel is a tried and tested way to track performance of ads, which is really helpful:
Facebook is 100% the backbone of our customer acquisition efforts, and it's been made even better with the improved Facebook pixel. — Ali Najafian, co-founder, Trendy Butler
Showcasing your products on your Facebook Page
Setting up a Facebook shop section enables you to show the products you have for sale on your Facebook Page. With this extension, your products will be pulled in dynamically, and updated on Facebook when they're updated in WooCommerce.
As things stand, the shop section integration enables you to:
List your catalog easily — it takes just one click to send your entire product catalog to Facebook. Any changes made on your WooCommerce website are automatically synced with your Facebook shop.
Merchandise your products — you can organize your products into collections, and even tag them in photos to improve visibility and highlight your best sellers on both Instagram and Facebook.
Offer mobile-friendly browsing — the Facebook shop section offers a beautiful shopping experience for mobile devices.
Download the free extension to get started
There you have it — everything you need to know about Facebook for WooCommerce. Download the extension now to start advertising to potential customers and showcasing your products right on your Facebook Page.
Have thoughts for us about this? We're keen to hear your feedback. The comments are open and we'd love to know what questions you have, what you'd like to see in future updates to the extension, or whatever else is on your mind.