For us here at Woo, WordPress isn't just a platform for setting up websites. WordPress is a vehicle to inspire social change and to create awareness throughout the world. Today, we're joined by long-time WordPress community member, Bowe Frankema, as he introduces us to, CFCommunity, his new project of which we are proud to be promoting and involved with.
Hi WooCommunity,
How much time do you spent doing projects you truly love? The ones that make you all warm and fuzzy whilst working on them? The ones that you want to share with your non-geek friends and family? Do you feel you do those enough?
I asked myself the same questions early this year. I realised that I was not challenging myself enough to make a difference for those things I truly care about. We (as web developers) are in a position where we can do things on the web that have an actual impact on people outside of the google machine. We can make a difference.
One special project has been on my to-do list for more than five years but for several reasons never happened. No wait, I'm lying. Mainly for one reason, never happened. The project was so personal I was afraid I would mess it up. That I did not have the skills, experience and resources to make it happen. I was afraid I would let myself down and as a direct result my friends and family who I did the project for. "Which project are you talking about?" – I hear you ask…
CFCommunity – A WordPress powered social network for those affected by Cystic Fibrosis; a serious disease that impacts life expectancy.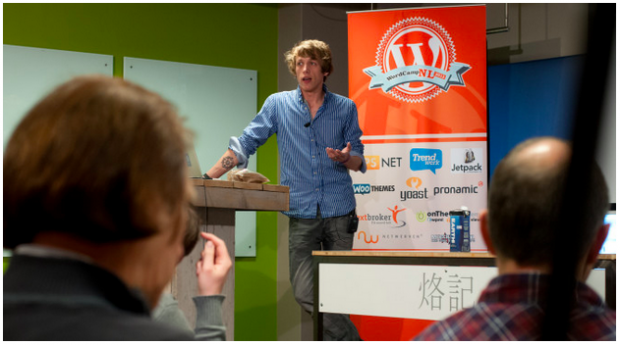 Who Am I? (not to be confused with the Jackie Chan movie)
The guy you see in the picture above is me, Bowe Frankema. Some of you might know me as "the BuddyPress guy" that writes on BP-Tricks.com, is part of the Commons in a Box team and can't stop talking about building communities during WordCamps & BuddyCamps across the world. This is the way I've presented myself towards the WordPress community. In order to do the CFCommunity this had to change. I felt that I needed to tell more about myself if I wanted to succeed. I chose to add "has Cystic Fibrosis" to the list of things people from the WordPress community could know about me.
WordPress and it's community have become a big part of my life and it has allowed me to work in my own pace whilst having enough breathing room (see what I did there?!) to stay relatively healthy. I feel privileged and I'm very happy to be where I'm at in life.
Sadly a lot of my friends with Cystic Fibrosis have a hard time staying healthy and out of the hospital. During the last two years I've lost four friends due to CF. Five people in my group of friends have needed a lung transplant to stay alive. In short; Cystic Fibrosis sucks.
Studies have shown that it's dangerous for people with Cystic Fibrosis to hang out in real life. We can't have WordCamps or meet ups. We only have the internet to connect. Kids growing up with Cystic Fibrosis these days never even come into contact with each other. And this is where I can make a difference through my work.
I'm in an unique position to create something meaningful for those affected by Cystic Fibrosis. I can do this through my work with WordPress & BuddyPress.
They need an (international) community like this. Not Facebook. No commercial software. A place by people with CF, for people with CF. 100% built on Open Source software and made possible by the WordPress community. This is why I'm telling you my story; because I hope you can help me make this happen.
The Rundown
When the WooTeam heard about my project, they wanted to help as much as they could. Not only did they instantly make a large contribution, they offered full access to their product catalog for the CFCommunity project, to provide space for me to write this blog post and to assist me in any way they can. Coen even wrote a blog post about our project.
Take a look at the available perks and see if there's anything you or your clients might need. Even if you don't need anything, you can show your support with a small donation and put your pretty face on our Hall of Fame.
Of course I'd love to do something back for the WooCommunity as well. I know that some of you have been asking for a BuddyPress theme that would integrate seamlessly with popular WooPlugins like Sensei & WooCommerce. I know I can make this happen, and would love to spend time on it if there is enough interest. Just let me know in the comments below, and if there is enough interest I'll make it happen.
Open Source + Community = A Better World
I'm sure that you have your own special project you've been thinking about for ages. Something that can make a difference. I hope that through sharing my story you feel inspired to make it happen. I can tell you it's a great feeling. And if you want to help me achieve my dream project please consider making a small donation to CFCommunity.