TL;DR:
Square for WooCommerce has arrived
 — 
purchase the extension here
and let us know your thoughts.
Important note: at the moment, the extension is only supported in the US, Canada, Australia, and the UK.
Our most requested integration is now available! With Square for WooCommerce, you can take payments online or offline through the same solution, keep your inventory updated, and sync product changes between WooCommerce and Square.
Read on to learn more about what's available in this new extension, how it works, and how Square can benefit your store.
Some background: why a POS integration, why Square, and why now
The bread and butter of WooCommerce is helping you build beautiful online stores to sell anything, anywhere — and anywhere includes offline. From looking at our Ideas board, it seems our customers agree, and have a pretty strong opinion about which POS integration they want to see.
Today, we're pleased to bring you the integration you've been asking for: our WooCommerce Square is live.
Let's explore the features of this integration and what you can do with Square for WooCommerce.
Sell anything, anywhere: accept online and offline payments through a single solution
With Square, you can accept payments at your brick and mortar shop or on-the-go. And now you can also use Square to accept payments on your WooCommerce online store.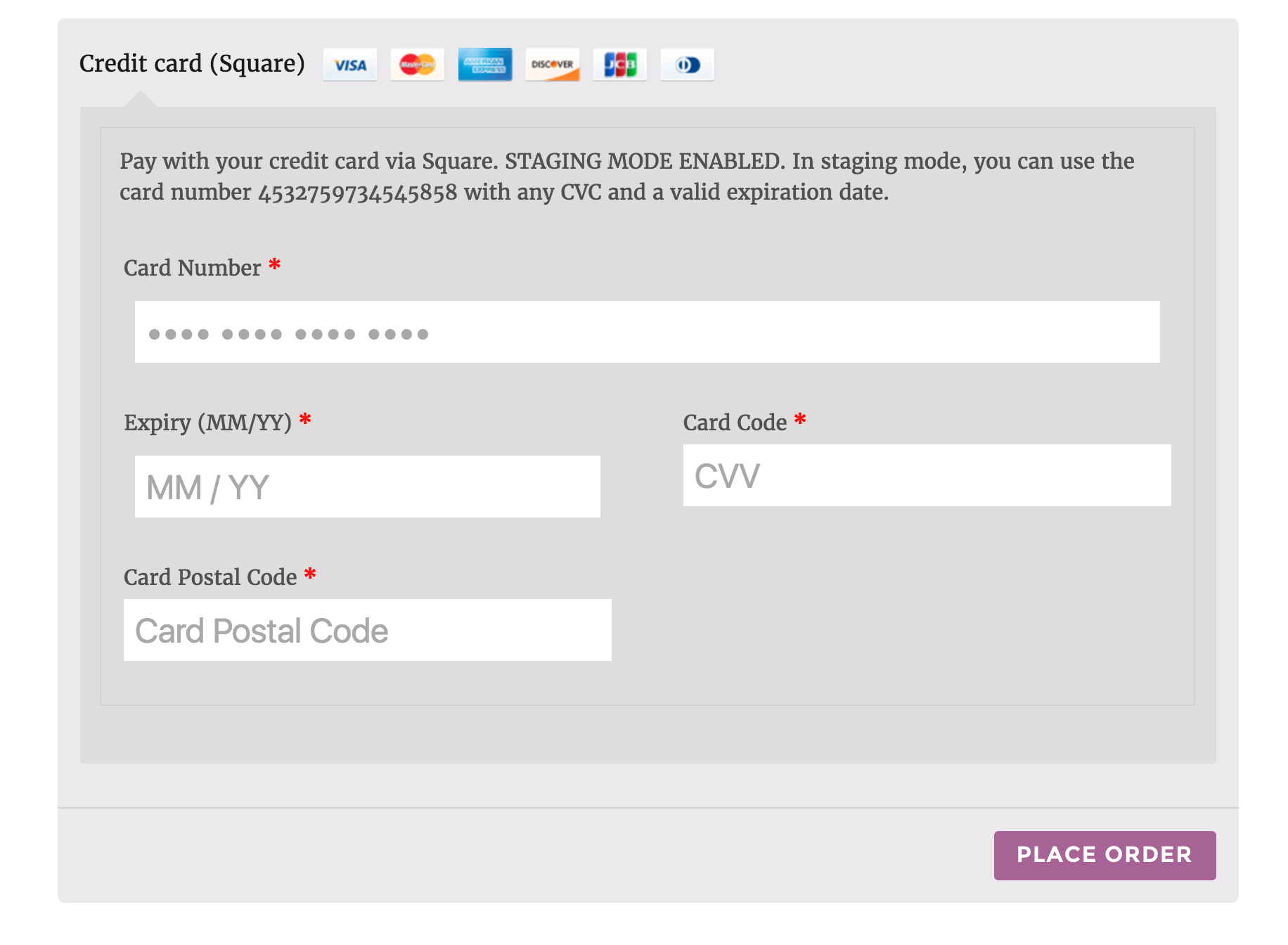 That means you can use the same solution to take payments both online and in your retail store—making it easier to manage and keep track of all of your sales.
Once you've got the integration installed on your site, simply connect your Square account to get started. If you don't have one yet, sign up here.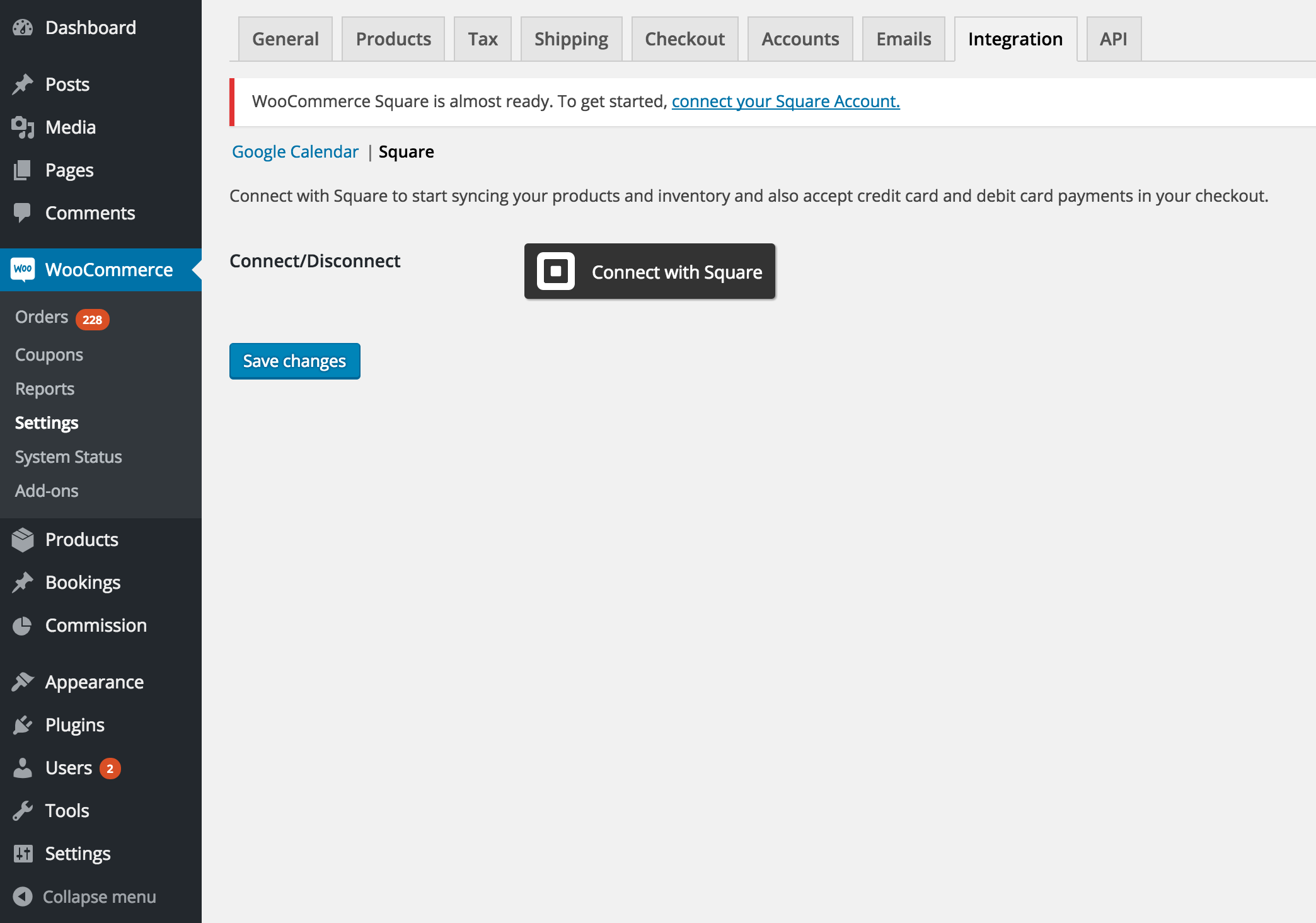 Keep your inventory accurate and up-to-date — without pen and paper
If you have both an online store and retail presence, you might sometimes feel as if they're operating in different worlds. This goes double for managing your offline inventory, which usually requires a manual update to keep accurate for online sales.
Now you can kiss those tedious manual updates goodbye. The Square integration will keep your WooCommerce inventory completely up-to-date automatically, syncing any online or offline stock changes for you.
Any changes in inventory after a  sale processed  through Square will be synced to WooCommerce, ensuring that inventory available for your online store is 100% accurate. This prevents any accidental sales of products that are out of stock.
Selling stocked goods through WooCommerce? No problem: the inventory will sync right back to Square, too, ensuring that you won't accidentally sell something in-store that's already been claimed by an online customer.
Save time by creating or updating your products just once
Something else store owners struggle with is keeping their product selection current between their online and brick and mortar stores.
With this integration, you only have to set up your products once to make them available both online and in your  brick and mortar POS, saving you heaps of time and hassle.
Any SKUs, product categories, images, or other details set up in either Square or WooCommerce will be synced when a Manual Sync is initiated from the Settings > Integrations > Square screen. This way, you can set up as many items as you want in either platform, then simply sync them when they're ready to sell elsewhere.
Additionally, any changes you make to products in WooCommerce will be automatically synced to Square. This helps keep your product images, pricing, and categories completely up to date no matter what you change online, or how often you change it.
Changes made to product details in Square won't automatically sync to WooCommerce, but they will be included in a manual sync, as described above.
Ready to unify your stores? Start using Square for WooCommerce right now
With Square and WooCommerce, you can bridge the gap between your online and offline stores, saving you time and hassle. You'll also be able to offer your WooCommerce products anywhere, easily syncing and selling existing items from a POS in a physical storefront.
If you're ready to get started with the Square integration, you can purchase it here, and sign up for a Square account here if you don't already have one.
A few things to keep in mind as you get started:
Please note that we are not able to diagnose or solve potential issues via blog comments. The fastest way to get in touch with us is via one of the methods listed above. But your feedback is always welcomed!
Thanks as always for your feedback and suggestions which led to us working with Square to develop this new extension — we're excited to finally release it for you!
Now that our most requested integration ever is available, will you be using it for your store? Or do you have any questions about Square you'd like to ask us first? The comments are open and we'd love to hear from you.