Securely Accept Credit Cards with Beanstream
The WooCommerce Beanstream extension provides a completely integrated checkout experience between WooCommerce and Beanstream. Payments take place directly on your website so you have maximum control over what the checkout looks like, and customers never have to leave your site to make a payment.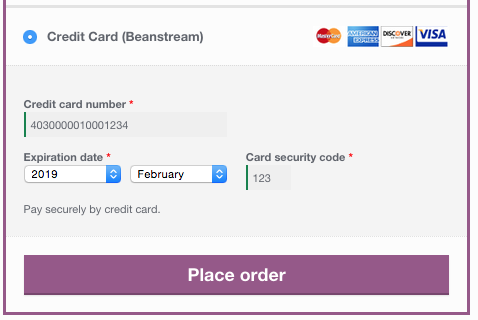 Benefit from Beanstream's great customer service and payment processing infrastructure directly on your WooCommerce store!
Why WooCommerce Beanstream?
Accept all Major Credit Cards – Visa®, MasterCard®, American Express®, Discover®
Beanstream supports CVV checks for reduced fraud risk
Customers never leave your site during checkout
Direct On-page Checkout
Using the Beanstream extension allows you to decide what your checkout process will look like, while keeping the customer on your site for the entire process. This gives you maximum control over this experience, providing a seamless checkout process for the customer and maximum customizability for the site owner.
How to Get Started
Buy this extension 🙂
Download and install into your WooCommerce store
Log into your Beanstream account to get your credentials and save them in the plugin.
That's it! Sit back and enjoy easy, seamless payment processing!
Need any more reason to buy? When you purchase a SkyVerge-developed extension, you're getting the highest quality extensions for your WooCommerce store. Gain peace of mind by knowing that when you purchase our products, your store's performance is as important to us as it is to you.