Black Friday and Cyber Monday 2021 are coming soon. Do you have an email marketing plan in development?
You need one, because with so many choices and so many distractions, it's important to use every tool available to reach new customers. And don't forget your existing customers. Will they shop from you again this year, or will they be persuaded by a competitor?
Email remains your single best approach for preserving the connection with your existing customers and subscribers.
Why?
Because you can make specific offers, directly to their inbox. You aren't limited by the ad specs of Google or the requirements of social media advertising tools. You aren't dependent on search engines or algorithms. You write the email. You create it for specific people. And you send it directly to them.
That's why email marketing continues to deliver one of the best returns on investment in the digital marketing space.
If you haven't yet created a Black Friday/Cyber Monday email campaign for 2021, or have started but need help making it better, use the tips and strategies below to raise your game and increase your revenue.
1. Plan ahead
Don't just throw together blanket offers like "20% off" and send out a bunch of emails at the last minute. Yes, that's better than nothing, but that will not maximize your revenue for this time of year. Set time aside to plan a strategy — even if it's a small one, it'll make a noticeable difference.
If you've waited too long, check out our tips for last-minute Black Friday and Cyber Monday planning.
2. Create one or multiple offers
Take a look at your inventory. Do you have a particular product you want to create an offer for? Something unique to your site that might draw in customers who'll purchase other things as well? An item you don't mind discounting because you have a few too many left in stock?
The most common Black Friday offer is a sitewide discount. You can also throw in bonus gifts, such as gift cards, for people who spend over a certain amount or buy particular items. You can create tiered discounts. For example, spend $100, get $10 off. Spend $250, get $30 off, etc.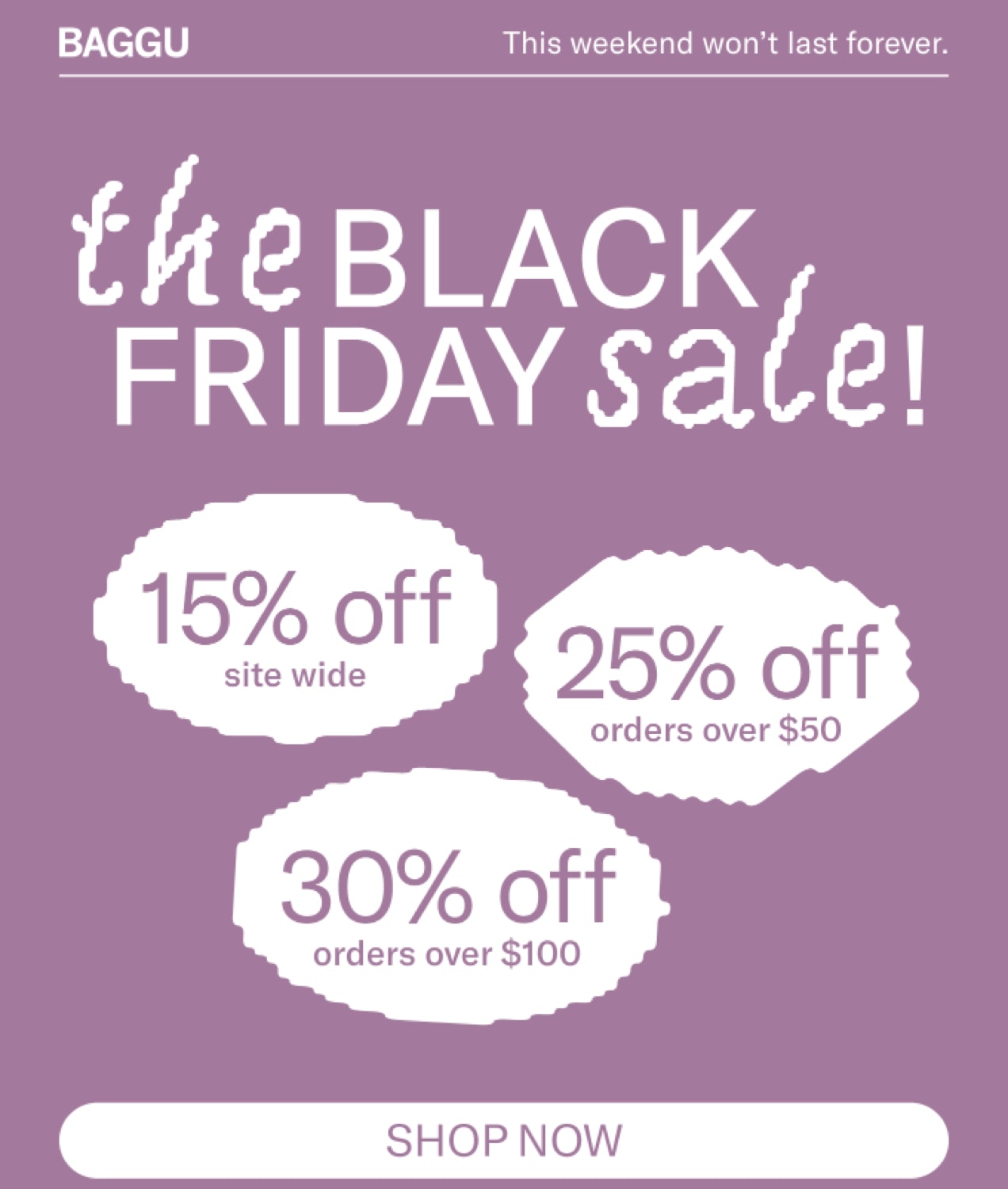 Sitewide discounts have their advantages — simplicity being the main one. But they are also the most common type of sale at this time of year. You won't stand out doing what everyone else is doing. Look at the next tip for some ways to improve on the common approach.
3. Decide who your offers are for
You'll deepen your connection with an audience far more effectively by making offers that target them specifically or exclusively rather than sending generic discounts. But the key to this is the ability to create email segments. Or separate your contacts into separate lists entirely.
If you can segment your contacts effectively, you can create multiple offers for multiple segments.
Perhaps one offer is for people over 65, another is for business owners, and another is for parents with kids still in the home. Or, offers could be dependent on location, income, previous purchases, or many other factors.
If you have the right information in your system, you can segment accordingly and create more effective Black Friday and Cyber Monday email offers.
Some examples and the technology that supports it:
Target previous customers
AutomateWoo includes a follow-up feature that allows you to easily send emails targeting anyone who has made a prior purchase. You can send Black Friday and Cyber Monday offers exclusive to them. These will make them feel valued and might motivate them to buy from you again.
It's always easier to sell to existing customers than to win new ones.
Target based on past purchases
Even more personalized, you can create sales based on past purchases. If someone bought pet food from you in the past, you can bet they'll need to buy it again. Why not send them a special, personalized Black Friday deal so they buy it from you instead of some other company?
In some cases, past purchases suggest complementary future purchases. If someone bought gardening soil from you in the past, it's a safe bet they might need gardening tools, or seeds, or fertilizer, or live plants.
MailPoet allows you to send out customized emails with exclusive discounts based on previously purchased items and categories.
Target based on activity
Or maybe it's been a while since some customers bought anything from your store. Six months. A year. Two years. AutomateWoo has a Win Back email feature that you can use to target inactive customers and send them exclusive 'come back to us' offers on Black Friday and during Cyber Week.
4. Use coupon codes
This is one of the single best things you can do in your email campaign for Black Friday and Cyber Monday. Why? Because it allows you to track your data.
Put different coupon codes for different marketing campaigns, including ones sent out using direct mail and other forms of media. Then, after the season is over, look at which campaigns were most effective, and build on that success next year.
5. Send the first email yesterday
Okay, so you can't go back in time. The point is, you want to start planting the seeds now in the minds of your customers that some great deals will be coming their way for Black Friday and Cyber Monday.
The sooner you start communicating, the more anticipation you'll create. And anticipation is a powerfully positive emotion that leads to action.
The other great thing about this strategy is, it's super easy.
You can send this email out today, even if you don't know what your actual offers will be. Just tell your customers about great deals heading their way. It doesn't have to be a long email and you don't need any specifics. Just plant the seed.
You can send this email to your entire list, even if you're going to segment your offers later. MailPoet's email newsletter templates work beautifully for emails like this. Plus their templates can sync with your WooCommerce store so you can add specific product suggestions to emails.
6. Send more emails as the days get closer
Don't wait until Black Friday actually arrives and then send out a barrage of emails. Other companies already do that, and customers wake up on Friday morning to find 500 emails in their inbox.
That's rough.
If you've planted the seed, and then watered it in the weeks leading up to the big day, your customers will already be thinking about you and planning to look at your deals and specials.
7. Create a surprise bonus
Some companies extend Black Friday sales through the weekend. Some start them before the actual date. The same flexibility extends to Cyber Monday, which is why it's often referred to as Cyber Week.
But whatever approach you take, you'll create more attention and excitement if you surprise your customers with an extra cool bonus.
Here's how this works:
You begin by sending out emails in advance of Black Friday and Cyber Monday telling customers to anticipate great deals. You might segment special offers to different lists. So as the big day draws near, your customers are looking forward to what they can get.
How much more excited will they be if you surprise them on Black Friday or Cyber Monday with an extra-special bonus in addition to the sale? That bonus could be all sorts of things:
Free shipping
Free gift wrapping
A bonus gift like an accessory or holiday ornament
A gift card that can be redeemed in the new year
A special buy one, get one free offer
Feel free to get creative!
Surprise and delight are powerful motivators. Use them in your Black Friday and Cyber Week email campaigns.
8. Emphasize the deadlines
With such a tight timeline on Black Friday and Cyber Monday, the deadlines are in some ways self-imposed. But, you can emphasize times, not just dates. And if you're extending your sale through Saturday or Sunday, emphasize that.
Also, deadlines don't have to be time-based. They can be quantity-driven: "when they're gone, they're gone." You can also make deals where only the first X number of people get the biggest discount. After that, everyone else gets a smaller one. Different approaches work best in different industries.
9. Create Black Friday / Cyber Monday abandoned cart emails
People are shopping on lots of sites on these particular days, so they may end up with multiple abandoned carts. And they want to make decisions fast while the deals are hot. You don't have a ton of time to close each sale.
In normal times, abandoned cart emails usually go out several hours, or even days later.
But on Black Friday through Cyber Monday, that's too long. Shorten the triggers for your abandoned cart emails down to less than an hour. This will increase the chances your shoppers will come back if they leave your site before purchasing.
AutomateWoo's abandoned cart email feature makes all this possible.
10. Grow your email list with a special offer
Big revenues on Black Friday and Cyber Week are great, but what's even better is if you can turn your one-time buyers into repeat customers. As marketing guru Dan Kennedy says, you don't get a customer to make a sale. You make a sale to get a customer.
That's why growing your email list is so important. If you include a special Black Friday or Cyber Monday discount, deal, or free gift for anyone who signs up for your email list, now you have them for all future campaigns until they unsubscribe.
So even if they don't buy from you this year, you can continue marketing to them. And if they do buy from you this year, you can continue marketing to them. Either way, they're in your circle of influence.
MailPoet makes it simple to create email opt-in forms that you can sprinkle around your site and use to capture more new visitors. Put them in prominent places, especially on your homepage and main product category pages.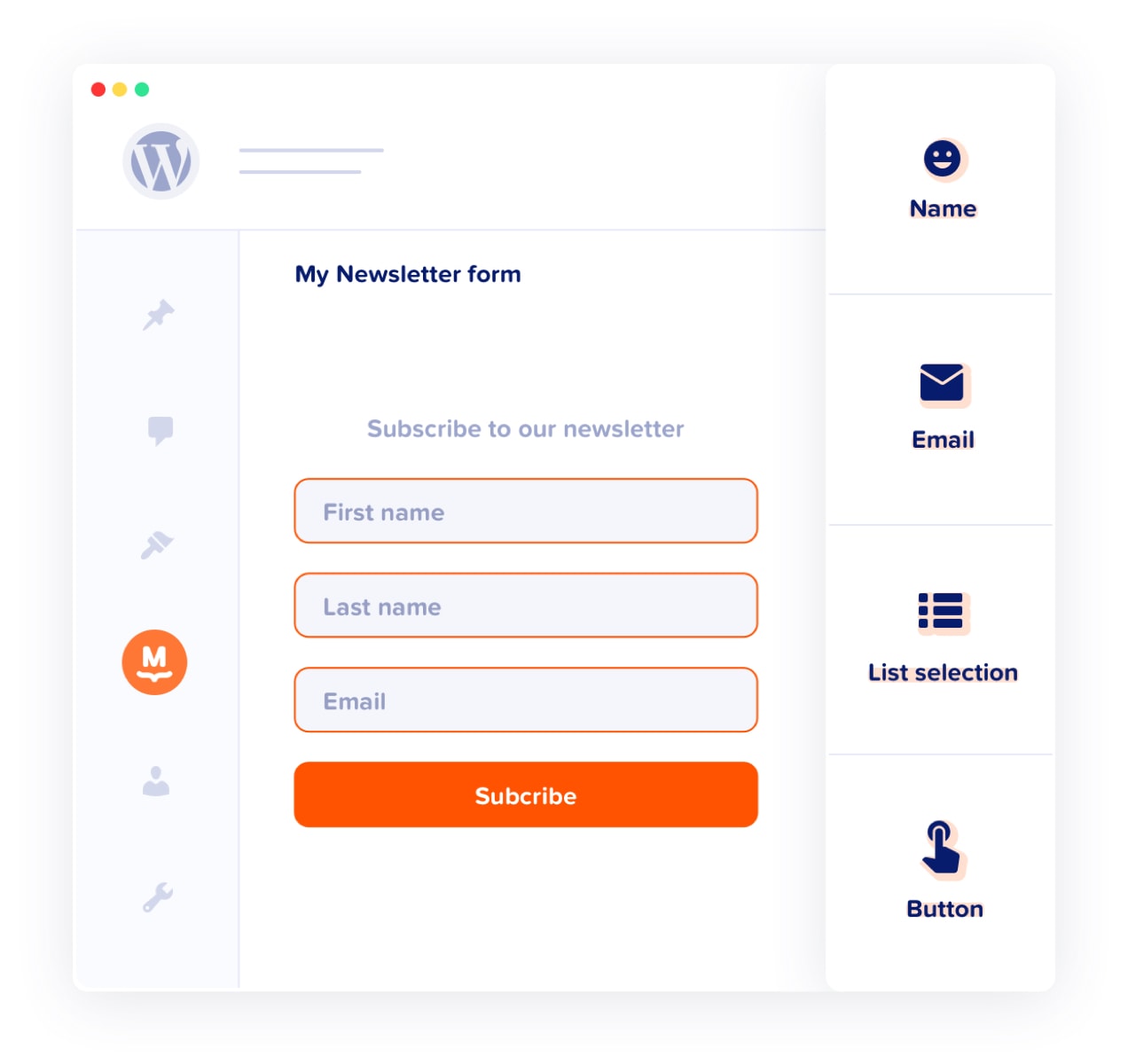 Also, use double opt-in so they don't give you a fake email address and don't give them the 'new customer coupon code' until the confirmation email (the second one in double opt-in). You'll end up with a higher quality email list that way.
11. Create email campaigns for after the sale
The holiday shopping season doesn't end after Cyber Monday is over. Many people continue shopping throughout December.
So, create another campaign to keep reaching out to your email list, and especially to people who made purchases already. Run these through the month.
In addition, for anyone who made a purchase on Black Friday/Cyber Monday, create a customer service follow-up campaign. In these emails, you can achieve several wins:
Thank them for their purchase
Give shipping updates
Include instructions on how to use or care for a product
Ask for reviews
Send new offers
Doing this shows customers you care about their experience, not just their money, and it will result in fewer returned products and better customer loyalty.
12. Vary your subject lines
Lastly, if they don't open your emails, they can't see your offers.
But this is a busy email season, and inboxes will overflow. What can you do with subject lines to increase open rates?
The keys are variety and quantity.
Quantity means that you shouldn't just send out three emails for the entire holiday season. Those emails will get lost in the frenzy, and many customers won't see them at all. It's okay to repeat the same offers and details multiple times because most people won't remember all of the information the first time.
But you'll still want to find a balance so you don't annoy subscribers. Keep an eye on unsubscribe rates. It's normal for a few folks to unsubscribe every now and then. But if the rate starts to soar higher than normal, you should reduce the frequency.
But an even better way to manage this process is to modify campaigns based on subscriber activity. So, you might only send reminder emails to those who haven't opened or clicked your email. Since they may not have even seen the first one, the reminder is less likely to cause frustration.
You can even reuse the exact same email for these. Just change the subject line to something like, "Did you miss this?"
But beyond increasing email frequency, to really get noticed you need to employ some subject line variety.
Imagine opening your inbox on Black Friday and seeing 20 different subject lines from different companies, and all of them say "20% sitewide discount!", "30% sitewide discounts", or "30% off everything in store."
Paraphrasing The Incredibles, if everyone's offer is great, then no one's is. In other words, all those subjects say the same thing, so the deals don't seem like anything special.
A variety of subject lines helps you stand out:
Use urgency.
Use humor — yes, put some corny and silly humor in some of your subject lines.
Use curiosity — make them wonder what's inside.
Use personalization — especially on the targeted emails.
And yes, make some subject lines 'on the nose' obvious like the examples above.
The point is, use all these techniques, not just one of them. This will make your subject lines stand out from the crowd and earn more opens.
Put these 12 strategies to work in your 2021 Cyber Monday and Black Friday email campaigns, and get your customer service team ready to fulfill some orders!