Longreads is an online publication dedicated to the best storytelling in the world.
Now, in addition to purchasing memberships, Longreads supporters can wear their loyalty on their sleeves (literally) by shopping for totes, caps, shirts, and more — Longreads recently launched a merchandise store powered by WooCommerce and Printful.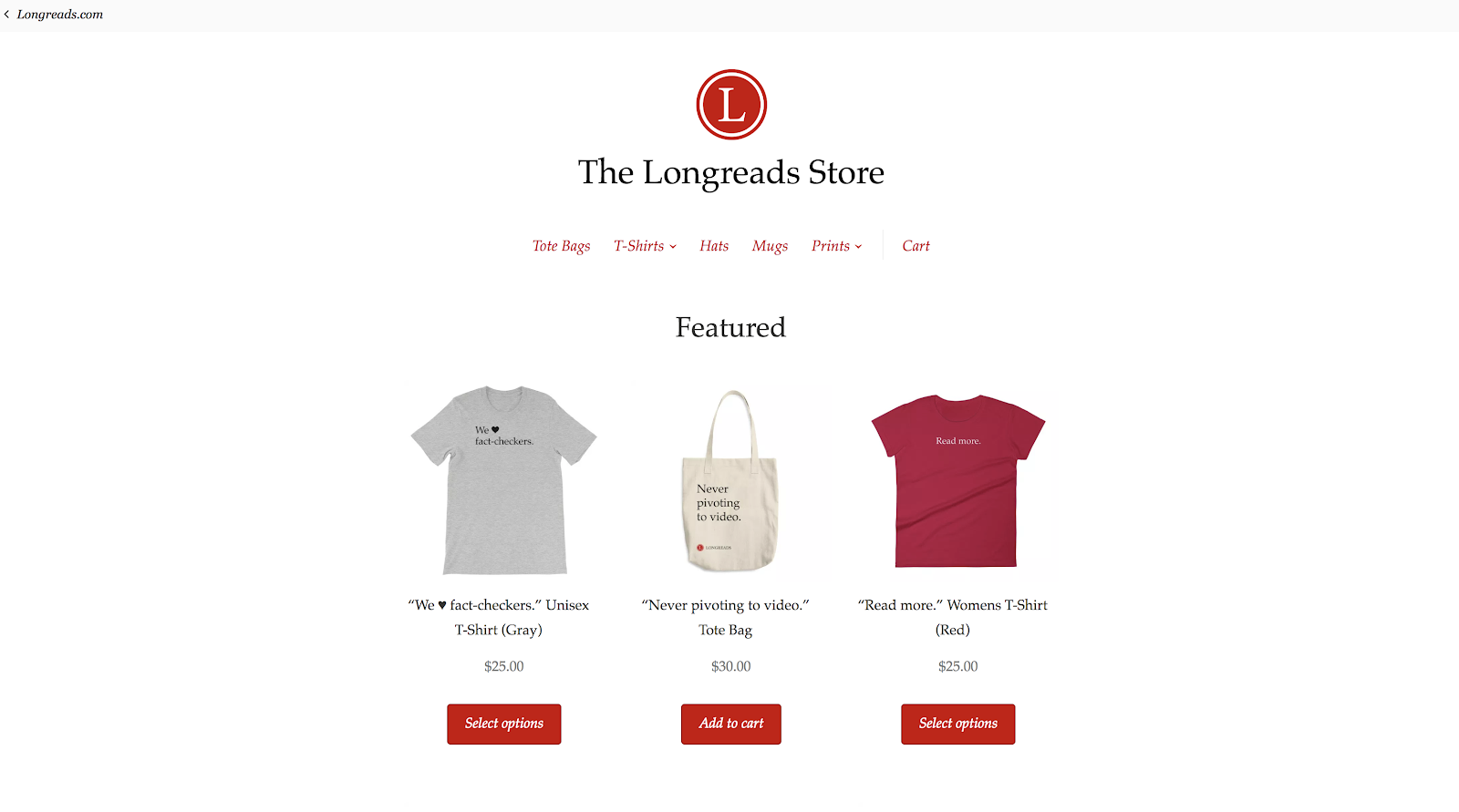 How are they able to run an eCommerce shop with limited time? Was it easy to set up? What did they learn about sales tax and anti-fraud? Read on for these answers and more.
Support for independent journalism with memberships and merchandise
Since inception in 2009, Longreads has been powered by supporter memberships. Quality writing and in-depth journalism can't survive without financial support, and memberships allow fans to contribute directly to Longreads' story fund.
The goal of the storefront was a new, different, and uniquely rewarding way of contributing: merch.
"We wanted to create an avenue where supporters could get something back physically and help us spread our brand in the real world." – Kjell Reigstad, Longreads Art Director
The storefront launched in June 2018.
Products are priced to keep margins intentionally on the low end, but all profits go directly into the story fund to help pay for original journalism, short fiction, and exclusive essays and book excerpts from the best writers and publishers in the world.
A merch store dream became real, thanks to Printful
Adding a storefront wasn't a totally new idea for Longreads.
Early in 2018 the team was working on some member outreach. The emails and landing pages they created featured a few quintessentially Longreads phrases: Never pivoting to video. Read more. We (heart) fact-checkers. They found themselves wishing they could wear some of their favorites.
If they loved this notion, perhaps Longreads supporters would, too?
"We had wanted to sell Longreads merch for a while, but it seemed like it was going to be a lot of work to get all the stuff printed, work out where it would ship from, and build a store. We didn't want to add too much overhead to our day to day in terms of managing a store."
The challenge was the team had neither the time to handle fulfillment nor they capital needed to print the minimum quantities most swag companies require. The idea stayed on the backburner until they discovered Printful:
"Printful would allow us to hand so much off to someone else and get into running a merch store with very few costs upfront."
With that, the dream became feasible. Confident that they could set up a merchandise store that would mostly run itself, the store build began.
Translating the Longreads brand into eCommerce
Kjell was tasked with designing a commerce experience that matched the well-established Longreads brand and ethos.
The general layout and aesthetic is an offshoot of the main Longreads site, which has always been about white space, simple typography, and limited colors — nothing to distract from the reading experience. Having never designed a store with these design elements, Kjell says it was an interesting adventure.
The store is clean and simple, the transition between site and store is seamless via their respective navigation menus, and the same fonts and styles appear across both properties.
Kjell opted for Independent Publisher 2 as the site's theme, which he adapted to be commerce-ready:
"I jumped in and started customizing IP2 and it really wasn't that difficult to turn that theme, built for blogging, into a store. I did most of the tweaks in the custom CSS box."
A distinguishing feature and cornerstone of the browsing experience is the "Shop by phrase" feature:
The store honors Longreads' love of words and feels wonderfully similar to the experience of reading articles and browsing the main site. Brand consistency at its best!
Most of the merchandise is based around the phrases, but there are also a few prints featuring custom artwork that has appeared in stories over the years, as well as logo caps. The team plan to add more items and rotate out older ones to keep things fresh.
HEY @Longreads! pic.twitter.com/837MAh78cQ

— pam mandel (@nerdseyeview) July 30, 2018
Building the Longreads store with WooCommerce
One of the things people love about WooCommerce is its flexibility. For those already familiar with WordPress, setting up WooCommerce is as simple as adding the free plugin and configuring the basic settings.
WooCommerce powers the Longreads store along with a handful of other extensions and services:
WordPress.com/business plan hosting. (Did you know WordPress.com Business plans allow you to upload plugins? The future is now!)
Jetpack for security, spam protection, insights, backups, and more.
WooCommerce to enable eCommerce for WordPress.
Stripe for payments, built in to WooCommerce core.
Printful for merchandise printing and fulfillment.
TaxJar for calculating and charging sales tax at checkout.
Anti-Fraud for WooCommerce identify fraudulent order attempts and alert the team.
For simplicity's sake, Kjell decided to set the store up as a separate WordPress site from longreads.com, and the team uses Jetpack for site management:
"The Longreads site is massive and complicated and running its own custom theme. We wanted to implement the storefront quickly without messing with that. So we set up a whole new site, but use Jetpack to make them easy to manage."
From beginning to launch the store build took about six weeks, with the bulk of the design and development work going into the theme. The integrations and Printful connection were quick and easy.
Key lessons: tax and anti-fraud
One of the unknowns Kjell ran into during the store build was around tax calculations:
"I saw WooCommerce Services could generate taxes, but then realized because we had multiple nexus we had to collect tax in multiple states. I did some digging and found that the TaxJar extension would handle this."
With the recent change to the sales tax laws in the US, online sellers now need to collect sales tax wherever they have a "nexus." Fortunately, there are tools that make this easier! The TaxJar extension calculates the correct sales tax and automatically adds to the amount owing. Learn more about how to calculate sales tax.
Once the store was up and running, Kjell noticed a few fraudulent transactions that concerned him:
"It was really annoying. We had about five fraudulent order attempts with clearly fake addresses. They all failed because the payment didn't go through, but it made me nervous because if they had gone through they'd have gone to Printful and we would have been liable for those costs."
He looked into store protection options and opted for WooCommerce Anti-Fraud, which WooCommerce recommends. Both of these services allow you to set up rules for first purchases (e.g., the billing country doesn't match their IP address) to score orders and places risky ones on hold.
This gave the team peace of mind, and prevents troubling and costly issues like chargebacks. Learn more about chargebacks and how to prevent them for your WooCommerce store.
How's it been going since launch? Store management isn't overly time-consuming: Kjell scans order notifications and once every day or two, but other than that, it runs itself.
"For the most part, our hypothesis was correct! People place an order, it gets automatically sent to Printful, and then automatically shipped off – and we don't need to do anything. Every now and again there are minor things to attend to, but the vast majority of orders just happen, allowing us to stay focused on what we do best: publishing and curating the best storytelling on the web."
Growing awareness of the store (and brand)
One of the benefits of launching the store as an established brand is having an established audience for your products. This was very much the case for Longreads.
Most discoverability has been through features in their existing email marketing – including a weekly curated list of longform reads on Fridays, a daily summary of editor's picks, and a monthly book review – and on Twitter.
"Every time we send a weekly email we get purchases right away. It's really helpful that we already had the audience!"
Check out an example of one of the Longreads newsletters, powered by MailChimp. Feedback from their fans has been really positive and led to some hearty engagements on social media, with some supporters even offering their own neat modifications!
My choice from the @Longreads Store. My modification. Keep up the good work folks! #storiesmakeushuman #coffeesoftenstheedges pic.twitter.com/FwZMwNZfe6

— Peggy Nightingale (@peggynightinga1) July 24, 2018
Longreads is also on Instagram and their supporters are sharing images of the products there, too. Kjell plans to experiment with Instagram product tags in the future.
Want to wear some Longreads on your sleeve?
Head to The Longreads Store and get yourself some editorially on point merch. And if you've got a following for your WordPress site, consider adding a swag store with WooCommerce and Printful to give your followers a fresh way to show their loyalty.