As May ends we're quickly approaching the halfway mark of 2013. The seasons are starting to turn around the world, and we here at WooThemes have continued to turn up the activity. Our favorite ecommerce plugin, WooCommerce, is also turning up the heat and growing faster and faster. We are quickly approaching 1 MILLION downloads of WooCommerce when we just celebrated 500,000 downloads at the end of January. Stay tuned for news on that.
I'm also happy to announce today that we've got two NEW incredible support ninjas. We thought it'd be great to introduce the two of them together with a little interview we did last week. So take a moment to meet Patrick & Rémi.
Now that you've heard from them, here is what else we've been up to here at WooThemes…
To start May we pumped out 7 new WooCommerce Extensions, and put the call out that we were hiring. We had three awesome case studies on our blog this month too. One on Accounting Bliss, one on Moving from Virtuemart to WooCommerce, and finally one from Judith Hobby Clothing. Around these case studies we've also hosted a 10th Anniversary WordPress bash, updated Sensei in a big way, released the awesome theme Peddlar, and had ANOTHER WooCommerce extension drop. We eventually rounded out the month by updating our WooThemes Updater plugin.
I love wrapping up what our WooTeam has done every month, because they are churning out incredible WordPress goods! Now, let's talk support and our numbers there.
Customer Happiness in Numbers
Looking at the numbers:
10,551 new tickets created this month.
26,773 ticket touches. (how many times all tickets were opened, tickets with multiple responses, or re-assigned, etc…)
39.80 hours to First Response (the amount of time the average customer waits for our first response).
35% of all tickets are responded to within 24 hours; and
85% satisfaction rating on all tickets.
From April to May it looks like our numbers may have actually normalized a bit. We have seen a decrease in the total amount of tickets and ticket touches, while slowly getting a bit faster at answering tickets. With our two new ninjas getting up to speed on our ticket workflow, we're expecting that we can continue to increase our satisfaction rating and make our response times faster and faster.
Benchmarking & Context
Again, there isn't much to share here. Our numbers were very close to identical from April. We unfortunately lost one percent in satisfaction rating, but we're always aiming to grow that number!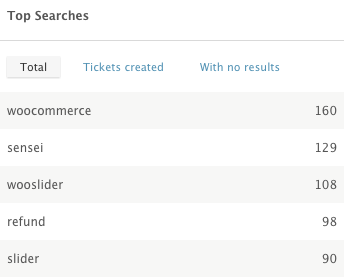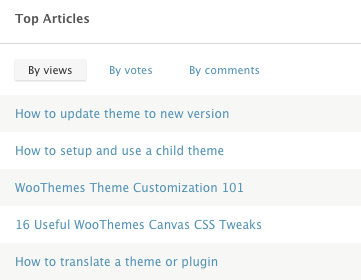 Like we did last month, here are some other metrics we've looked at in measuring our support quality. Our top searches have changed with a few things to note. WooCommerce, Sensei, and WooSlider seem to be the popular products this month. We've been updating the Sensei documentation this month, especially during it's big update. So definitely use the feedback buttons on our docs to help us keep making those better. We've got some nice things coming for WooSlider, so those docs will be getting a facelift as well! We also have plans in the works to refresh and make submitting a support ticket an easier process. In that is an official refund ticket category. We'll be sure to outline requesting a refund in our docs and knowledge base once that is live as well.
As we mentioned in our WooThemes Updater post, an easy way to update your WooThemes themes is coming soon. That top article will be updated to reflect that once everything is ready to go! From the next 3 articles it looks like our users were wanting to customize their themes. Especially if done via a child theme, that will make your theme life so much easier. 🙂
Time For Action
To sum up our actionable goals from this month.
Get our new ninjas up to speed, then release them on our WooCommerce tickets.
Keep up our pace on doc improvements and knowledge base posts.
Bring in our response times to our stated times in our support policy