It's always important to truly understand your customers. What do their day-to-day lives look like? What problems does your product or service solve for them? Why did they choose you over a competitor?
This is especially true during periods of rapid change or uncertainty in the market and around the world. Your customers' lives may look very different than they did even a few months ago. Knowing this about your customers will allow your store to adapt to changing needs and enjoy continued success.
What are buyer personas and why do they matter?
A buyer persona is a fictional profile that represents a segment of your target audience — who they are, what they value, and what they're concerned about. It typically includes information like demographics, attitudes, interests and behaviors.
They should be a reflection of the niche you fulfill in your industry, and should be specific. If you're a coffee roaster, you don't need a persona to represent the generic category "coffee drinkers." You need a persona for your coffee drinker, like "busy entrepreneurs in their 40's who want to brew high-quality coffee with a French press before they go to work in the morning."
Buyer personas amplify your marketing, sales, and branding efforts by giving you real "people" that you can relate to. They help you write blog posts that answer the right questions, craft advertising messages that use the same vocabulary as your customers, adjust your offerings to better meet customers' needs, and more effectively train your sales team.
After all, buyers are 48% more likely to consider solutions from companies that personalize marketing efforts to meet their specific issues.
How to create buyer personas
Creating buyer personas doesn't have to be difficult or time consuming. Follow these four steps for a tool that will improve your marketing, branding, and sales.
1. Gather information
Effective buyer personas are based on real information and research rather than assumptions. Their exact characteristics vary based on your products, services, and business goals, but here are a few categories to start with:
Demographics: age, gender, income, location, education level, career, family size
Attitudes and interests: hobbies, goals, challenges, problems, values
Behaviors: purchase history, how they use your products, what they read and watch
Your goal is to understand your customers' motivations and behaviors so you can better target your products, brand, and marketing strategies.
How do you collect this information?
Start with existing customer data. Understand what your current customers have in common, especially ones you consider to be loyal. Use reports in the WooCommerce dashboard to find data like average order total, order frequency, and location.
If you use analytics tools like Google Analytics or Jetpack Site Stats, you can also see what languages they speak, which browsers they use, how they found you, their ages and genders, their other interests, whether they're first-time or returning visitors, how often they visit your site and how long they spend there, what devices they use, and more.
Add optional fields to contact forms and checkout pages. To collect additional information, consider adding a question to the checkout process. Don't add anything too complicated, and stick with questions related to their purchase, like whether they're purchasing for themselves or someone else, if they have a dog or a cat, or what age their child is. Learn how to customize checkout fields.
Send a survey to previous and existing customers. Surveys are an excellent way to ask more in-depth questions and get into shoppers' minds. Use a tool like Crowdsignal to send surveys to email subscribers or previous customers. Take the opportunity to go beyond multiple choice questions — open-ended questions with text boxes allow people to provide information you didn't even know to ask about. Offer a discount or free shipping to anyone that completes the survey as encouragement.
Ask questions on social media. This can be a fun way to gather information from your followers and customers. You can ask questions in traditional types of posts on Facebook, Twitter, or Instagram, or use polls in social media stories. Don't ask anything too personal and ask questions that are useful for you and enjoyable for people to answer.
Speak with customers directly. If you can, take the time to talk to your customers face to face or over the phone. This is especially valuable for service-based businesses who have more direct relationships with clients. This format lets you ask follow-up questions to learn even more about customer motivations.
2. Pinpoint common characteristics
Now that you have all this great information, what do you do with it? Search for trends. Start with demographics and straightforward traits that you can easily categorize. What age group do the majority of your customers fall into? Do most of them purchase multiple products or just one? Do your most loyal buyers spend more time on Facebook or Instagram?
You may want to put together a spreadsheet or chart to make it easier to visualize the information and understand it at a glance.
3. Identify customer goals and pain points
Consider the more abstract responses: the answers to open-ended questions from surveys and interviews. How do your customers typically use your products? What problems do your offerings solve for them? What challenges do they face in their business or daily life? What are their long-term or short-term goals?
Also look for common language or repeated phrases. These can be extremely valuable when crafting marketing messages and writing blog posts. Note responses that you see over and over again in your spreadsheet.
4. Segment characteristics, goals, and pain points into separate personas
Now it's time to sit down and build your buyer personas. Remember, you want to be able to relate to each one as an actual person, so give them a name and a face. If you have real customer photos, that's great, but you could also use stock photos that help you visualize their individual personalities.
How many do you need? That will depend on your specific business and products, but two to three is a good place to start. As you learn more, you can always create additional personas to match their qualities.
Look at your spreadsheet, identify common goals and challenges, and group those into separate personas. If you sell healthy meal subscriptions, you might have one persona with the goal of losing weight, and another with a food allergy who wants to consume less gluten. If you sell toys, you might have three different personas: parents who want to encourage imagination, family members looking for the perfect birthday present, and educators who want to incorporate STEM toys into their curriculum.
Then, fill in the rest of the information about each persona. Again, the specific data you include will depend on your business and products.
Examples of buyer personas
Here's an example persona for a flower delivery company:
Name: Sarah
Demographics: A bride in her mid to late twenties, located in the Southern United States. She's having a winter wedding and has five bridesmaids and groomsmen in her wedding party.
Goals: To find bouquets, decorative flower arrangements, and boutonnieres for her wedding.
Challenges: She doesn't know where to start with finding the right winter flowers in her color scheme and within her budget. She also has very little time to spend on flower selection.
Purchase behavior: She's purchased a floral arrangement for Mother's Day within the last few years and signed up for my email list.
Interests and hobbies: Skiing, hiking, and other outdoor activities. She spends the majority of her time online reading the news and posting photos on Instagram.
Benefits of my product: Since we offer all-in-one services, we take all the pressure off of Sarah and make the arrangement process easy. We also offer packages to meet a wide variety of budgets.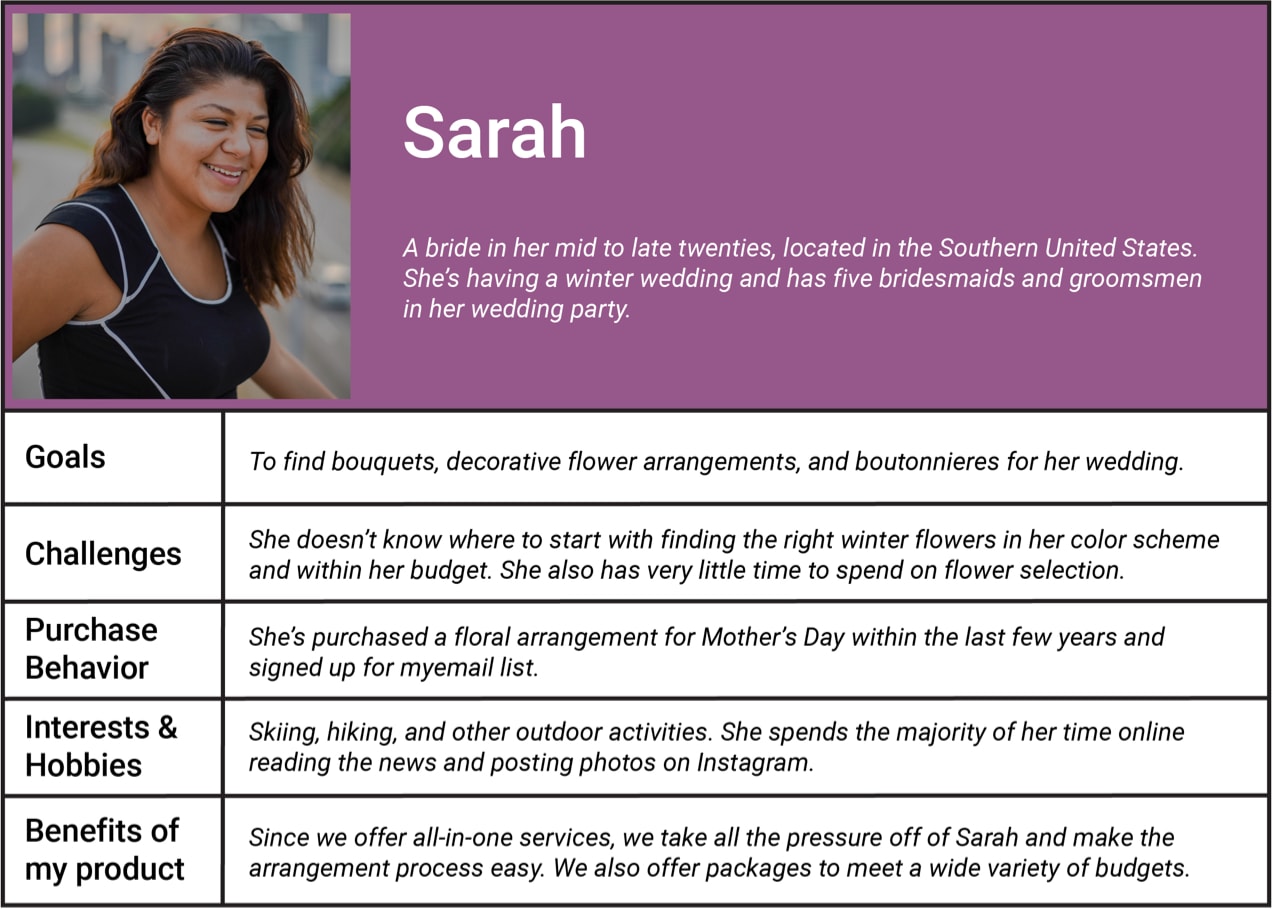 A buyer persona for a handcrafted toy company might look something like this:
Name: David
Demographics: Married, stay-at-home dad with kids between the ages of three and eight. Homeowner, middle-class, and located in the Pacific Northwest.
Goals: To find engaging toys that are both fun and educational.
Challenges: Keeping his kids away from television and video games and occupying their time while he completes other tasks around the house.
Purchase behavior: New customer; hasn't made a purchase from us before.
Interests and hobbies: Reading and watching movies. He spends a lot of time on Twitter and engaging with people on forums.
Benefits of my product: All toys are designed to encourage STEM learning and are categorized based on age and level of parental involvement.
Objections: He doesn't want to buy just another toy that his kids will get tired of and doesn't want to spend an arm and a leg.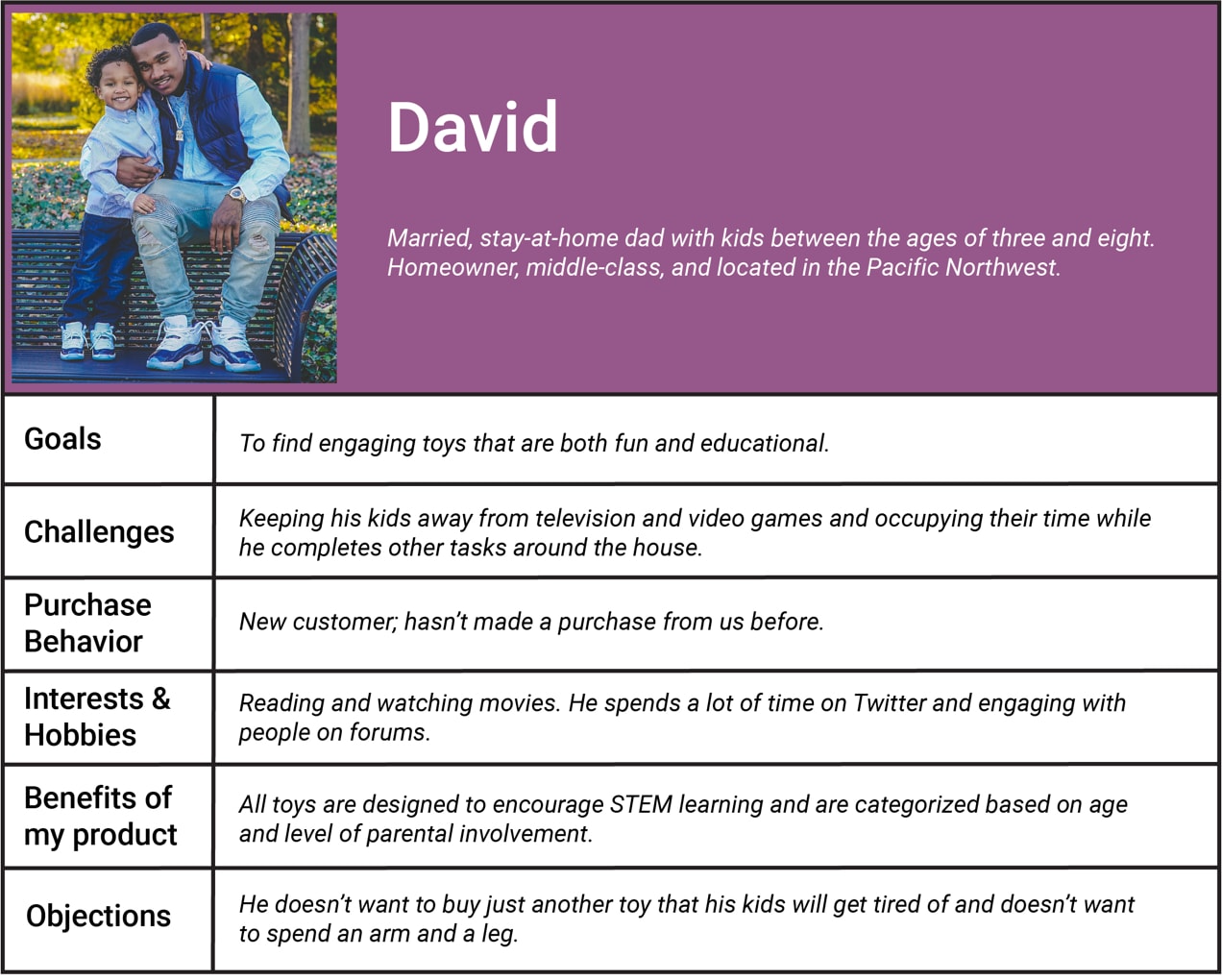 Each of these personas are specific and are based on common answers and information from the earlier steps. Once you've finished creating your personas, save them somewhere that everyone on your team can access — salespeople, marketing gurus, leadership, and customer service representatives.
How to use buyer personas
We've talked a little bit about why buyer personas are important and how they help your business. But let's take a look at a few specific ways to use them to increase sales and improve your store.
If you're the flower shop we mentioned earlier and you know, Sarah, doesn't know where to start with winter flower arrangements, you might include questions on your FAQ page that specifically discuss your expertise in seasonal flowers. You could feature a gallery of flower arrangements for different seasons, so she can see examples of winter bouquets. Since she's an email subscriber, you could send her an email letting her know about a free consultation. And you might share testimonials from other active women in her age group on Instagram so she feels like you're speaking directly to her.
If you're the toy store speaking to stay-at-home dad, David, you might write blog posts that address his concerns about educational toys, like:
Engaging activities and crafts that will make your kids want to turn off the TV
How our toys help with brain development
Board games and toys that kids can play with by themselves
Toys that help kids fall in love with learning
Because you know that he's concerned about his kids just getting tired of yet another toy, you might feature testimonials on your website from parents who have had great experiences. Since you know he spends a lot of time on Twitter, you might focus on that specific platform.
When you're crafting a new advertising campaign or adding a page to your website, think about how it will specifically meet the needs of Sarah or David. Imagine speaking directly to them.
Build the foundation for your online store
Buyer personas are like the foundation of your business: you'll build your products, marketing, messaging, and branding on top of them. Take the time to carefully craft each one, and remember — base them off of accurate data rather than how you wish your customers felt.
How have you used buyer personas to better your online store? Let us know in the comments!