So you've created a Pinterest account for your online store. By this point, you might have a hundred or so followers, and you've likely been able to attribute a few sales back to your boards. Things are good… but they could be better, and you want a bigger piece of the pie.
If you've heard about the incredible potential that Pinterest has for brands, and want to better tap into this network's 47 million monthly active users, it's time to scale up your strategy. Successfully using Pinterest to attract new customers is going to mean doing much more than pinning beautiful photos and curating content. Luckily, these new strategies won't take up too much of your time.
If you're thinking about taking your Pinterest activity to the next level, read on to get some advice on how you can scale your strategy, attract more customers, and make better use of your pins to drive more profit.
Enable pricing and product information on your pins
It's likely that part of the reason you began using Pinterest was to drive more visitors to your products pages. The more visitors you received, the more conversions you would gain, and in the long run, that would lead to more money for your store.
However, there's much more you can do to attract visitors than simply pinning beautiful product photos and using keywords in your pin descriptions. Pinterest's Rich Pins feature is something that all store owners who want to gain more conversions should investigate. Rich pins offer more valuable and actionable data than a regular pin, resulting in (sometimes significantly) higher clickthrough rates.
Product Pins, which are the type of Rich Pins created specially for eCommerce websites, include real-time item pricing, whether or not a product is in stock, and the name of the store selling it. Additionally, if a Pinterest user pins a Product Pin, they will receive a notification when the item's price drops by 10% or more.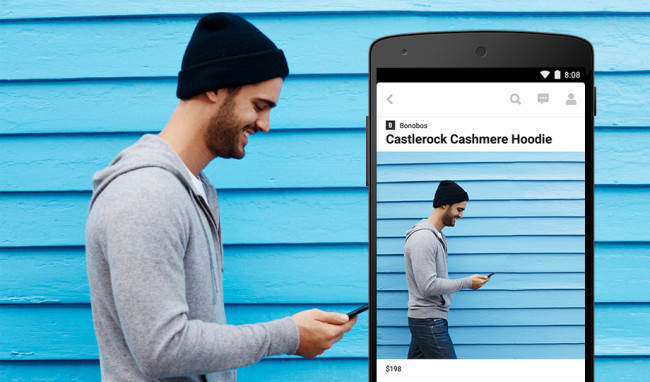 Enabling Product Rich Pins on your website can be a little tricky, since it requires specific meta tags to be inserted into the <head> of every page. Additionally, you'll need to validate at least one working product page before you can apply to have Rich Pin functionality on your Pinterest account. However, based on the results these pins are delivering, the time and effort required is worth it.
If you're already using WordPress SEO by Yoast, WPSEO Pinterest Rich Pins will add a "Pinterest" tab that is pre-populated with all available data.
Create images solely for Pinterest
If you visit Pinterest regularly, you've probably seen plenty of tall images that consist of a how-to with photos and text, or a collection of related images compiled into one. Something like this, for example:
Many food and craft bloggers create images like this to show Pinterest users what they'll get if they click through to the post: step-by-step instructions and photos that will lead you to the final desirable results.
Most of these images are created to show steps in a project. As a store owner, this approach might only be something you can do if your products are regularly used in crafts, or if you have a blog full of projects that incorporate the items you sell.
So what are other store owners to do? Not to worry — you don't have to be left out. You can still create and use custom, highly pin-worthy images just like these. Here are a few ideas:
You can use online image editing programs like Canva or Pixlr to upload, manipulate, and save your images. Both of these programs are free and will allow you to add text, shapes, change colors, and even do minor image adjustments to brightness, contrast, and so on.
If you don't want to host these images on your product pages, simply upload them to Pinterest, then edit each pin to add the appropriate item's URL as the pin source ("Website"):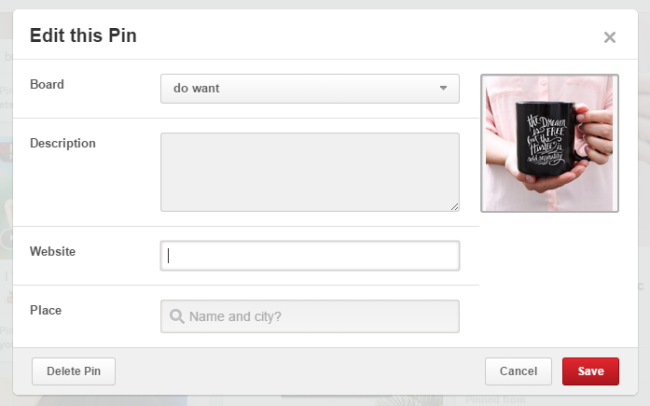 This will keep your pages clean, but still send interested visitors to the right place.
Display your Pinterest activity elsewhere
If you're becoming highly active on Pinterest, you're going to want to push your customers and fans to follow you there much in the same way you might push them toward Facebook, Twitter, or Instagram.
But saying "follow us on Pinterest" or displaying the Pinterest icon on your website won't be very effective, and that's because your potential followers need to know you'll meet their expectations before they follow you. They want to be inspired and entertained by a variety of content, not bored and subjected to a stream of self-promotional images.
If you want to attract more Pinterest followers from within the group of your existing customers and fans, try promoting your activity on this network in other locations. This will give curious customers some "proof" of what you're doing, and can even give you a source of replenishable content for your email or content campaigns.
For example, take a look at this simple email from Barneys New York, which shows a collection of the brand's boards and directly invites recipients to follow them: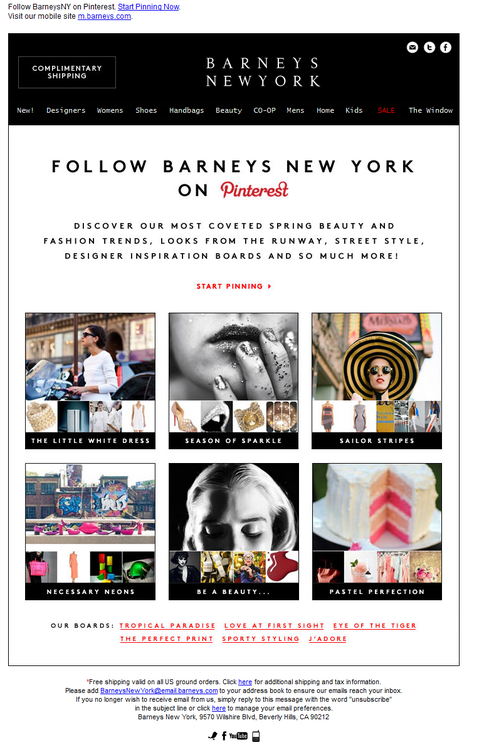 Beauty brand Sephora also regularly mentions their Pinterest activity in their email. Check out this call-out for a makeup brush how-to on a dedicated board: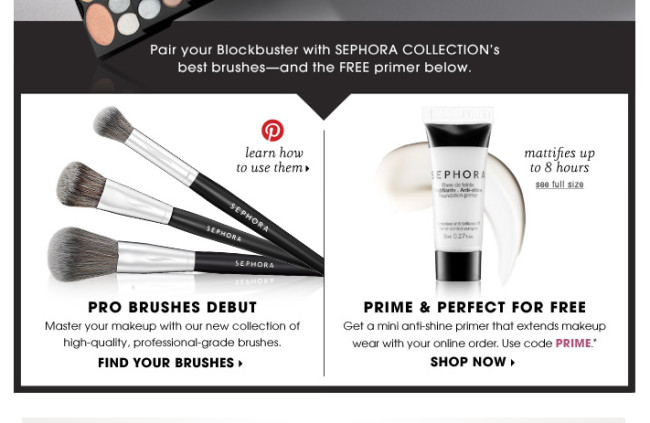 Aside from promoting your Pinterest activity within your emails, you can also embed a preview of your profile or specific boards somewhere within your store's static content. This is a great way to promote relevant boards on category pages, or simply push more visitors to Pinterest from your blog or a specific landing page.
Pinterest has made the process of embedding a board easy: just use the Widget Builder to specify what you want to embed and how you want it to look. You'll instantly be treated to a live preview, and given the exact code to add to the page(s) where you want your embed to appear.
By establishing your Pinterest activity and habits before a potential follower clicks through to your profile, you're telling them you want to be clear about what you offer. It saves them a click if they're not interested, certainly, but seeing is often believing for brand fans.
Try promoting a few choice pins
Pinterest's Promoted Pins program, which was initially rolled out to select advertisers in late 2013, is now available to everyone. Pinterest requires information about your marketing budget and business type in your application. If you meet all the criteria and get approved, you'll be able to start promoting pins for yourself.
Promoted Pins are shown in-line with organic pins, and when and where they appear depends on how they are set up by the advertiser. They contain text signifying that they've been promoted, but otherwise look just like normal pins:
Some eCommerce brands have found great success with pin promotion, so if you have the time and a little wiggle room in your advertising budget, it's worth trying this method out for yourself.
Once you have access to the program, you can follow this detailed tutorial to set up your first promoted pin. You'll likely want to promote something that is from your store, uses a professional photograph, and contains a well-written product description. Everything else is up to you, including the maximum cost-per-click (CPC) bid.
Keep in mind that even if you enter $1 or $2 as your bid, you won't necessarily be charged that amount — that's just the max you're willing to pay, and actual charges are often lower.
With Promoted Pins, you only pay for clicks, not for impressions. So you might find that your pin receives thousands of impressions, but only a few clicks that you pay $5 or so for. This can feel discouraging, but don't be afraid to experiment, and remember that even impressions can lead to brand name recognition that is very beneficial in the future!
Don't forget those custom pin descriptions!
It's easy to forget about the text that goes along with your pins. But a well-written pin description can make all the difference between one repin and a hundred, so don't get lazy!
An effective pin description should describe your product in detail (perhaps borrowing some of the copywriting from its item page), contain one or two relevant hashtags, and link back to the appropriate source. Additionally, if you're repinning something from another user or posting user generated content, it might also be a good idea to mention the original creator.
Since a large majority of Pinterest users don't bother to change these descriptions when they repin, taking the extra few minutes to write a great description can provide huge benefits to you in the long run. It's a little detail that has the potential for big impact.
Driving more profit with Pinterest
There you have it — a collection of tips you can use to take your store's Pinterest strategy from good to great, and start generating more revenue.
From Promoted Pins to detailed descriptions to custom-created images, these strategies will give you the edge you need to attract more clicks and convert more of those curious visitors into first-time customers.
Do you have any additional suggestions for brands looking to grow their Pinterest presence? Or have you done anything with Pinterest in the past that has proven highly successful? We'd love to hear your experiences and ideas in the comments below.
Header image credit: 24oranges.nl