Flipflop is a responsive, ultra-readable theme geared around news publishers. With impressive column generator functionality for posts and pages, clean, large typography, a modular homepage that can be re-arranged thanks to widget components & a featured slider Flipflop has all the tools to customize this theme for whatever niche.
Flipflop was designed by Firman Firdaus who we've worked with previously on other popular newspaper/magazine themes – The Journal and Blogging Stream. FlipFlop brings a modern edge to our portfolio with the current industry trend of larger type, with lots of white space for minimal distractions. Content being the king.
As can be seen above, thanks to the column generator functionality that is packaged in Flipflop, and previously in the Editorial and Announcement themes, the post and page layouts are hugely flexible and ultra-readable.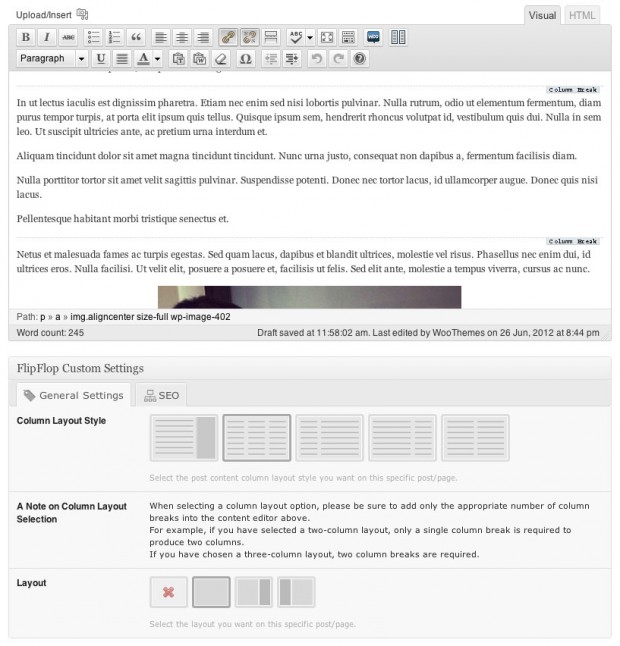 On the theme demo we have installed our freely available WooDojo plugin to enable further functionality that has received styling in Flipflop – namely the Twitter and Instagram widgets in the sidebar and footer regions, as well as the WooTabs widget. This plugin works out the box with any theme and we strongly urge you to give it a test drive.
Another great job by the in-house team of Mike Krapf and Matty Cohen who took Firman's photoshop design and developed it into a slick WordPress theme that we are really proud of. We welcome constructive feedback and hope you enjoy this addition to our theme portfolio.
Discount Coupon
Grab Flipflop with a 12% discount coupon, valid until 4th July, 2012. Just use FLIPFLOP12 as your coupon code on checkout.