Increase Online Sales Through Strategic Upselling, Discounts, and Bundling
It's a lot easier to increase revenue from your existing customer base than it is to attract new customers. One way to do that is through upsells at the point of purchase.
The key to successfully increasing eCommerce sales through upselling is to add value to your customers' shopping experience with your product and add-on recommendations. Trying to sell additional products without demonstrating their value may cause you to lose the sale altogether.
However, when your recommendations are relevant to your customers' needs, they will appreciate having options, and reward you with future purchases.
Here are four types of strategies you can use to increase online sales:
Upselling – offer a higher-priced product than what your customer has in their cart. It's usually a newer model or upgraded product with additional features.
Cross-selling – offer additional products related to the existing products in their cart
Product Bundling – offer a group or bundle of products at a discount
Coupons – use coupons and gift certificates to encourage customer loyalty and repeat purchases
When Should You Attempt to Upsell?
There are three moments during your customer's shopping experience when you can offer them an upsell that relates to their purchase:
1. During Shopping
While shopping, your customers might not have settled on a specific product. This is a great opportunity to display higher-priced product options or additions.
For years, Amazon has been effectively calling attention to other products using headings such as "Sponsored products related to this item", "Frequently bought together", and "Customers who bought this product also bought…"
As long as the items you're recommending are related to what the customer is shopping for, you are adding value to their shopping experience.
2. When They View Their Cart
Customers view their cart for many reasons other than when they're ready to purchase. They may want to see how many items they've added so far, check their total cost, or confirm that all the items they've added are there. This is the perfect opportunity to offer a bundle or cross-sell, because they haven't yet finalized their purchasing decision.
3. During Checkout
Checkout is a great place to offer add-ons like gift-wrapping and product warranties. But you can also make recommendations that increase the perceived value or convenience of the purchase. For instance, adding batteries or accessories serves the customer's needs by allowing them to buy everything they need for a particular product all at one time.
WooCommerce offers many extensions that make increasing online sales and serving customers through upsells easy. As an eCommerce store owner, these extensions allow you to decide where and when making product recommendations makes the most sense for your store and your customers.
4. After Purchase
You might not think of post-purchase marketing as an upsell, but it is a way to generate more revenue from an existing purchase or customer.
Once you've convinced someone to buy your product, and proven yourself by delivering what they expected, you can reach out to these same people with offers for additional purchases.
In fact, since you've built trust, marketing to existing customers is often the quickest way to boost revenue. You might suggest complementary products based on their order history, remind them of upcoming sales, announce new product launches, or send custom coupons based on traits like their birthday or anniversary of their first purchase.
A CRM with email automation is a great tool for this.
7 WooCommerce Extensions to Facilitate Upselling
Here are seven WooCommerce extensions that increase cart sizes while enhancing the shopping experience for your customers.
WooCommerce has a built-in coupon function that allows you to manually create straightforward discount codes. But if you want additional functionality, the Smart Coupons extension offers bulk coupon creation with unique codes. You can email the coupon codes to thousands of customers quickly and easily, driving more customers to your site. Bulk coupons are perfect during the holiday season, or anytime you want to jumpstart sales.
The Smart Coupons extension makes it easy to offer store credit, gift certificates, or free shipping to your customers. You can offer discounts on higher-priced items, multiple credit coupons, and limited time offers. You can also create beautiful branded designs for your coupons and gift certificates.
Just be sure to enable coupons in WooCommerce before using the Smart Coupons extension.
Also, Smart Coupons is compatible with the Subscriptions extension, PayPal extension, and many others.
Over 10,000 users agree that Smart Coupons is easy, reliable, and one of the most useful extensions available for providing value to your customers, increasing online sales, and driving traffic to your website. It's the all-in-one solution for discounting, coupons, and gifting.
Learn more about adding coupons in WooCommerce in the Coupon Management documentation.
If you want to offer paid or free services at checkout that apply to the entire order, such as gift-wrapping, rush handling, or shipping insurance, use the Checkout Add-Ons extension.
If you want add-ons for individual products, use the Product Add-Ons extension.
Checkout Add-Ons also allows you to add fields right at checkout, such as a license number or file upload if you offer printing services. You can also add fees or discounts.
You get to decide where to put the checkout fields on your page, either before or after billing information. It's completely customizable.
Checkout Add-ons is compatible with Subscriptions and One-Page Checkout.
The customer's shopping cart may hold everything they are considering purchasing, but that doesn't mean they aren't open to adding more items. Cart Add-Ons allows you to cross-sell and upsell by recommending other products on the shopping cart page.
Adding "You may also like" images and descriptions allows your customer to see additional options besides what they've already put in their cart. That could include an upgrade from a standard to a deluxe model they might have missed while shopping or a related product to go with their purchase.
Studies have shown that sales increase when customers are given product recommendations at this point of the shopping experience.
The Cart Add-Ons extension allows you to use your recommended items through widgets, shortcodes, or directly in your theme.
Don't let such an easy opportunity to increase your sales go to waste.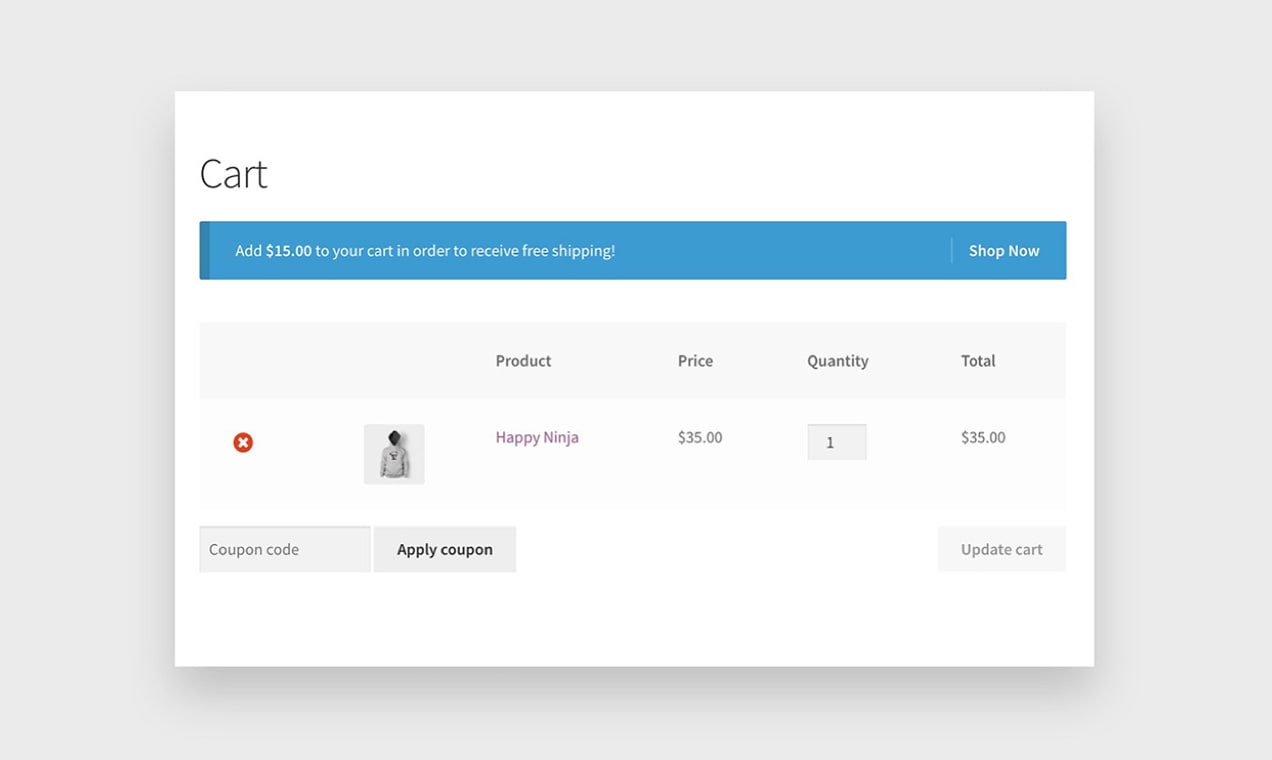 Have you ever wanted to remind your customer of something during checkout, like "Add one more item for free shipping," or "If you order in the next 10 minutes, your product ships today"?
The Cart Notices extension makes it easy to add as many messages as you like in the cart, or anywhere else you can use shortcodes. Using short notes to motivate your customers to spend a little more or buy now will increase your sales.
There are five different types of notices you can set with Cart Notices:
Current order amount
Deadlines
Referrer
Products in the cart
Categories in the cart
You can set minimum and maximum quantities, specific product triggers, active days, and deadline hours.
For example, if your customer has $88 worth of items in their cart at checkout, a notice can appear informing them they can get free shipping if they spend $100.
There is also an option to hide notices if a particular product is in the cart. Say you have a discount for buying a specific accessory with a product, and the customer already has that product in their cart. No notice will appear if you set "hide notice". If they remove that product, the notice will appear, reminding them of the discount for purchasing both items.
You can also cross-sell by recommending other products with messages and include a call to action button.
Cart notices are a great way to increase sales by giving customers a reason to spend a little more while still feeling like they got a deal.
Chaining products is where you link additional products to the main product and display all of them together on one page. The Chained Products extension makes this process very simple. You can also include free gifts or add-ons with purchase or combine chained products for super discounts.
And, the extension now allows you to individually price each chained product along with a bundled price so your customer can choose to buy all or pick which products they want to add.
With Chained Products, you'll be able to include recommended products, "Works great with," or buy one get one offers. It will manage your inventory and allow for digital downloads, store credit offers, and more.
Chained Products also works great for gifting customers specific products based on their purchase.
The Chained Products extension allows yet another way to increase your revenue while providing value to your customers.
Selling a bundle of products together at a discounted price is one of the best ways to increase eCommerce sales. With the Product Bundles extension, you can create product packages, assembled or unassembled products, and kits.
The extension also allows you to recommend optional items and create pick-and-mix packages. You can also package parts together to create complete products, whether pre-assembled, or as kits the customer must assemble on their own.
You get to customize the price of the package, shipping, and grouping, and you can offer bulk discounts.
Product Bundles works with several other extensions including, Subscriptions, Name Your Price, and One Page Checkout.
Do you like the look and feel of Amazon's product recommendations? You can replicate those in your WooCommerce store with the Recommendation Engine extension. It gives you visual views and descriptions for products and even includes a call to action button on each one.
Recommendation Engine comes with three types of view modules:
Products which other customers also viewed.
Products often purchased by the same users during a single shopping session or over a period of time.
Products frequently purchased together, which will show accessories or other add-ons and bundle them together.
You can easily choose between two types of widgets to display your recommendations. The WooCommerce Recommended Products widget shows related products and their purchase history. The WooCommerce Purchased Products widget displays the products purchased together.
Using pictures to display product recommendations will increase your revenue and enhance the customers' buying experience.
Finally, when following up with recent orders or existing customers, consider HubSpot CRM. There's a drag and drop email builder, so you can create personalized emails based on a customer's previous order history. If they purchased fishing gear, you might highlight a sale with other outdoor gear. A candle? Suggest new aromas or promote your next scented candle sale. 
You can also use HubSpot CRM to reduce abandoned carts, create effective social media ads, and organize data to make more informed decisions for your business. Personalizing messages and offers is a great way to improve their impact. Learn more about the HubSpot for WooCommerce extension.
**
Offering irresistible, use-it-or-lose-it deals at the point of purchase is a time-tested way to increase sales. These seven extensions provide several ways to do this through upselling, cross-selling, chained or bundled products, discounts, coupons, and gift certificates. And you'll give your customers a positive shopping experience, which will encourage customer loyalty.