As has become known here at WooThemes HeadQuarters, Wednesday is "Dojo Day", where we release a bunch of exciting new features downloadable through WooDojo, or provide updates and feedback on WooDojo, upcoming features and useful tips and insights into ways WooDojo can be used to enhance your WordPress-powered website.
This week is no exception.
This week's "Dojo Day" releases are widely spread across the spectrum, from a donations form for freelancers, non-profit organizations (or anyone, in fact) to a collection of widgets for musicians and music lovers and an extension of the bundled WooDojo Tabs widget. Without further wait, we present to you, "WooDojo Downloadables: The Muso Edition… and more".
Muso Widgets Pack
Lets start things off with today's largest feature, the "Muso Widgets Pack". This collection of widgets, developed with musicians and music lovers in mind, profiles widgets to showcase your Last.fm profile, recent tracks, top artists and top albums in your website's sidebar, as well as a bridge to SoundCloud to showcase a playlist of your band's tracks, or a selection of specific tracks.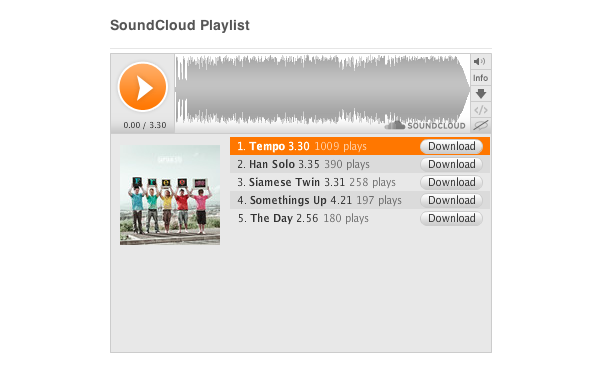 The Muso Widgets Pack comes with an easy-to-use settings screen, which can be used to tailor your experience with the widgets, adjust the colour of the SoundCloud player, connect your SoundCloud account and enable/disable the Last.fm widgets. Being a musician and music lover, myself, I can't wait to start using these widgets on my website.
We're looking forward to developing additional niche widget packs of this nature. If you've got any ideas you'd like to see, please share them with us, and the WooCommunity, over at WooIdeas.
Tab Grouping
This feature, much like Widget Preview, echoes what WooDojo is all about- small components: big impact. The Tab Grouping feature adds an interface for creating groups of tabs for the WooDojo Tabs widget. These groups can contain any of the available tabs (for example, just "Latest" and "Popular", if you'd like) and can display the tabs in any order (the tabs are re-ordered using a drag-and-drop list).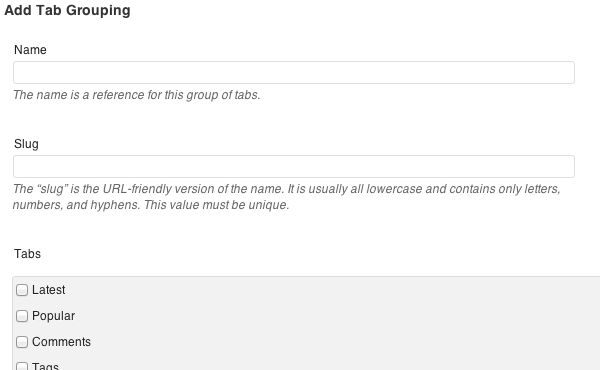 This feature has been designed to take what is, on the surface, a relatively straight forward widget in WooDojo Tabs and transform and enhance it's functionality, should the need arise for more granular control over which tabs and in what order they are displayed.
InspirePay Donations
This feature, consisting of a widget and shortcode, adds the option to display an InspirePay-powered donation form to your website in a page or in the sidebar via a widget. Powered by InspirePay (an account is required), this feature would be useful for freelancers, non-profit organizations or anyone looking to recieve donation payments via InspirePay.
All transactions are handled on the InspirePay website- this feature just adds a form to enable the process directly from your website.
So… how do I get all of this?
If you haven't yet started using WooDojo, you'd need to download and install WooDojo onto your website (it's free). From there, the features above, as well as a bunch more, are available for direct download and activation through WooDojo itself… without ever leaving your WordPress admin area.
We look forward to seeing how you put WooDojo to work on your website, with the features you need. As always, we encourage your ideas and feedback on features, WooDojo and ideas you'd like to share with us and the community via posting on WooIdeas.