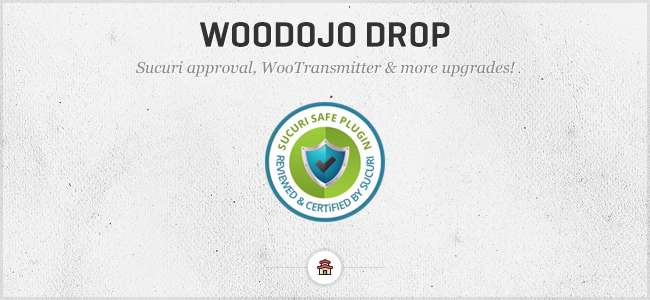 For the past few weeks, Team Dojo has been quiet on the blog. Rest assured, we've been toiling away behind the scenes, preparing for the big day when the next update to WooDojo would be released. Today is that day. Introducing WooDojo version 1.2.0.
WooDojo version 1.2.0 includes a few minor updates to the WooDojo interface (positioning tweaks) as well as a whole bunch of revamping, reworking and optimisations under the hood. Every line of WooDojo's code base has received attention and TLC to make WooDojo version 1.2.0 the most optimised WooDojo release to date.
WooDojo: now Sucuri approved
We are proud to say that, as of version 1.2.0, WooDojo is officially Sucuri Security approved. Having gone through a gruling code audit (line by line… literally!) by Sucuri Security and their partners, as well as a subsequent line-by-line review by members of Team Dojo here at WooThemes and a series of optimisations and adjustments, WooDojo has been examined and refined to ensure that the code base is secure and hardened so as not to intrude on your WooDojo experience.
This means that WooDojo is free of any vulnerabilities and thus potential exploits (hacks). You can thus use WooDojo with absolute peace of mind, in the knowledge that the plugin is 100% secure. (As a sidenote, we are currently putting the WooFramework & WooCommerce through this exact same auditing process in an effort of sharpening up our security efforts across the board.)
Goodbye WooTransmitter… hello WooTransmitter

In recent updates to WooDojo, we introduced you all to WooTransmitter, our little WooThemes notifications centre. WooTransmitter adds a small notifications centre to the right-hand side of your WordPress Toolbar, where in you can opt in to receive messages from WooThemes directly in your WordPress installation (related to the WooThemes products you have active on that installation).
WooTransmitter has been unbundled from WooDojo and has been released as a separate plugin. The new WooTransmitter is available for download directly through WooDojo and has been replaced by a small menu (where the notifications centre used to be) which will lead you to the download. As with all things WooDojo, we want to stay out of your way as much as possible and not intrude on your WooDojo and WooThemes experience. Therefore, the notification is as out of the way as possible and the "Install WooTransmitter" link will download the plugin directly onto your installation. If you don't want to activate WooTransmitter and want to hide it forever, there's an option for that in the notification centre menu as well.
Couldn't be more seemless than that, right? 🙂
If you've got WooTransmitter active in your current version of WooDojo, you'll need to use the "Install WooTransmitter" link after upgrading to WooDojo version 1.2.0.
Our first WooDojo add-on upgrade…
WooDojo's "downloadable" add-on features make it easy to enhance your WordPress-powered website with only the functionality that you need. With that, we've paid special attention to how the features are downloaded, activated and… upgraded.
Today we're introducing "HTML Term Description" version 1.0.1. While this is a minor upgrade (literally under 10 new lines of code), we felt it important to note that this is the first upgrade to an add-on in WooDojo. If you're using "HTML Term Description" already, an "upgrade available" link will be displayed periodically next to the version number of the add-on on the main WooDojo screen. Clicking this link will upgrade the add-on to the latest version.
We've been discussing the various features available through WooDojo with several customers via our WooDojo forums and our WooIdeas board. We're currently consolidating all the valuable feedback we've received and will be releasing a few updates to add-ons periodically to enhance your experience with WooDojo and it's features.
If you've got ideas for features or adjustments you'd like to see, please post them on our WooDojo ideas board.
How are you using WooDojo?
As with all products at WooThemes, we enjoy discussions with you all, the WooCommunity, on how WooThemes products are being used out there in the great wide internet (the "information super-highway", if you will). Discussions of this nature are received with open ears and open minds and are put to discussion internally at WooHQ on how we can improve your experience with our products.
Thus we ask, "how are you using WooDojo?"
How do I upgrade to WooDojo version 1.2.0?
Not to worry, this upgrade is just a click or two away. WooDojo includes code to hook into the WordPress plugin updater. Therefore, over the course of the next 24 hours (even right now, perhaps), WooDojo will display on the "Dashboard > Updates" screen within your WordPress installation, ready to be upgraded.
If the plugin doesn't show up for you within 24 hours, it's also possible to download the latest version from the WooDojo page on WooThemes.com and do a manual upgrade.
We look forward to seeing how you all put WooDojo to work on your websites and what exciting uses you find for the features WooDojo offers.
If you haven't already got your copy of WooDojo…
Download WooDojo For Free, Today