See You Later has now been retired. If you purchased the product, we'll still be helping you with any issues you may have.
When launching your website, gathering interest is, arguably, the most important task. If no-one is interested in your website or what you are offering, it is a relatively safe assumption that the business would not be likely to succeed.
This realisation, for me, sparks off a few questions; How do I gather interest? Do I need to have my website up and running before I've even tested the market?
That takes an investment of time, energy and (possibly) large funding, which I don't currently have. What do I do now?
Meet, See You Later.
See You Later is a WordPress plugin that helps you engage your visitors… even before your website is ready to launch!
Consisting of several eye-catching and professionally designed templates, social engagement features, a countdown timer and a newsletter subscription option, your website can help to capture leads for your business while you focus on the important task of building and launching your website.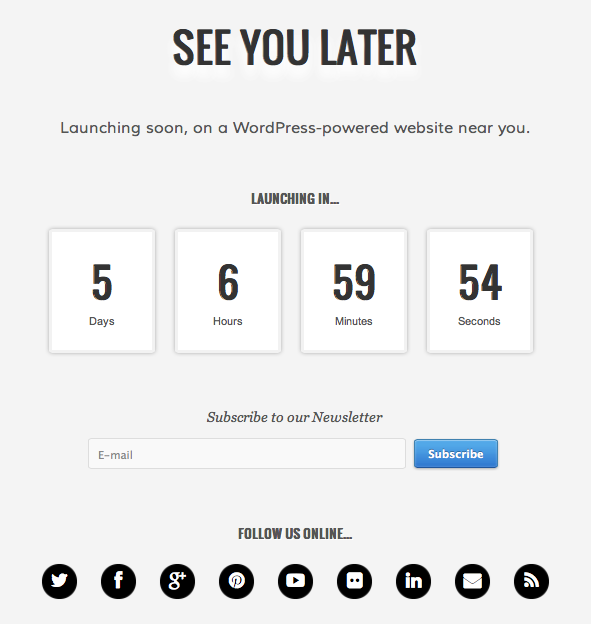 View the plugin listing
View the See You Later demo
What if I need to perform quick maintenance on my website?
Let See You Later come to your rescue. Activating "Maintenance Mode" in See You Later enables you to make tweaks to your website without losing out on potential engagement opportunities. If a prospective customer arrives at your website, leave them a quick message to let them know you're making a few tweaks and that they can follow you on Twitter (for example) or subscribe to your newsletter to find out more and to know when you'll be back online. Prospective customer: retained.
Maintenance Mode & Launch Pad Retirement
See You Later is the byproduct of two popular downloadable add-ons for our WooDojo plugin, namely Maintenance Mode and Launch Pad.
While both add-ons gained much interest, the WooCommunity experienced issues getting the two add-ons to play nicely together and several had issues installing them. In addition, there were features missing which we felt were required in order to take these projects to the next level.
If you are currently using either Maintenance Mode or Launch Pad within WooDojo, please note that these two modules will be retired as of 1st August 2013 (just over 2 weeks from today). This allows plenty of time to get up and running with See You Later, should you choose to do so.
Why is this plugin not free?
Attaching a price tag to this plugin enables us to assign regular development capacity to the project and to take it to the next level (and the next level after that, etc). This is done in an effort to ensure the product's development is sustainable, going forward.
How is See You Later better?
As mentioned above, See You Later notably surpasses it's predecessors. Being an integrated solution (rather than separating Maintenance Mode and Launch Pad), this greatly reduces the setup time of the plugin.
View the plugin listing
View the See You Later demo
On top of it's predecessors, See You Later's code base has been revamped from the bottom up. In addition, the plugin now includes IP address whitelisting, creating a secret URL for viewing the website while in maintenance mode and enabling certain pages to remain visible while in Maintenance Mode.
We hope you all enjoy what we've created, here, with See You Later, and that it is a useful addition to your development and website maintenance workflow.
See you later!
Discount Coupon
Grab See You Later with a $10 discount coupon, valid until 24th July, 2013. Just use SYL10 as your coupon code on checkout.