SELL WOOCOMMERCE VARIABLE PRODUCTS WITH ADVANCED PRODUCT VARIATION PlUGIN USING SWATCHES OF TEXT, COLORS, IMAGES & VIDEOS. OFFER A SORTED LOOK TO YOUR ONLINE STORE WITH VARIATION TABLES & GALLERIES AND MORE ADVANCED PRODUCT OPTIONS
Advanced Product Variation enables you to showcase multiple product variations with color, images, videos, and text swatches that are essential for selling WooCommerce variable products. You can also display all product variations through the variation gallery and table.
You can also engage your customers with immaculate product variations gallery and table. The best part is the effortless setup, you are defining product qualities (attributes) and their terms, setting the swatch types, and view sizes, and you are done.  
Using the advanced product options, you may configure swatches for products individually or globally, import/export attributes and gallery images, and set labels for swatches.
Features of WooCommerce Product Variations
1. Set Global Attributes for Variation Swatches
You can create global attributes and their terms and apply them to your store to make variation swatches for any variable products. It speeds up the process of configuring attributes for product variants. You can use both global and per-product attributes at the same time.
2. Seamless Lead Generation With CF7 Form Builder Compatibility 
You can use the variation swatches plugin to generate leads for your business. Enable the compatibility with CF7 forms through a toggle button and you can add feedback or product inquiry form on the variable product detail page.
The submitted information will add up with the order details. So you can easily view the form responses. However, they can checkout without filling out the form.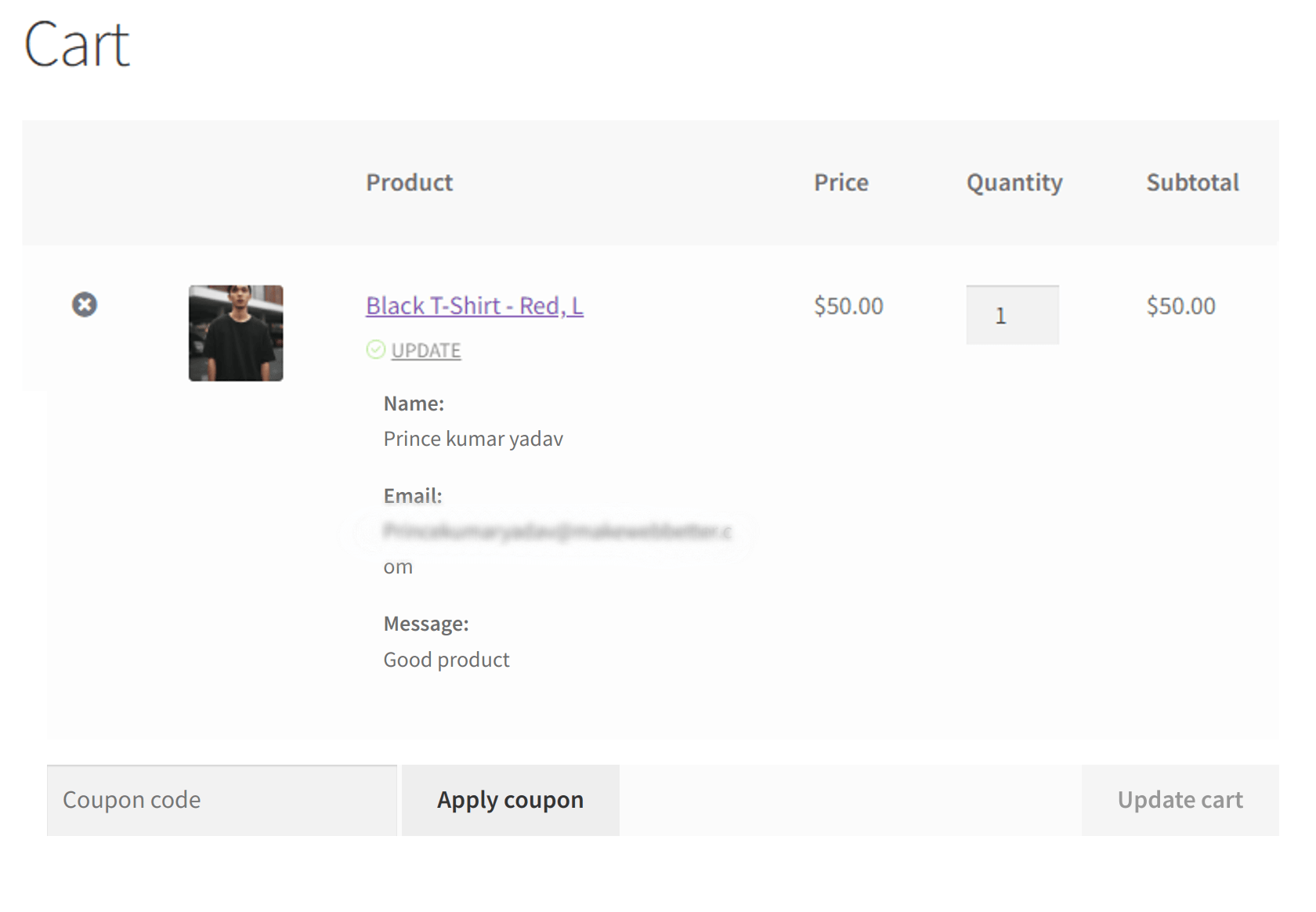 3. Inclusion and Inclusion Rules for WooCommerce Variations
You can control the application and view product variation swatches by including or keeping out certain users, products, and categories. By default, the inclusion/exclusion rule is off. 
For example, you can apply an exclusion rule for product X. Afterward, the variation swatches will be shown on all products, except product X.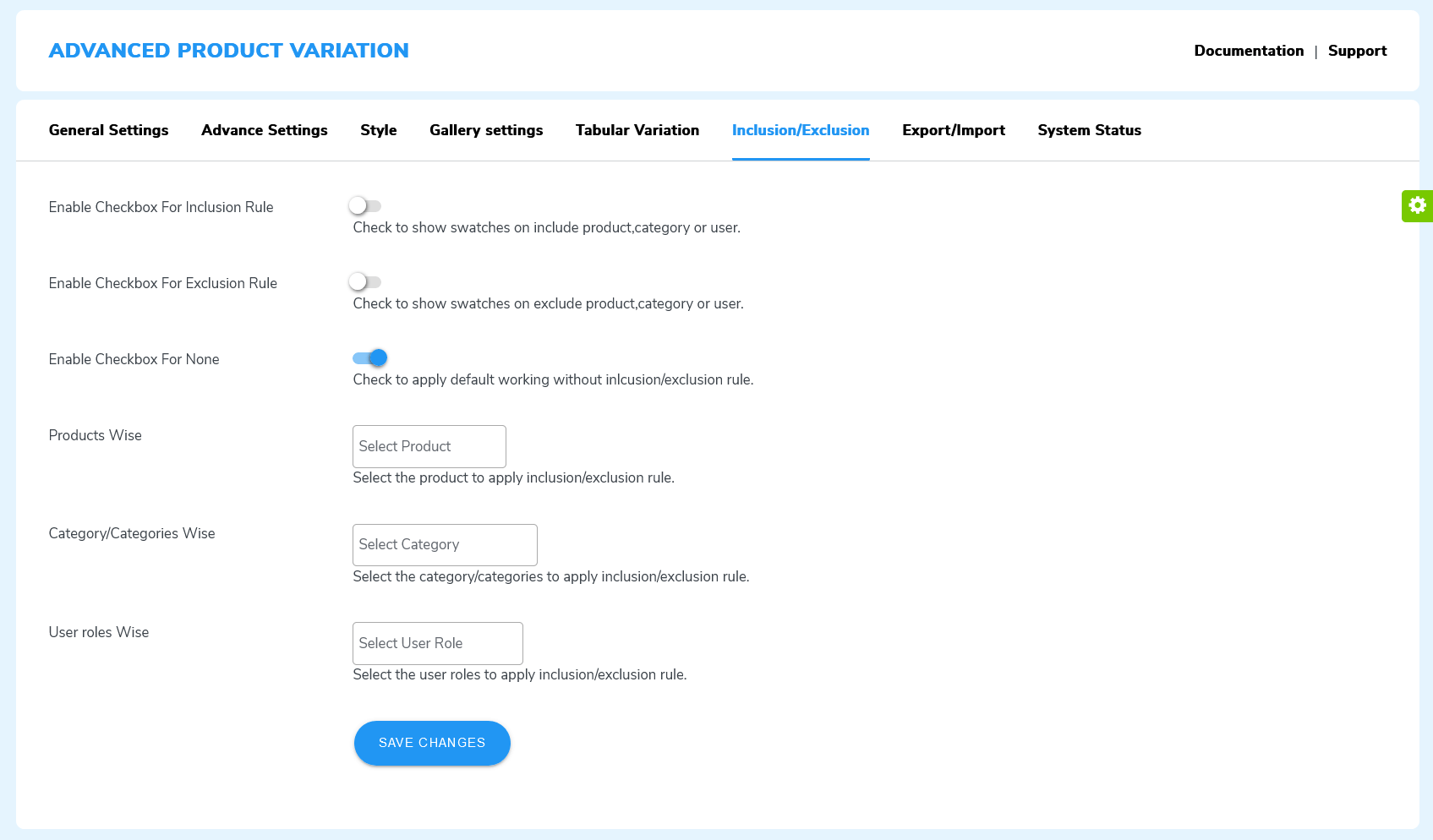 Note: This feature only applies to variable products. 
4. Disable Variation Table for Mobile View
You can disable the WooCommerce variation table for mobile users on the product details page. Variation swatches. Both desktop and mobile views are available for the product variation table by default. After enabling it, mobile users can select the needed variations from available attribute swatches because the variation swatches plugin offers a responsive design.
5. Attribute Term Thumbnail Customizations and Zoom Effect 
You can choose from the following attribute display types: Rectangle, Square, and Circle. And also customize the thumbnail display size for Shop and Product page from these sizes: 20*20, 40*40, and 60*60. Plus, there is an auto-zoom effect when users hover their cursor on the attribute thumbnails of variable products. 

6. Display WooCommerce Variations in Video Format
You can set up a product gallery using videos to display any WooCommerce product variation on your product pages. The acceptable video formats are OGV, WebM, and MP4 only. Also, there is no separate gallery for variation videos. The videos will be added to the individual variations' image galleries.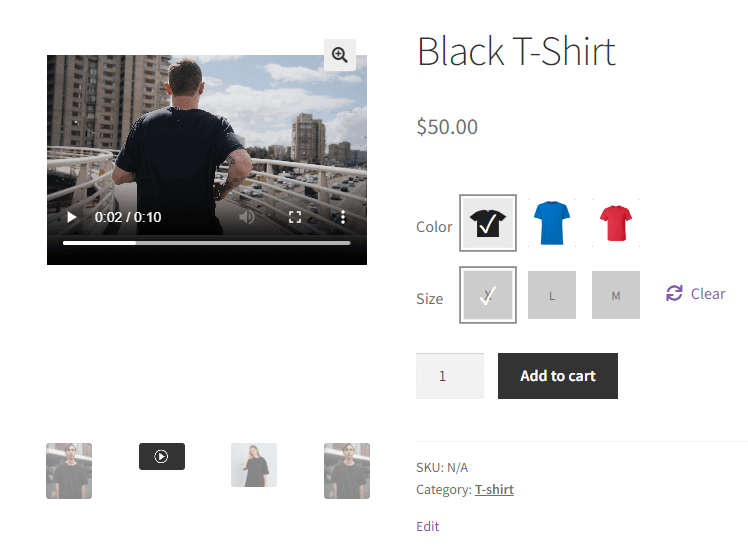 7. Export Tabs On the WooCommerce Variation Table
Enable this toggle button to add CSV and Print download buttons on top of the variable product table and allows customers to download the product variations in a CSV file or PDF. Afterward, customers can easily share your variable products with other shoppers or save them for purchasing later on.
8. Show/Hide WooCommerce Variation Swatches Toggle
Add a Show/Hide Variation toggle for customers and allow them to show & hide variations swatches from the shop page and related product suggestions.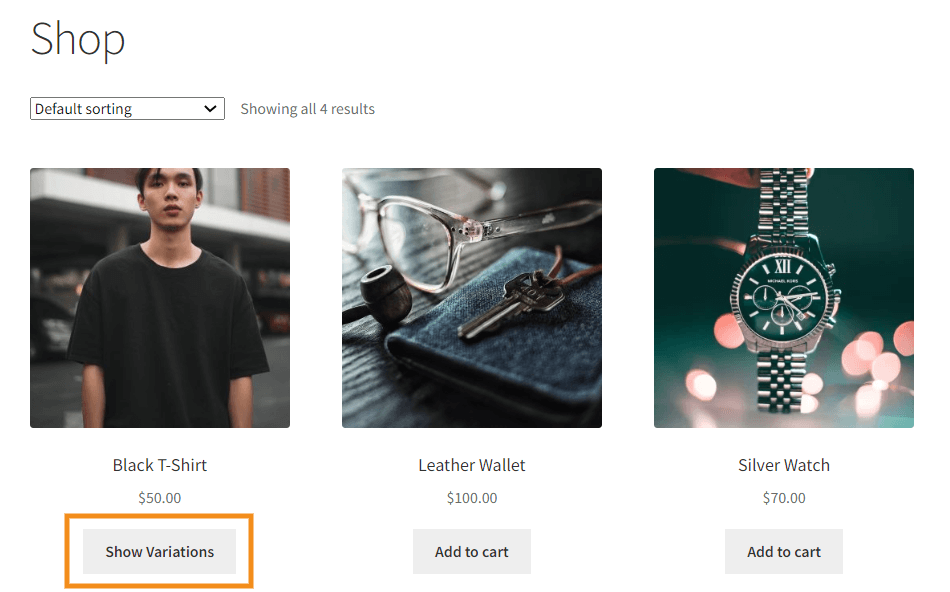 9. Import/Export Attribute Terms And WooCommerce Product Variation Gallery Images
Download the product attribute terms in bulk in a CSV file and edit their details. Then, upload the attribute terms file to implement your changes. You can introduce your custom product variables in bulk, instead of using the WooCommerce-dependent variations. It also helps if you've WooCommerce variable products in multiple categories.
10. WooCommerce Product Variation Gallery with Slider
You can enable an auto-slider feature for the product variation gallery. It is triggered when the page loads and makes it easier to view gallery images and videos. 
11. Product-wise variations
You can configure the swatches for your WooCommerce variable products individually. It is crucial for products with unique attributes. Also, you can select the display type, size, shape, etc., for variation swatches.
12. Variation-wise gallery 
Add a variation image gallery to your product page to display images of product variants. You can determine the position of the variation gallery and add a slider to it. WooCommerce variable product gallery is far more engaging for customers as it presents accurate product descriptions.
13. WooCommerce Variation Table
Represent at once all product variations WooCommerce has in a tabular format. You can select which columns will appear in the variation table. And also add an "Available Options" button that will enable users to open the variation table.

14. Select Label Display for WooCommerce Swatches
You can select three label display types: tool-tip, above swatches, and over the swatches. For the tool-tip display, you can set the background and text color. These customizations will let you keep things in line with your brand or appropriate with your store's theme.
15. WooCommerce Variation Update In Cart
You can showcase product variations in a popup on the cart page and enable your customers to update or change their chosen WooCommerce variations using it. 
16. Enable Stock Left and Out-of-Stock Alert On the Product Page
You can enable this feature to display the number of stock left and product out-of-stock alerts on the product page, letting customers get accurate information regarding product availability. 
In case the product is out of stock, an out-of-stock notification will be displayed along with an email alert option. Customers can enter their email addresses and get updates regarding stock replenishment. 
17. Global Settings On Variation Swatches
You can override the product-wise setting and set the variations' swatches display size on the shop and the product page globally. It is a time-saver for single-product or category businesses that have limited number WooCommerce variations
18. Hide Add To Cart and Quantity 
You can hide the add-to-cart button and product quantity from the shop page and related products. So, WooCommerce swatches can be seen more distinctly.

19. Customize Add To Cart and Available Options Button text 
You can add easily customize the Add-to-cart and Available Options button text using our variation swatches plugin. It would allow you to mold your store according to your content theme. Although, a minor change, it is crucial for maintaining brand uniformity.
Why Should You Use the Advanced Product Variation Plugin? 
WooCommerce swatches uplift your user experience by making product selection easier for customers and guests. It's also an appealing addition to your store's user interface. 
Selling variable products is also necessary for targeting customers' preferences, needs, and motivations. Customers are picky, so you will only close the deal when you've advanced product options available. 
Merchants who want to sell WooCommerce variable products can use the product Variation Swatches plugin to organize and represent their multiple product variants using attractive WooCommerce swatches. 
Benefits of Advanced Product Variation
Promotes Informed Purchase Decisions: Customers are curious about product variables WooCommerce stores do offer. So, giving accurate product visual information with images, texts, and color swatches helps them make an informed choice.
Engage Customers: WooCommerce swatches add style to your presentation. Plus, showing variable product videos definitely boosts your retention rates. So, if you display the colored variations of products like appliances, clothes, pens, etc., along with videos, they will sell more frequently.
Improves the Ease of Shopping:

Our variation swatches plugin eases the purchase of variable products by showing all variations in one place. The easier customers find your product,

the more likely they will buy it.

Enhance User Experience: WooCommerce product variants improve the UX because customers love to try various options before buying anything. And adding informative optics is the most basic function of our variation swatches plugin

.
For More Information:
Visit Advanced Product Variation Documentation to learn more about the features and working of the plugin. If you need support or have questions, kindly submit your query.