ORGANIZE PRODUCT VARIANTS USING ATTRACTIVE VARIATION SWATCHES AND SELL WOOCOMMERCE VARIABLE PRODUCTS EFFORTLESSLY
Advanced Product Variation for WooCommerce enables you to showcase product variations with color, images, and text swatches. You can also display all variations through the variation gallery and table. You can configure swatches for products individually or globally, import/export attributes and gallery images, and set labels for swatches. 
Why should you use WooCommerce Advanced Variation plugin?
User experience largely depends on how your store looks and how easy it is for customers and guests to locate their desired products. So, product presentation is a crucial process. Simple products are easily displayable. However, setting up and selling variable products is tricky.
Selling variable products is necessary because different customers have different preferences, needs, and motivations. In simple words, customers are picky and if you have good options available, you will close the deal. WooCommerce store owners who are looking to sell variable products can use the Advanced Product Variations plugin by WP Swings to organize and represent their product variations using attractive swatches.
Benefits
1. Promotes Informed Purchase Decisions: Advanced Product Variation for WooCommerce enables you to display accurate visual information about products through images, texts, and color swatches and helps customers make an informed choice.
2. Engage Customers:  WooCommerce Product variation swatches add style to your product presentation. It's captivating enough to capture your visitors' attention. So, if you display the colored variations of products that customers prefer, they will sell more frequently.
3. Improves the Ease of Shopping: The easier it is for customers to find your product, the more likely they are to purchase it. Our variation swatches plugin makes it easier to buy variable products by showing product variations in one place.
4. Enhance User Experience: It improves the UX because customers love to consume information before purchasing products. And providing information visually through swatches is the most basic function of our plugin. Product variations swatches plugin also engage customers and increase your sales.
Features
1. Export Tabs On the Variation Table
Enable this toggle button to add CSV and Print download buttons on the front end. It allows customers to download the product variation table as a CSV file or PDF.

2. Show/Hide Variation Toggle
Add a Show/Hide Variation toggle for customers and allow them to show & hide product variations from the shop page and related product suggestions.
3. Import/Export Attribute terms and gallery images 
Download the product attribute terms in bulk in a CSV file and edit their details. Then, upload the attribute terms file to implement your changes. The process of downloading and updating variation gallery images is the same. 
4. Product-wise variations
You can set the product variation swatches for your WooCommerce products individually. Also, you can select the display type, size, shape, etc., for variation swatches. 

5. Variation-wise gallery 
Add a variation image gallery to your product page to display images of product variations. You can determine the position of the variation gallery and add a slider to it. 
6. Variation table 
Represent all product variations at once in a tabular format. You can select which columns will appear in the variation table. And also add an "Available Options" button that will enable users to open the variation table.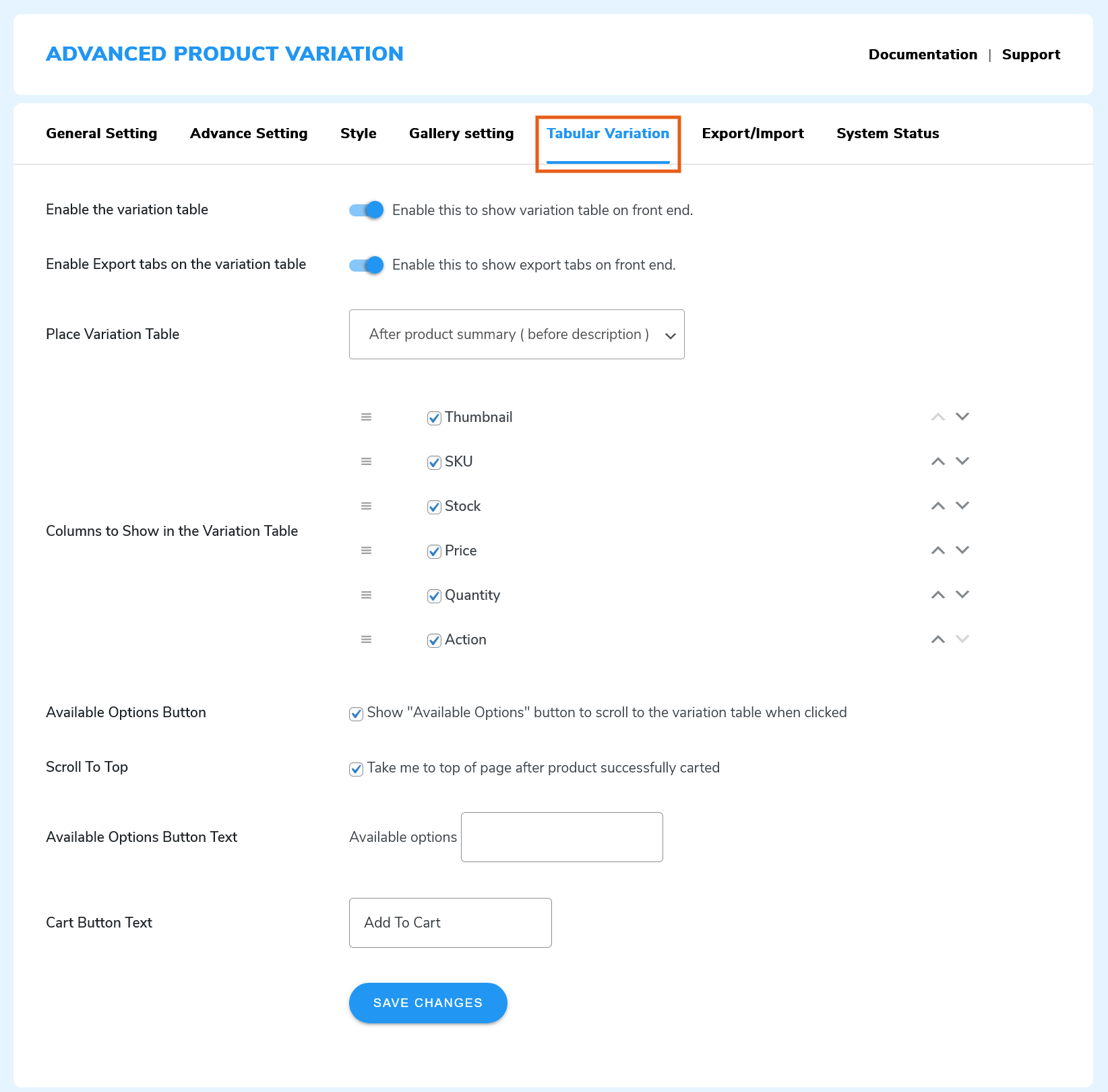 7. Select label display
You can select three label display types: tool-tip, above swatches, and over the swatches. For the tool-tip display, you can set the background and text color. 
8. Variation update on the cart page
You can showcase product variations for WooCommerce in a popup on the cart page and enable your customers to update or change their chosen variations through it. 
9. Global settings on swatches 
You can override the product-wise setting and set the variations' swatches display size on the shop as well as the product page globally. 
10. Hide Add To Cart and Quantity 
You can hide the add-to-cart button and product quantity from the shop page and related products. 
11. Customize Add To Cart and Available Options Button text 
You can easily customize the Add-to-cart and Available Options button text.  
For More Information:
Visit Advanced Product Variation Documentation to learn more about the features and working of the plugin. If you need support or have questions, kindly submit your query.