Product Tables for WooCommerce
Developed by Codup

Product tables for WooCommerce is a plugin that lets you add fully-customizable product tables on your e-store so your customers can enjoy a simple, one-page shopping experience. 

With product tables, you can display your products in an intuitive table layout as opposed to the default grid format of WooCommerce. 

But it's a lot more than a different product display. The woocommerce product table plugin lets you customize your product tables with a number of different options and settings so that you can perfectly streamline your customer experience and tailor it according to your business needs. 

With options like Add to Cart buttons, checkboxes that allow multiple Add to Cart events with one click and full control on what product data is displayed, you can enable a one-page checkout experience your customers will surely enjoy. 
Core Features of Product Tables for WooCommerce
Filter by Categories and Price
Filtering by categories and price makes it even easier and faster for storeowners to match their customers with the kind of product they need.
Fast Searching and Filtering
Ajax search allows quick and convenient searching, filtering and sorting without page reloads.
Display the Data You Want
WooCommerce Product Table plugin gives you full control over the product data you want to display. Want to remove images from your products? Or increase the size of images? You can customize your table in tons of different ways.
Cart Actions for a One Page Checkout Experience
No need to visit separate product pages – display all necessary data on the table and streamline the buying process with checkboxes and Add to Cart buttons.
Checkboxes that Allow Customers to Buy Multiple Products from a Single Page
Adding checkboxes on your product table enables your customers to select multiple products and add all of them to the cart with one click.
Display Product Variations
Variations of products can be displayed with dropdown menus, allowing customers to choose different variations right from the table.
Easy Shortcode
With a simple shortcode, you can deploy the product table anywhere on the website on any location of your choice. No coding required.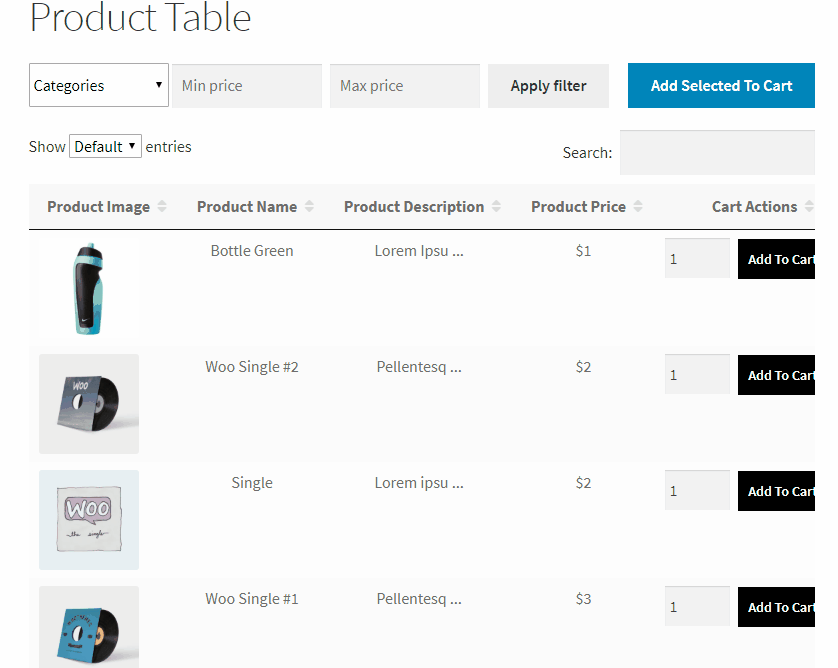 Use Cases of Product Table for WooCommerce
Product tables can serve as a valuable, conversion-boosting element on the following kind of stores:
Wholesale B2B stores that sell products in bulk and where buyers are usually repeat customers who know what they are looking for. These kind of buyers don't need to visit separate product pages to get product information as they have already done their research and know what your store has to offer. 

Restaurant ordering sites where product information can be displayed succinctly in a table format rather than taking up full pages. 

Stationary, office supplies, grocery, art supplies, auto parts or any other kind of shop where a table format showing all product information is more intuitive than listing products on separate pages. A customer buying a pack of pencils from the product table will have a better experience than by visiting a separate product page. 

Shops selling downloadable products like audio tracks, coupons, game cards, etc. where there isn't much information to display on a separate page and a product table provides enough information. 
Woocommerce Product table is a useful element and a must have feature for many stores. This plugin helps your customers save time and in turn increases customer loyalty, customer retention and your store conversions.