Automatic sync between WooCommerce and QuickBooks
Save time, increase accuracy, and monitor your business' financial health by connecting your online store with your accounting platform. This fully automated and real-time solution allows you to sync orders, products, payments, inventory, and more.
QuickBooks Sync for WooCommerce adds a direct connection from your WooCommerce store to QuickBooks, bringing a full-featured customer, order, payment, product, inventory, and pricing sync to your platform in one robust extension. It's compatible with QuickBooks Online, Desktop and POS.
QuickBooks Sync for WooCommerce is free to download and install, but requires a free or paid account with MyWorks for integration services. For more details on pricing, please see below or visit the MyWorks Sync pricing page.
Benefits
Make your accounting effortless: MyWorks helps you grow your business by automating your accounting so that you can focus on the bigger picture.
Save time and increase accuracy: A robust two-way sync allows you to easily manage your orders and inventory by automatically keeping them up to date on both platforms.
Enjoy quick setup and easy use: Easy setup, videos, docs, and unlimited support help you get up and running right away — and let the instant sync take care of the rest.
Connect
MyWorks Sync creates a direct link between WooCommerce and QuickBooks, helping you easily sync your customers, orders, inventory, payments, bank deposits and more. The automatic real-time sync works both ways, keeping your store and accounting always up-to-date.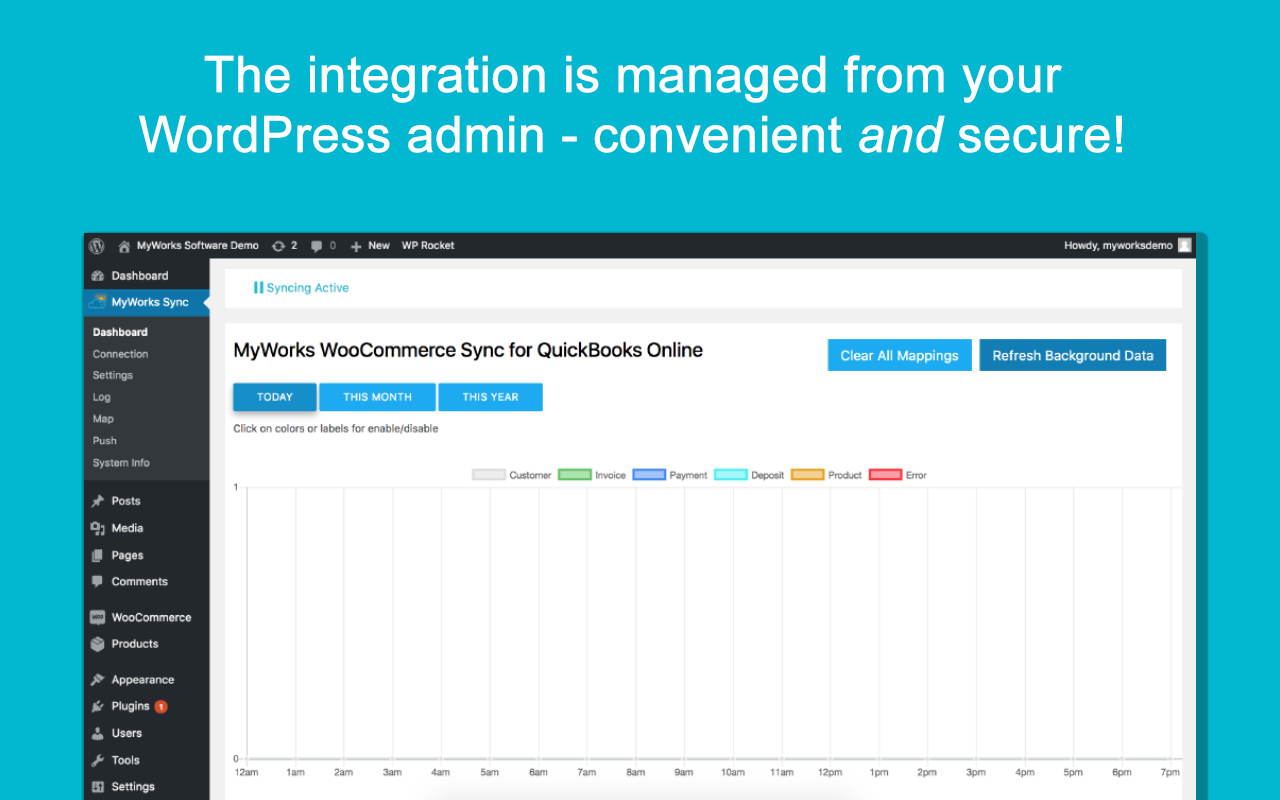 Enjoy the ability to automatically sync new or historic data – it's a breeze to get caught up on accounting and store management!
Say goodbye to the days of manually entering orders and inventory.
Cut your work in half with simplified store management – make your changes in WooCommerce or QuickBooks and our sync will update the other platform automatically.
Setup
Install the MyWorks Sync helper extension in your WooCommerce store, connect to QuickBooks inside your MyWorks account, and follow the easy setup wizard to set a few simple settings and map your existing data. Then it's off to the races!
Easily manage your QuickBooks connection right from within your WooCommerce store, and see the sync status of all your customers, products, and orders!
Map
With MyWorks Sync, you'll be able to easily map your customers, products, payment gateways, and more between WooCommerce and QuickBooks. MyWorks Sync mappings are extremely flexible – if your names or SKUs don't match between systems, that's ok! If they do, you can use the automap feature to save time.
Other integrations require you to have matched names or SKUs – otherwise, they will force-sync all your products over to each system. With MyWorks QuickBooks Sync, you can manage your mappings one-by-one, syncing only the data you want to between platforms.
Sync
MyWorks' automatic real-time sync kicks in as soon as you complete setup. New customers, orders, products, inventory, and more will start automatically syncing to QuickBooks! You always have control over how this happens and what is synced, and you can enable or disable automatic sync for any data types. It's even easier to push existing products, orders, and more from one system to the other through our sync.
With advanced sync options, you can customize how the sync will work — right down to field mappings, custom roles, and a wide array of settings to choose from.
MyWorks global tax and currency support is unrivaled, with users in over 100 countries. Map your tax rates together, or use an automatic calculation service such as Avalara, Taxify, or TaxJar – MyWorks will correctly sync this to QuickBooks automatically.
Flexibility
Enjoy advanced options in MyWorks Sync that go beyond core WooCommerce support. With built-in support for the most popular WooCommerce extensions – such as COGS, Subscriptions, Sequential Order Numbers Pro, Bundles, Avalara, and more – you can be sure that sync options will grow with your store as you add more functionality.
MyWorks Sync is compatible with any WooCommerce gateway/payment method, and takes it one step further with Intelligent Bank Deposit Support. For credit card processors who group daily/weekly deposits together and deposit into your bank account, MyWorks will automatically create a daily bank deposit in QuickBooks to group these sales together and make reconciliation a breeze. Even transaction fees are automatically synced as well! With special support for Stripe, this feature will save you time and headaches, so you can easily scale without worrying about more work.
Support
QuickBooks Sync for WooCommerce is backed by MyWorks' 24/7 sales and support team. A complimentary setup call/screenshare is included in paid plans, and 24/7 support ticket support is available for all users – it's quick and easy to ask for a hand!
In addition, MyWorks' extensive documentation site and YouTube channel provide you with helpful resources — whether you need help getting set up, have specific questions about an area of the sync, or encounter any issues.
Pricing
With our forever-free Launch plan, QuickBooks Sync for WooCommerce is free to download, install and use! For inventory sync, higher order volume and advanced options, a recurring paid MyWorks subscription is required.
All plans include automatic real-time sync, two-way product sync, 24/7 ticket support, and all features in the free Launch plan.
Unlimited and Enterprise plans are available for high-volume merchants. NonProfit and volume discounts are also available.
For more information on pricing, visit the MyWorks Sync pricing page.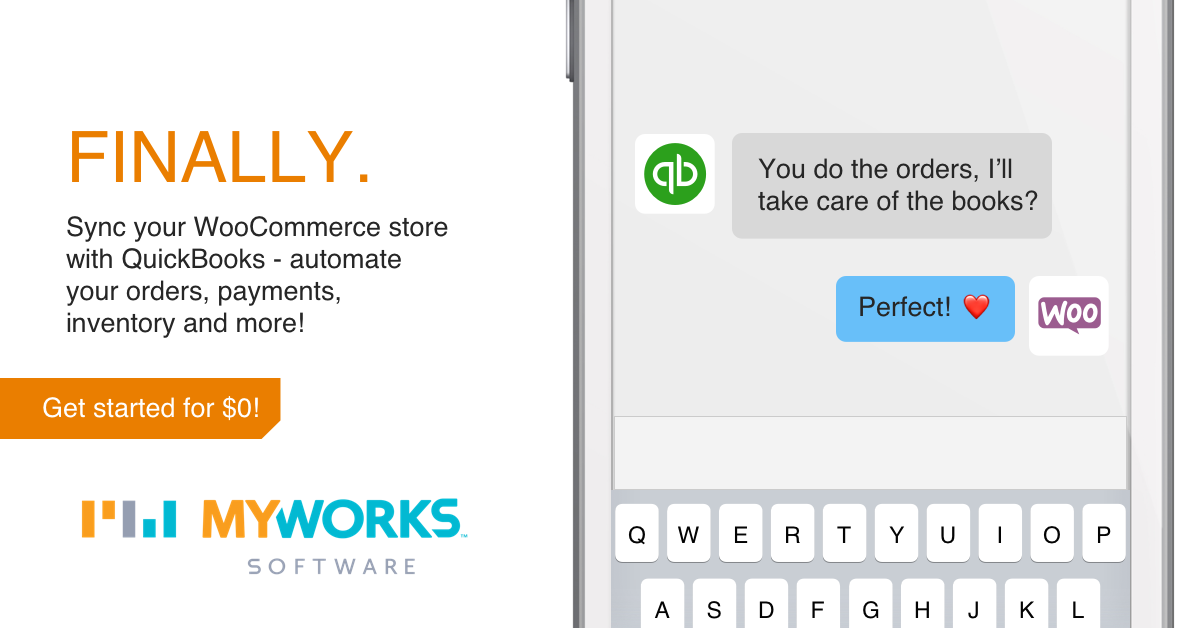 ---
QuickBooks Sync for WooCommerce extension is the only official WooCommerce extension connecting your online store with the most popular accounting platform to effortlessly keep your orders, products, and more in sync at all times. Keep your time valuable, and your platforms in sync!
Install today and start syncing immediately with our forever-free Launch plan.