Everyone loves coupons. This plugin has everything you need to grow sales and customers using discounts, coupons, credits, vouchers, product giveaways, offers and promotions. It's the best-selling and most complete coupon management plugin for WooCommerce.
More than 15,000 people use it every day – and consistently give it 5-star reviews 😀
---

Most complete, most loved, best-supported, best-coded, best-selling credits, coupons, discounts, and vouchers plugin for WooCommerce
Alright, that's a lot of superlatives, but they are all true.
All the features: Keep reading to discover powerful features you'll get with Smart Coupons. But it includes everything from selling store credits and gift cards, advanced coupon restrictions, automatic coupon issuance, free gift coupons, generating coupons in bulk, nice designs, quick management and a lot more.
Best-selling: Smart Coupons is an all-time best-selling plugin on WooCommerce. More than 15,000 customers rely on it to run their businesses.
Top rated: People love the plugin and leave five-star reviews. You'll find real reviews from people like you as you scroll through this page.
High performance: Smart Coupons does not slow down your site or checkout process. Some of the largest WooCommerce stores use it, and you too can rely on its quality.
Easy to use: It's super flexible, yet intuitive. Store admins and junior staff can easily run promotions using Smart Coupons – without needing developer assistance.
Genuine, Compatible, Regular Updates: You're getting 100% genuine and original plugin when you buy today. Smart Coupons have been tested with popular other plugins and we keep improving it regularly. No risks here!

You'll certainly make more money, increase repeat purchases and customer loyalty with this plugin…
I'd go on to say that you're losing money if you're not using coupons.
Here's the proof:
JCPenney witnessed a quick and drastic 23% fall in sales when they stopped using coupons.
Digital gift vouchers generated US$698.2 billion worth of additional revenue last year. And it's growing at 10% year on year.
96% of consumers have used a coupon in the past 90 days.
Top three tactics to grow revenue are: using better product images, offering free shipping and offering discount codes.
99% of your website visitors do not make a purchase. But you spend a lot of energy and money bringing in traffic.
Customers with store credits and vouchers come back often and make 38% larger purchases than average.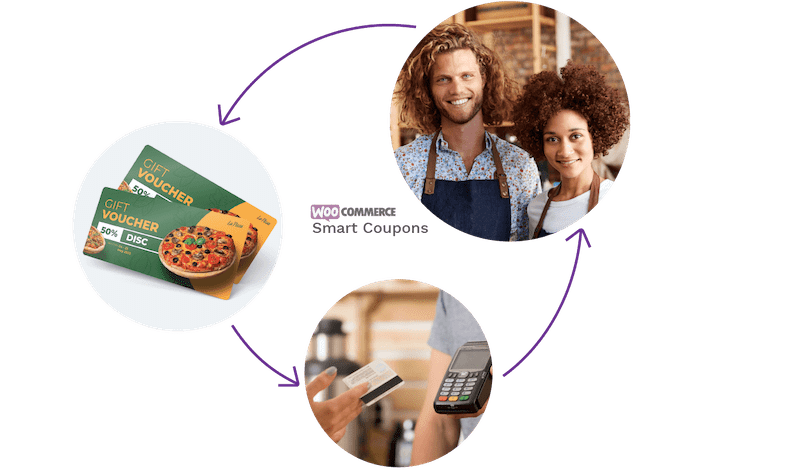 Coupons bring you customers. So make sure you use coupons, and use them well!
Most Popular Features
Smart Coupons is loaded with proven methods to run discounts and promotions automatically. Using it well will give you higher sales, repeat customers, and better customer loyalty.
Fixed Amount & Percentage Coupons

Enhance core WooCommerce coupons with lots of advanced rules and options.
Free Shipping

Give free shipping easily – even through store credits and fine-tune restriction rules.
Coupon with Product Purchase

Automatically generate and issue coupons/store credits/gift certificates/gift cards/vouchers/discounts for future purchases when someone buys a product. Great to generate repeat sales!
Easy Coupon Management & Classification
Review, manage, search, and filter coupons easily from a single place. Categorize them for easy reference.
Bulk Generate and Send
Let Smart Coupons generate hundreds of thousands of coupons for you – and add them to the store / export as a CSV / email to all the recipients. You can also preview the email before bulk generation.
Shareable / Social Media / URL Coupons

Quickly generate links you can embed in emails or social media posts (or anywhere else) – with one or more coupons.
Free Gift Coupons / Gift products via coupon

Attach multiple free gifts (product giveaway) or discounted products to a coupon. When a coupon is applied successfully, the discounted product or free gift is automatically added to the cart.
---
Store Credits, Vouchers, and Gift Certificates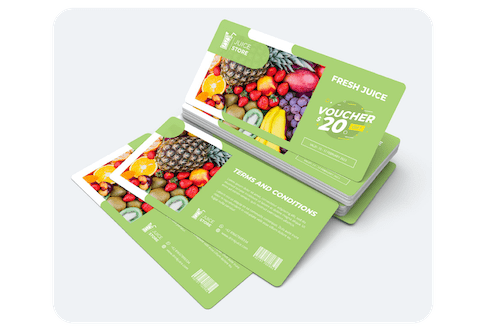 Store Credits, Gift Vouchers, Account Funds, Gift Certificates. Gift Cards – these are all essentially the same thing. You assign a monetary value credit to the customer. So they can make as many purchases as they want until the credit is exhausted or its validity expires. Credits are used instead of charging a card / PayPal.
You can use credits to provide refunds or compensation as well. This is a great way to retain customers.
People can purchase credits and gift them to others. This brings new customers, and they typically spend more than the voucher value! Smart Coupons allow including a custom message and schedule delivery in the future.
For example, a birthday gift voucher that goes out on the birthday with a personalized message.
Subscription / Recurring Coupons

Give a recurring flat or percentage discount with subscriptions or use store credits towards renewal payments.
Advanced Coupon Usage Restrictions

Restrict coupon usage by user role, minimum spend, products, product categories, product attributes, emails, payment methods, shipping methods, expiry time, product taxonomies and more.
Embed Coupons / Shortcodes

Show coupons anywhere – on cart, checkout, order confirmation page, a blog post or another page on site!
Customizable Designs
Includes awesome responsive designs and color schemes. And you can customize the colors easily.
Time Sensitive Discounts, Seasonal Promotions
Set coupons to expire at a specific date and time, limit maximum discount amount for percentage discounts, and run automatic seasonal promotions.
Location-based Coupons
Restrict who can use a coupon by their billing or shipping location – country, state, city or zip code.
Custom Coupon Message
Show a custom message when a coupon is applied to the cart – or when it's emailed. Great way to show coupon terms as well as upsell offers.
Import / Export Coupons
Export and send coupons to someone else. Or import a CSV to bulk add coupons in WooCommerce.
Auto-apply coupons
No coupon code hassle. Create coupons that are automatically applied when customers add products to the cart. Very much useful during the Black Friday, Cyber Monday and Christmas sales.
Email Coupons
Send coupons and credits via email – easy and automatic!
One-Click Coupons

Users don't need to type coupon codes to use them. They can just click on a coupon in the list of available coupons and it will be applied in the background.
New User / First Order Coupons
Reduce cart abandonment by offering a first-order discount to new users. Combine with any other restriction rules as well.
Buy One Get One / Buy One Get More
Set up a BOGO offer for the same product (T-shirt with T-Shirt) using a coupon. Or set up a buy one get more by attaching multiple products in multiple quantities to the coupon (Cap + Glasses with T-shirt).
Storewide offer coupon
Display a coupon code sitewide in a header/footer bar. Allows more users to avail the discount offer on your store.
Generate coupon via Smart Coupons REST API
Built on top of WooCommerce REST API, it doesn't require you to have a coupon code to create store credit. Directly email coupon/store credit to users using the API without logging in to the website.
Print coupons
You can print coupons and send them as physical gift cards. Or allow your customers to print coupons from their My Account & email.
Product quantity discount coupon
Restrict a coupon based on the quantity of products in the cart. Quantity discounts nudge customers to purchase in bulk, thus moving inventory faster. It's like setting up the "Buy more get more" offer.
Set up hundreds of use cases like these:
Buy any 5 items and get 20% off
Offer 30% off gift card if the quantity in the cart is greater than 6 but less than 15
Apply a flat $30 off coupon if products from cosmetics category are 9
Readymade, customizable Smart Coupons styles
---
Upcoming Features
Coupon restrictions by custom taxonomies – like brands
Combine available store credits as common fund balance and use it automatically during checkout.
QR Code for Coupons, so mobile users can apply coupons quickly.
Coupon Reporting and Conversion Tracking
---
Words from Smart Coupons users…
When you read the reviews on this page, here are sentiments that show up consistently.
Does everything I need. Very powerful and flexible.
Clients can manage promotions themselves.
Great plugin and great customer service. Developers answer all my questions!
Using this product since 2013 and it has always worked.
Options for almost any scenario!
Far ahead of the standard coupon functionality of WooCommerce.
---
Any concerns? Pricing, Effectiveness?
Does the plugin look expensive? People say it pays for itself quickly. Higher revenue will offset the cost quickly. Plus this is the most comprehensive and most reliable coupon plugin out there. You're getting so many things in a single purchase… Don't hesitate…
Will you get support and assistance? Yes. We have extensive documentation and extremely high rated support for Smart Coupons. Do read customer reviews on this page to see what others say about our support.
---
Think about this…
Coupons are not just about discounts. Credits are not just about gifting. Creating higher value for your customers is the golden rule of business. Smart Coupon positively alters customer experience, conversion, and revenue. It's not just a plugin, it's your tool to build a better business. A more successful, more predictable business.
Finally…
Go for it.
WooCommerce Smart Coupons makes it effortless to create, issue, and manage everything around coupons, credits, and gift certificates. It's "battle-tested" and top-rated. If you want the best coupon solution for WooCommerce, this is it.
Go ahead, buy it with confidence. 👍👍👍
---
Additional Resources
Documentation – howtos and detailed guides on different features and use cases
Read our origin story – from a failed holiday season to record-breaking sales…
Bonus – Discover secret "Take My Sales Through The Roof" strategies
Buyers Beware: a bad coupon plugin can ruin sales… & original vs ripoffs…
---
Need any more reasons to buy? Smart Coupons is built by StoreApps, a leading WooCommerce.com Extension developer. You can trust you're getting high-quality code backed with first-class support.
Check out our other best-selling and popular plugins on WooCommerce.
---