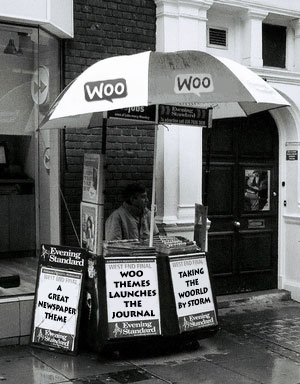 Headline news today – "WooThemes launches The Journal".
Joining a growing portfolio of hugely popular newspaper based WordPress designs "The Journal" has been in development for the past month and boasts some impressive new functionality.
The Journal was brilliantly conceptualized by our friend Firman Firdaus and given to us in Photoshop format. After some serious brain storming we simplified some of the functionality and typography and began the WordPress wizardry.
Foxinni came up with a nifty backend option feature to assign certain tags to different parts of the home page. Making it really easy to move things around and not have duplicated content clogging up key areas of the home page.
There is also a neat javascript carousel to display content and 6 widgetized areas to play with, not forgetting 10 different styles to apply to the theme.
The Journal is very light on template imagery making creating your own styles an absolute breeze by tweaking some css colour values.