A lot happens on your checkout page: shoppers calculate shipping, use coupons, make purchases, and start a relationship with your business. It's also an excellent opportunity to increase order size by offering customers additional products they need.
But a good checkout experience is about more than generating income (although that's definitely a benefit!). It's about enabling your customers to purchase products quickly and easily no matter where they are, and laying the foundation for better long-term relationships.
Let's take a look at a few ways you can optimize your checkout for a better customer experience and more revenue.
1. Reduce checkout frustration
69% of shopping carts are abandoned without a completed purchase. There are lots of reasons people abandon their carts — they're saving money for later, are surprised by high shipping costs, or are doing research without the intent to buy — and a lot of them tie directly to frustration with the checkout process. Your job as a store owner is to minimize this frustration as much as possible.
Remove unnecessary fields
If you ask for too much information or require details that feel too personal, shoppers leave. If you don't need a phone number, remove that field. If you don't work with businesses, don't ask for a company name. The fewer fields there are, the faster and easier it is to complete a purchase.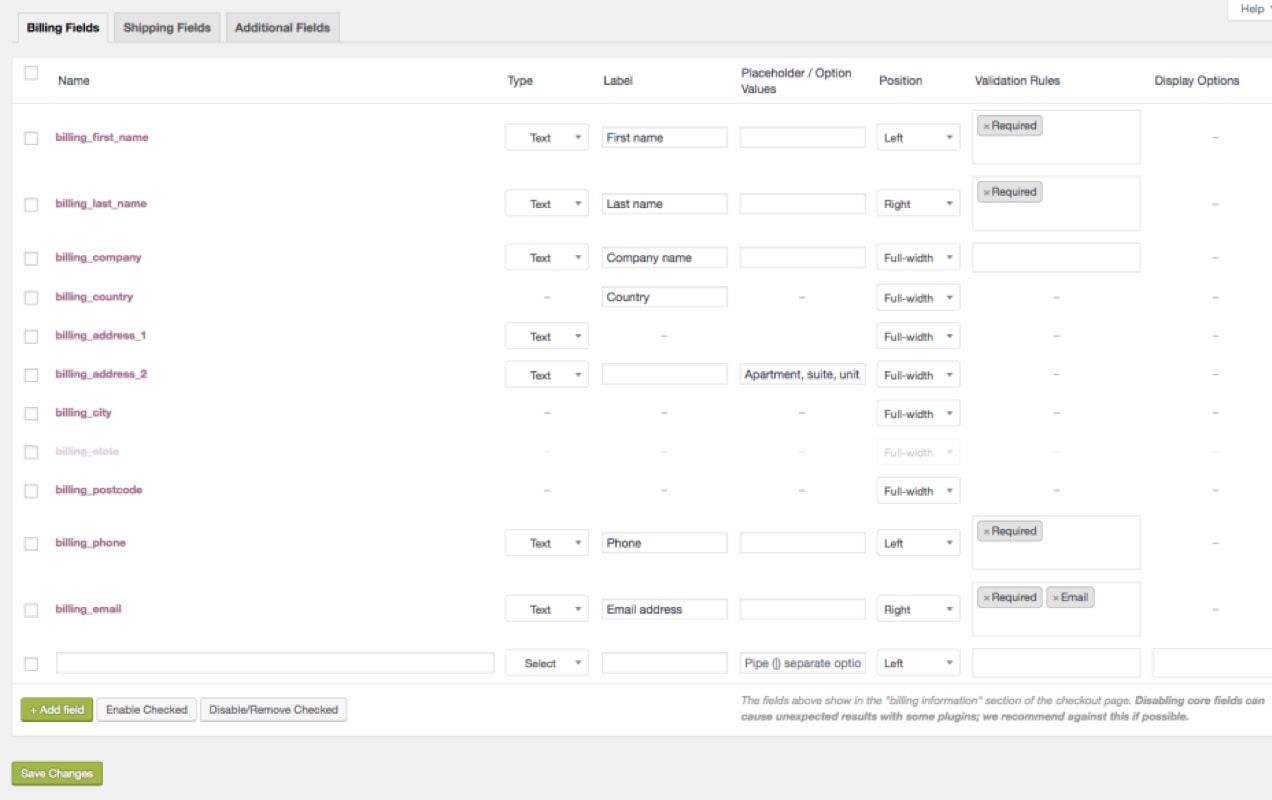 There are several ways to remove or customize checkout fields, some of which require development experience. We like the Checkout Field Editor extension — use it to remove, edit, and rearrange fields with a few clicks, no code required.
Switch to a one-page checkout
According to a study by the Baymard Institute, 21% of shoppers abandon carts because of a long or complicated checkout process. WooCommerce One Page Checkout combats this by allowing customers to add products to their carts and pay on the same page.
This speeds up the checkout process, keeps customers from wondering how long it will take, and reduces interruptions. Ultimately, this means more completed sales and happier buyers.
Keep payments on your site
There are a lot of factors to consider when choosing a payment gateway. When possible, choose one that allows you to accept credit cards directly on your website rather than sending customers to a third-party platform. Why? If you send shoppers off-site, they're more likely to get distracted and leave, or even doubt the professionalism and security of your business.
Allow guest checkout
If someone just wants to make a quick purchase, setting up an account is time-consuming and deterring: more fields to fill out, a new password to remember, more personal information to give away. If possible, let shoppers choose between creating an account and checking out as a guest.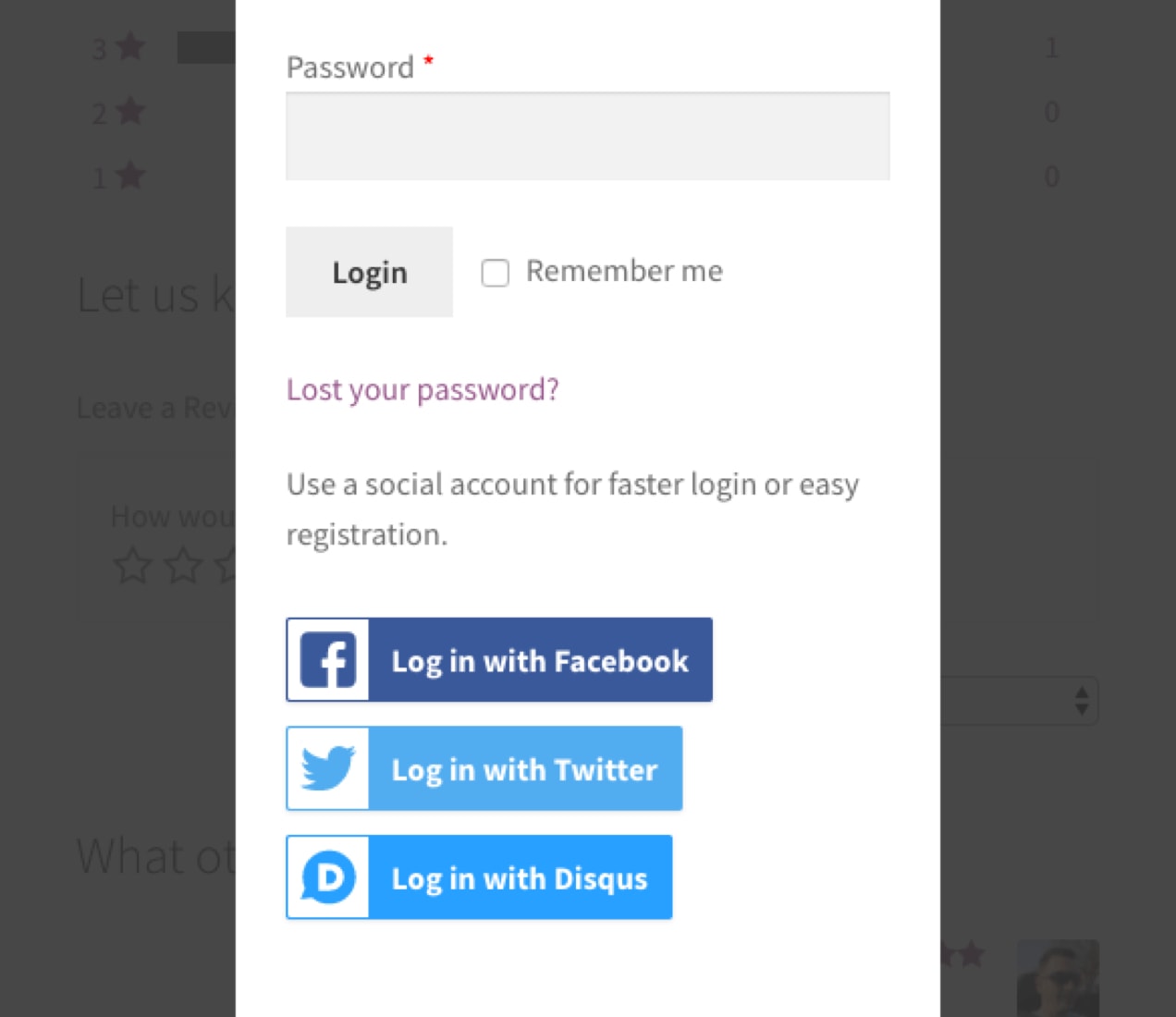 In situations where accounts are required, like for a subscription, make the process of creating one as easy as possible. With WooCommerce Social Login, shoppers can create an account using one they already have with Facebook, Twitter, Google, Amazon, and other platforms. This simplifies and speeds up the entire checkout process.
2. Offer purchase add-ons
The checkout page is one of the last touchpoints you have with a shopper before they complete their purchase, so it's a great place to offer additional items. Use WooCommerce Checkout Add-ons to offer free or paid items that customers can add to their cart right before purchasing:
If you're a coffee shop or craftsperson, accept tips.
If you're a nonprofit, let customers add a donation to their purchase.
If you sell giftable items, offer free or paid wrapping.
If you sell handmade products, let shoppers customize their item.
If you sell electronics or high-value items, offer insurance policies.
If you sell physical products, add a rush shipping upgrade.
There are countless opportunities to add options to your checkout page that increase the overall order value, while benefiting your customers.
3. Display upsells and cross-sells
Upselling is offering the same kind of product at an increased price. It's typically more robust, bigger, or more feature-rich — a higher-quality picture frame or larger-size planter. A cross-sell is a product recommendation that complements an existing product the customer is buying — laces for a pair of tennis shoes or matching pillowcases for a set of sheets. Both of these are great ways to increase your average order size.
With the Product Recommendations extension, add upsells and cross-sells directly to your checkout page based on intelligent algorithms or rules that you create. Recommend recently-viewed, top-rated, or on-sale products, or make suggestions based on what the customer already has in their cart.
4. Offer multiple payment methods
Global shoppers' preferred online payment methods are:
eWallets (36%)
Credit cards (23%)
Debit cards (12%)
If you offer only one of these, you're not fully meeting customers' needs — and are missing out on potential sales.
Aside from traditional credit and debit card payments, there are a few other ways to meet shoppers where they are:
Buy Now, Pay Later: Allow customers to pay for their order over time so they can receive their items right away without worry.
Third parties like Amazon Pay and PayPal: Let shoppers check out using existing, trusted accounts rather than having to search for their credit card.
Mobile wallets like Apple Pay: Make it easier for buyers to purchase on the go with one-touch mobile payments.
Take the time to get to know your customers and learn what tools they already use for the most successful payment experience.
5. Implement points and rewards
You're probably enrolled in a variety of rewards systems, earning points with each purchase from your favorite coffee shop, restaurant, or boutique to redeem for discounts or free products. These systems are an incredibly effective way to encourage both larger and repeat purchases:
If a shopper is deciding between purchasing from your store and your competitor's and they know they're halfway to earning a free item from you, which store are they going to choose? Yours, because they want to build on the points they've already accumulated.
This is also a great way to increase overall order value. If you show customers how many points they can earn with their purchase during checkout, they'll be motivated to complete their order so they can accumulate those points. If they know they're close to earning a reward, they may even add an extra item to their cart to earn more points.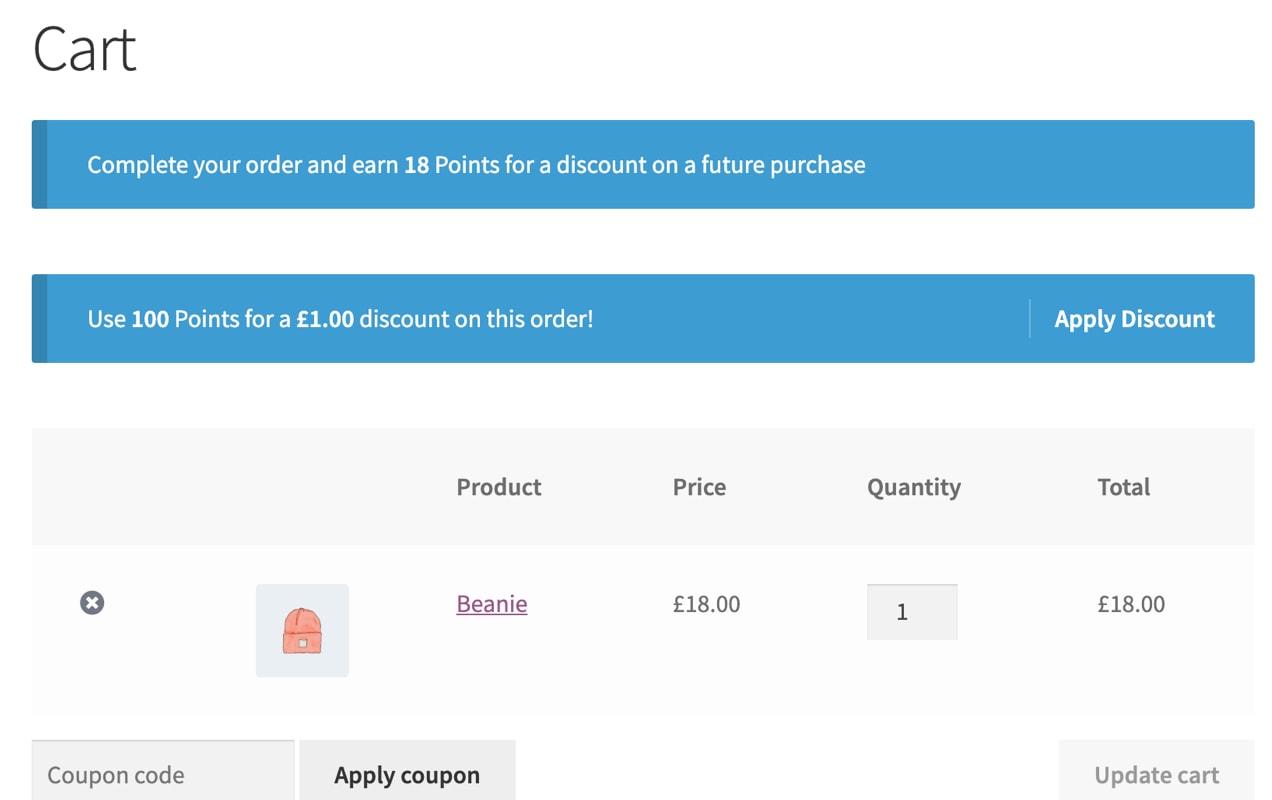 You can create a system like this with the WooCommerce Points and Rewards extension. Reward your customers for a variety of actions — making a purchase, signing up for an email list, writing a review — and let them redeem points for future purchases. You'll find that you have a more loyal, satisfied customer base and a higher conversion rate.
6. Build trust
If a shopper can't trust your business and website, why would they share personal information or rely on you to complete their order? The checkout page is your final opportunity to convey that you can be trusted to deliver on everything they expect. Here are just a few ways to do that:
Display testimonials. Add testimonials or reviews from happy customers as social proof to potential buyers that your business delivers on its promises.
Showcase certifications and memberships. Have you earned awards or completed certifications? Are you a member of a trusted organization that validates your skillset? Display those on your checkout page to show that you know what you're doing.
Make return policies and contact information visible. Sharing this information front and center demonstrates reliability and honesty and makes it easy for customers to find what they're looking for.
Add a live chat feature. If a shopper has questions, they can get in touch with a member of your team rather than leaving the checkout page and waiting days for a response.
Do whatever you can to show that you'll protect their information and deliver high-quality products quickly and securely.
Interested in more code customizations? Community member and WooCommerce expert, Rodolfo Melogli, put together a guide with code snippets for customizing the WooCommerce checkout even further.
Satisfied customers lead to more sales
Whether you're simplifying the checkout process, offering additional products, or making it easy for shoppers to get in touch with you, all these tips are about satisfying customers. Focus on meeting their needs and you'll increase your conversion rate and their loyalty.