If your brand isn't yet marketing on Instagram, now is a good time to start. This photo sharing platform was the fastest growing social media network last year, according to the Pew Research Center. About half (49%) of its 300 million monthly active users log in daily, and 53% of adults ages 18-29 say they use the app.
There's a lot of advice online about using Instagram as a marketing tool, but it can quickly get overwhelming for brands who are brand new to the platform. A huge list of 20 tips might not be very helpful if you've just signed up and are staring at a blank screen, unsure what photos to post or how to tie this growing social network into your existing marketing plans.
If your eCommerce company has just joined Instagram and is looking for guidance, we're happy to help. Here are the five things you should try right off the bat, from posting your very first photo to linking your content to your website.
Before you start: set up your account
If you've never used Instagram before, here's a quick introduction. Instagram is a platform dedicated to capturing, editing, and sharing photographs with friends, family, and the entire world. The app is free, and available on both iOS and Android devices.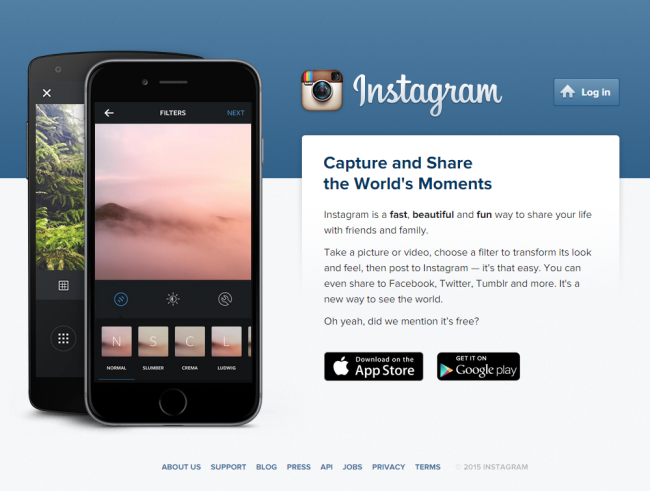 Like many platforms before it, Instagram has gained popularity among brands as a way to market to potential customers, notably the millennial audience. But unlike many other platforms, Instagram's native functionality (taking and editing photos) is only available on mobile devices, so you'll need to nominate someone on your team to manage your brand account from their phone.
Once you've decided who will be responsible for your Instagram account, download the app from the App Store or Google Play. You'll be prompted to create your brand's account upon opening the app. Once your account has been created, you'll be able to log in, fill out your profile information, and start posting! Here's some brand-specific tips for getting started that you might find useful.
Although you can't add or edit photos online, you can keep track of your account's activity there. Just type instagram.com/YOURUSERNAME into a browser, and you'll be able to see the photos you've posted, your profile, recent comments, and so on.
Finally, you can optionally link to your Instagram account from your website, other social media accounts, email signatures, or any other online location. Instagram has special badges for this that you can access when you are logged into your account. The badges auto-generate HTML linking to your online profile page, making it incredibly easy to attract new followers.
Now you're ready to get started! Here are five things you should try out as a beginner on Instagram.
1. Experiment with photos
Obviously the point of being on Instagram is taking and sharing photos, so what better way to kick things off than to post your first few photos?
Don't stress out too much over this process. No one's first few posts are perfect, and these initial snapshots should ideally help you get comfortable with the app, filters, descriptions, and other features.
What should you post first? Perhaps you can gather your team together for a quick shot of everyone smiling, so you can caption it "we're excited to be on Instagram!" Or you can create and upload a custom graphic announcing your arrival, but you'll need to place it on your device and follow Instagram's uploading instructions to do this. Or you can simply dive right in and show off one of your products.
As far as filters are concerned, how you use them is completely up to you. You can post your snapshots without filters, apply a filter you like, or use the wrench icon to customize your photo's brightness, contrast, color balance, and so on.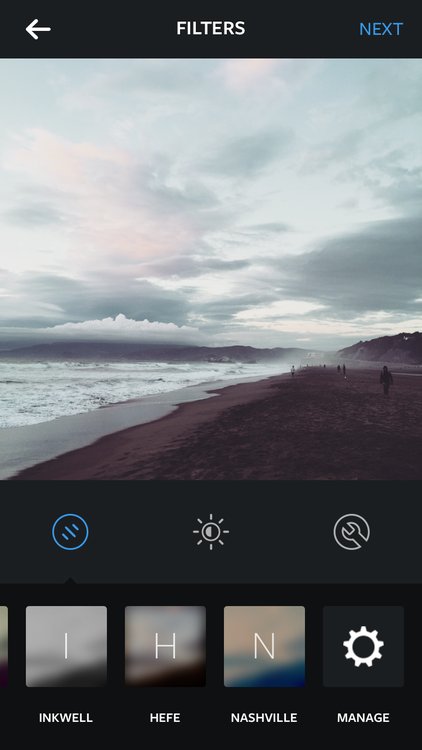 Also, remember to add a short description to your photo. You can mention other Instagram accounts by @username or include #hashtags (more on those shortly) if you desire. Hashtags help others find your photos, so don't be afraid to use the ones that apply. Just try not to go overboard: 30 is the max per post, but that can look spammy, so try starting with 5-10 and see what happens to your engagement.
There's no right way to use Instagram, so do what feels comfortable and natural to your brand. If a particular filter doesn't match your standards, you don't have to use it; if you want to post your photos without captions or hashtags, you certainly can. Take your time and experiment as needed to find what both you and your fans find engaging, motivating, and in line with your ethos.
Want to know a little more about hashtags? We have just the thing.
2. Create and use your brand hashtag
One of the reasons you're joining Instagram is probably so you can spread the word about your brand and products. But there's a good chance that your customers and fans are already talking about you on this network, and you just aren't aware of it yet!
A great way to keep track of both your posts and the posts of others is by introducing an "official" brand hashtag. This may be something as simple as your business name, or it may be a one of your most important products or product lines. By introducing this hashtag and encouraging your followers to use it, you'll be able to curate a single location where those new to your company can find beautiful, on-brand photos.
Introducing this hashtag is usually as simple as adding it to your image caption in the final step of the posting process. Your followers will see this hashtag and pick up on it over time.
You can also go the extra mile by including the hashtag in your bio. For example, if the hashtag is #FancyPants, you could add a line to your bio that says "tag your photos of our pants with #FancyPants." You can then go even one step further and repost or highlight fans who use this hashtag.
For an example of this, take a peek at the description on our own Instagram. We include the #WooCommerce hashtag and prompt followers to use it for a chance to be featured:
Then, when we spot someone using the hashtag, we can acknowledge them with a thank you or repost their photo to our followers with credit, as we've done here: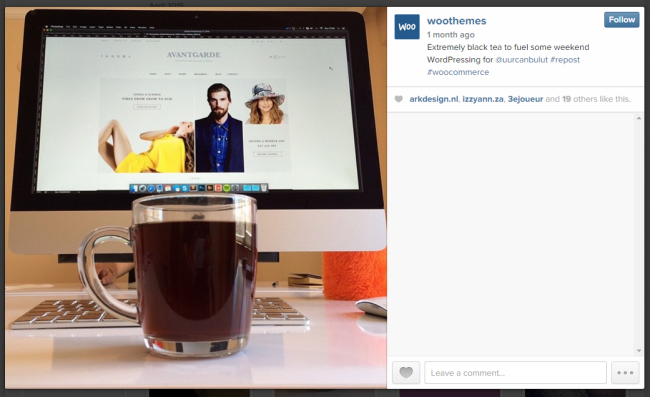 We also use the hashtag on some of our own snapshots, of course, like this announcement of the Product Hero extension for Storefront. This helps remind our followers that this is the hashtag we like to see used, and also encourages those using the app to click through and view all the images and photos that have been posted using this hashtag.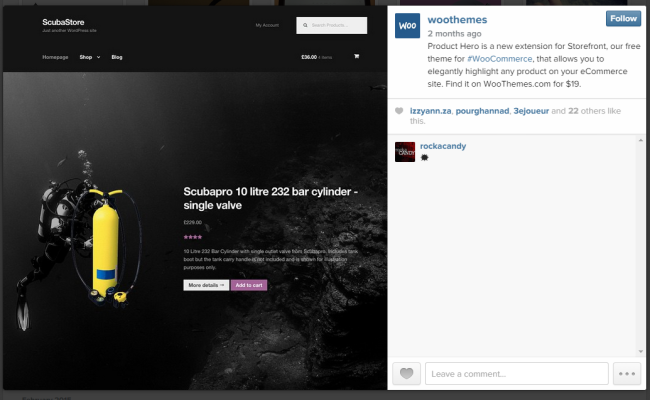 Since hashtag become clickable links on Instagram, by consistently posting content with a hashtag, you're essentially creating an archive that someone new to your brand or products can browse at any time.
3. Cross-post your Instagram photos
Once you have a few photos posted and a hashtag or two under your belt, you might think that you can sit back, relax, and wait for your fans to look you up. Unfortunately, you're going to have to do a little more work to get your customers following your new account. And even an Instagram icon in your footer or "follow us here" tweet might not be enough!
The best way to make your customers and fans on other social media accounts aware of your Instagram presence, and to show them the kinds of content you're creating there, is to cross-post your photos to other locations. This may mean connecting your Facebook Page to your account, or it may mean creating a dedicated spot on your website for your recent snapshots to be viewed.
Cross-posting requires just a bit of work to set up the first time, and then it's as easy as tapping the icons of the networks you want to post your photos to. When you come to the final screen of your Instagram, where you're prompted to write a caption and add hashtags, you'll also notice options to share to additional networks.
Simply tap these icons and you'll be asked to authorize your connection to Twitter, Facebook, or the other network of your choosing. If you want to post your photos to a Facebook Page rather than a personal profile (the most likely scenario for brands), you can follow these detailed instructions to get your images to the right place.
If you want to collect your Instagram photos in one location where website visitors can look at them, there are a few ways to do this:
As another option, multiple third-party developers have created free applications to add an Instagram tab to your brand's Facebook Page. These options typically only take a few minutes to set up, and will display a clickable gallery of your photos that fans can browse at their leisure. Nifty!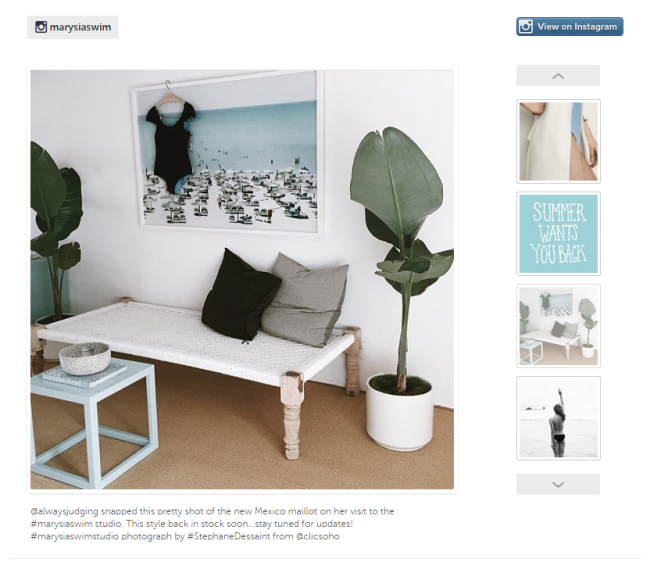 4. Follow similar accounts, fans, and people of interest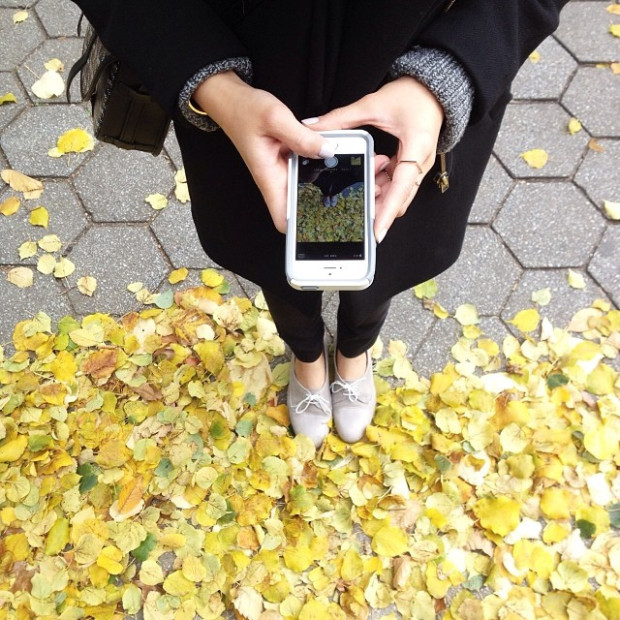 Now that you've shared some photos, established a hashtag, and are making plans to distribute your content across your other channels, your next step should be growth. Whether or not Instagram is a successful marketing and social media tool for your brand is highly dependent on having engaged, interested followers. But sitting idly by and waiting for your customers to follow you isn't all you can (or should) do to grow your account.
After you join, consider following some other accounts. You should think about following these types of Instagram accounts:
Businesses in the same industry — they can offer inspiration and keep you informed on trends
Direct competitors — just to keep an eye on what they're up to (if you're not comfortable with this, consider following from a personal account instead)
Your team members — since they may naturally create or post photos relevant to your brand
Fans of your brand — it's a nice gesture, and they may also be posting relevant photos
Why follow these accounts? One important thing to keep in mind is that following someone is one of the best ways to prompt them to follow you in return. This is especially true for brands, whose fans are likely to feel flattered by the attention, or may be eager to engage with a company they've purchased from previously.
The more followers you have, the more likely your photos and marketing messages are to be seen, spread, and acted on. While the number of followers isn't quite as important as the amount of engagement you have — better to have 10 followers who regularly engage with your photos than 100 who never say a thing — you can get a head start on growing your presence by simply following some other accounts.
5. Create links to your store
So you're posting photos, following accounts, and using hashtags like a pro. What else should a brand new to Instagram do when they join? The fifth and final tip we have for you is one that many overlook, and it's to link back to your website.
As we mentioned right up front in our piece on fashion brands making great use of social media, social media is fun and valuable for a number of reasons, but it's crucial to have a strategy that connects your efforts to the rest of your marketing. Unless you have an end goal in mind for your activity on Instagram, you'll ultimately gain nothing from the experience than some nice comments and likes from your followers.
The first brand we highlighted in that post, ModCloth, has a clear strategy to drive potential shoppers from their Instagram posts to their site. They don't always talk about themselves, and frequently repost photos from their fans, but they do find ways to make their beautiful photos of women's clothes a selling opportunity.
For example, they created and uploaded this custom graphic for a recent sale, and provided a link to the appropriate landing page in their bio:
Meanwhile, for this photo of four of their models, they chose to use the optional location tag to hint at the shopping link being in their bio: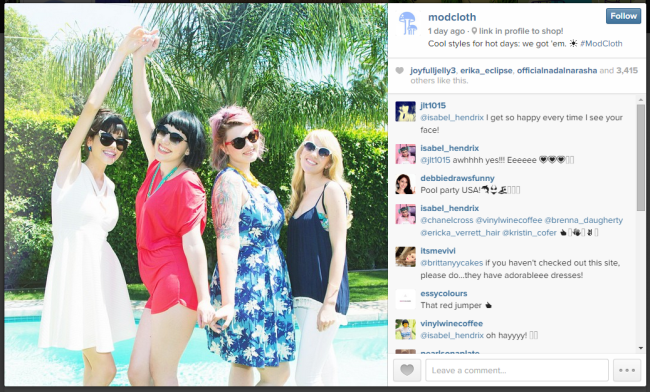 If you plan to use Instagram as a marketing tool, take a look through some successful accounts like ModCloth's to see how they're linking their photos to their products, websites, and content. While not every photo is a sales opportunity, a little nudge here and there can bring huge returns, especially if you're announcing a new product or showing off a particularly gorgeous photo!
Your Instagram to-do list
To recap, once you've signed up for Instagram and have your account underway, here are the five things you should do first:
Experiment with photos. Try different filters, and play around with your subjects and images until you feel comfortable with the way your brand is represented — and the way your followers respond.
Create your "official" hashtag. This gives you a handy way to track conversations and find fresh photos to like, comment on, or even repost.
Cross-post to your other social networks. Make sure your customers know you have an Instagram by sharing your photos on Facebook or Twitter, or even embedding them on your website.
Follow some accounts. Following like brands, fans, and interesting folks is a great way to get noticed and spread your message.
Link your photos to your store. Tie your Instagram account into your larger social and marketing strategies to ensure you're using this platform to both have fun and encourage sales.
For some more helpful tips and advice, Instagram's "getting started" guide for businesses is a fantastic resource! Take a peek and you'll find even more tips aimed at helping you make a big splash with your social media marketing.
We hope you've found these Instagram tips helpful. Do you currently use Instagram for marketing your eCommerce website or brand, or are you thinking about starting? Anything else you'd like to know about joining? Reach out to us in the comments and let us know.
Header image credit: Stròlic Furlàn