We've only good news to report for August's stats. Even with many of us taking end of summer leave, squeezing in some beach time, we've kept our support firing on all cylinders and have put out better numbers than last month. First, let's do a  recap of the month.
We started August with a huge foundational change to our business, making sure we are running a sustainable business. That garnered plenty of feedback on the changes, we listened and made sure we treated our customers right. We got to talk with Merrill Mayer who wrote a case study on creating the Cornforth Wildnerness Photography Website. Matty also had a chat with Bob Dunn about aha moments and WordPress training using Sensei. We celebrated a huge 200,000 orders made on our site, and then published a couple how tos; How To Use Our Support, How To Create a Unique Canvas Site, and Getting Started with WooCommerce. We then rounded out the month with quite a few product releases. We started off with Product Vendors, our latest theme Show Off, and a bundle of WooCommerce extensions.
Customer Happiness in Numbers
Looking at the numbers:
9,491 new tickets created this month. Down 804.
26,014 ticket touches. Down 3273. (how many times all tickets were opened, tickets with multiple responses, or re-assigned, etc…)
24.50 hours to First Response. Down 8.9 hours. (the amount of time the average customer waits for our first response).
68% of all tickets are responded to within 24 hours. Up 14%; and
88% satisfaction rating on all tickets. Remained constant
Take note the biggest one we've been chasing, response time, is only 30 minutes off of our goal. 🙂
Benchmarking & Context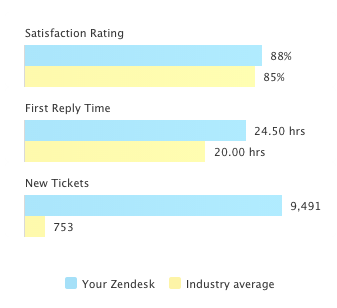 As you can see in the comparison our general stats have actually decreased. The number of tickets and ticket touches has decreased, with touches being the most dramatic decrease. Our satisfaction has remained constant overall, and we've continued our triumphant streak of bringing down our response times by 8.9 hours since last month. One of our best achievements yet from support.
Let's start breaking down these numbers even further by our groups here. We can start keeping our specific groups a bit more accountable. First, here were last months group breakdown.

In accounts our ticket numbers increased by 300 and response time by 1.9 hours. The bigger let down is our satisfaction score dropping 4 percent. Support actually felt some relief by almost 1000 less tickets this month. Letting our response times get quicker and satisfaction score go up there. Finally, WooCommerce had some relief as well by about 300 tickets. Somehow these ninjas turned on turbo and cut response times in half! They got the biggest satisfaction boost as well, well deserved of course!
Time For Action
Our actionable goals for this month.
Squeeze out another 30 minutes (average) to get right on 24 hours or less.
Improve our satisfaction rating, again we'd love to reach 90% for an entire month. Accounts dropped by 4%. 🙁
Find the outliers in our support. Why are some waiting longer than 24 hours to hear from us, what hurt our satisfaction in accounts, etc…
With our major goals well within reach, I feel we can settle into a rhythm knowing how to keep these numbers steady. That should allow us more time to get into writing tutorials, creating videos, adding to our knowledgebase, and even doing general bug fixes and development to help out our lead devs. Onward and upward!