Whether or not an online store is successful depends on dozens, if not hundreds of individual factors. Success requires that magic mixture of quality products, smart timing, effective calls to action, prominence in search engines, and so on and so forth.
One of the many factors — or, more accurately, one spot that collects many of these factors — is the product page. These pages can literally make or break an online store. If they're great, they can boost your sales; if they're subpar, well… you can guess the rest.
Detailed, convincing, and entertaining product pages are necessary if you want your online store to thrive. But making these pages requires much more than a few photos and a line or two of text.
Today, we'll explain what all these necessary factors are, with some choice examples from WooCommerce shops. We'll also offer you a checklist to help you get them all in place on your own site, time and time again.
Ready to learn? Let's jump right in.
Possibly the most important feature: high quality product photography
Every shopper is different. Some will be drawn to visual details, while others will only care about your written descriptions. But even so, if there's one crucial element to your product pages, it's the product photography. Read our guide on Getting Started with eCommerce Photography, and get tips for styling, lighting and camera settings.
Even if some of your shoppers use copywriting or item specifications to make their final decision, product photos are what trigger their gut reactions to either learn more or back away. A poorly photographed product could indicate poor item quality. But high quality photographs say something else entirely.
Ideally, all of your product pages should have:
Photographs set on a white, off-white, or neutral background
High resolution images available (no tiny images, please!)
Images that can be zoomed in on to reveal more detail
Multiple photos of the product from each necessary angle (top, bottom, sides…)
Photos of details or included items, such as components, accessories, packaging, etc.
For a stellar example of these tips in action, have a look at the JOCO Cups shop. We mentioned in their case study how well their glass coffee cups are visually presented, and it truly bears repeating.
Each one of their cups is perfectly photographed on a white background in crisp, clear detail. Multiple photos are provided as well, allowing you to explore your future cup from every possible angle.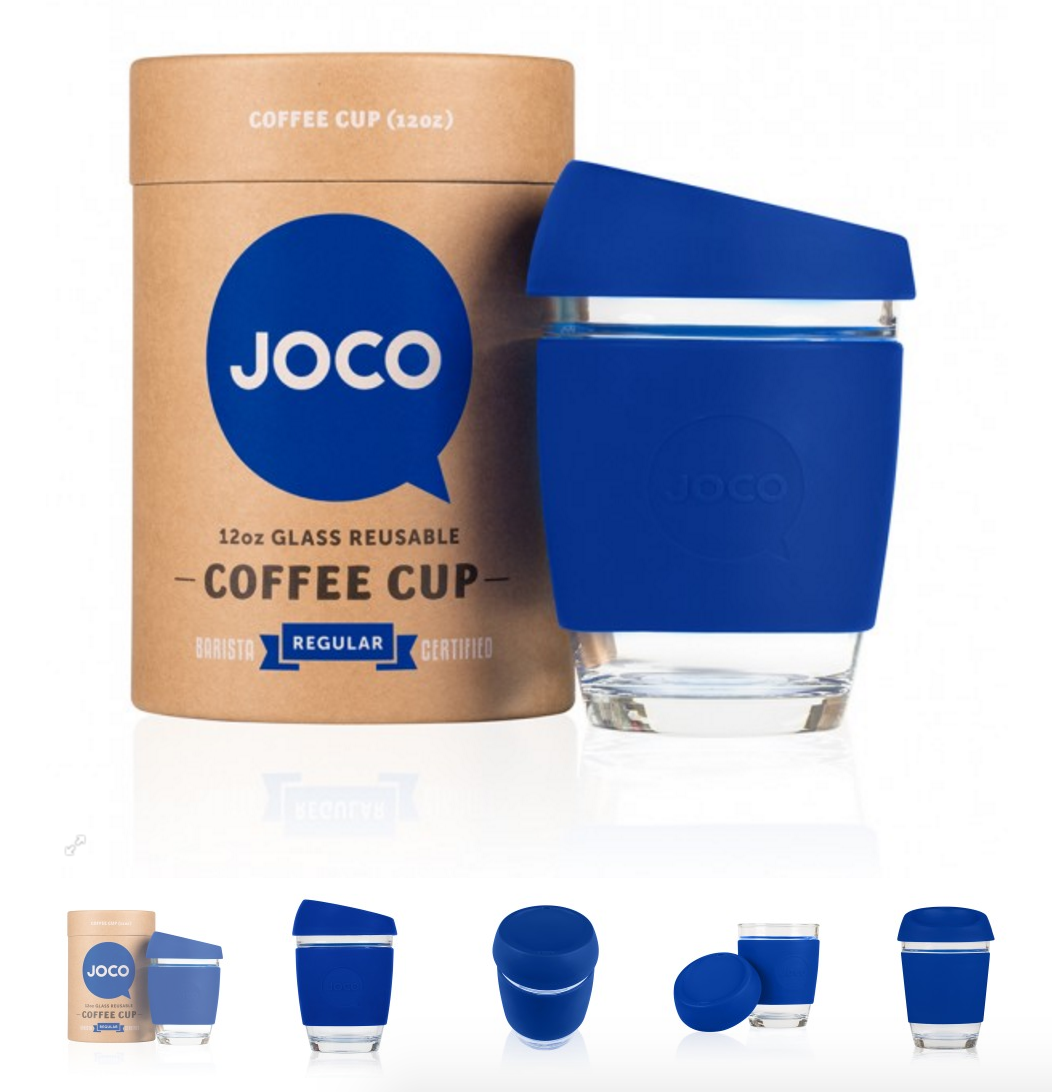 A cheerful little detail: the extra photos show closeups and special details that you might otherwise miss, like the grippy nubs on the inside of each cup's outer cover.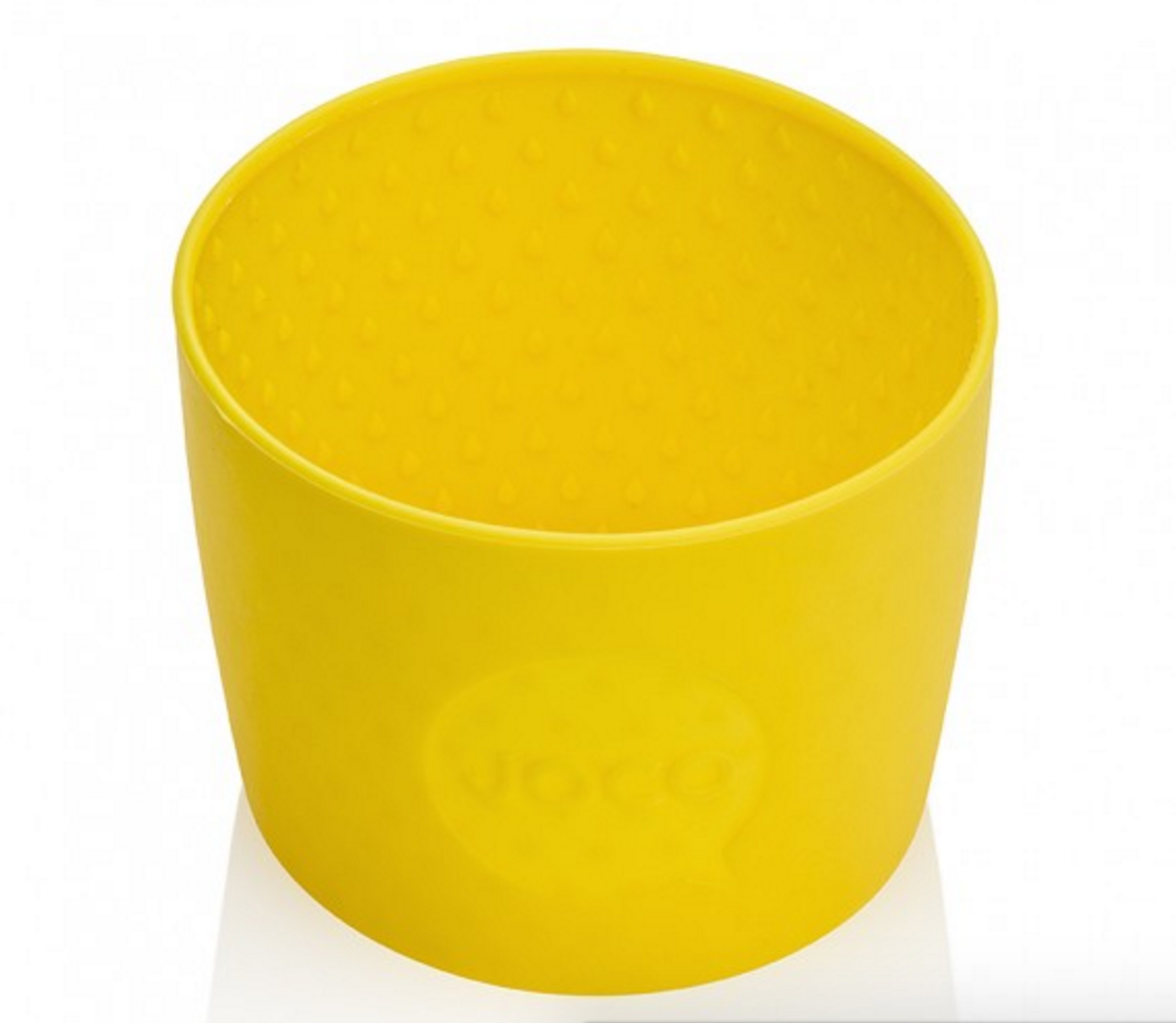 Add additional photos like these as long as they add some kind of value or show details that might be otherwise missed. Keep in mind that large images can slow down your site (due to the file sizes), so multiple views of virtually the same angle can be omitted.
Most shoppers won't make their purchasing decision based solely on photos, though — thus the need for additional features.
Descriptive, on-brand product copywriting
The next thing you should consider is the copywriting on your product pages. By this we mean the item descriptions written in full sentences, usually at least one paragraph in length.
These product descriptions are crucial for two major reasons:
They give you ample space to insert the keywords and phrases you want to target on search engines, and
They allow customers to get a glimpse into what your brand is about, and how any one product fits into it.
While it's absolutely true that customers might read your copy to learn more about the product specifically, they're more likely to skim than read word-for-word. So you should view this component as a bigger opportunity to convey your brand's style, voice, and keywords rather than your only selling opportunity.
"Where will I sell the product, then?" you ask. Not to worry, we're getting there. 😉
An example of branding and keywords in action: the copywriting from Hyde Yoga. Here's the copy for a pair of comfy yoga pants: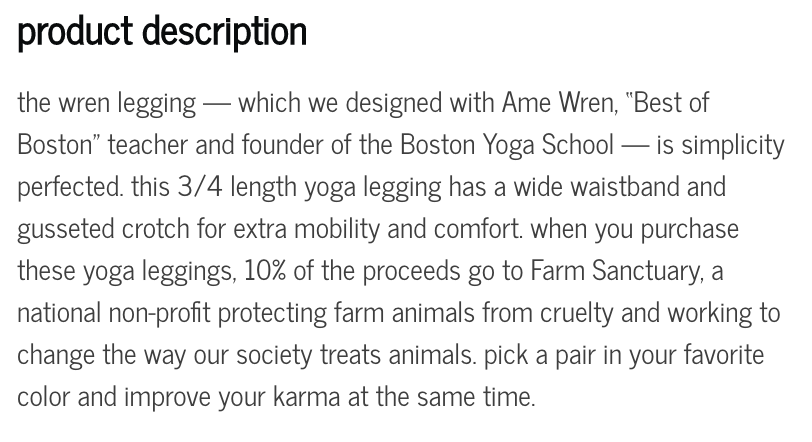 Now have a look at the copy from a tank top: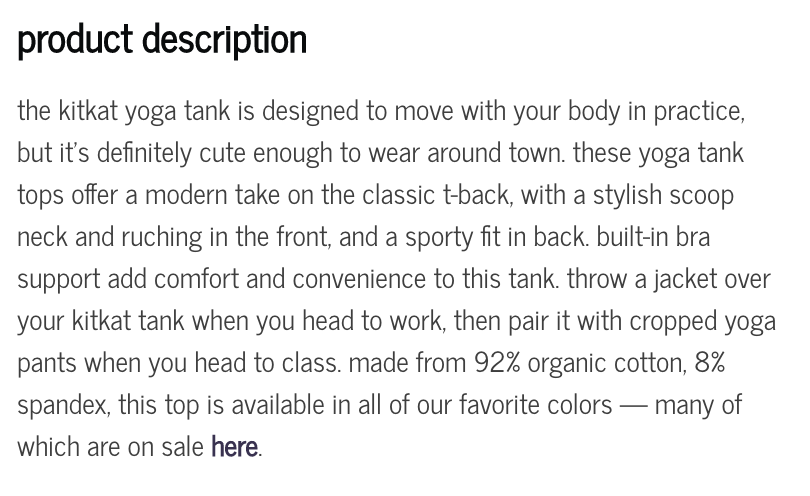 You should be seeing some similarities between the two pieces of copy here — specifically the consistency in style and tone.
For customers who do rely on copy as that first starting point for information, note that details on each product's sizing, materials, etc. are sprinkled throughout. There's effort made to work each piece into the shopper's life.
For some more tips creating killer product descriptions, have a look at this guide.
Important facts, features, or specifications
Product copy is written for keyword insertion purposes, for enjoyment, and for branding. On the other hand, your product specifications are for purely informational purposes, and are meant to get straight to the point.
Shoppers will be looking for a spot on your product pages where they can find the following, ideally in bullet point form:
Full dimensions, including height, weight, depth…
If item is to be worn, sizing information (with a linked size chart, if need be — don't make shoppers hunt for it!)
Materials used or included
The product's country of origin
Whether or not assembly is required
Whether or not additional parts are required (most often batteries)
Any warnings, hazards, or disclaimers
It's best to list this information in short, straightforward bullet points below the product copy so that shoppers can skim it to get all the details they need (or are missing, if they did read the copy) in just a few seconds.
While this seems straightforward enough, there are always some interesting variations to be found, especially on more complex product pages. Thermos Malaysia takes an approach that's ideal for product variations listed together on one page — good to note for anyone who might be in the same situation.
In this case, one thermos is available in multiple sizes, so the specifications allow shoppers to learn about and compare each size from the same area:

How you list the specifications and item details is really up to you, but the most important thing to remember, of course, is this: they have to be there.
Links to necessary or helpful resources
If you sell anything like complex electronics, furniture requiring assembly, or software with extensive documentation, you likely already know that your shoppers crave information. It's not uncommon for you to receive emails with questions before a purchase is made.
If you're in this situation, you can cut down on questions (and perhaps even boost conversions) by adding helpful resources right to the product page. This might mean:
Adding downloadable PDFs of manuals, assembly instructions, or guides
Linking to separate pages of FAQs, guides, resources, or other documents
Providing how-tos, creative ideas, or even links to blog posts where your product is shown in use
This can both assure shoppers that they're making a good purchase, and help customers who have already purchased from you get the information they need.
Linking to resources is something we do on our own product pages. If you're viewing a plugin or WooCommerce extension, you'll notice the links to "docs" or "docs & FAQs" on the top right: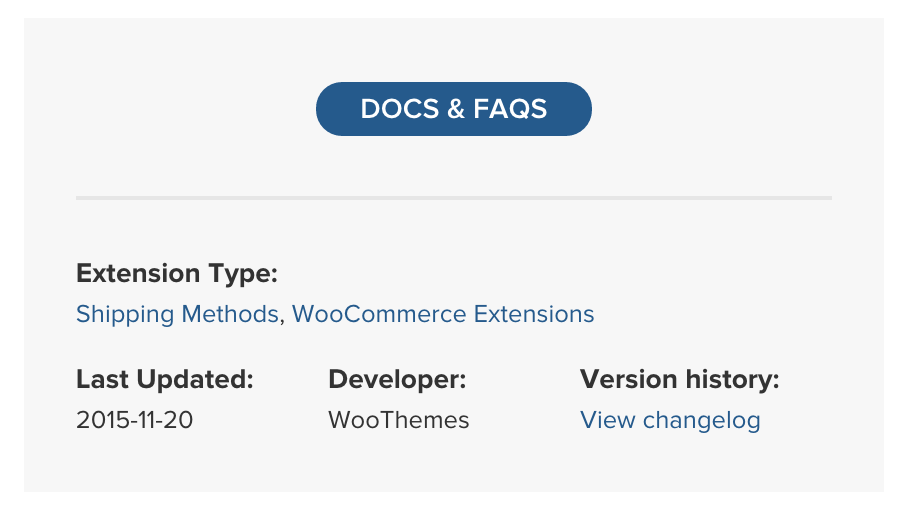 Clicking this link will then send you in the direction of an entirely separate documentation page where you can find answers to all of your questions, plus links to a changelog, related pages, and some particularly relevant or popular spots in the document itself.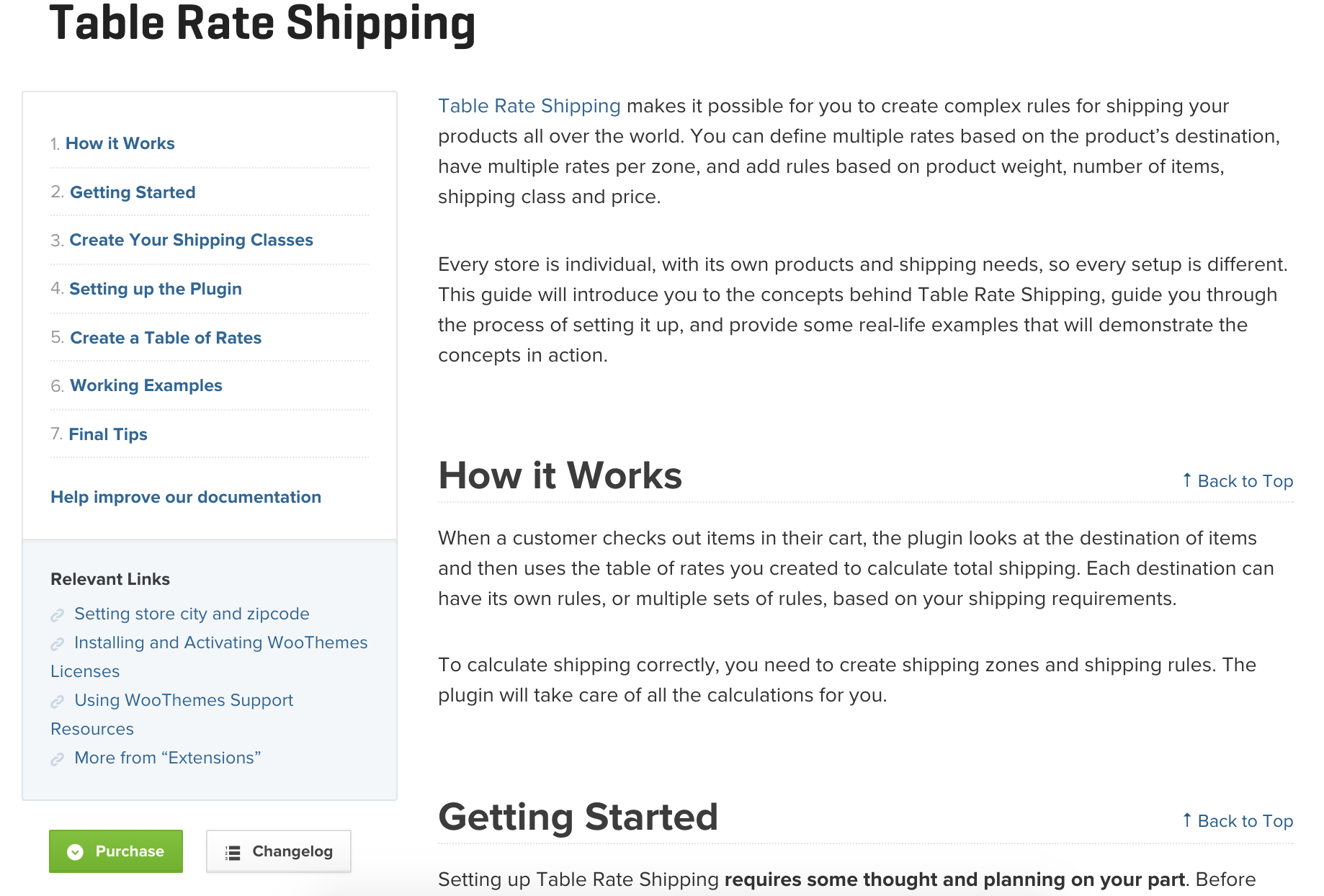 Although your products might not require documents as long as ours 🙂 you should think about putting any instructions, guides, manuals, or documents on your store and linking them from the relevant product pages.
Don't make your shoppers hunt for documents — if they know they can turn to you for help, they might be that much more eager to make a purchase.
Using WooCommerce? You can add downloadable documents with ease by relying on the Product Documents extension.
A list of related or matching products
Selling any items in the same family or set? Or have any products that pair up particularly well? Why not link them together?
Suggesting related, matching, or well-coordinated products can be a huge sale-booster. Shoppers might not know about matching items unless you tell them. If they spot a match while buying one item, they're likely to check it out.
In the case of Happy Plugs, which allows you to filter products by asking "what color are you today?"…
… the related products shown on any given page are those that match — that is, those that are the same color as the item you're currently looking at.
While setting up related products can take a bit of time, it's usually a "one and done" scenario that has a ton of benefits. If you have matching or coordinating products, suggest them to your shoppers and watch the sales roll in.
Last, but not least: the ability to easily look for a different item
Finally, there's always the possibility that one of your products just won't work for someone. Nothing personal — maybe it's just not what they're looking for.
In that case, make sure it's convenient for these shoppers to start their search over or browse other parts of your catalog. This means:
Making your site search visible and accessible from all product pages
Checking for links to your most important categories, landing pages, etc. from your header (or perhaps your footer)
Adding breadcrumb links from each product page
Considering "sticky" navigation so links to your shop are always in view
Have a look at how Cable Design allows its savvy shoppers to change their minds and exit back to the product category via the breadcrumb link, or use the easily accessible search option up top: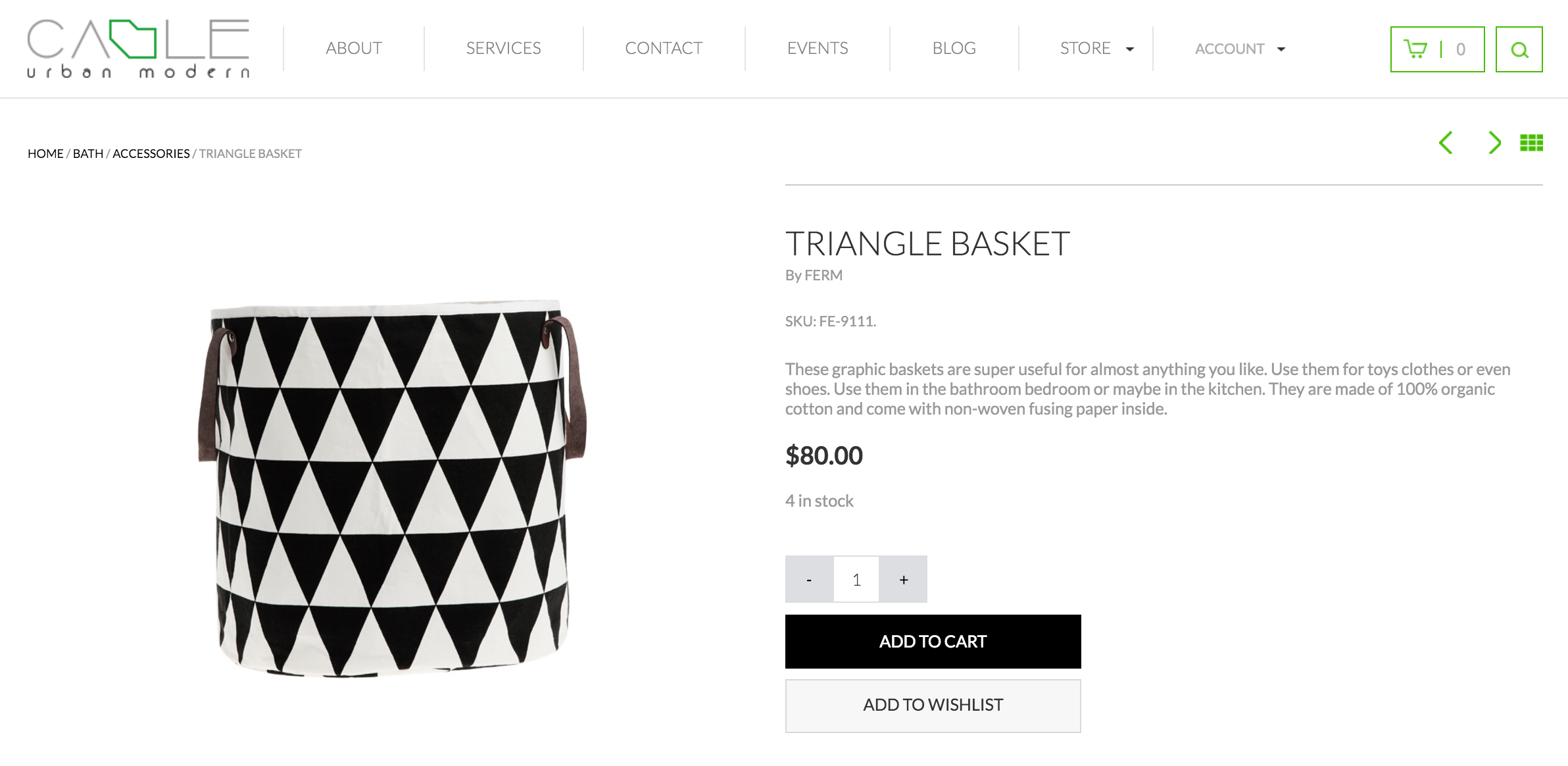 Again, it's nothing personal — but with search and navigation options always in view, you can change a customer's viewpoint from "this isn't for me" to "hmm, maybe they have something else I'd like."
Create high quality product pages with a free checklist
We know this has been a lot to digest. Great product pages have a lot of features and moving parts. Getting them all in place can be a little overwhelming, especially if you're new to eCommerce.
To give you a hand, we've condensed all the important points from this post into a little checklist. You can use this checklist to make sure you're nailing every aspect every time, from copywriting to specifications to product suggestions.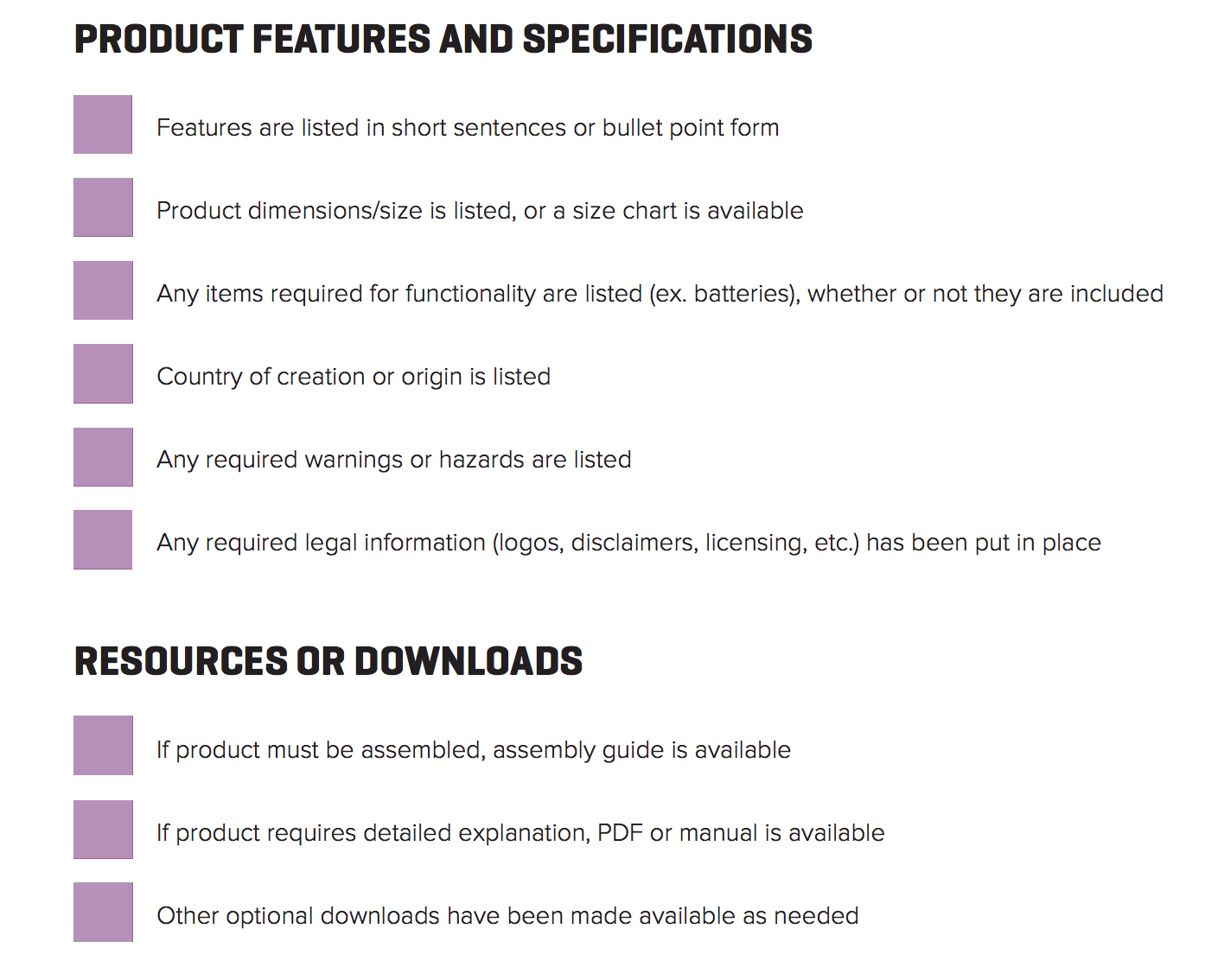 We hope this post has given you some insight into what goes into a high quality product page, and how you can create (or improve) your own.