Once a shopper has left your store, you might think there's no way to get them to return. Either their mind's made up and they're never coming back, or they've gotten distracted and have forgotten about you completely. All hope is lost.
Or is it?
Remarketing with Facebook is one of the fastest and most cost-effective ways to reclaim lost clicks and conversions. It allows eCommerce website owners to directly reach shoppers who have visited their store, viewed specific pages, or abandoned their carts. And according to research, remarketing ads sport a response rate up to 400% higher than non-targeted advertising.
If you've long been curious about how to retarget your visitors using Facebook ads, we're here to help. Today we're going to offer you a crash course in setting up your first remarketing ad, from visiting Facebook's Ads Manager for the very first time to creating an ad that will help drive shoppers back to your website.
Ready to learn how to reach your customers with targeted Facebook ads? Let's get started!
Prerequisite: Enable Ads Manager for your Page
If you've never visited Facebook's Ads Manager before, or set up a Facebook ad promoting your Page or website, you'll need to start here. (If you're already familiar with Ads Manager, or have set up Facebook advertising before, feel free to skip to the next section.)
While logged into the Facebook account you use to manage your Facebook Page, look for a link to "Ads Manager" on the left side of your Home screen, under "Apps." You can also visit Ads Manager directly using this link.
Once you're logged in, you'll be treated to a blank screen that will look something like this:

Feel free to spend a few minutes navigating around the options on the left to get familiar with the options and interface. This may also be a good time to enter your billing information, which may save you a few minutes later on.
Create a Custom Audience on Facebook
Once you're logged into the Ads Manager, click the "Audiences" option in the menu on your left. You'll arrive at this new screen:
In this case, we want to do exactly what the first option, "Create a Custom Audience," indicates: "connect with the people who have already shown an interest in your business or product." Click this button, then select "Website Traffic" on the new window that appears.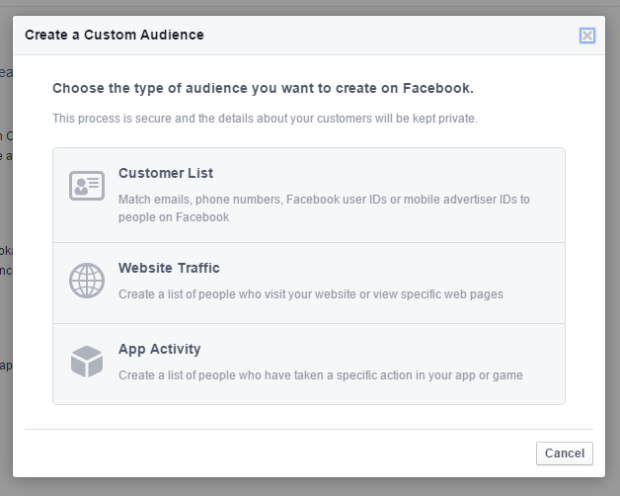 At this point, you'll be asked to verify that you want to show ads to Facebook users who have visited your website:
Once you've read the linked Terms and Conditions, select the check box and click "Create Web Remarketing Pixel" to proceed to the next step.
Create and add the tracking pixel to your website's code
As soon as you click "Create Web Remarketing Pixel" in the last step, you'll be given a block of code. Copy this down and keep it somewhere safe — you'll need this to set up tracking on your website. (You can also click "send this code to your website developer" to have Facebook send the code with a personalized message to a contact of your choice.)
You'll need to add this code to the <head> tags of your website. Depending on which eCommerce platform you run, you may only need to edit one file, or it may require editing several pages. If you're using WordPress or WooCommerce, you'll need to edit your theme's header.php file, or you can use a plugin like this one to insert the code without manually editing files.
Note that you don't have to add the code to every page. If you only want to remarket to visitors who have at least made it to your shopping cart, just make sure the code is placed in the <head> of your cart and checkout pages. Or if you only want to remarket to those who have seen specific sale or category pages, you can place the code there and remove it later. Facebook also allows you to limit exposure of your ad in similar ways, as you'll see in the next step.
By adding this code, you'll be activating Facebook's special tracking pixel on your website. This will allow Facebook to associate your website visitors with logged-in Facebook users, and show them the ad you'll be creating shortly.
Set up an audience of users for your first campaign
With your tracking pixel implemented, you'll be ready to set up the specific audience of Facebook users who will be shown your ad. On the next screen of the setup process, you'll see this: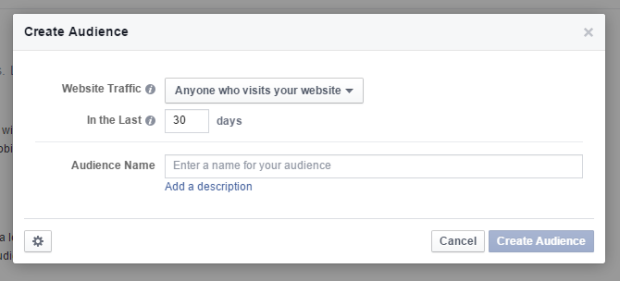 What you choose here is up to you. You can show a remarketing ad to every single person who has visited your website in the last 30 days. But it might be wiser to show ads only to those who have visited your site without completing a purchase, or maybe the shoppers who haven't come to your store in a while.
Clicking the drop-down menu by "Website Traffic" will give you a number of useful options: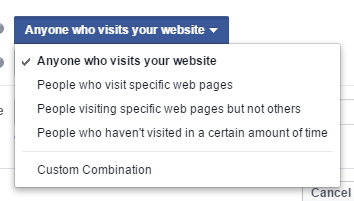 Let's say you wanted to target customers who had added items to their shopping cart, but hadn't completed the checkout process. Select "People visiting select web pages but not others" and you'll be given the option to include and exclude pages. Change the fields to "URL equals," then add your shopping cart URL to the first field and your "thank you" or confirmation page URL to the second, like this: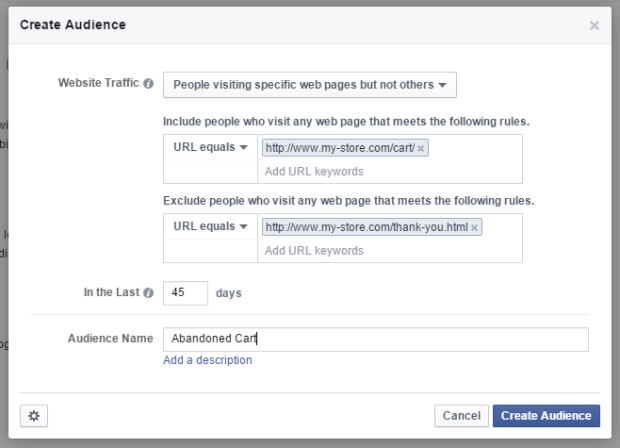 This is a great way to reach shoppers who you know are interested in your products, but haven't actually completed a purchase with you.
Change the length of your campaign (180 days is the maximum) and add a descriptive name you'll remember, like "Remarketing to Recent Visitors" or "Cart Abandonment Campaign – June."
Click "Create Audience" and you'll be ready to create your ad!
Finally, create your remarketing ad and wait for approval
Your tracking pixel will need to be properly implemented on your website and viewed at least once before Facebook will allow you to create any ads for this Custom Audience. If it's not, the "Create Ad" option on the resulting screen will be grayed out. Feel free to leave this page and come back later, though — you can access it again simply by visiting Ads Manager and clicking the "Audiences" option.
Facebook's ads create tool allows you to complete this process by setting up an advertisement that your specified custom audience will see when they visit Facebook. During the setup of your ad, you can decide where it appears, how much money you want to spend, and what images and copy you want to use.
Think carefully about your ad's content and how it needs to match the custom audience you've created. If you're remarketing to visitors who specifically visited your shopping cart, you might want to entice them back with a coupon code or special deal. On the other hand, if you're simply retargeting every shopper who came to your store in the last month, you can use a broader message and graphics.
You may want to become familiar with Facebook's advertising policies before submitting your ad for approval. One of the most common issues for new advertisers is the text restriction, which states that text may not comprise more than 20% of any given image. So if you're planning to offer a coupon code, you might want to limit it to the body of your ad text instead of in the image itself.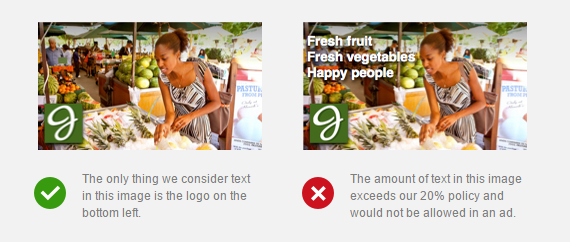 Once you've created your ad, you'll need to submit it for approval before it is activated. Facebook will review it within the next 24 hours (usually quicker) and return a response. If it's disapproved, you'll be told how to correct it so you can resubmit. If it's approved, it will be made live immediately.
Congratulations — you've set up your very first remarketing ad!
Monitor the results via Ads Manager or Google Analytics
Once your ad is running, you'll be able to stop by Ads Manager whenever you like to view the status, how much money you've spent, and how many clicks and conversions you've accumulated.
If you use Google Analytics to track conversions from external sources like Facebook, it's possible that your ad traffic and conversion won't be reported accurately. To avoid this in future ads, you can build links using Google's URL builder that are properly tagged with source, medium, and ad campaign information. You can follow this tutorial to build and track these links in Analytics.
One final tip: don't end your campaign early just because you aren't seeing sales. It might take several days or even weeks for shoppers to both view and act on the ad — even if they come back to your site again, that doesn't mean they'll complete their purchase right away. Try to wait as long as you can before making a decision to pause or delete an ad. You might even consider running a variation of your existing ad side-by-side to see if something specific, like your call to action or image, could be improved to raise conversions.
When your store should try Facebook remarketing
Given the cost-effectiveness of Facebook advertising, and the potential to recover otherwise lost conversions you've read about here, you might be pretty excited to give remarketing a try. However, it's not necessarily the best fit for your store, especially if you're new or targeting a highly niche audience.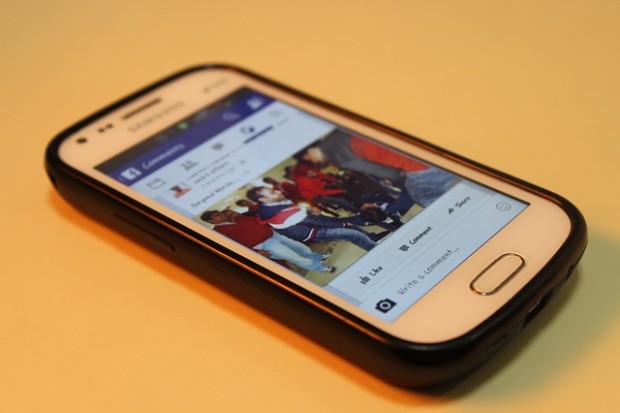 Remarketing ads will be the most effective when you have an audience of several hundred shoppers or more. Prior to scaling your traffic to this stage, you might find that any remarketing campaigns you deploy receive very few views, clicks, or conversions. Given how many ads Facebook users are exposed to, and how easily distracted they are, you stand a much better chance at reclaiming 100 sales from an audience of 2,000 than you do from an audience of 500.
Another noteworthy item is that Facebook actually won't allow you to create an ad if the audience you're retargeting is too small. The network requires an audience of 20 users or more; if the audience you create is smaller than this, you'll have to wait until it grows to proceed. Keep this in mind if you plan on targeting visitors to very specific pages — Facebook put this requirement in place so you don't waste money, not just to annoy you.
If you're still in the early stages of growth in your store, focus your time and energy on growing your audience before investing in remarketing. Two good ways to attract more traffic are through search engines like Google and organic social media activity. You can also try A/B testing to identify and resolve potential issues on your website that may be contributing to lost sales in the meantime.
Reclaim lost sales with Facebook remarketing
With a few simple Facebook ads, you can invite shoppers back to your website, target messages at specific groups of visitors, and reclaim sales you might have otherwise lost. By following these instructions, you'll be creating remarketing campaigns in just a few minutes — and you might even find the process kind of fun!
Do you have any questions about setting up a remarketing ad for your eCommerce website? Or are there any tips you'd like to share with store owners who are trying this out for the first time? Chime in below, we'd love to hear your thoughts and feedback!